Culture
Voices: Encouraged by her mother, Elana Meyers Taylor chased down her Olympic dreams
Why this matters
Voices is a series of first-person essays from people across the sport spectrum revealing the impact of sport in their lives. Elana Meyers Taylor, the president of the Women's Sports Foundation, was empowered by her mother to achieve greatness and now wants to help other women do the same.
I grew up in a very athletic family. My mom played sports throughout high school. She was a cheerleader at one point and played softball as well. You name it, she played it, but at that time, which was soon after Title IX was passed, there weren't a whole lot of opportunities and she didn't have the chance to go to college.
My dad played football in college at the U.S. Naval Academy and then played in the NFL for the Atlanta Falcons. My sisters were always involved in sports, and our parents encouraged us to be active, but didn't push us to pick a certain sport and pursue it to an Olympic level. That wasn't the point.
But, of course, I had a passion from a very young age to try and make it to the Olympics. That started when I was around 9 or 10 years old. I started participating in organized sports around that time, competing in softball, basketball, soccer, track and field; you name it.
I played all the sports I could all the way to high school, then went to George Washington University, where I played softball. I played that sport professionally for a year and then took up bobsledding.
I was always very self driven. My mom actually started coaching me because of that, to make sure I had everything I needed. She started coaching me because I wanted to go to college, I wanted to be in the Olympics. And all I kept getting from other coaches was feedback that, "Well, you started too late. You're never going to make it."
My mom basically took it upon herself and said "You know what? If you want to make this happen, we can make this happen." So she started coaching me, and that's awesome. 
My first trip down the track, I had no idea what I had gotten into. When I got out at the bottom, I was disoriented but it was a weird ride. It feels akin to getting shoved in a metal garbage can and kicked down a rocky hill!
Softball was my passion, but I really think my passion was the Olympics. And then when the 1996 Games were here in Atlanta, it really made it come alive. That was the first Games that softball was in, so I was like, "Look, I could make this happen. This is real. It's actually right down the street for me."
I did everything I could to try and make softball happen. It didn't end up happening even though I had an Olympic trial. It went horribly, but I was still determined to make the Olympics somehow.
My mom saw a bobsled on TV and she said "Why don't you try this?" On TV was Vonetta Flowers, the first African-American gold medalist in the Winter Games, and she's also from Birmingham, Alabama. So, to see somebody who looked like me, and somebody from where I was from, excelling in the sport, I was like "Might as well give it a try and see what happens." 
So I Googled it, and emailed the coach, who got me invited to the trial. I told the coach "I've played college softball, I played professionally and I'm fast." I also shared with him my stats, my weight room numbers. And they were  "OK, well, here's the trial."
I basically had two weeks to prepare. It's a physical skills test, kind of like the NFL Combine. So, 30-meter sprints, some jumps, things like that, to really test your athleticism before you step a foot on the ice.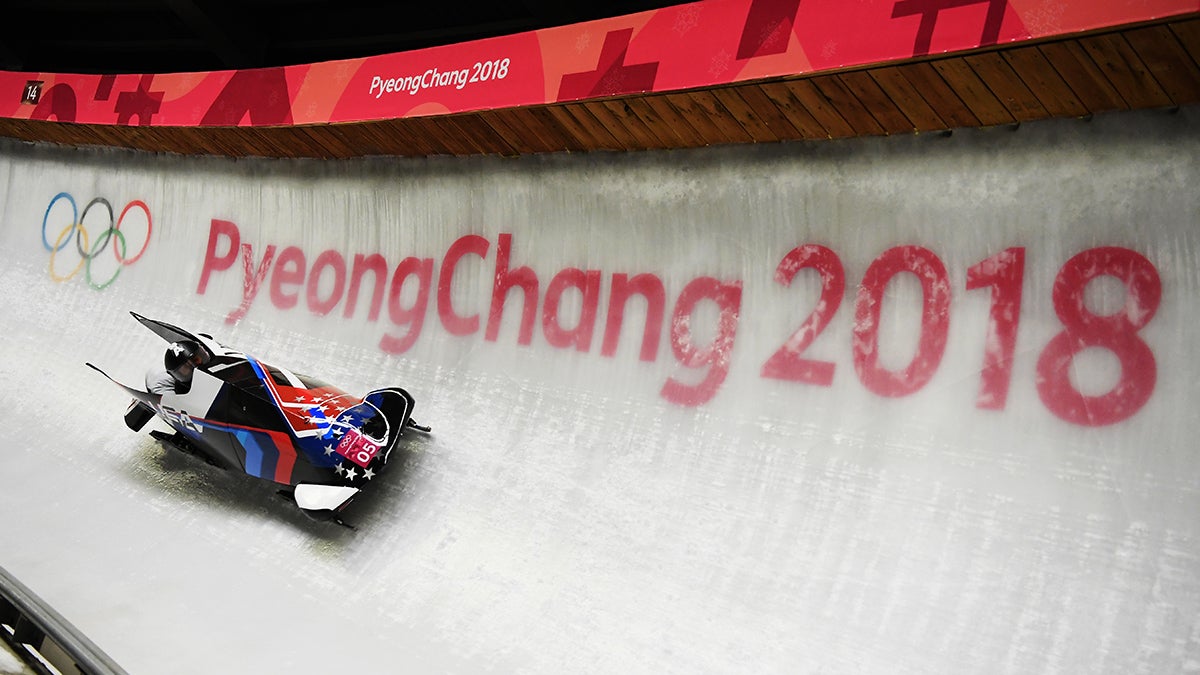 This is in 2007, and I have no idea at the time but I was in one of the most successful classes of bobsled recruits. Between the people who came in my class, I think there's like seven or eight Olympic medals. So a good amount of the Olympic bobsled medals have been from the class of 2007. 
My first trip down the track, I had no idea what I had gotten into. When I got out at the bottom, I was disoriented but it was a weird ride. It feels akin to getting shoved in a metal garbage can and kicked down a rocky hill!
After the trials, they told me to go to Europe, and I had no idea what they were talking about at this point. I didn't own a winter coat! So I went home, packed up whatever cold gear I had —  which was none! — and headed back to start learning how to push.
Learning how to push was pretty difficult at the beginning. It was very counterintuitive. It wasn't like a lot of the softball stuff I was used to. Slowly but surely I figured it out and made the national team my first season. So my first trip wasn't actually to Europe, but to Calgary.
I spent most of the time crying on the phone to my mom because even though I was on the national team, I wasn't very good. I'm still having problems getting in the sled. I wasn't really getting a lot of opportunities to be on the ice, and I was frustrated and I was upset. Initially, my mom told me I could come back home and that I didn't have to do this. But at the same time, she was encouraging and she told me that if I really wanted to make this happen it would just take a lot of work; don't be too frustrated with myself.
I just kept working on it. I took any opportunity I had. 
I knew I wanted to drive very early in my career. As soon as I started braking I was like, I want to be in the front of the sled. I want to be controlling these things. I don't want to just sit behind somebody and rely on them to have control of my career. But I knew my greatest chance of making the Olympics in 2010 was in the back. So in the 2010 Olympics I was a brakeman and then switched shortly thereafter.
Right after the Olympics, bronze medal in hand, I was at the track in Lake Placid (New York), learning how to drive. And that is a particularly brutal process. You come off the high of your life winning an Olympic medal, and you're back at the bottom of the pile. You're crashing. You're bruised. You're getting beaten up just learning to drive. There's a lot of crashing, a lot of tears. But that's how you learn to drive. 
I could have continued to be a great brakeman, but I knew that if I really wanted to have a long-term career in this sport, I needed to become a pilot. 
On an Olympic race day, that's the moment I live for — that moment at the top of the track where everybody's screaming and chanting "USA!" That moment right before you're about to go down the hill, where anything can happen, is one of my favorite moments in sports. 
You're preparing for this race, putting one foot in front of the other and going to work. And then it's not until the starting line that you remember "Oh, I'm doing this for my country. This is really awesome." And I think the pressure is a privilege in having that opportunity. To represent your country is one of the greatest in the world.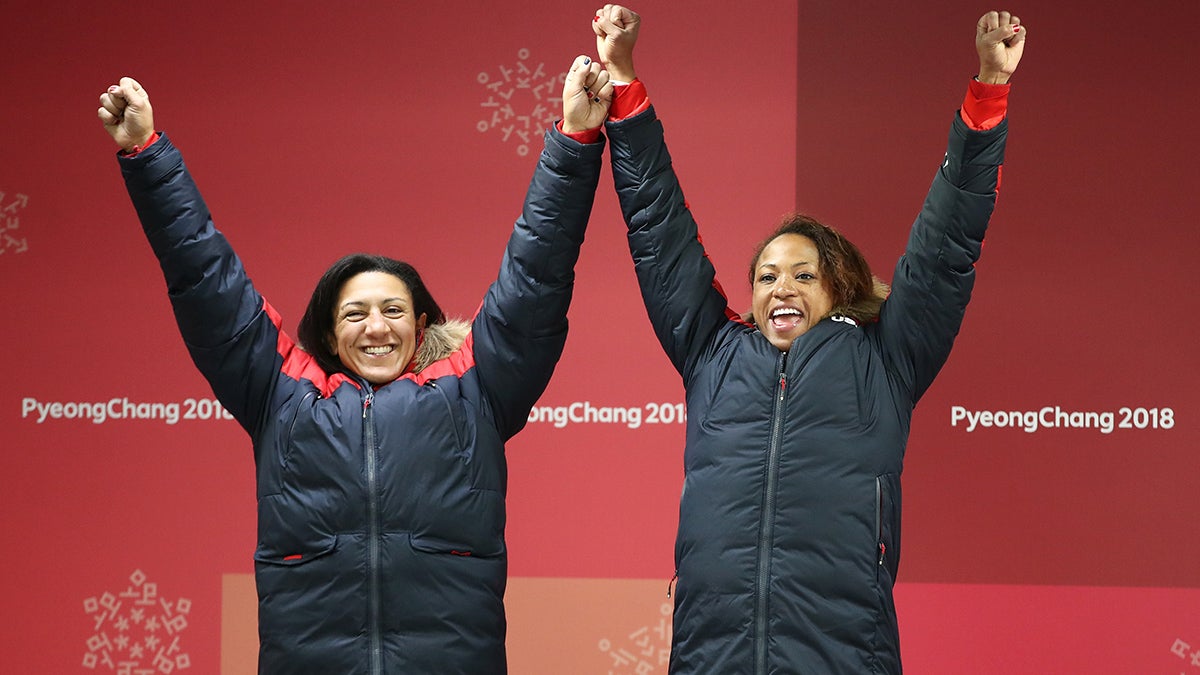 And when you get to the end of the run, your first thought is, "What was the time? Where is everybody else stacked up?" You don't have a sense of what the time is on the way down. You know whether or not you made mistakes. You just don't know how many mistakes other people have made, and then you think, "How do I fix the mistakes I made? What do I need to do to be better next time?"
Then, my biggest goal was to medal like every athlete. But now my goal has changed. I want to leave the sport better than where I found it. I want to really help grow the sport because I think it is a great sport. I think you have the ability to learn a lot about yourself, a lot about your teammates. I think there is a lot of opportunity there and I'm working behind the scenes this year, while taking time off for my pregnancy, to make that happen. 
As an athlete, of course I'm shooting for 2022, to win two gold medals; but also really trying to change the sport for the better. In 2010, I started recruiting athletes and one of my latest recruits, Jasmine Jones, just made the national team for the first time. It's pretty cool to see two of the drivers on the national team, Kristie Koplin and Brittany Reinbolt were also my recruits. Lauren Gibbs, my own brakeman from the 2018 Games, was one of my recruits as well. So I'm on that recruiting train. 
It's a great opportunity for women in particular to continue your sporting career after college, which is few and far between in sports. In most Olympic sports you have to start pretty early. Bobsled is not one of those. 
But one of the good things you've seen in women's sports is the camaraderie and the togetherness that these women have displayed in taking on these leagues. That's been pretty encouraging across the globe.
The growth of women's sport has been tremendous. The amount of women participating at the elite level is now greater than numbers we've seen for the last two Olympics. There's been a larger contingency than we've seen before in summer and winter. We're seeing more women bring home medals than their male counterparts, which has been really great to see.
I think for a while the USA has had an advantage because of Title IX, because we got women in the door sooner. But now other countries are starting to catch up, which is a great thing. Of course, as a USA athlete, you want to see us take home the gold every single time!
But in other countries, women now participate in sport and are going toe to toe with us in every single sport. So it's been cool to see that kind of growth. 
If I have a girl I would like to see if she wants to play sports at the elite level, I want to see fully organized professional leagues. It's a shame that we have to have the women's hockey league boycott in order to try and get a viable league together. 
I think we're very close. But one of the good things you've seen in women's sports is the camaraderie and the togetherness that these women have displayed in taking on these leagues. That's been pretty encouraging across the globe. And, you know, whether it's the Spanish women or some of those South American women boycotting and trying to get to advance their sports, it has been really encouraging to see that. So hopefully, if my daughter wants to play sports or even if she's just a spectator of sports, one day she's training on the TV in primetime and seeing whatever female sporting events she wants on the television. That would be the ultimate goal. 
I think the biggest thing I would say to her is, as far as sports go, there will be a lot of adversity, but it's about being active. It's about going out there and finding your passion in sports and don't give up. There's plenty of sports, if you don't like softball or soccer or basketball. But find your passion and continue to stay active as long as you can.