As we commemorate the 50th anniversary of the seminal moment of the Mexico City Games, when Americans John Carlos and Tommie Smith raised a black-gloved fist from the medals podium, GlobalSport Matters looks back at the year from a global sporting perspective. From the World Series helping a wounded Detroit heal to athletic innovations that trace their origins to those Olympics, 1968 served as a critical pivot point in the role sports plays in society and introduced the modern era of athlete activism.
When the minibus carrying Wyomia Tyus pulled into the parking lot of Estadio Olímpico Universitario for her first visit since the 1968 Mexico City Olympic Games, a big smile spread on her face.
This is something she has wanted her daughter, Simone, to experience for a long time.
"Throughout my career, my parents never got to see me run," Tyus said. "My dad died when I was 15, and my mom never got to see me run in person; she only saw on television. I just wanted someone in my family to come to a place that really means a lot to me and gave me courage to do a lot of things and say a lot of things."
However, any claims about being nervous were shot down with a swift: "I don't have nerves. I have nerves of steel!"
"Butterflies though," Tyus said. "Absolutely."
The last time Tyus stood on that ground, she was 23 years old. The last time she was here she became the first Olympian to win back-to-back gold medals in the women's 100 meters. It was here her dreams of advocating for human rights for all took shape. It was here that her vision of equality for women in society and athletics sprouted.

So as Tyus, accompanied by her daughter, Simone, made her way through the stadium entrance, she was reminded of the young, strong 23-year-old with a full heart and a dream. She also noticed she had a severe case of the "chill bumps" up and down her arms.
"I can't even find the words for it; I haven't been back here in 50 years," Tyus said while smiling and running her hand along the stone columns of the stadium as she walked to the track. "I come back and think about where I was in my life and how this made a big change in my life, the change in which I was working for… Now I'm back, the platform is a little different, and I'm included, and I think it's wonderful to come back and share our stories and experiences."
Coming back to the stadium in honor of the 50th anniversary of the 1968 Mexico City Games brings back many memories for Tyus. Making it more special: She was able to experience it with a lifelong friend, John Carlos, a fellow American sprinter and a bronze medalist at the games.
Tyus still remembers her 100-meter race as though it was yesterday.
"It had been raining and raining, and we had two (false starts) in the race." Tyus said as she stood in lane four, her starting block in the race. "I remember we were walking back and I was saying: "You guys need to stop. It's gonna rain; it's gonna rain! We don't want to have to run in the rain!"
After the second false start and with the competitors making their way back to the blocks, Tyus recalled the rain stopped, if only for a moment.
"The gun went off, and we ran the whole 100 meters without any rain," she said. "As soon as we crossed the finish, the sky just kind of opened up.
"Mexico City, finals of the 100 meters, was the best start I've ever had in my whole life." Tyus said, "And it was the best time to have it."
She was considered old to be competing in the 100-meter sprint at the time. Although she had won the gold medal in the Tokyo Games four years prior, she wasn't favored in the event in Mexico City.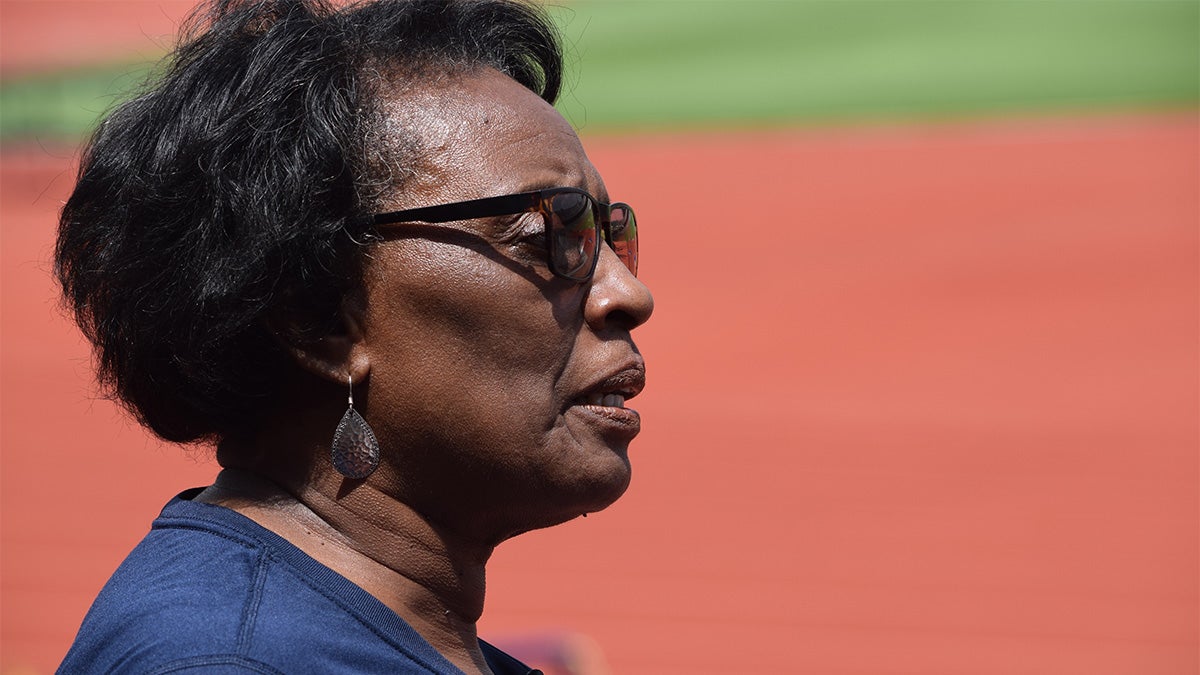 Crossing the finish line a winner was a dream come true.
"I know when I was on the victory stand, they have pictures of me … thinking that I'm crying, but I was really just trying to get all the water and rain out of my eyes," Tyus said as she mimicked her words, pretending to swipe the water from her face.
"I always think of that 100 meters as the end of my career. Here's the end of my career pretty much, and I'm so happy and the sky opened up and it cried for me. That's how I think of being here in Mexico City. I look at that and standing on the victory stand and that the sky opened up and said: 'This is what you've been wanting and this is what you received.' I was happy."
Tyus will always love Mexico City because of the support she felt, describing it as the place where she feels most comfortable in her own skin. That is a product of the relationships and memories she made on the track, but, most importantly, her impact on culture and society.
An experience Tyus and her daughter will cherish.
"Just to be back in Mexico City, where I've always felt comfortable in my own skin. The people of Mexico city have made me feel very comfortable too. It makes you appreciate life, appreciate different cultures, appreciate people, just to be here is beyond words. Being in the stadium with my daughter is something I will never forget."
Ross Andrews is a senior journalism student at Arizona State University
Tags:
100 meter sprint
,
1968
,
activism
,
bronze medal
,
Chris Kluwe
,
Ed Temple
,
Estadio Olímpico Universitario
,
Games
,
gold medal
,
John Carlos
,
Mexico City 1968
,
Olympic Project for Human Rights
,
Olympics
,
podium
,
racism
,
raise a fist
,
Simone Tyus
,
Tennessee State
,
tigerbelles
,
Tokyo
,
Tommie Smith
,
wyomia tyus