Allen (not his real name) is a super fan who has attended 67 sporting events since the beginning of 2018. The 57 year-old Virginia resident holds full or partial season tickets to MLB, NBA, WNBA and NCAA basketball teams. As an engineer with multiple advanced degrees, he'd be considered more tech savvy than the general population. He's concerned, though, about his privacy and will not download any team or league app to his devices.
Brenda, an attorney and mother to 10-year-old Noah who asked that her last name not be used, has downloaded two apps, baseball's MLB At Bat and Sacramento Kings + Golden Center 1 to enhance the family's game experiences. She's conscientious, choosing to limit the information she shares and monitoring her son's activity, but finds that she engages with the apps more often than she expected.
She's not alone. According to one industry report, MLB At Bat was the leading downloaded app from 2012-16, with more than 12 million subscribers, 8.5 million of whom interacted with the app daily. Brenda and her husband enjoy the access, tracking player stats and reviewing highlights during the games.
Both Allen and Brenda believe that they have a modicum of control over their personal interaction, but by simply purchasing tickets and walking into an arena, they may be consenting to data collection. For all the efforts that today's smartphone-carrying fan takes to remain anonymous or manage the limits of their information-sharing with the growing list of data depositories, they often cede control to their image, buying history and general preferences to their favorite teams, leagues and the third-party app developers without knowing it. This fact worries privacy advocates.
Facial Recognition Technology – Who's Watching The Fans
From the Fancam website: "By attending the Event (and thereby accepting the terms and conditions of the Event), tagging yourself in the Fancam Photo and/or using our Services, you acknowledge and agree to us i) capturing the Fancam Photo and ii) gathering information about your attendance of the Event. … If you are captured in a Fancam Photo and would like to be removed, please contact info@fancam.com. Tell us where you are in the relevant Fancam Photo and we will remove you from it by blurring or covering your face."
Camera are situated throughout sports venues to collect as much information as possible. Millions of fans are photographed by Fancam, a partner to arenas and stadiums all over the world for the last seven years. The company states in its terms and conditions, that fans opt-in to facial recognition and image capturing by attending an event. How extensive is the reach of that single moment of consent and what do the companies get?
"Forty thousand megapixels can paint a real picture of clarity on what's going on in a building," said Michael Proman, managing director of Fancam's North American operations while discussing the company's new analytics component that mines images for demographic and behavioral information, including measures of fan sentiment, in a recent article for Sports Fan Journal.
Advocates are concerned about the level of access and blanket permission by millions of fans, most of whom aren't aware that their images may be shared or sold to a third party.
In an article for The Hill, Adam Schwartz, an attorney at the Electronic Frontier Foundation stated concerns about biometric surveillance creep."What makes facial recognition different from other biometrics is that it's very easy to collect from a person without their noticing." Organizations tend to justify the practice, claiming that it makes for a safer, more secure fan environment.
This year, New York's Madison Square Garden was discovered to have used the technology during NBA and NHL games. A New York Times article cited NBA spokesperson Mike Bass' response to questions about the measures. "The league and our teams are exploring the use of all state-of-the-art technology, including facial recognition, to ensure that we have industry-best security measures to protect all those in our arenas," said Bass. But recent sports-tech pairings show that the goal of image capture extends beyond security.
As an example, Kodak and the Oak View Group will bring KodakOne, its image rights management platform to six NBA and NHL arenas for the 2018-19 season. Fans can become content creators, using the KodakOne platform to upload and manage personal images. Industry leaders believe such collaborations will move sports into the future, creating interactions that will prompt attendees to buy more. Those extra sales could come at a big price.
The Value Proposition: Worth the Risk?
Leagues and teams posit that the tech-enhanced fan experiences are made exceptional by new custom, informed interactions. Is delivering a complimentary beverage and T-shirt to a fan's seat as a thank you for their ticket package renewal after they were recognized walking through the gate justification for digitizing and storing images?
[beauty_quote quote=' "When you think about what people are willing to give up privacy or information for, it is hard value. … That interaction, now, has become very transactional. How personalized do you want your content to be? How specifically do you want us to know you?"
-  Vikram Somaya, SVP, Global Data Officer ESPN 2018 Sloan Sports Analytics Conference ']
Potential value for both user and provider is clear: Fans get a great time and the leagues sell more products. But the area of risk extends when looking at increased access to the team and fan as trusted sports institutions comingle their relationship with third-party providers. Experts worry about fans, but the question extends to the teams and leagues as well.
Increasingly, fans are vulnerable to hacking attempts or compromised data. As millions travel to Russia for the 2018 World Cup, cyber security experts warn of the myriad methods used to commit theft, including unsecure public wi-fi and sophisticated phone cloning tools. App users may be unaware of the fact that their home country's laws don't extend to cover their activity during travel.
Fans using apps to purchase tickets or review game information also run the risk of falling prey to hackers. A recent research report found that 7 in 10 apps share data with third-party service providers:
"…the third-party service ecosystem remains fundamentally mysterious to users, researchers, and regulators — to the extent that we are not even fully aware of the identities of the major service providers."
One incident could have lasting impact on the individual, with long-term identity and fraud concerns. That faulty interaction could prove costly to teams and leagues. Take, for instance, the case of the Golden State Warriors app.
The Apps Are Listening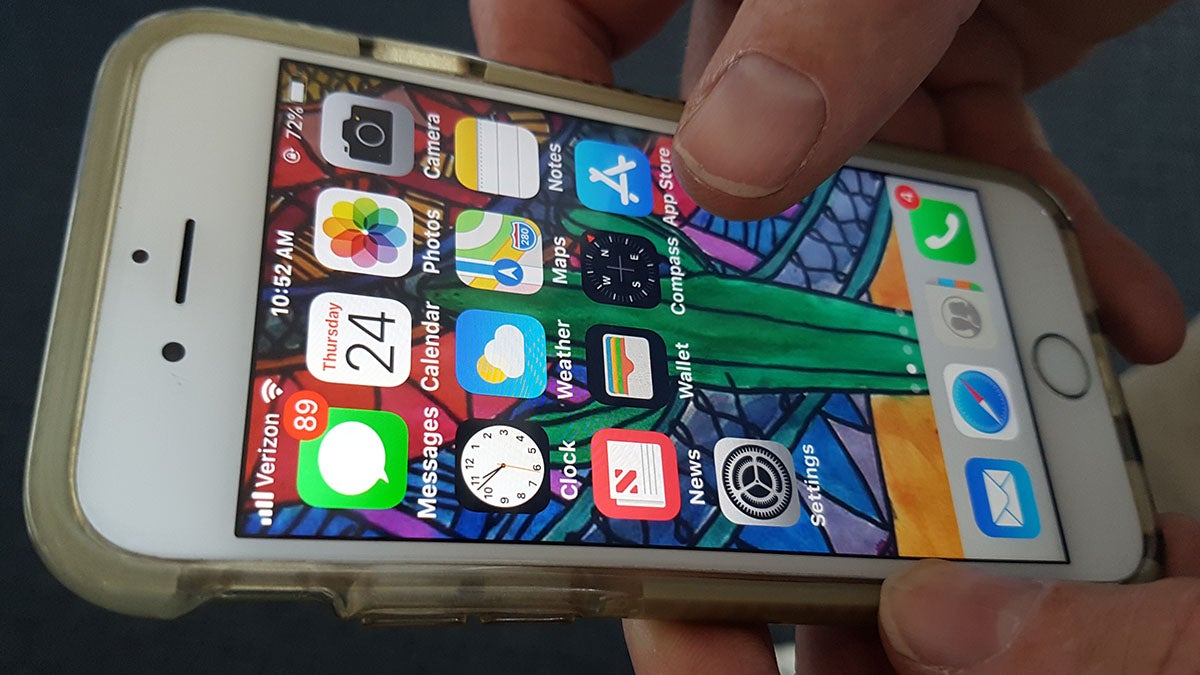 The irony that Oracle Arena, the oldest NBA home, sits in the heart of Silicon Valley and houses the league's most dominant team isn't lost on the techie sportsters who are a significant percentage of the Golden State Warriors fan base. Built in 1966, the structure's technology can't compete with that of more recently constructed arenas such as its closest neighbor to the north, the Golden 1 Center. Until the Warriors can relocate to a new home in 2019, the team created a tech-savvy experience by outfitting its arena with beacons accessed by its top-downloaded app.
App user Latisha Satchell agreed to grant access to her microphone while at the games, but later asserted that the app turned her smartphone into an "always listening" device. In September 2016, she filed a lawsuit for wiretapping and eavesdropping against the team and its tech partner. According to an article by Law360, "the app, developed by Yinzcam Inc., uses the phone's microphone to track the user's location by picking up on sonic beacons built by Signal360, but fails to warn users that it is doing so and that it is picking up nearby conversations in the process, plaintiff Latisha Satchell said." In May 2018, Satchell dropped the lawsuit by submitting papers to U.S. District Court Judge Jeffrey White in Oakland, California. Her choice to end the proceedings does not prohibit other fans from bringing forth their own lawsuits in the future.
App Annie, an analytics company, issued a 2016 report titled Big Leagues on the Small Screen, showcasing the increase in sports app usage and predicting an increase as the tools become more advanced. "Since 2014, time spent in sports apps grew 70 percent on Android phone in the U.S. ...  it's about competing for user's time. Usage is the new currency, and mobile presents an unparalleled opportunity to gain granular insights into consumer preferences and viewing habits, something traditional media has yet to achieve," said the report. No league or team wants to miss out on the chance to increase fan interaction, but how do they mitigate the risk?
The New Tech Teammates
Sports leagues are entering the front end of technology development that may add greater security for users and possibly assuage some of that risk. In May 2018, the NBA and Intel Capital announced the NBA + Intel Capital Emerging Technology Initiative.
[beauty_quote quote='"We know how to insulate and anonymize the data."
- Howard Wright, VP Business Development, Intel Sports ']
In a Forbes interview discussing the announcement, Howard Wright, Intel's vice president for capital global business development, outlined the goal of the fund. "We want to help identify, fund and advance the cause of startups that are in the space in the nexus between sports, technology and entertainment." Selected startups could be catapulted to the front of the line.
In an interview for GlobalSport Matters, Wright expanded on Intel's role in the initiative, referring to the company as the turbine powering the innovation. When asked how the company would select the fund recipients, the Intel exec referred to the company's solid 27-year history of providing secure, trusted technology that powers major industries. "The bull's-eye becomes very small in terms of sports, media and technology. As we sift through the thousands of applications, we use our proven methodology to identify companies with the capacity, the defensible IT and the ability to scale with companies the size of intel and the NBA. We always stay inside the bounds of the league's relationship to the individual fan."
As a business-to-business provider, Intel operates within the specified boundaries as established by the NBA and its consumers. Said Wright: "As we do in the AI and autonomous vehicle world, we use that data to provide unparalleled experiences for our partners. We are building continents of data for our partners to monetize."
Where to Next?
Wright described the sports tech future as a brilliant place — think of the Jetsons' gravity-defying world meeting the game. While the cartoon reference may be lost on millennials, the idea of a tech touchpoint at every fan interaction may thrill the game-goer who wants to walk through the gates with her face as the ticket, have the favorite game day snacks delivered exactly at the end of the first half and perfectly-sized team paraphernalia packaged and ready for pick up on the way out, paid for with new sports cryptocurrency. It sounds fantastic as long as Allen and Brenda have the right to opt in or out.
Mia M. Jackson is a writer based in Germantown, Maryland. 
Related Articles
Getting a CLEAR picture of biometric data in sports business
Wearable technology now knows if you are a candidate for diabetes
Wearable technology moving from the track to the bedroom