Business
From 'Average Joe' to 'Ninja Warrior': Popularity of TV show spurs growth in ninja-training gyms
Cronkite News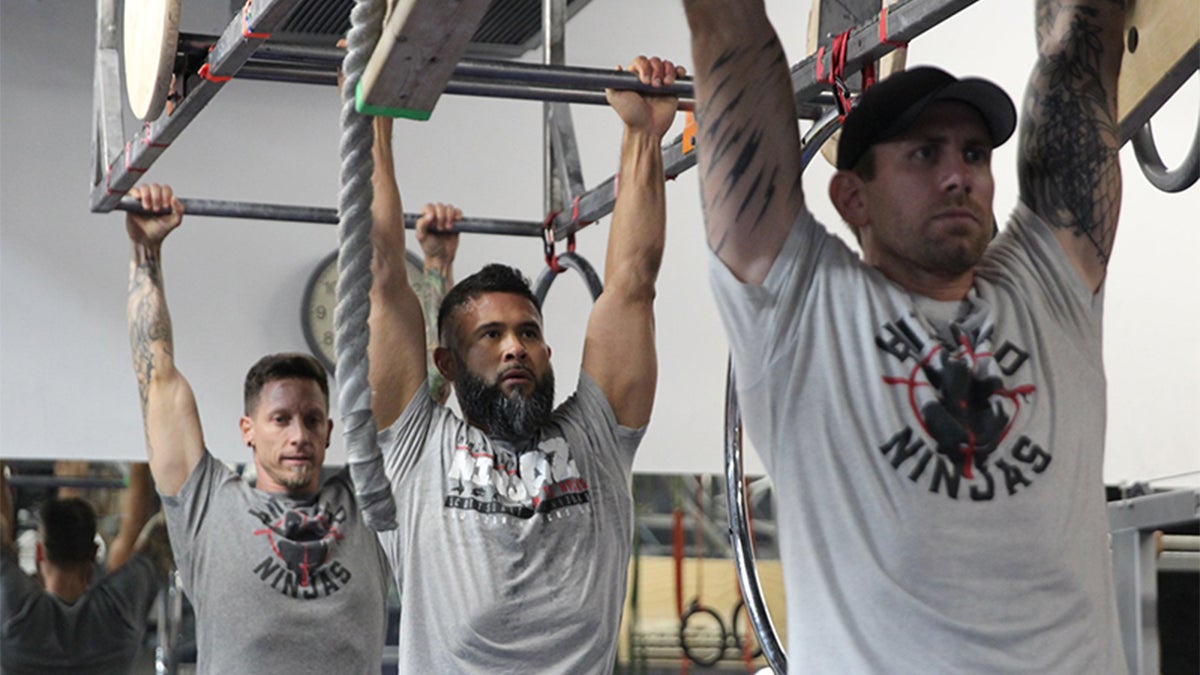 Tucked into an alcove of the AZ on the Rocks climbing facility, Lee Kates works on a ring-climb obstacle. He uses two small red rings and the momentum of his body to climb up and down the pegs of a wooden plank.
Kates, 36, began training at the Scottsdale, Az., gym in November 2017 with the hope of competing in the popular NBC program "American Ninja Warrior." He ran the Indianapolis course on the show's most recent season.
Known in the "ninja world" as the "daddy-daughter ninja," Kates works out alongside his 6-year-old daughter Jaelynn, who dreams of being a contortionist.
"I'm the daddy-daughter ninja because everything I train, we train together," Kates said. "She always tries to beat me. I try to beat her. We're always doing things in this sport together, so it keeps our nice little bond."
In the nine years since the television show first aired, ninja-warrior gyms have popped up in 43 states.
Arizona has three – AZ on the Rocks, KTR Family Action Sports Center and Scottsdale Parkour and Freerunning – all in the Phoenix area. Florida and California have the most ninja gyms with 13 and 12, respectively, according to the website MudRun Guide. Across the United States, there are 191 ninja gyms.
"The growth of the ninja-warrior gym has been exponential, particularly in the last two years," said Anthony Storm, executive producer and one of two showrunners for "American Ninja Warrior." "People are looking for some way to exercise that keeps them motivated and keeps their attention, and these gyms are that."
Kates isn't the only "American Ninja Warrior" competitor who has trained at AZ on the Rocks. Steve Kimpton, ninja instructor and founder of the training program, said he trained 11 participants on the show last season. This season, season 10, three members of the gym qualified for city finals in Los Angeles.
One of the three is Brian Rambo, 38, who joined the gym in August after his wife signed him up for a ninja-warrior competition without telling him. Rambo said he had stage fright at first but soon grew to love the ninja-warrior obstacles.
In Los Angeles, Rambo ran the fastest qualifying time of all the competitors.
"I was a rookie, so that was kind of a big deal. I didn't know I ran the fastest time until the night was over," he said. "I just went out there and did what I do. That was the result."
Rambo said his time of 2 minutes, 27 seconds could have been faster, but Kimpton was yelling from the sidelines to slow down and take his time.
Kimpton started ninja training in September 2016. The retiree and former rugby player saw the NBC show and thought he could compete with the ninja warriors. He began training himself at the gym and building the rig one section at a time. Soon, other gym members who'd heard about the ninja-warrior rig began using it.
"The gym owner said, 'Do you know anybody that can coach this stuff?' " Kimpton recalled. "I said, 'Yeah, you're looking at him.' That's how I became a coach."
Two years later, the ninja-warrior gym has 50 to 60 members ranging from young children to adults. Kimpton also organizes competitions frequently, which gain 100 entrants on average.
On a Monday night adult class, Jess Broderick, 14, is the youngest person training on the ninja rig. He started three months ago after watching a few YouTube videos and seeing the popular show.
"It started out hard. For me, it got pretty easy pretty quickly," Broderick said.
Broderick believes the jumping bars are one of the most difficult obstacles at the ninja gym.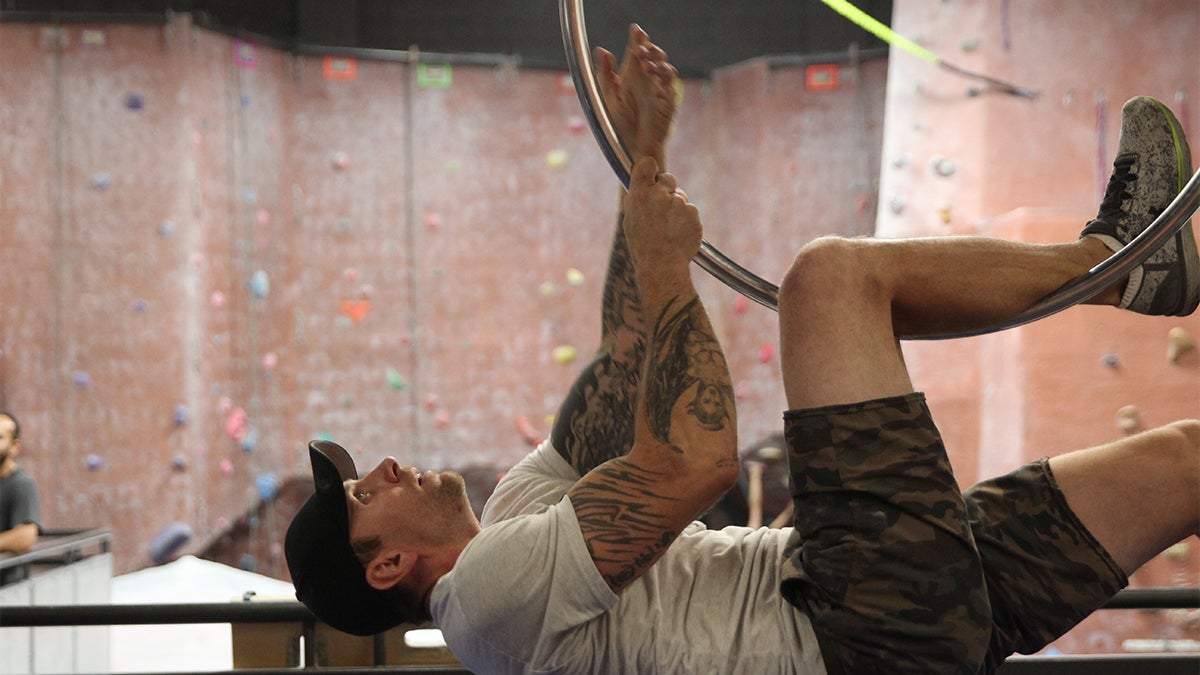 "You have to get over that mental block in your head to just let go of the bar and try to catch the next one," he said.
The young cross-country runner receives the support of fellow trainees. It's never quiet in the gym with other participants yelling encouragement and offering critique and advice for what they call their "ninja family."
"It's really boosting," Broderick said. "If people are putting you down, you're going to want to quit, right? But if people are lifting you up, it makes you feel good. It makes you want to keep going."
Personal trainer Sandra Smith was receiving a lot of encouragement from fellow ninjas on this Monday night, even when she didn't necessarily want it.
"I gave Lee (Kates) a hard time because I wasn't going to run that last part and he goes, 'Are you going to go?' " Smith said. "Everyone encourages each other. There is a sense of community and camaraderie."
Smith started training at the gym last September but had to take a break to recover from knee surgery. She said the biggest difficulty is the mental aspect of the obstacles, but with that, she sees the many advantages of ninja-warrior training.
"I've been an athlete all my life," Smith said. "But as far as the challenges, I don't know that there's any level of weight training that trains you for this. You use muscles that you don't even think about on a day-to-day basis."
Mike O'Donnell has been training at AZ on the Rocks for about a year. Before that, he trained at Scottsdale Parkour but switched AZ on the Rocks offered more resources for ninja training.
A businessman by day, working 9 to 5, and a ninja by night, O'Donnell said the training just fit his personality.
"It's a little bit fun. It's challenging. It's mentally taxing. There are some situations where you get a little afraid. You get scared. Your adrenaline gets pumping. It's a nice rush," O'Donnell said.
The 46-year-old said that one of the biggest things he learned in his training is that he can push himself despite his age.
"Things that seemed impossible really aren't because there are specific things I did today that I remember when I first walked in here I was like, 'I'm years away from being able to do that stuff,' " O'Donnell said.
Kimpton believes ninja gyms are proliferating as "American Ninja Warrior" moves into the mainstream.
"It's becoming more and more popular every year as more people tune in to the show," Kimpton said. "It was a very niche program at the beginning, and each year, it's kind of snowballed."
In the first five years of the program, the show received several thousand applicants each year, Storm said.
Now in its 10th season, that number has increased exponentially. Producers have reduced the minimum age from 21 to 19 and are adding a new program, "American Ninja Warrior Junior."
"Over the course of five years, we've seen an astronomical rise in the amount of admission tapes we've received, applicants that we've received," Storm said. "It's been as high as 70,000 applicants vying for 600 spots on the show."
The success of the Ninja Warrior franchise is expanding the overall sport.
"I absolutely believe it is a sport," Smith said. "If you think about the physical aspect of it, the mental aspect of it, it combines all of those things. It absolutely is a sport."
David Isho has trained at the gym for two years and has tried out for "American Ninja Warrior" several times. He says ninja training has helped condition him for ice hockey and soccer.
"This involves almost every muscle in your body. I feel like for it to be considered a sport, you're using your muscles, your body, your explosiveness, your balance," Isho said. "You're using every aspect of what it takes to be an athlete."
Kimpton says that anyone can be a ninja warrior with practice, but entering the ninja rig and trying the obstacles for the first time can be overwhelming. Like any sport, the keys are time, patience and perseverance.
"Come and try everything until you can't lift your arms anymore," Rambo said.
"It's that much fun."
Related Articles
How is the U.S. choosing to get active?
What is causing inactivity in the U.S.?
Endurance training can significantly impact diabetics