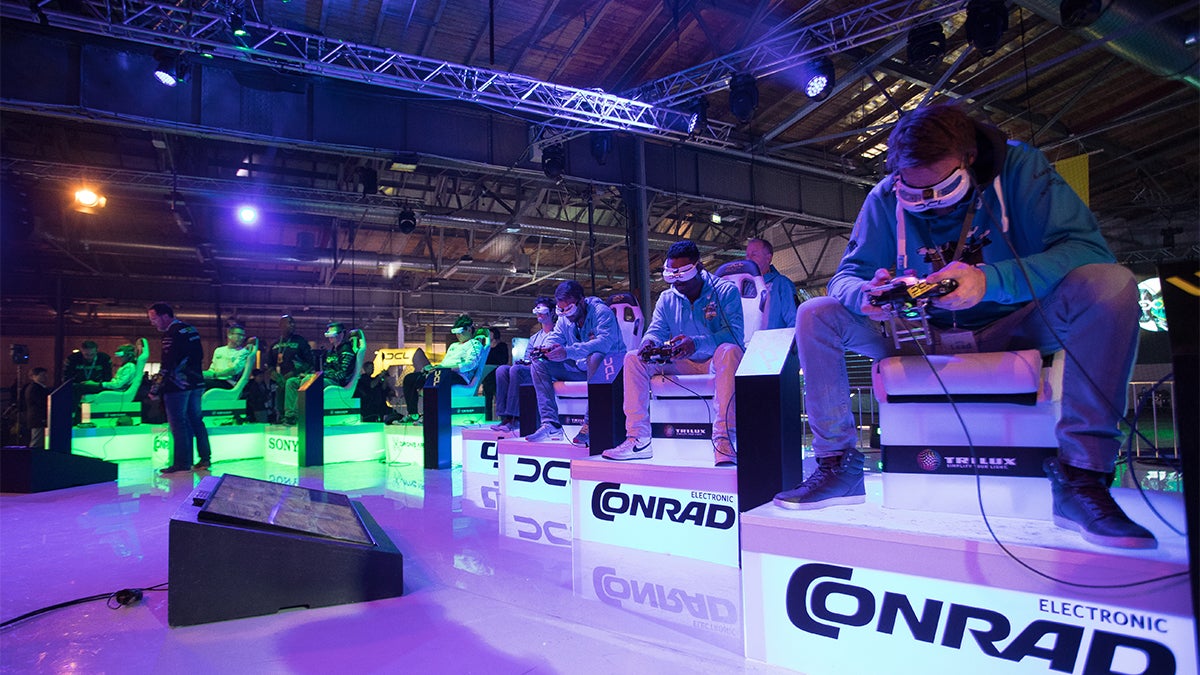 The emergence of streaming sites and Twitter have put some obscure activities in the spotlight, forcing ESPN, Fox Sports 1 and NBC Sports to adapt. Drone racing, esports, competitive eating, cornhole and poker are regularly broadcast on the major sports channels. But this begs the question, what is a sport?
According to the NCAA, an activity must meet three criteria to be officially considered a sport. It must involve physical exertion with the purpose of competition versus other teams or individuals. Sports must also include regularly scheduled team and/or individual head-to-head competition. Finally it must have standardized rules with rating or scoring systems ratified by official regulatory agencies and governing bodies.
Given this definition, would activities typically considered recreational activities also be considered sports?
Daniel Kane and Brandon D. Spradley from City University of New York and the United States Sports Academy respectively, believe esports should be considered a sport and used the NCAA definition to show why in a 2017 article that appeared on thesportjournal.org.
Kane and Spradley argue the competitiveness of video games has been trending upward in recent years and the players are starting to demonstrate the same athletic properties as traditional sports athletes.
They cite a study that found the basal blood pressure is actually raised while playing video games and argue that the coordination that comes with playing these games shows physical exertion.
According to Business Insider, the audience for esports is growing at an impressive pace. The 2017 Intel Extreme Masters (IEM) tournament drew a total of 173,000 fans to the stadium in Katowice, Poland, over two weekends compared to 113,000 the year before. The tournament also drew 46 million unique online viewers, which is a 35 percent improvement from 2016.
Fans of esports are becoming more diverse as well, moving away from the strictly young male audience that many associate with esports. The most popular age group for esports is 25-34 years old and 25 percent of fans are female.
Esports also has a major social media following as the 2017 Intel Extreme Masters reached 55 million fans on social media channels, which was up from 30 million the year before.
Esports isn't the only entity trying to gain respect as an official sport, competitive eating is also fighting to be taken seriously.
In an article by John Collins published on Front Office Sports, Sam Barclay, director of operations for the MLE, said his organization "runs competitive eating, and the people who come to compete in these events are real athletes with incredible talent and ability."
Collins reported Nathan's Famous Hot Dog Eating Contest draws upward of 300 million unique impressions, and this year the annual event led the day's cable TV ratings, outdrawing every baseball game on the Fourth of July.
The American Cornhole League recently signed a three-year deal with ESPN and has sponsors such as Johnsonville, LLC, a company specializing in sausage and brats. The top-ranked cornhole player in the world, Cody Henderson, told CNBC about the strategy and endurance required — he sometimes walks up to 10 miles in 100 degree heat at some tournaments.
Cornhole is a huge hit on social media and has developed a following through people who started watching as a joke only to be drawn in by the action. On July 4, 500,000 people watched The American Cornhole League Pro Invitational on TV, and the winning shot went viral on social media, gaining more than 1.2 million online views.
Competitive drone racing has the DRL also known as the Drone Racing League, which is the most successful drone racing league on TV. The DRL produces shows of its drone races and licenses them to ESPN and similar networks in 75 countries. These programs have attracted about 50 million viewers, according to a February article in The New Yorker written by Ian Frazier.  
The popularity of the sports have led to more leagues, which have bled into more college club teams, particularly for esports, which could help them meet the criteria of the NCAA definition.
Agent Leigh Steinberg, writing for Forbes, asked the critical question, "Is any competition which is on Television and billed as a sport, a sport?"
If so, this opens the definition of sports to poker, fishing, drone racing and cornhole. All of these activities are broadcast on one of the major sports channels and all of them feature professional leagues, with crowds, prize money and commentators.
The sports landscape is changing rapidly, and esports leagues and Major League Eating continue to grow, thus validating them more. In the past the definition of a sport came from the amount of physical activity, now these unusual leagues are trying to change the perception of what a sport really is.
Max Bechtoldt is a senior journalism student at Arizona State University
Related Articles
Drone Racing league pits autonomous drones against human pilots