Business
While overall attendance was down, MLB saw a few bright spots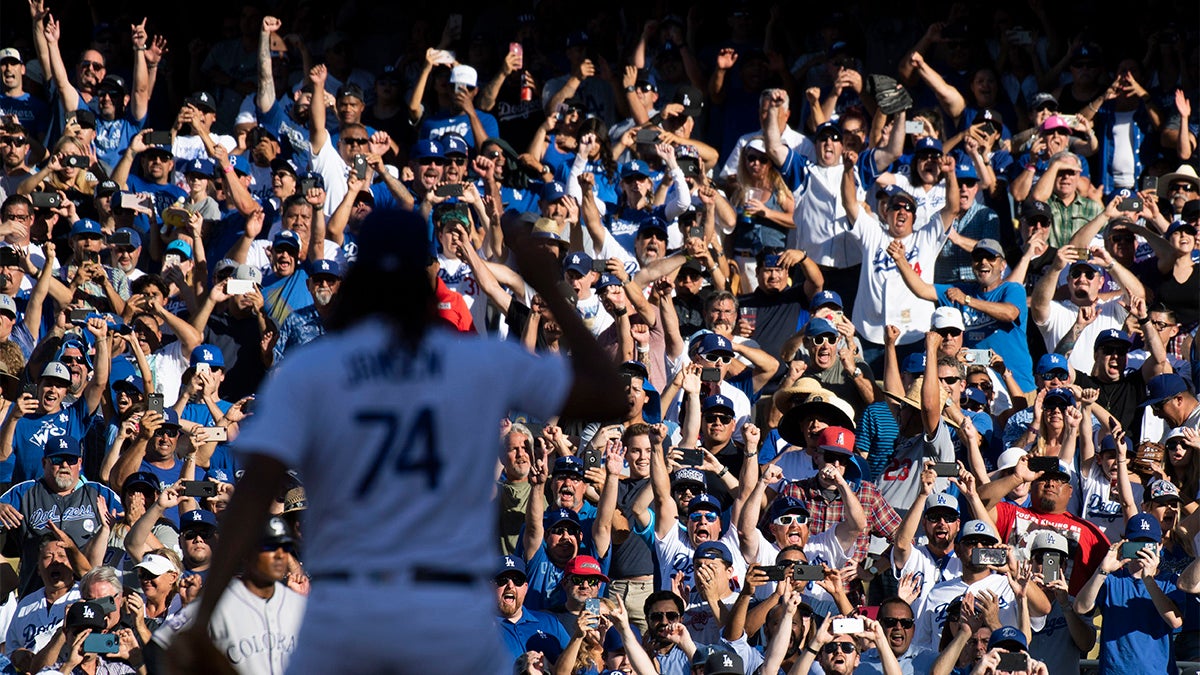 Although attendance was down this season for Major League Baseball games across the board, that's not true for major markets such as New York and Los Angeles.
The Dodgers and Yankees increased attendance this season from 2017 while the league overall was down by about 4 percent compared to last year. Much of this can be attributed to inclement weather in the Northeast and Midwest early in the season.
A 50-percent decrease in Miami due to a 98-loss season for the Marlins and a change in the way the franchise reported ticket sales vs. fans actually attending games in Marlins Park also contributed to the decrease. Though overall baseball attendance slumped below 70 million for the first time in 15 years, there were a number of success stories.
In Los Angeles, the Dodgers' average attendance again was the tops in baseball, up slightly to an average of 47,042 per game from 46,492 in 2017. The Dodgers had the bonus of a play-in game for the National League West title they won against the Colorado Rockies. That 82nd home game, which drew 47,816 on a Monday afternoon, pushed attendance to 3,857,500, a Dodger Stadium single-season record.
"These guys show up 3 million strong every single year; those bleacher bums come out and spend their hard-earned money to support us," Dodgers manager Dave Roberts said. "For me to take a special moment to acknowledge the people out there, it's only fitting."
The 100-win Yankees increased significantly from 39,835 average last year to 42,998, second behind the Dodgers. The Yankees drew 3,482,855 for 81 home dates, also second in the Major Leagues.
Both teams earned playoffs berths again. The Dodgers won their sixth consecutive National League West title and are vying for a return to the World Series. They haven't done that in back-to-back years since losing both the 1977 and 1978 World Series to the Yankees. The Yankees lost in the division series to rival Boston. 
[beauty_quote quote='"It's a lot of fun here, especially when you're in a pennant race and you see there's 40,000-plus every night. It's special. Our guys want to play ball." - Los Angeles Dodgers manager Dave Roberts ']
The Dodgers and Yankees capitalized on a couple of factors. First, they have the largest ballparks in the majors. Dodger Stadium can seat as many as 53,000, and the most recent version of Yankee Stadium, now a decade old, can squeeze in just under 50,000. Plus, both teams take advantage of their huge population base and market size to put a competitive team on the field, historically spending up to or well above the competitive tax threshold for player payroll of $197 million per team.
"Yeah, I think this is something that really started last year, as this fan base, I feel like, absolutely connected with this new generation of Yankee player, this young core that has developed," first-year Yankees manager Aaron Boone said. "And me watching from afar last year, especially in the postseason, you could see that raw intensity connection that the fan base had with the players, and that created a lot of buzz going into the winter, obviously."
Tickets are not cheap in either the Bronx or downtown Los Angeles. According to Fan Cost Index, it cost a family of four an average $301.40 to attend a game at Yankee Stadium, third in the majors behind the Chicago Cubs and Red Sox. The Dodgers are fifth at $268.02.
Both teams also added players throughout the season, filing holes and exciting the fan base.
"Some of the acquisitions, bringing in Giancarlo Stanton and others over the winter, I think, created more excitement," Boone said. "And then going out and having a really strong season, seeing more young guys kind of come of age, and I think it's evident how tied now this fan base is to this new crop of Yankee players. That's been fun to witness, and I think that's a reason why there's the interest there."
The Yankees haven't won the pennant or World Series since 2009, and the Dodgers haven't won it all since 1988, despite making it to the World Series in 2017, in which they lost to the Houston Astros.
Both teams invest their ample resources into the product, and the fans invest their resources into tickets, concessions, parking and team souvenirs. To be sure, even the secondary teams in MLB's two largest markets are doing fairly well at the box office despite down years on the field  and significantly smaller 41,000-seat ballparks. The Los Angeles Angels remained on pace with an average attendance of 37,237 for 81 dates at Angel Stadium in Anaheim.
Even though stars Mike Trout, Albert Pujols and Shohei Ohtani missed significant time this season and the Angels finished 80-82 for the second consecutive season, they were one of seven teams to surpass the 3 million mark in ticket sales, which ranked sixth overall. In 2017, the Angels averaged 37,278 for 81 home dates.
Joining the Dodgers, Yankees and Angels in the 3 million attendance club were St. Louis, San Francisco, Toronto, the Chicago Cubs and Colorado. The Rockies had a marginal increase this season, but after two consecutive playoff-bound seasons, are up 413,356 from only two years ago.
In New York, the Mets, only three years removed from losing a five-game World Series to the Kansas City Royals, slumped at the Citi Field gate during an 85-loss season. The Mets averaged 30,757 for 80 dates in 2017 and finished this year averaging 28,164 for 81 home dates, a figure buoyed by an end of season three-game count of 99,319 for David Wright's last games in a Mets uniform. But they are down significantly from an average of 34,870 for 80 dates two years ago.
Attendance is booming in the smaller, ancient ballparks of Wrigley Field and Fenway Park, where competitive teams are playing to 95 percent capacity. Defending World Series champion Houston enjoyed a huge uptick of 576,788 from 2017 to finish just under the 3 million mark. Likewise, the Milwaukee Brewers leapt to 2,718,737 from 2,558,722.
Paying crowds were also up slightly in Arizona, San Diego, Philadelphia, Oakland and Seattle. The number of fans attending games in Cleveland, Atlanta and Washington and on the south side of Chicago were all on par with last season.
Attendance in Toronto, Baltimore, Miami, Tampa Bay and Pittsburgh were significantly down. These franchises had two things in common: They began a cycle of rebuilding in the offseason and continued to tear down the roster at the non-waiver July 31 trade deadline. The fans accordingly bailed.
The Marlins, who traded their entire outfield of Giancarlo Stanton, Cristian Yelich and Marcel Osuna lost the most ticket buyers in baseball, dropping from 1,651,997 in 2017 to 811,104 this year. In reality, new Marlins management reported that actual people in the ballpark in 2017 under the ownership of Jeffrey Loria was about 820,000.
The Dodgers, of course, are no newcomers to drawing 3 million people, having done so 22 times in the past 23 seasons. The evidence of enthusiasm in the Bronx as well as Chavez Ravine was certainly there on the weekend prior to Labor Day. For a four-game series against the Arizona Diamondbacks that weekend at Dodger Stadium, the Dodgers drew 195,026.  Similarly, for a four-game series against a bad Detroit Tigers team at Yankee Stadium, the Yankees drew 154,950.
Unlike the old days when Dodger fans used to come late and leave early to beat the Los Angeles traffic, the current fan base stays. For example, a sellout crowd of 52,394 hung in there on Sept. 2 to see Matt Kemp wipe out a 2-0 deficit with an eighth-inning, three-run home run for a 3-2 win. The reaction was loud and raucous.
"I don't think our record shows how much we appreciate their support at home," Roberts said. "But the Dodger contingent, the Dodger Nation, is very supportive. It's a lot of fun here, especially when you're in a pennant race and you see there's 40,000-plus every night. It's special. Our guys want to play ball."
Barry M. Bloom has been a baseball writer since 1976, and a National Baseball Hall of Fame voter since 1992. His sometimes award-winning national reports and columns appeared on MLB.com for the past 16 years, until recently. He's now a contributing columnist for Forbes.com. 
Related Articles
Four simple changes could help speed up, increase scoring in baseball
From MLB to youth sports, baseball sees increased arm injuries in pitchers
In 1968 baseball showed black, white, Hispanic players could get along
Judging apples to apples: Should steroid users be admitted to the Hall of Fame?
Take me out of the ballpark: MLB on record home run pace, but why?