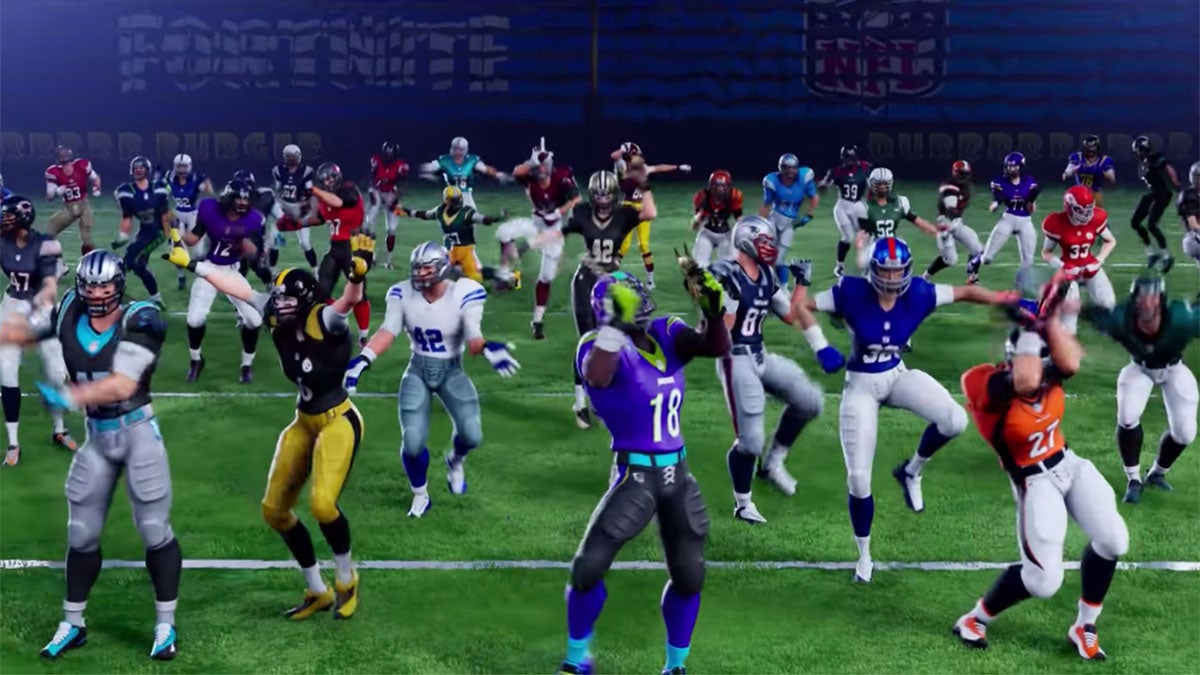 It didn't take long for the partnership between "Fortnite" and the NFL to take an unfortunate turn. Players began to have a laugh as infamous scenarios involving former NFL players were re-enacted and went viral.
"Fortnite," currently one of the most popular video games developed by Epic Games, teamed with the NFL to offer game players new character skins featuring their favorite team's jersey. The jerseys, available in any number from 1 to 99 and offered as both male and female figures, were released on November 9. Other perks included football-themed emotes, harvesting tools, gliders and a referee outfit. Once an item is purchased, the player gets to keep it even after it is removed from the shop.
"We see the popularity of 'Fortnite' every day at the NFL as many of our players are passionate about this game," said Brian Rolapp, the NFL's chief media and business officer, in an announcement of the upcoming character skins. "This partnership represents a great opportunity for millions of NFL fans who are "Fortnite" players to express their fandom inside the game while at the same time exposing our brand to countless others."
The NFL skins marked the first time Epic partnered on special outfits that originated outside of "Fortnite." It was a concept anticipated both by employees at Epic and players of the game.
"We have so many football fans at Epic, and we know a lot of the game's fans share that same enthusiasm," said Mark Reid, co-founder of Epic Games, in a press release. "Allowing our players to represent their favorite teams in the game was too cool of an opportunity for us to pass up, and we couldn't be happier with how they turned out!"
There are a number of NFL players, including Kansas City Chiefs quarterback Patrick Mahomes and his teammates, who have talked about how they enjoy playing the game on their time off. Mahomes shared on Twitter about a player wearing his jersey killing him.
Yesterday i played fortnite for the first time in a while and someone killed me with my jersey on.. don't know how i feel about it...

— Patrick Mahomes II (@PatrickMahomes) November 13, 2018
It didn't take long for gamers to start creating scenes of former NFL players in crude situations. Some of these scenes include former New York Giants defensive end Jason Pierre-Paul holding a firework, former Atlanta Falcons quarterback Michael Vick having a dog as his virtual companion and former San Francisco 49ers quarterback Colin Kaepernick kneeling on a field.
The NFL character skins were taken out of the "Fortnite" store on November 13. Nick Chester, senior PR manager for Epic Games, tweeted the skins will return and said such limited availability periods are normal for all special skins in the game.
This is consistent with how we cycle every other skin into the game. No items stay in our store long term.

— Nick Chester (@nickchester) November 14, 2018
Epic hasn't commented on the skins or their use by some gamers. Despite speculation that the NFL pulled out of the partnership, Chester is correct about it being normal for skins to leave the store as quickly as they are introduced. Lacking an official announcement, the only way to know if the partnership is, indeed, over will be if the NFL skins never return.
Nikole Tower is a senior journalism student at Arizona State University