Business
Archive
ICYMI: No NCAA toaster gifts, athletes honor Hussle and two leagues fold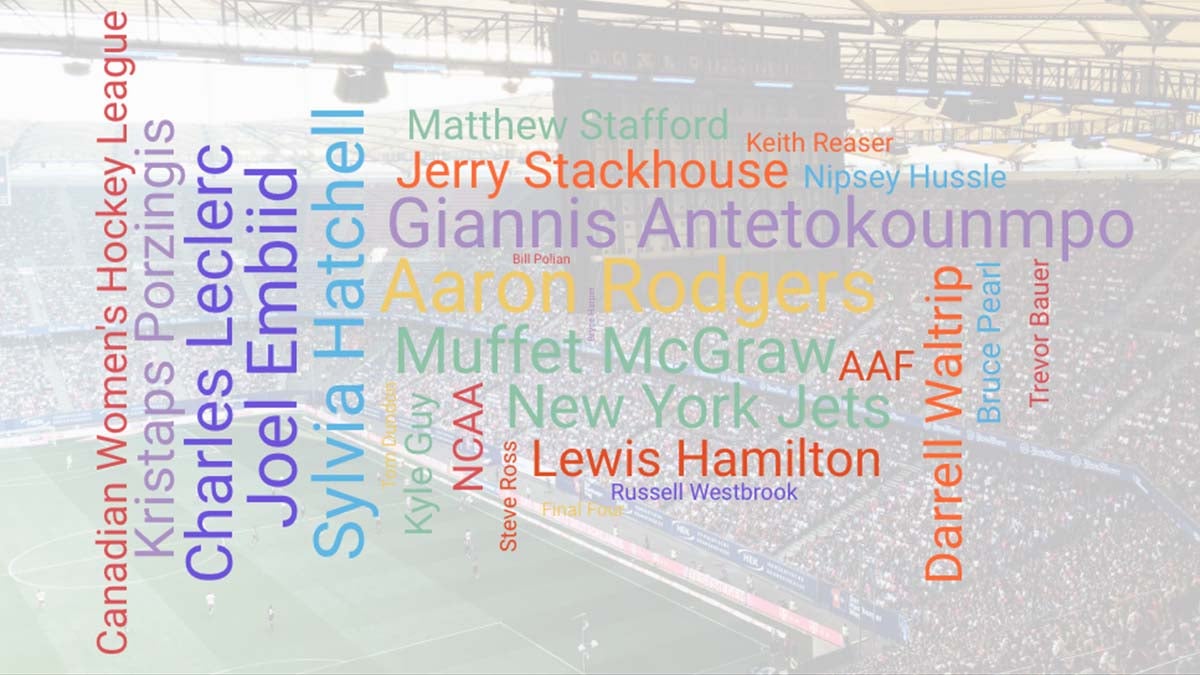 We all experience that feeling that the week can sometimes get away from you. News happens so quickly that it might feel like you don't have a chance to know what is going on in the world. Each week, GlobalSport Matters will compile some of the best of the other stories in the sporting news.  These stories will include new breakthroughs in sport science, information about changing technology and just good reads about the global sporting community. Have a story you'd like us to know about and share? Let us know.
Virginia basketball player says NCAA told him his wedding registry violates rules
As Virginia wing Kyle Guy tries to win a national championship with his teammates this weekend in Minneapolis, he has had less luck planning his wedding. Guy revealed during Final Four media availability this week that receiving gifts for marriage is illegal under NCAA rules and that he will "open that book" after this weekend's games.
Athletes pay tribute to slain rapper
Many athletes have been paying tribute to Nipsey Hussle after his tragic murder on Sunday. Russell Westbrook dedicated his performance on Tuesday night to Hussle, who is his friend, and late rapper.
Porzingis under investigation for alleged rape
Reports came out this past weekend of an investigation into Kristaps Porzingis for alleged rape and calling the the victim, a black woman, a "slave." Porzingis was traded from the New York Knicks to the Dallas Mavericks in early February which left NBA fans scratching their head. However, from early reports it seems to be that the Knicks knew about the allegations. The woman stayed quiet because Porzingis promised $68,000 in which she never received.
As youth softball, baseball season begins in the U.S. how can parents keep kids healthy?
Overuse injuries are responsible for half of middle school and high school injuries. Of all injuries that happen to young athletes, approximately half of them are preventable.
Canadian Women's Hockey League is folding
Canadian Women's Hockey League is folding in May due to a "business model (that) has proven to be economically unsustainable."  Players like Hilary Knight and Marie-Philip Poulin have played in the league.
First player from suspended AAF signed by NFL team
The NFL has signed the first player from the AAF, Keith Reaser was signed by the Kansas City Chiefs, a team which he played for from 2017-2018, was a part of the Orlando Apollos before the AAF suspended operations. The Kansas City Chiefs signed the cornerback after he recorded 12 tackles and three interceptions in games in the AAF. Reaser is accustomed to the NFL as he was drafted by the San Francisco 49ers in the 2014 draft (5th round; 170th overall) and remained with the team through the 2017 season before joining the Chiefs the first time around.
Clearfield High School (UT) baseball coach Steve Ross has been suspended for contaminating his team's home field with gasoline. Ross allegedly dumped 15-20 gallons of gas throughout different areas of the field in an effort to dry up puddles with the fire. A YouTube video from 2011 shows someone using this obscure groundskeeping method. Clearfield will play most, if not all, the rest of its season on the road. The timetable and cost to repair the field is unknown.
Compiled by the student journalists in the Sports Knowledge Lab at Arizona State University
Tags:
AAF
,
Baseball
,
Canadian Women's Hockey League
,
Clearfield High School
,
Dallas Maverics
,
gasoline
,
Hilary Knight
,
Kansas City Chiefs
,
Keith Reaser
,
Kristaps Porzingis
,
Kyle Guy
,
Marie-Philip Poulin
,
NBA
,
NCAA
,
New York Knicks
,
NFL
,
Nipsey Hussle
,
rape
,
Russell Westbrook
,
softball
,
Steve Ross
,
Virginia
,
wedding registry
,
youth