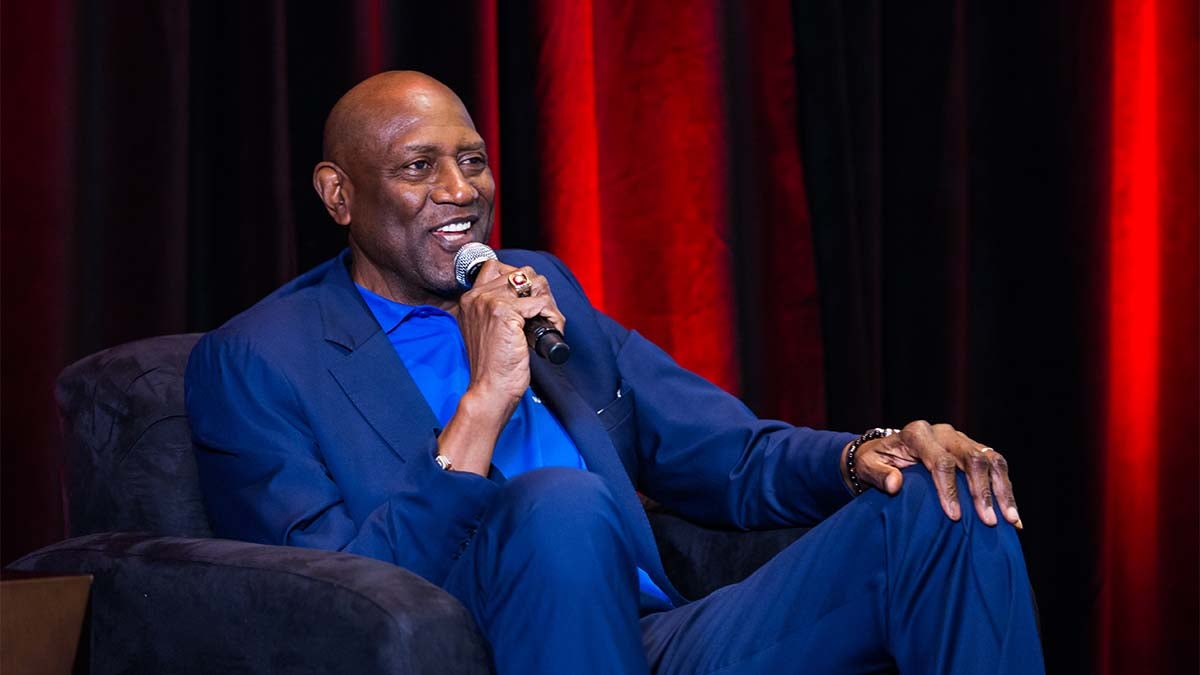 For as much as we follow sports to see what happens on the playing field, perhaps the toughest battleground comes in the courtroom.
And, at Arizona State University's 2019 Global Sport Summit in March, one panel focused on two of these lawsuits and the two very different people behind them: Amanda Blackhorse and Spencer Haywood.

Amanda Blackhorse is Diné and a member of the Navajo Nation from northern Arizona. Blackhorse is a mother, social worker and Native American advocate who lives in Phoenix. Although her official job title is social worker, she has taken up a new role in recent years. In 2006, Blackhorse and others argued the NFL Washington "R*******" team name was offensive to American Indians and, therefore, shouldn't be a qualified trademark registration. Blackhorse defended her case with The Lanham Act, Section 2(A), which stated no trademark could be used in registration if it was racist in any way.
"Unfortunately, we lost our case last year. It was really difficult because I felt like we were doing well," Blackhorse said. "Another case kind of sidelined us and won in the Supreme Court, and when it did, the Lanham Act was thrown out and ruled unconstitutional so now you can trademark anything that is racist."
Though Blackhorse's legal bid failed, the fight continues between the Washington football team and protesting groups.
Blackhorse talked about the repercussions she has experienced since the start of the protest. She has received hate mail, threats and verbal intimidation but continues to push to make a difference.
"It wasn't until 2014 when we won, and it hit the mainstream media," Blackhorse said. "I was completely unprepared for that. I had no idea that it was going to be as big as it was. Pretty soon afterward, I was probably the most hated person in the United States for 24 hours."

Since her efforts started, several middle and high schools have stood behind her and changed nicknames, such as Redmen, Savages and Indians. Blackhorse said there are ways people can contribute and help the cause such as spreading awareness and donating to her website: www.nomorenativemascots.org.
Haywood, a former NBA professional athlete who is a member of the Hall of Fame, changed the tone of basketball after a lawsuit that involved sport and society as well.
Haywood grew up in Mississippi in a family of 10 siblings. His mother and his siblings picked cotton for $2 a day. Haywood picked up a hobby that changed everything for him.
"We didn't know we were changing basketball," Haywood said. "I was just changing my circumstances because even though I was making millions of dollars for the university, my mother and brothers were still in Silver City, Mississippi, picking cotton."
Haywood started his basketball career when he was discovered by Will Robinson, who took him in and "adopted" him at a young age. After playing with Robinson, Haywood decided he would play at the University of Detroit after the university guaranteed that if Haywood agreed to play for them, they would hire Robinson has a coach.
"I thought it was a good package deal for the both of us," Haywood said. "But once they got me there, they changed their mind and said, 'Well we got you. You're stuck here for the next two, four years and you can't leave'."
After a season in which Haywood averaged 32 points and 25 rebounds a game, U-D hired Jim Harding instead of Robinson and Haywood decided to leave. Haywood went on to play with the American Basketball Association and was told that they would pay him to sit out for a year before joining the team. The problem was that the NBA had a "four-year rule,'' which held players could not enter the league until the college class that would be graduated.
"The ABA said, 'We'll let you come into the ABA but we're going to have to make it look right for the NCAA' because the NCAA was part of my lawsuit. They were under decurrent of the NBA. They put out the information that this would destroy college basketball as we know it, because without the four year rule, we can't hold players for that amount of time and the revenue that would be for the university would shrink."
Haywood began his fight with the NBA in the 1970-1971 season when the Seattle Sonics decided to take a chance on him and break the rule. The NBA moved to block Haywood from playing. Haywood then filed an antitrust suit against the league, claiming that the "four-year rule" set by the NBA was affecting his right to make a living.
"It wasn't an easy journey," Haywood said. "When we were playing the Chicago Bulls, the announcer came on and said, 'Ladies and gentlemen, we have an illegal player on the floor, No. 24. And this game is under protest.'"
The league responded with the hardship rule, which allowed a player to enter the league early as long as the player could prove he needed to for financial reasons.
Logan Huff is a senior journalism student at Arizona State University