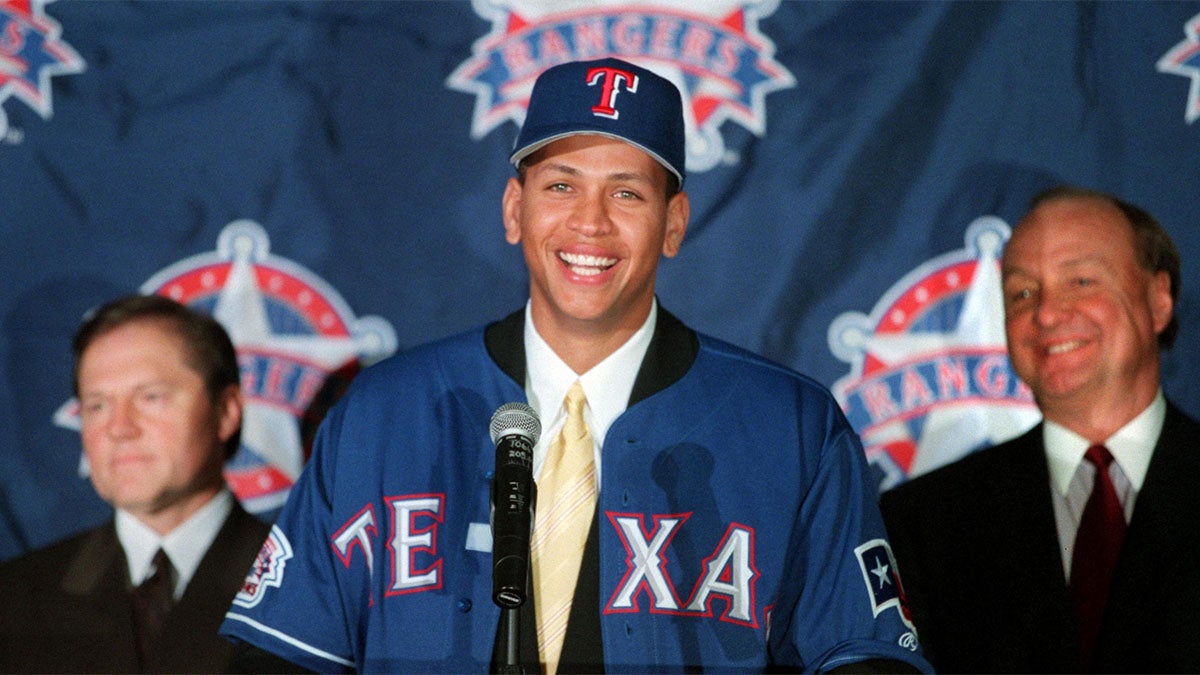 This offseason, three of the biggest deals in baseball history were signed. Manny Machado signed with the San Diego Padres. Bryce Harper signed with the Philadelphia Phillies. Mike Trout signed an extension with the Los Angeles Angels.
Trout's deal is for 12 years and $430 million, topping Harper's deal by $100 million and making him the game's highest-paid player.

Despite those numbers, the richest contract in major league history when measured in 2019 dollars remains Alex Rodriguez's 2000 deal.
Rodriguez signed a 10-year, $252 million free agent deal with the Texas Rangers on Dec. 11, 2000 — the first $200 million contract in MLB history.
At that time, the average team payroll was $66 million, and the average player salary was a little more than $2.2 million. His average salary was greater than the payroll of the Minnesota Twins during the 2001 season. Rodriguez's total contract value was greater than the individual payrolls of every team in baseball in 2001.
Adjusted for inflation, Rodriguez's deal today would be worth $592 million. The deal for 10 years and $275 million he signed in 2008 would be worth $448 million in 2019 dollars, according to FanGraphs.
Twelve years passed after Rodriguez signed his first free agent contract before another player signed a $200 million deal. Part of the reason could be traced to Texas' lack of success after signing the star. Rodriguez produced at an MVP level, but he didn't make Texas a playoff team. Also, committing so much to one player is a risk in baseball because one player cannot impact a team's overall record as much he can in other sports such as basketball.
The Rangers won 73, 72 and 71 games in the three seasons after signing A-Rod and traded him before the start of the 2004 season to the New York Yankees. The team took a big step back after winning an average of 85 games the three seasons prior to the deal including two AL West titles in 1998 and 1999.
Texas agreed to absorb $67 million of the $179 million left on his contract in the deal — the largest amount of money absorbed during a trade in the game's history. The deal also became an outlier to how the Rangers have done deals: Rodriguez's was the only one the team has done that has been valued at more than $130 million.
The team's owner at the time, Tom Hicks, had spent more money on A-Rod than he spent on Globe Life Park and the 270 acres surrounding the ballpark three years earlier.
Since the deal, the Rangers have won four division titles, though they only had two winning seasons before Hicks sold the team ahead of the 2010 season. The deal became one of his biggest regrets calling it "one of the dumb things" he did during his time as owner.
Team payroll has almost doubled since that deal was signed in 2000. The average MLB payroll is a little more than $133 million for the 2019 season. This season MLB players make, on average, $4.36 million, which is almost double the average of what players made in 2001. However, little growth has occurred the past couple of years.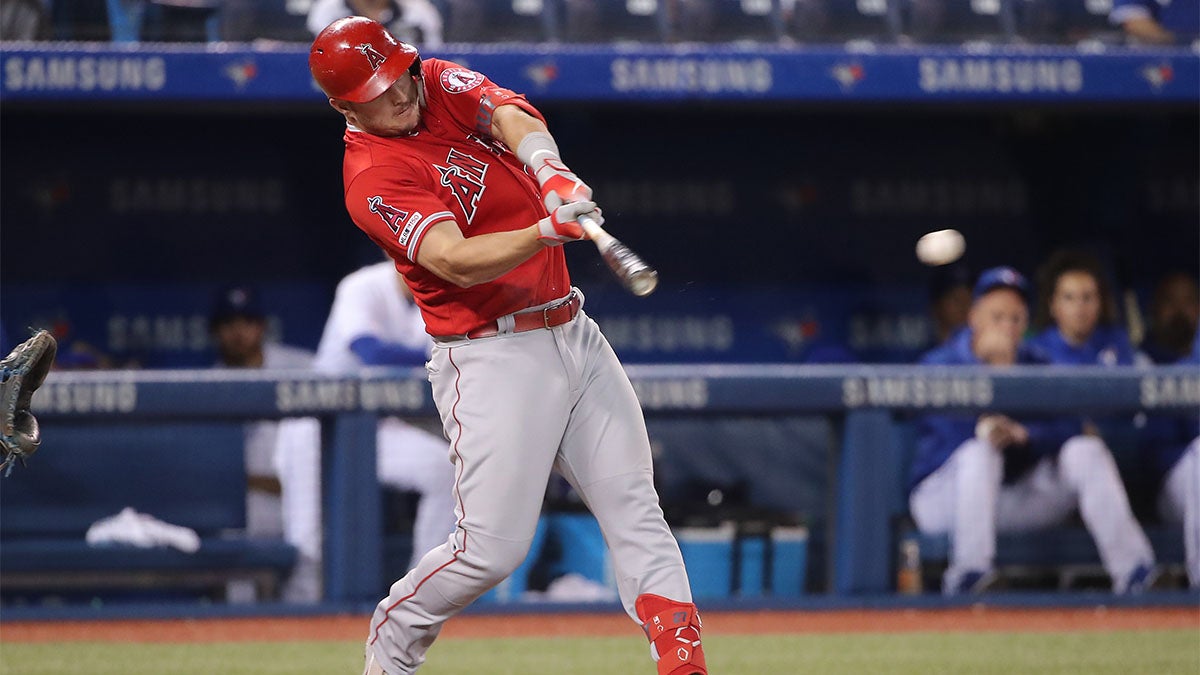 Trout has better career numbers than Rodriguez before the latter signed his $200 million deal with the Rangers. He has consistently been a top AL MVP vote-getter, winning the award in 2014 and 2016.
Coming into the 2019 MLB season, he has a 64.3 career Wins Above Replacement (WAR). His WAR compared to other players is in a league of its own. For example, Ken Griffey Jr, a first-ballot Hall of Fame outfielder, highest single season WAR was 9.5 (according to ESPN).
While Trout's career-high WAR is 10.7. Griffey Jr. also has a career 79.4 WAR which, at Trout's current pace, he'd surpass by the end of the 2020 season.
Trout's deal pales in comparison to Rodriguez' adjusted contract numbers for his 2000 deal.
Thus far Trout is playing the best out of three players who signed $300 million deals this offseason. Through the All-Star break (July 8-10) he was batting .301 with a 1.098 on base plus slugging percentage (OPS) and 28 home runs, while Harper is hitting .253 with 105 strikeouts, and Machado has a .266 batting average and 20 home runs.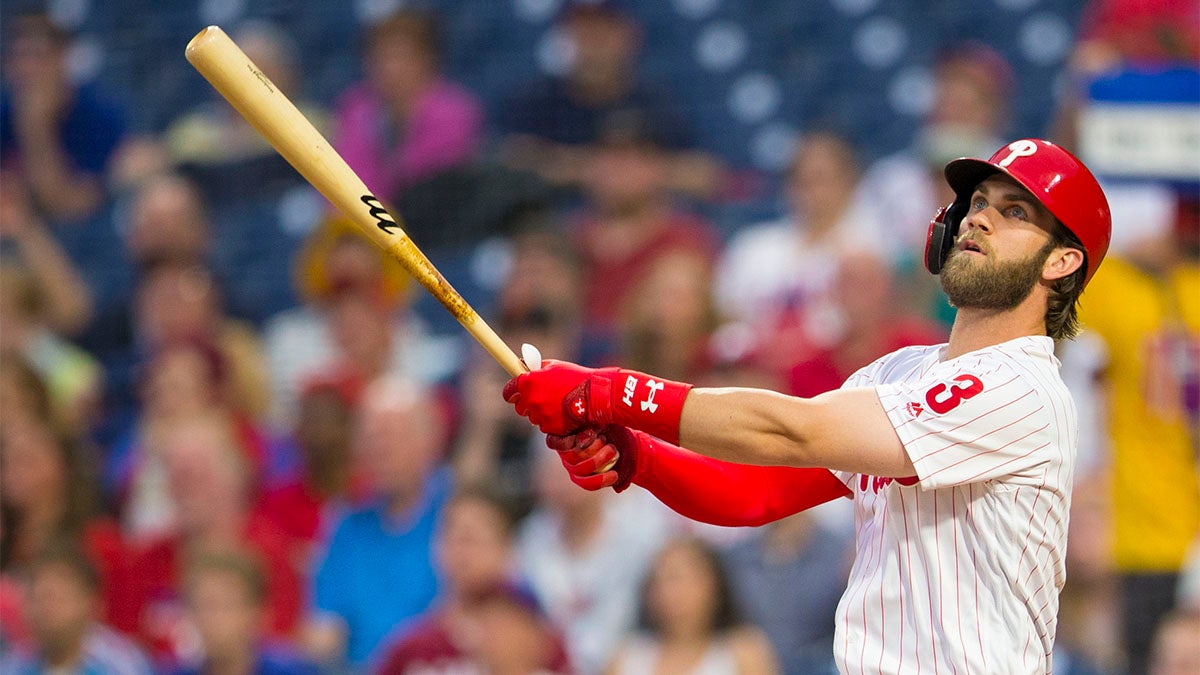 Rodriguez was playing better than all three players through the first 50 games of the 2001 season, batting .323 with a 1.080 OPS.
Trout is a transcendent talent. At the age of 26, he has 100 more home runs than Barry Bonds and almost 300 more hits than Pete Rose at that age.
Both Rose and Bonds are Hall of Fame caliber players and are two of the greatest hitters of all-time. Trout is just starting to enter his, historically speaking, prime production years, and he has already produced at a HOF level. His level of play is an outlier in comparison to his contemporaries.
Trout's contract set a record for the largest contract in baseball history, but his deal is not an outlier like Rodriguez's deal.
Eleven deals worth more than $200 million have been signed since A-Rod's first deal. Only Giancarlo Stanton's 13-year $325 million deal exceeded $300 million before Trout, Machado and Harper were signed this winter.
Players try to secure long-term deals to assure large amounts of money. Long-term deals are those seven years or longer. Short-term deals are those three years or shorter.
Teams have signed several players to long-term deals who were in their 30s at the time of the contract being agreed to. And players have shown the ability to perform at a high-level into their 40s such as Ichiro Suzuki, Mariano Rivera and Nolan Ryan.
Before Trout's deal, Zack Greinke was the highest paid player in baseball history in terms of average annual salary. Greinke's deal made him one of three players to make at least $30 million per year — all of which were pitchers. Trout's deal was unique in the sense he set the market for average money per year, too.
Machado, Harper and Stanton all signed deals that were more focused on the total amount of money.
Trout's deal possibly could create a domino effect with players like Mookie Betts, another MVP-caliber player who can hit free agency in the near future before he turns 30.
Betts was the 2018 AL MVP and has won three consecutive gold gloves. He also is the only player in the last three seasons with a WAR comparable to Trout.
Lamar Smith is a graduate student in the sports journalism program at Arizona State University