Business
Archive
Health
Amnesty International: Migrants building World Cup stadiums continue to be abused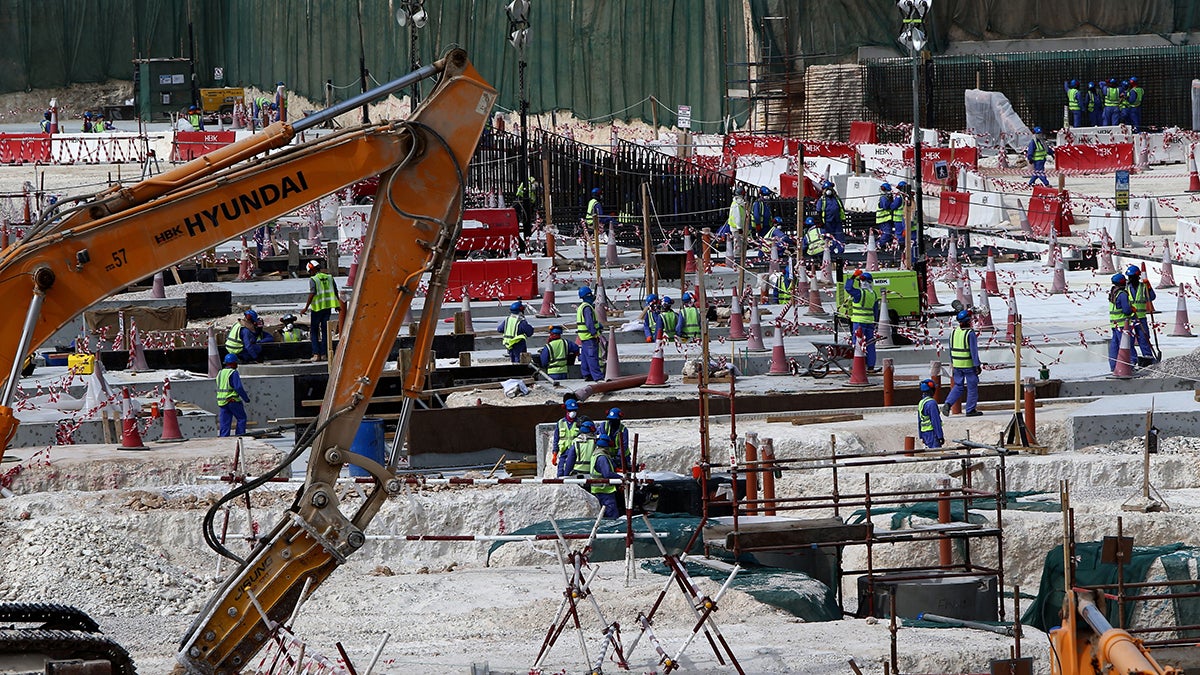 Despite continued monitoring by Amnesty International, thousands of workers involved in the construction of stadiums for the 2022 World Cup in Qatar are being exploited with many going unpaid and living in appalling conditions, a report from the human rights organization found.

Since Qatar was awarded the 2022 World Cup in December 2010, migrant laborers have been at work building eight soccer stadiums around the country with the goal of completing construction by the summer of 2020.  
However, workers have been subjected to long hours of in the Middle Eastern country's blazing heat while living in dirty dormitories and other appalling conditions, according to Amnesty International's report, which examined labor-dispute cases involving three companies over a 16-months period.  
The report found that more than 2,000 workers went for months without being paid.  
"Despite the significant promises of reform which Qatar has made ahead of the 2022 World Cup, it remains a playground for unscrupulous employers," Stephen Cockburn, Amnesty International's deputy director of global issues said in a statement. "Migrant workers often go to Qatar in the hope of giving their families a better life; instead many people return home penniless after spending months chasing their wages, with too little help from the systems that are supposed to protect them." 
Migrant workers from Bangladesh, Nepal and India sought work in Qatar to escape poverty and unemployment in their own country. Amnesty International reports that some workers abandoned their claims and returned to their country without receiving their wages after companies stopped paying them. Others settled for reduced payment.  One of the three companies ceased operations.  
This report comes even after Qatari authorities passed new laws to improve workers' rights after signing an agreement with the United Nations International Labour Organization in November 2017. Those changes were supposed to be implemented, ending the labor sponsorship system that forces foreign workers to seek their employer's permission to leave Qatar or change jobs. This new law also introduced an insurance fund for workers and set up a temporary minimum wage. 
Despite these efforts, nothing has changed.
"Qatar has made substantial progress on labor reforms," a government statement said. "We continue to work with (non-governmental organizations), including the International Labour Organization, to ensure that these reforms are far-reaching and effective. Any issues or delays with our systems will be addressed comprehensively."We have said, from the outset that this would take time, resources and commitment."
Approximately 1,200 workers have already died since 2010 and the International Trade Union Conference predicts that there will be at least 4,000 worker fatalities by the time the World Cup begins in 2022 according to a report published by the ITUC. 
"Every CEO operating in Qatar is aware that their profits are driven by appallingly low wage levels – wages that are often based on a system of racial discrimination – and that these profits risk safety, resulting in indefensible workplace injuries, illnesses, and deaths," Sharan Burrow, general secretary of the ITUC said in a statement.
Nick Sheehy is a senior sports journalism student at Arizona State University
Related Articles
Midnight marathon final doesn't ease grueling IAAF worlds conditions
Economic impact of World Cup, Olympics can be a two-way street