Business
Archive
Youth
NCAA votes to allow student-athletes to benefit from name, image and likeness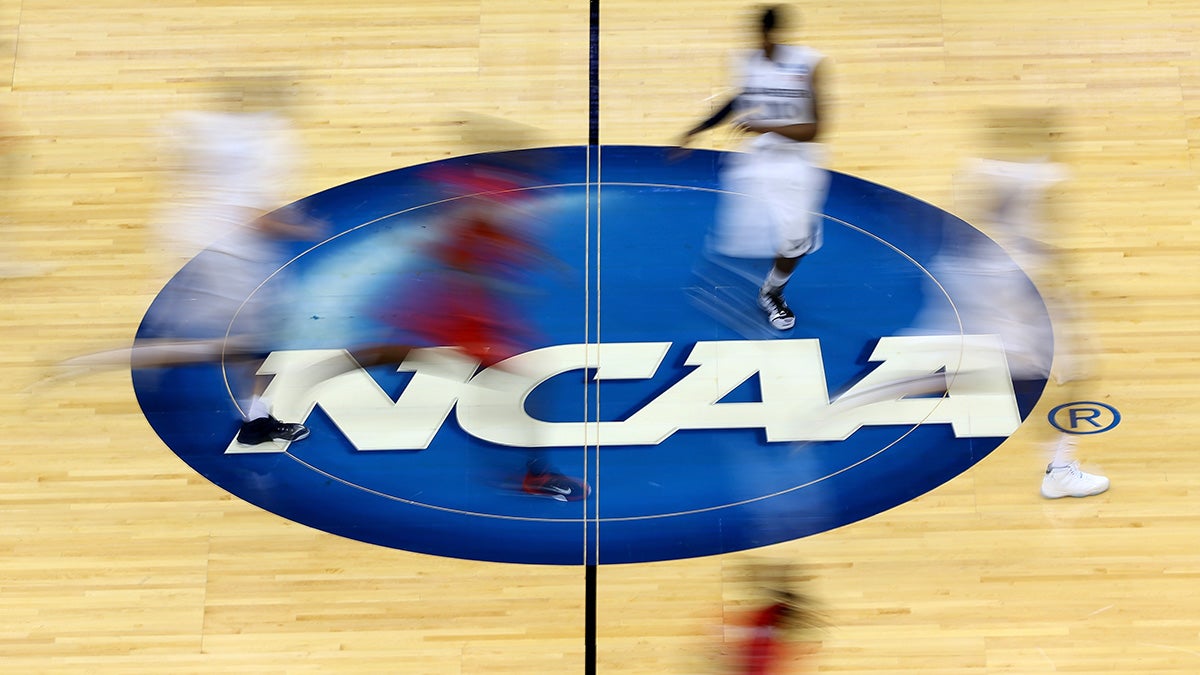 After states across the country began to introduce legislation pressuring the push for name, image and likeness rights for college athletes, the NCAA has finally agreed with them.

In a unanimous vote, the NCAA Board of Governors voted Oct. 29 to permit students participating in athletics the "opportunity to benefit from the use of their name, image and likeness in a manner consistent with the collegiate model," and has directed all three NCAA divisions to begin preparing their policies and bylaws to be updated.
On Sept. 27, California Gov. Gavin Newsom signed into law the "Fair Pay to Play Act," which allowed NCAA student-athletes to make money off their name, image and likeness, but did not allow schools to pay the athletes themselves. 
"The NCAA agrees changes are needed to continue to support student-athletes, but improvement needs to happen on a national level through the NCAA's rules-making process," the NCAA said in a statement at that time. "Unfortunately, this new law already is creating confusion for current and future student-athletes, coaches, administrators and campuses, and not just in California."
Glad the NCAA is finally allowing student athletes to own their own image. The alternative was a blatant absurdity.

— Ben Shapiro (@benshapiro) October 29, 2019
While nothing has officially changed as of today, the NCAA is hoping each of its three divisions create new rules that would go into place "immediately, but no later than January 2021," according to a media release from the NCAA.
According to the release, the Board of Governors said modernization should focus on assuring student-athletes are "treated similarly" to other students unless there's a "compelling reason," making the distinction between collegiate and professional opportunities clear, and reaffirming student-athletes are students first and not university employees.
I ran in college 'cause I loved it. No scholarship, no compensation, 7 NCAA Titles. That said I sure would have enjoyed the opportunity to! For the 1st time since I've been in sport the NCAA got it right: athletes can now make money on their name, likeness & image! #PayThePlayers pic.twitter.com/XHYhUbYAaY

— Nick Symmonds (@NickSymmonds) October 29, 2019
The action was based on recommendations from the NCAA's Federal and State Legislation Working Group, which the NCAA said has worked for the past several months talking to a variety of people in and out of college sports, as well as legislators. It will continue to work on the issue over the next six months.
While the NCAA states that this is done in its "continuing efforts to support college athletes," some in and around the sports world believe the NCAA is only acting in response to the government push for change.
Statement from Sens. Murphy and Romney in light of the NCAA vote today: "We need to correct the inequities between what college coaches and the institutions make versus what the athletes receive and protect college athletes' health and educational opportunities." pic.twitter.com/hhPYSVDGf5

— Allan Smith (@akarl_smith) October 29, 2019
"It's entirely reactionary," said Nathan Kalman-Lamb, lecturing fellow at Duke University who teaches on social inequality and sports. "There's absolutely a zero percent chance that we would have seen the announcement we saw today if there wasn't this cavalcade of states that have followed – and also not just the states, but we have federal legislation in the offing, too.
"The NCAA has literally been forced to do this. They're doing this because they fear that if they don't do this, there's going to be chaos if different states are going to have different legislation."
Protecting student-athletes had been a reason the NCAA had previously cited for preventing student-athletes from benefiting.
 "One of the arguments the NCAA makes to protect the status quo is that amateurism is educational and if athletes make money it will hurt their educational outcomes because they will not try as hard in the classroom," said Victoria Jackson, sports historian and lecturer  at Arizona State University and a former collegiate runner.
The Federal & State Legislative Working Group are presenting their recommendations on name, image and likeness this morning. Today, as representatives of the 170,000+ Division 1 student-athletes, we publicly share our thoughts as well. We are the 100%.https://t.co/UFViHVqUd2 pic.twitter.com/hqPWUe8QIj

— Division I SAAC (@Div1SAAC) October 29, 2019

In a question and answer document released in conjunction with the announcement, the NCAA said it has not rejected outright the Olympic model, but will consider elements "consistent with the college environment."
But there is already pushback on the NCAA from government officials. U.S. Sen. Richard Burr, R-North Carolina, tweeted that he will introduce legislation that would classify scholarships that student-athletes receive from universities as taxable income if they choose to "cash in" on their names, images or likenesses.
While many disagree with Burr's stance, including North Carolina state Sen. Jeff Jackson, the news has been met with caution even from within the NCAA. The Division I Student-Athlete Advisory Committee (D1SAAC) advocated for more "consideration" for non-revenue sports in a statement.
If college athletes are going to make money off their likenesses while in school, their scholarships should be treated like income. I'll be introducing legislation that subjects scholarships given to athletes who choose to "cash in" to income taxes. https://t.co/H7jXC0dNls

— Richard Burr (@SenatorBurr) October 29, 2019

"We believe it is possible and necessary to reform the rules around name, image and likeness, but any such reform, whether it be at the organizational or governmental level, must include these considerations so as to not dismantle the entire system," the D1SAAC statement said.
But the D1SAAC did acknowledge the "outsized impact" of the major revenue sports of men's basketball and football, which the rule changes seem to be directed toward. While he indicated he isn't sure what changes will eventually come, Arizona State football coach Herm Edwards said he supports any changes that "help the sport."
The NCAA is suddenly ready to "embrace change" - now that the state of California and athletes like @KingJames have forced their hand - to allow college athletes to collect endorsement money, instead of all that money only going to the schools. pic.twitter.com/HHY5HC47zi

— Rachel Nichols (@Rachel__Nichols) October 29, 2019

"As adults, we get to make the decisions, so make an adult decision, look at the long-term of sports, and say, 'Is this the best way to go? " Edwards said. "And if it is, then make some rules and sanctions, and say, 'These are the rules we all got to live by,' and every coach and player will understand it, and we'll all live by it. 
"It's all evolved. I mean pro football, for God's sake, those guys used to have second jobs. So it's all evolved. And you can't go hide and say, 'It's the good ol' …' It's not the good ol' days. It evolves. We evolve as a society. It's part of it, and if you don't do that, then you're hurting the game. So just do what's right, because right's always right. Right's going to be right until eternity, and that's all we've got to do. Just do the right thing. Those guys will figure it out."
Ed O'Bannon is one of the most notable names in the long fight against the NCAA's amateurism laws. O'Bannon played basketball for UCLA from 1991 to 1995. He was on the Bruins' 1995 championship team. He filed a lawsuit in 2009.
O'Bannon was a lead plaintiff in the case involving 20 student-athletes from Division I basketball teams or the FBS football division. Electronic Arts created NCAA football and basketball games, using likenesses of real college athletes, but the NCAA did not allow payment to be made to the athletes. O'Bannon argued that the NCAA was restricting trade, which is illegal under the Sherman Antitrust Act.
The case was heard in the U.S. District Court for Northern California, in front of Judge Claudia Wilken. O'Bannon argued the NCAA was unjustly using footage of him in television advertisements, and O'Bannon received no compensation for the use of his image. The District Court ruled in favor of O'Bannon and the other plaintiffs. The NCAA appealed the ruling, and had it partly affirmed by the 9th U.S. Circuit Court of Appeals.
Does this mean I get my junior and senior year back for the Buffs? #Blooooooooooooom pic.twitter.com/bM8DPiEnsa

— Jeremy Bloom (@JeremyBloom11) October 29, 2019
Wilken suggested the NCAA act as the Olympics had regarding allowing professional athletes: Keep stipend-like payments up to $5000 in a trust for the athletes to access post graduation. The 9th Circuit reversed the ruling.  
O'Bannon was able to prove markets exist in college education and group licensing. Wilken ruled schools are able to offer full cost-of-attendance scholarships. Before this ruling, cost of living was not accounted for by scholarships. The NCAA argued such compensation should be determined by licensing and intellectual rights, not on athletic ability. The ruling also stipulated that the reason an athlete leaves the institution before graduation will factor into whether they are entitled to the trust, and that decision would be determined by the NCAA or institution.
As a result of O'Bannon's partial win, EA Sports removed games featuring college athletes from stores.
The lawsuit carried on for seven years, ending in 2016 when the Supreme Court declined to hear the case.
Alex Simon is a masters sports journalism student at Arizona State University
Related Articles
Survey shows student-athletes feel taken advantage of by NCAA
Signed California law sets up showdown with NCAA over student-athlete compensation
California lawmakers unanimously approve bill allowing college athletes to make endorsement deals
NCAA launches panel to examine paying athletes for their likeness
NCAA says amateurism is 'educational' while making millions off student-athletes
NCAA rulings on amateurism called 'absurd,' 'inconsistent'
Opinion: NCAA commission recommendations miss the forest for the trees
Judge's ruling upends NCAA, says group can't limit compensation for student-athletes
Opinion: It's time to end the notion of NCAA amateurism
Podcast: How does NCAA's amateurism rules impact a player like Zion Williamson?
Tags:
benefit
,
board of governors
,
California Gov. Gavin Newsom
,
Division I Student Athlete Advisory Committee
,
Duke University
,
Ed O'Bannon
,
Fair Pay to Play Act
,
Federal and State Legislation Working Group
,
image
,
likeness
,
name
,
Nathan Kalman-Lamb
,
NCAA
,
NIL
,
Olympic model
,
U.S. Senator Richard Burr
,
vote