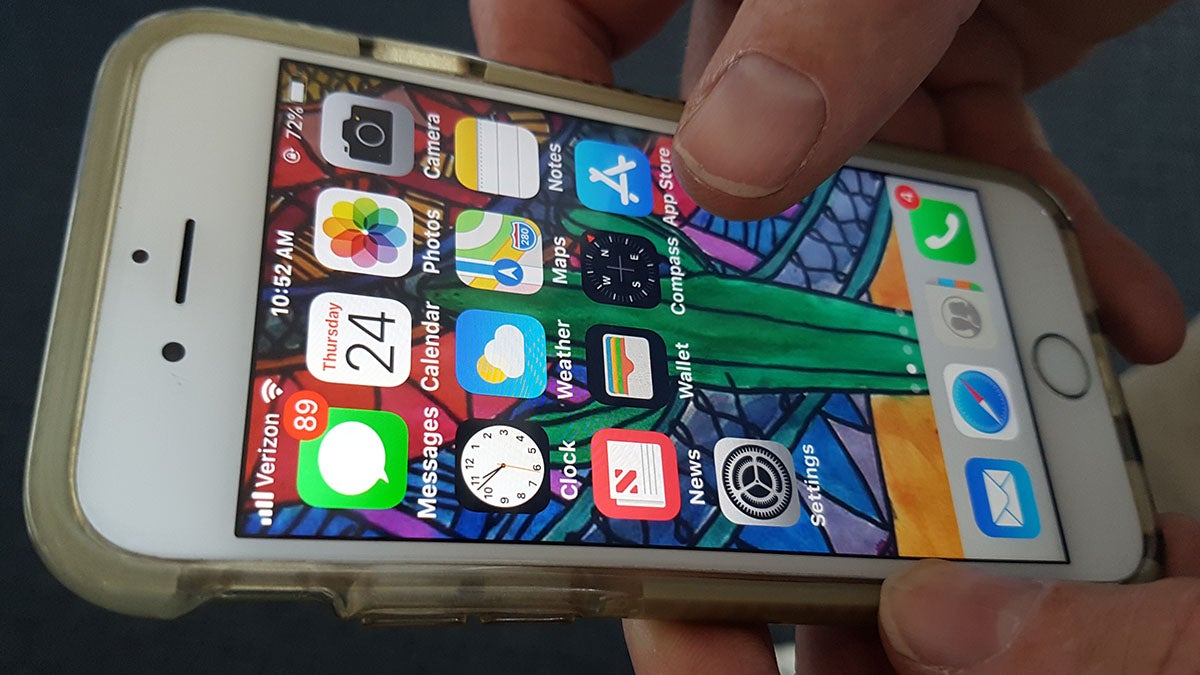 Until a few years ago, the use of cellphones at golf tournaments was prohibited. Now, people on the course can use cellphones to make a profit — or to lose money — by combining advanced data-tracking software with newly legalized sports betting.

Using the ShotLink system, fans attending tournaments can receive real-time information from every hole. Every shot is now tracked by lasers and by unmanned cameras.  
Picture this: You're with some friends on the 12th hole at a PGA Tour event. Before the next golfer tees off, you check your phone, looking at the latest odds for the upcoming hole. The options are endless for proposition bets, better known as prop bets: What will the result of the hole be? How far will the first drive go? Will the total number of strokes needed be an odd or even number? The possibilities are endless for these bets on happenings during play. 
Matt Troka, the senior vice president of product and partner management of CDW, the PGA Tour's technology partner, spoke with Golf.com about how this technology can be used for betting. 
"When considering the role of data in sports betting and gambling, we understand that the uses of technology are always evolving," he said. "It is universally important that consistent, accurate and real-time data be available." 
In November 2018, IMG Arena announced that it is the official sports-betting data distributor of the PGA Tour. With the deal, IMG Arena holds the exclusive distribution rights to official statistical data that's collected through ShotLink, the PGA Tour's real-time data-tracking system.
After the deal was announced, Freddie Longe, senior vice president and managing director at IMG Arena, said in a media release, "The global sports betting market's access to official data has revolutionized the in-play sports betting experience. We see golf as a sleeping giant. It is one of the few major sports that doesn't yet offer consistent in-play betting markets. The PGA Tour is an undisputed leader in golf, and we feel this long-term partnership will allow us to work hand in hand to grow the game and protect the sport via the launch of a truly innovative digital experience that captures the next generation of sports betting and entertainment."
Ezra Kucharz, the chief business officer for DraftKings, a daily fantasy sports content app, thinks the technology will bring a much more immersive experience for people who are already into golf.
"Before something like this, (people) were only paying attention to golf four or five weekends per year around the majors and maybe the Ryder Cup," he told SportTechie. "This creates an enhanced experience so that other weekends of the year, they're going to want to be immersed in the PGA Tour."
In July 2019, DraftKings signed a multiyear deal to become the first official daily fantasy game of the PGA Tour. With the partnership, contestants will be able to receive real-time video highlights for PGA Tour players in their lineups. In addition, DraftKings and the Tournament will collaborate on a variety of real-time product enhancements courtesy of the PGA Tour's ShotLink data feed. 
"Golf continues to grow in popularity among DFS players globally at DraftKings and is our fourth-largest sport in terms of engagement, out of 15 total offerings." Kucharz said in a release. 
PGA Tour Commissioner Jay Monahan said, "This is a very important step for the PGA Tour in terms of engaging our fans, serving our players and enhancing our Integrity Program. Creating a bigger, more diverse, more engaged fan base around the world is key to any league's success, and sports betting is part of how we plan to do that."

Having the chance to win money instantly will be appealing to the casual fan in attendance. Andy Levinson, who is the PGA Tour's senior vice president of tournament administration, said that around 80 percent of all sports bets made in New Jersey were made on mobile devices.
According to TheLines.com, roughly a quarter-billion dollars was spent on sports betting in New Jersey in July. 
Levinson told SportsTechie, "That's something that we would really like to see (on the course). One day when people are attending PGA Tour events, then they can place wagers on their mobile devices."
On top of giving fans a chance to leave the course with additional money in their (virtual) wallets, the PGA Tour is using this as a way to generate more interest and excitement among fans. With the popularity of the NFL, NBA and MLB, golf isn't necessarily at the top of the leaderboard in regard to fan interaction. 
Steve Evans, who is the senior vice president of golf technologies at PGA Tour, views betting as a potential way to expand golf's fan base.
"We've got a ton of data, but the magic is transforming it so that it's easy for fans to consume at the right moment," he told Golf.com. "Just like with fantasy football, the casual fan can have a gamified experience, even if they're not betting. The engagement of people who participate at that level is so much higher. We look at it as a platform to really build our fan base."
Blake Harris a senior sports journalism student at Arizona State University
Related Articles
Kenyan, Nigerian governments addressing rampant youth sports gambling
Will sports gambling change the way we view sports?
As gambling makes inroads across sport, preventing match fixing remains difficult
Super Bust: 1st Super Bowl with legalized gambling falls well short of projections
Expanded state gambling fuels Super Bowl betting growth
Supreme Court ruling opens door to widespread sports betting 
Legal sports betting projected to boost revenue for 4 U.S. major sports leagues
Will sports gambling change the way we view sports?
Court's gambling ruling puts NCAA at crossroads of injury information, privacy acts 
Maintaining integrity of the games will be ongoing issue for NCAA with legalized sports betting
News flash: Improper payments to college athletes is #oldnews
Do gambling firms have a role in South African sport sponsorship?