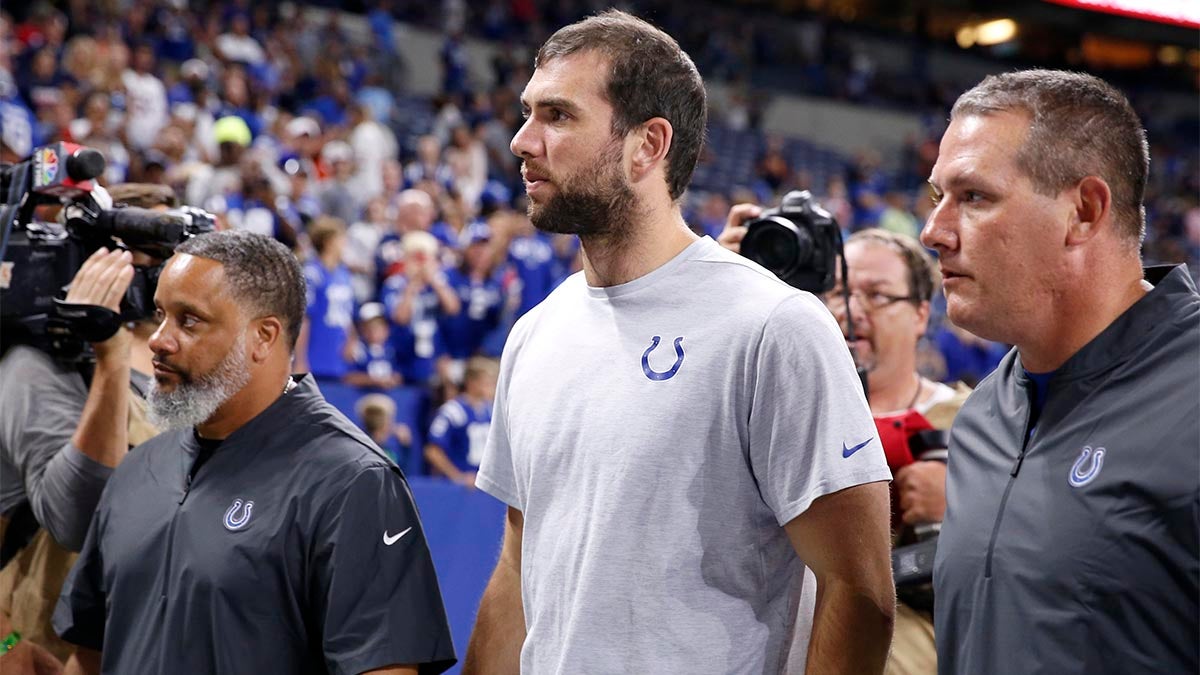 For some athletes, life after sports is hard. Players build their days around a disciplined schedule of practice, meals, working out and sleep. 

"This is what I tell people: Football is a great sport," Brian Orakpo, former NFL outside linebacker told NBC Sports. "But it takes sacrifice. There's nothing fun about an NFL practice. Nothing at all."
Orakpo played 10 seasons in the NFL (six with the Washington Football Team and four with the Tennessee Titans), but said he knew for a while that he wanted to stop playing football around the 10-season mark.
"Pass the torch," Orakpo told NBC Sports. "Move on. Too many guys roll the dice for one more contract."
Orakpo stopped playing for the same reasons many of his peers did: injuries made the game less enjoyable for them, they started a family or they simply no longer find joy in playing their sport.
Injuries forced four-time Pro Bowl quarterback Andrew Luck to retire before the 2019 season started. In the last four years of his career, Luck missed 26 games, including the entire 2017 season because of injuries to his shoulder, ribs, spleen and abdominal muscle. He suffered a concussion and then required shoulder surgery. 
Then Luck ended up missing all of training camp in 2019 due to what was initially described as  a calf strain that he suffered in March. News about his retirement leaked out during the Colts third preseason game against the Bears.
"It's been unceasing and unrelenting," Luck told the Chicago Tribune. "I felt stuck in it and the only way I see out of it is to no longer play football. It has taken my joy of this game away."
Former NFL offensive lineman Max Unger and Travis Swanson retired due to injury problems as well. Unger was told at the end of the 2018 season that arthritis pain in his right hip could be relieved with surgery. Instead, he opted to retire.
Swanson had knee surgery in college before accumulating a slew of injuries in the league.
"I had two shoulder surgeries in the NFL," Swanson told NBC Sports. "Constant ligament tears, bone spurs, dislocations. And concussions. Stuff, literally, every year. My joints hurt, every day."
Swanson played four years as a center for the Detroit Lions and one with the Miami Dolphins. He started a business called Alpha-Lit with his wife that rents illuminated letters for events to be used for backdrops and social media posts.
Unger moved back to Hawaii with his wife and two daughters. Orakpo owns a Gigi's Cupcakes franchise in Bee Cave, Texas with former teammate Michael Griffin. He has started an app called Athlete Connect which helps athletes connect with personal trainers in their geographic area and he also has plans to start a third business with other retired athletes.
Luck hasn't announced any plans regarding his life beyond football, although he has expressed interest in possibly becoming a high school history teacher and has a degree in architectural design from Stanford.
Planning for life after the game
Many players do not plan for life after football.
Former Baltimore Ravens linebacker Jameel McClain, who is now the team's director of player engagement, has been counseling NFL players on handling their post athletic endeavors.
"It's always going to be a challenge to tell someone, 'The moment you get in, you should be thinking about getting out of it,' " he told the Baltimore Sun.
McClain's work with the Ravens includes financial education classes for second- and third-year players, arranging internships with technology companies or planning bonding activities for player wives and girlfriends, all different techniques to get to know the players on the team outside of football.  
"When it's over, it's really a loss of identity," said Karen Gallagher, senior postdoctoral research scholar at the Global Sport Institute.
GSI has been researching how military veterans transition from the service in an effort to find ways to help athletes make the transition from their playing days to life beyond their sport. 
"You have put your body through a whole lot, you are more likely to sustain concussions (injury)... and you are losing the camaraderie," Gallagher said.
Both military veterans and athletes deal with identity foreclosure, which is a stage of self-identity in which an individual has not yet explored their identity outside of a certain occupation or ideology. The void left at the end of a playing career can cause some athletes to isolate themselves.
"The worst thing you can do is not extend yourself beyond your sport," Gallagher said.
Rob Gronkowski, former New England Patriots tight end, has begun to dive into several business ventures since he retired in March. According to Spotrac, Gronkowski earned about $53 million during his nine-year NFL career. 
He credited his ability to transition to other entrepreneurial efforts after his career ended because of how he saved money during his career. He told Business Insider he lived off his endorsement money while saving the majority of his contract money. 
In August, he announced his partnership with CBDMedic, a company that produces a cannabidiol-based pain relief ointment. Gronkowski credited the ointment with helping him cope with a lot of aches and pains he had from his football playing career.
Gronkowski also, recently became apart of the FOX Sports broadcast team as an NFL analyst.
Lamar Smith is a masters student in sports journalism at Arizona State University
Related Articles
Andrew Luck's retirement focused attention on mental health and injury recovery