Culture
Like Mother, Like Daughter: Title IX Trailblazers Watch Their Daughters Take the Stage
Why this matters
Title IX's impact continues to resonate as the second generation of women athletes follow in their mother's footsteps.
Cheryl Bridges broke the world record for the marathon in 1971, the year before Title IX was passed.
When Bridges, now Cheryl Treworgy,  started running as a girl in the 1960s, there were no girls' track or cross country teams. She was given what amounted to the first women's athletic scholarship to run at Indiana State University. As a freshman, she had no female running peers, so she had to race in high school boys' cross country meets. They thought she might get in the way, so she had to wait 5 seconds after the gun went off to start running. Still, she said, "I never got worse than third."  
Running runs in the family. Treworgy's daughter Shalane Flanagan knows a bit about running and breaking barriers herself. She won the New York City Marathon last year and has run in three Olympics, winning a bronze medal for the 10,000 meters in 2008.
"I think what Title IX did for Shalane and women around her age, and maybe a little bit before, is that it made it so that they could concentrate on their sport and getting better, and not have to worry about where they can take a shower," Treworgy said. "It's the subtle little things that made us feel different and not important and not valid as athletes."
When Lisa Rainsberger was a runner at the University of Michigan in the early 1980s, she had women teammates to train with, but they didn't enjoy all the same benefits that their male peers did. In 1985, Rainsberger (then Lisa Larsen Weidenbach) won the Boston Marathon—the last American woman to do so until Desiree Linden won it in April. Now, Rainsberger's daughter Katie Rainsberger is a runner at the University of Oregon.
From Treworgy to Flanagan and from Lisa to Katie Rainsberger, the athletic landscape for women has shifted considerably, thanks to Title IX laying the groundwork for women's sports in schools. These daughters of Title IX never had to worry about being allowed to play—they always had sports available to them. And Flanagan and Katie Rainsberger grew up knowing that their mothers' athletic experiences were starkly different from their own.  
"Title IX has made what should have been all along, now the norm," Treworgy said. "It was the wake-up call that not all was equal in the world of opportunity, and it forced us to look at the inequalities all around us."
When Treworgy was in high school, "my social studies teacher happened to be the boys' cross country and track coach," she explained. "When he found out that I had interest, he encouraged me to come out. He knew me as a person." But when the school board found out she was running with the boys, they stopped her.  
She said other athletes were supportive. "It was the outside world that didn't encourage us. It was the inside world that always had," she said.  
Even later in her career, Treworgy lacked the basic benefit of having teammates to train with. "I did all of my training either by myself or with guys in a modified environment," she said, so she didn't have the camaraderie of a team of women, and gauging her competition before a meet was difficult.  
What if Treworgy had had the opportunities that women have today? "I don't know if it would have made me a better athlete. It would have taken some of the worries off and let me concentrate more on what I was doing," she said.
Lisa Rainsberger noted that Katie has had access to great medical and academic support, and "she's a much more balanced all-around student-athlete because of the support that is equal to that of the men."  
At the University of Michigan in the late '70s-early '80s, Lisa was a swimmer-turned-runner. Even though Title IX had been enacted in 1972, women's sports were still getting established, she recalled. "Our uniforms were horrible, our travel accommodations were horrible—we just kind of had to accept the fact that it was going to take time before things would be equal."  
For example, when the men's and women's teams traveled to compete, Lisa said, "the men had a bus with a bathroom and TVs, and we had to rent these rickety old vans that we drove ourselves."
It wasn't fair, but at the time, she said, "we were grateful that women's sports were finally becoming embraced and we were able and allowed to play. It's hard to explain in today's world—people are appalled when I explain the differences. At the time, it was awesome."  
Lisa qualified for the 1980 Olympic trials as a swimmer, but the U.S. boycott meant she didn't get to compete. She came in fourth in the 1984 Olympic trials for the women's marathon—the first year the Olympics included a marathon for women. Previously, the marathon was only for men.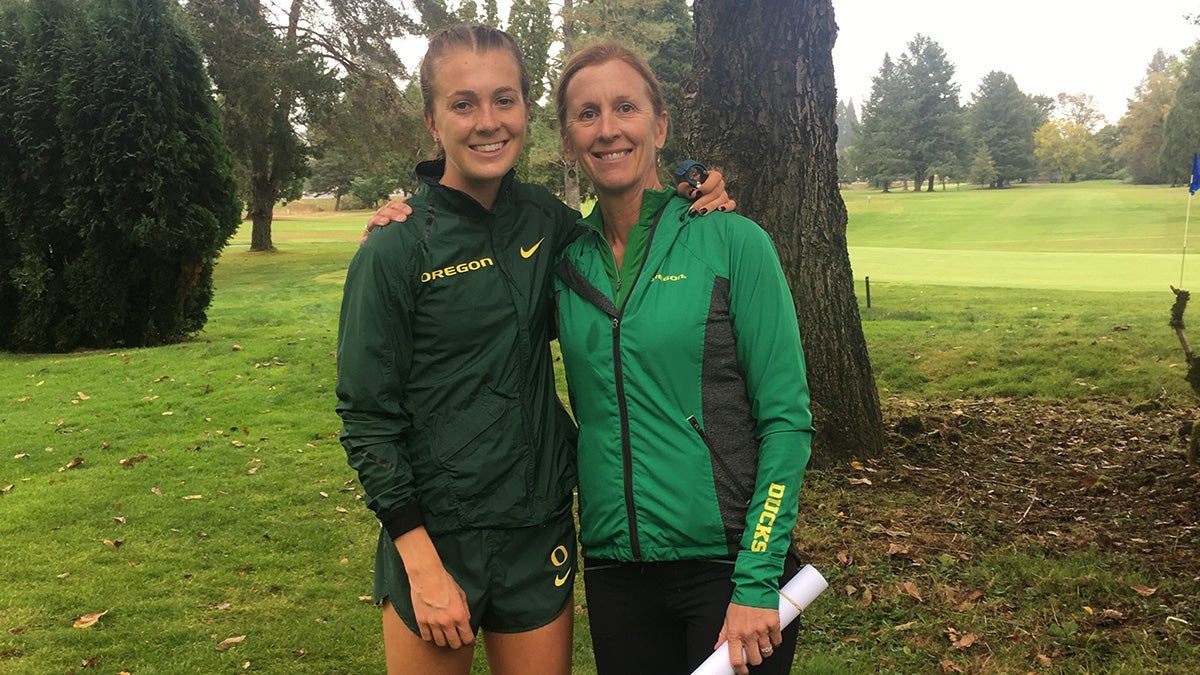 Katie's childhood included playing soccer and other sports and idolizing high-profile female athletes like Mia Hamm and Abby Wambach. Katie said her mom "had to choose between three or four sports growing up that she was allowed to play. When I grew up, I did everything."
She pointed to the women's marathon in 1984: "It was the first time they allowed women to run a full marathon in the Olympics—they didn't think that women could run 26 miles. That's crazy."
Katie remembers her mom telling her about a race in Florida that didn't offer equal prize money to the male and female winners. Each year, they would try to get Lisa to compete. "She said, 'When the prize money is the same, I will come to your race.' She put up this little fight, and so three or four years down the road, they ended up leveling the prize money, and she went down and actually did win the race," Katie said.  
Title IX gave women the push "to stick up for themselves and to pave the way for all the opportunities that I have now," Katie said. "I want to say thank you for the bravery and the initiative that it took for the women in my mom's era to stand up for themselves and to fight for the right to participate in sport. I know that I definitely wouldn't be where I am today without that."
"Professional women runners back in the late '70s and early '80s were really kind of unheard of," Lisa said, but Katie will have robust support and "all the pieces that will allow her to continue on in the sport after she graduates. Back when I was trying to make my way through the sport, I was self-funded—I had to do it on my own."
In Title IX's early years, Treworgy said, no feeder system existed for girls' sports, so the athletes typically weren't very good—but all that changed eventually. By the time Flanagan was playing soccer as a girl, "the girls were so excited."  
Society became more accepting of female athletes over the years, and part of the reason was that "fathers discovered their daughters could be athletes," Treworgy said. "That made all the difference in the world."  
When Flanagan was in high school and had to write a report on a controversial topic, Treworgy suggested that she write about Title IX. When Flanagan was being recruited, her mother explained that Flanagan was in charge of the process—and she would have to spend a lot of time with her coach at the school she picked. So, when she met with coaches recruiting her, "at the end, when they asked if she had any questions, she'd say, 'Yeah. Are you compliant with Title IX?'" Treworgy remembered.
"I don't think the progress we've made is lost on Shalane," Treworgy said. "She takes her position as a role model very seriously. She enjoys mentoring young girls and is aware of the brand she is putting out to the public. She is in a position to show us what is possible." (Flanagan was unavailable for comment.)
Giving girls and women opportunities to play slowly ratcheted up the intensity of women's sports, and now people pay to watch women play. "If you look at the number of women who are participating, and just how fast and how incredible the women are becoming—they're breaking records," Lisa said. "Last year, the women's 1500 was crazy competitive. It's exciting to watch."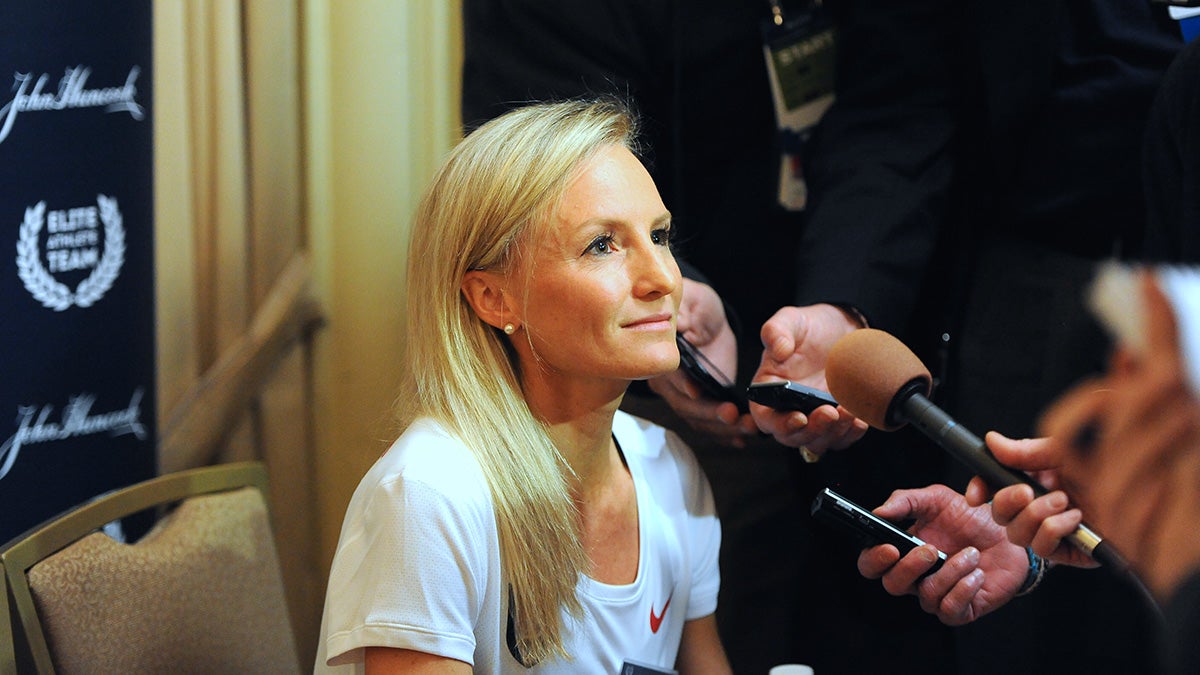 Today, young girls may be unable to fathom a time when girls' teams didn't exist, or when female college students had to wear skirts rather than pants on campus, as Treworgy did. The progress made in the last 46 years is undeniable, but that doesn't mean everything is equal. Girls and women still don't have equal opportunities to participate in sports. High school girls have about 1.2 million fewer opportunities to play sports than their male classmates have.
The progress made is important, but "there's room for improvement," Katie said. For example, she explained that at some track meets, "they'll have a men's mile and a women's 1500. They'll say that they have the men's mile because breaking sub-four minutes attracts a crowd for males. So they'll specifically change it so that the audience is more intrigued by the male mile, because running sub-four has more appeal than the 1500, but they'll let the women run the 1500, because that doesn't really matter that much."  
Now, Lisa coaches runners, swimmers, triathletes, and Paralympians, and she trains the boys and girls together. "I coach my children to be genderless—there's no difference. Hard work is hard work, dreams are dreams," she said. "When the boys see a girl turning herself inside out to run hard in a workout and they're right next to her, they're going to respect her. And she's going to respect them for the same effort and hard work, and it teaches tolerance and acceptance," she said, noting that Title IX has allowed that to happen.  
Athletic participation empowers the athlete, and it teaches valuable lessons. Being an athlete "forces you to learn that you have to work hard to achieve your goals, and it teaches you to set goals," Katie said. And competing in an intense environment teaches you that "setbacks and adversity are things that don't define you—they're what makes you stronger in the end. And I think that sport is a really good medium for those sorts of lessons."
Lisa knows how Title IX has affected her, her daughters and granddaughters, and the athletes she coaches. "Raising two daughters, Title IX has opened up opportunities in the world of sports for them. And I have two granddaughters and one on the way, and who knows what possibilities lie ahead for them."
And the possibilities that sports present are not limited to the track or the field. "What athletics does is it rewards you for what you have to offer and for taking care of yourself and realizing that you actually are valid and have power," Treworgy said. Participating in sports "gives you power to say no to your abusers, it gives you power to trust your instincts—it gives you power that you didn't know you had all along.
Allison Torres Burtka is a freelance writer and editor based in metro Detroit. You can read more of her work here.