Culture
Opinion
Opinion: Having 'El Tri' as America's other team a natural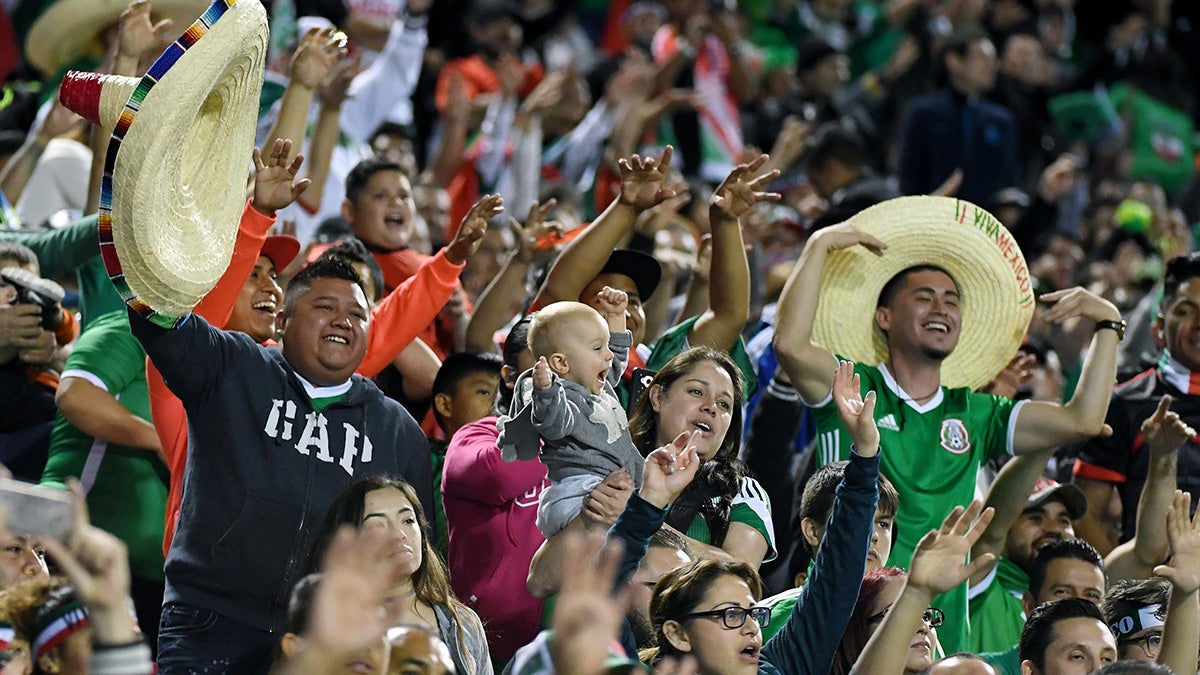 In the opening days of the 2018 World Cup in Russia, former U.S. national men's team member Landon Donovan caused a stir by expressing his support for the Mexican men's national team, known as "El Tri," and encouraging fans of U.S. soccer to join him in cheering for "America's other team."
Donovan's position generated controversy on both sides of the border. Many Mexican fans consider him among the most hated American players in history for his role in the U.S. team's elimination of El Tri from the 2002 World Cup in the round of 16.
Among Americans who do not follow soccer — and have no idea Donovan grew up east of Los Angeles and recently moved his family to Mexico to play for Club Leon in Liga MX — Donovan's call for Americans to cheer for Mexico served as another example of waning patriotism and the downfall of Great America.
Further complicating the matter, Donovan's statement was part of a campaign sponsored by Wells Fargo, causing him to field critiques from right and left. Despite all this, I'm with Donovan.
The Mexican men's national team is not America's other team in the United States; it is America's team here in the States. Since 2010, El Tri has played more than twice as many games in the United States (79) than in Mexico (30), although 23 of those games in the U.S. were part of the CONCACAF Gold Cup the U.S. plays host to in odd-number years. Fans of Mexico outnumber fans of the U.S. not just in stadiums when the teams play each other — even when the U.S. Soccer Federation moves matches to locations presumed to be friendlier to the U.S. team, such as Columbus, Ohio — but on the whole.
In an excellent profile of the team for Sports Illustrated, Brian Straus asserts that "the Mexican national soccer team may be the most broadly popular sports outfit in the United States."  American TV viewership of the 2018 World Cup supports this claim; Forbes reports ratings similar to 2014, when the U.S. participated.  U.S.-based fans watched and mourned with their friends south of the border July 2, as El Tri fell to Brazil in the round of 16.
Cheering for Mexico in the World Cup encapsulates an American patriotism in the truest sense of understanding what makes our country great. It is a patriotism that also demonstrates historical understanding of place. I, for one, teach at Arizona State University and live in Tempe, Arizona, on lands that were previously Mexico, New Spain, and, originally, Akimel O'odham (and sovereign O'odham indigenous peoples hold lands around the Phoenix metropolitan area today).
Attention to place means awareness of its peoples and their cultures. Diversity and multiculturalism are not just buzz words used by corporations in the 21st century; they are the tapestry forming this nation.  The grand experiment that is the United States of America is an ongoing project. Sports historically have been central to this project, and many athletes, since the 19th century, have developed the consciousness they play a critical role.
While many American fans see sport as an escape from the real world, sport is very much a part of society, reflecting and influencing current issues at play.
For example, residents in Tempe, have our local Jackie Robinson: Emerson Harvey, who, in the late 1930s, desegregated not just the football team at Arizona State, but also the dining hall, which had previously barred African-Americans and Mexican-Americans from eating with fellow white students. Sports, and sports history, demonstrate the power of people from diverse backgrounds to come together to achieve ambitious goals, eradicating misconceptions of "other" along the way — on and off the field.
 Sports also provide a way to see more explicitly who holds the privilege and power to take freedom and liberty for granted, and who recognizes that achieving a nation with full freedom and justice shared by all requires more work — that we are far from there yet.
The easiest way to contrast these two positions is to compare Josh Reddick of the "World Champion" Houston Astros — as my ASU colleague Andrés Martinez points out, how very American to call the winners of our domestic baseball league "world champions" — and Colin Kaepernick of "take a knee" notoriety.
Reddick celebrated the Astros' NL West victory in the fall of 2017 by wearing a USA Speedo, dancing in a shower of champagne and beer sprayed by his teammates. During the 2016 season, Kaepernick silently took a knee during the playing of the national anthem before the San Francisco 49ers took to the field, later explaining that he felt an obligation to bring attention to the police killings of black and brown Americans when he had the privilege of the broad platform of sport.
While both athletes are protected by the First Amendment, the former's action — one which he apparently likes to do a lot, and for which he owns multiple stars-and-stripes Speedos — violated the United States "Flag Code," or Titles 4 and 36 of the United States Code: "The flag should never be used as wearing apparel, bedding, or drapery." Sports pundits rushed to Reddick's defense, many using the "boys will be boys" defense. Reddick has three years remaining on his four-year, $52 million contract. Meanwhile, Kaepernick is out of a job and suing the NFL for collusion, as is another recently unemployed and formerly kneeling NFL player, Eric Reid.
Pause, for a moment, and tune out the efforts to co-opt the discourse and move the conversation away from Kaepernick's message about police brutality and criminal justice reform.
Refuse, for a moment, to listen to those shifting the debate around kneeling NFL players to a referendum on respect for the military, veterans, and the country that gives "athletes like them" freedom of speech and the right to make millions of dollars playing professional sports in the first place.
Ignore the calls for athletes to "shut up and dribble."
Instead, let's keep our eyes on the ball. Place Colin Kaepernick — and LeBron James, Carmelo Anthony, Megan Rapinoe, Chris Long, Malcolm Jenkins, Kelsey Bone, the Minnesota Lynx, and many more — in the long arc of history. See these athletes for who they are: activists using the platform of sport to engage in critical patriotism and contribute to the project to make this diverse, multicultural, El Tri-loving country great for all.
Victoria Jackson is a sports historian and lecturer of history in the School of Historical, Philosophical, and Religious Studies at Arizona State University.
Related Articles
Athlete activism has global, historical aspects
Standing to kneel: Analyzing NFL players' freedom to protest during the playing of the U.S. national anthem
New book draws line from Paul Robeson to today's athlete protests
Opinion: Activist Philadelphia Eagles are on the clock with invitation to White House