Culture
Archive
Yale sociologist: Colin Kaepernick, Lebron James important role models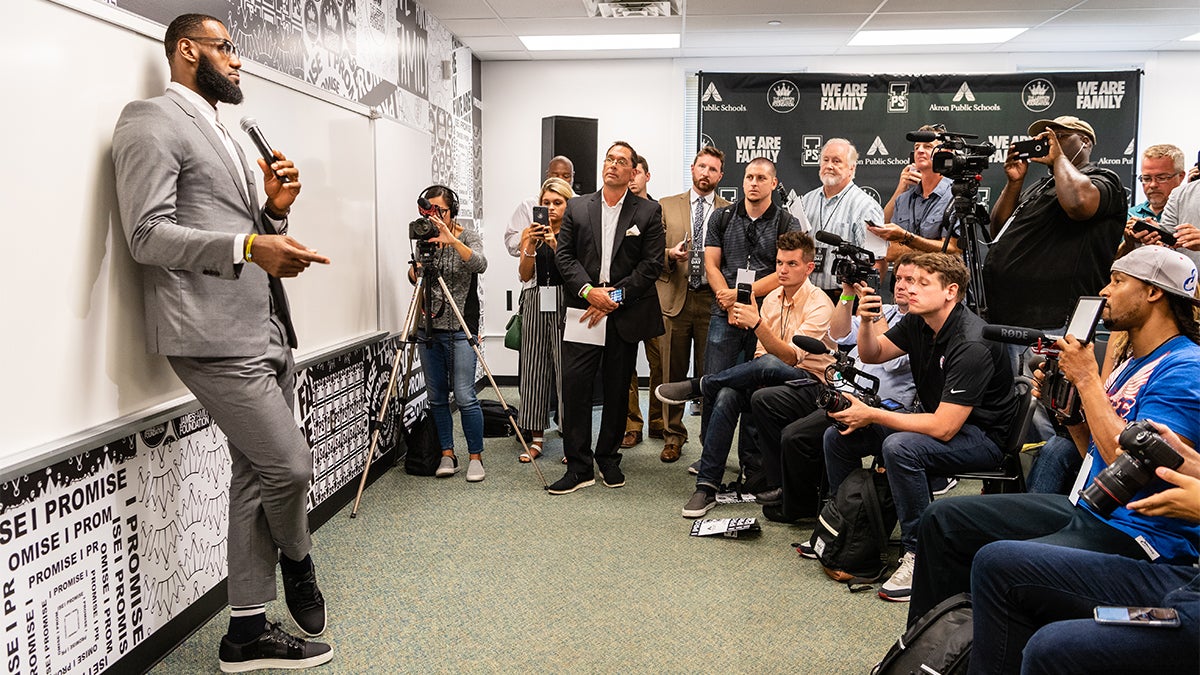 "We just need peace."
That was the underlying theme Dr. Elijah Anderson portrayed while speaking to the Global Sport Institute's 2018-19 research theme launch at Arizona State University on Sept. 4.
Anderson, one of the leading urban ethnographers in the United States, believes it is important that young black people have role models who are athletes. "I think it's very important for everybody, we all need role models, and they come in all colors." Anderson said. "I think for black people to model for everyone, but especially for black children, is important because when a black kid sees a black person doing something of value, they can see themselves doing that."
Anderson specifically cited  LeBron James doing a fantastic job of being a role model and trying to help people out from his community. James opened the I Promise School in Akron, Ohio on July 30, which is supported by the LeBron James Foundation. The school provides tuition, uniforms, transportation and meals for its students.
Anderson remarked, "LeBron James is a whole new model. It's beautiful what he's doing, it's amazing, with all the money he has to give so much of it back, that's how we solve so many of our issues as a country."
Still he acknowledges that a lot of people will stand in the way of young black people who are looking to achieve their dreams. "You see a lot of people not being supportive of the incorporation practice. You have black people who are doctors, lawyers and even the president, and people still believe they should be put in their place."
Anderson said that the activism of Colin Kaepernick, LeBron James and others is extremely important in this political climate. He said he thinks having prominent leaders who are willing to speak out can address issues that are often ignored. He also said activism can positively influence the lives of people who are struggling.
"It's important for them to speak out and lead, to add some light where there's so much darkness," said Anderson.
Anderson told the story of boxer Jack Johnson, the first African-American world heavyweight champion in 1908. At the time many writers and prominent figures tried to tear him down.
"They felt that black people would become too proud," said Anderson.
Anderson said Johnson becoming the world heavyweight title was a monumental moment, and that Johnson was one of the first prominent black role models.
"This is what role models do, it makes you feel proud, that my place in society is not circumscribed" said Anderson.
Anderson says that more needs to be done to educate and inspire black people, both young and old with all of the discourse in America right now.
"Do you educate more kids? Do you get them more jobs?" asked Anderson. "Do you stop the police from killing so many black men? When I walk out of this building, I'm at risk."
He even acknowledges that as the William K. Lanman, Jr. Professor of Sociology at Yale University, he is a role model to a lot of young black people that he encounters.
Anderson said that role models are one of the most important influencers on all young people, and that for real change to occur, athletes like LeBron James and Colin Kaepernick have to keep leading the way.
Max Bechtoldt is a senior sports journalism major at Arizona State University.