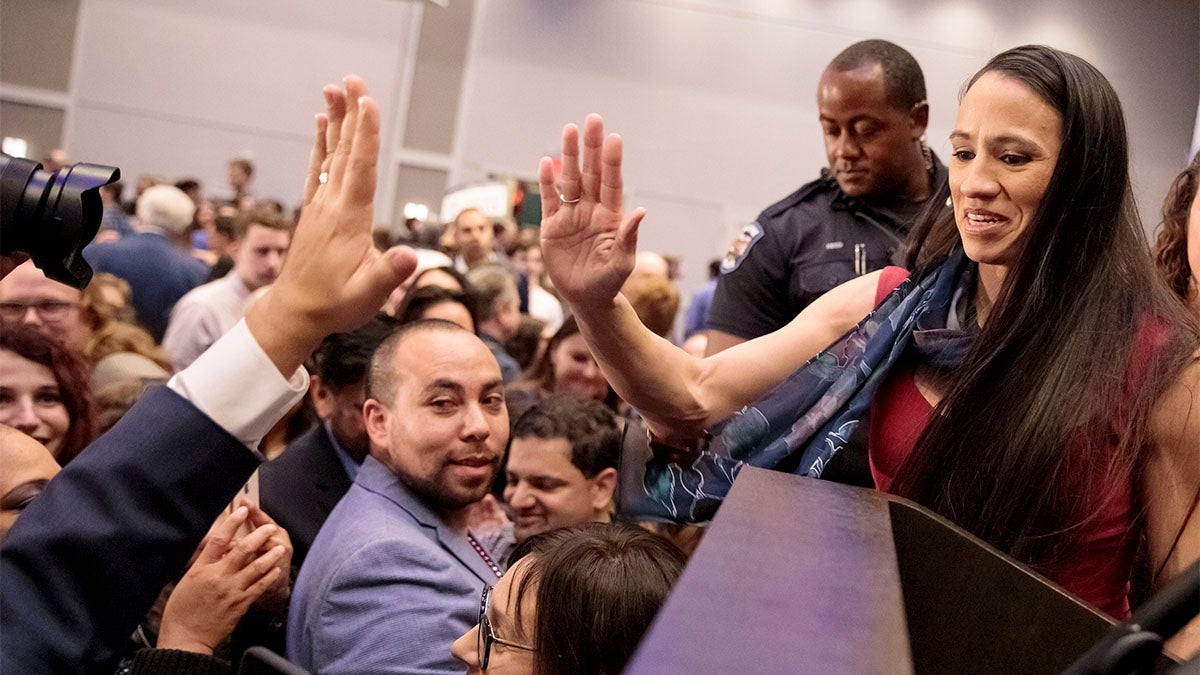 The winners of the midterm elections have been announced, and the results have been described in a number of ways: victorious, devastating, monumental, disappointing. Wherever you stand it's hard to disagree that some major landmarks have been reached. Among the candidates were former football players, wrestlers, baseball players and MMA fighters leaving their stage as an athlete to step up to the mic as a politician.
Here is a look at Tuesday's midterm results:
Colin Allred - Democrat, Texas, 32nd Congressional District
Following four years of college football at Baylor, Allred went on to play 32 career games in the NFL as a linebacker for the Tennessee Titans. He later went to school to become a lawyer and served in the Obama administration. Allred won the Dallas-area House seat, beating 11-term incumbent Pete Sessions by six percent.
Sharice Davids - Democrat, Kansas, 3rd Congressional District
Davids was a mixed martial arts fighter who tried out for "The Ultimate Fighter" before making history. By winning the House seat in Kansas by nearly 10 percent, she became the first LGBTQ representative in the state and the first Native American woman in Congress (next to New Mexico's Deb Haaland, who also won Tuesday).
Clint Didier - Republican, Washington, Franklin County Commissioner
The former NFL tight end spent six years with the Washington Football Team and two with the Green Bay Packers. He racked up 141 catches for 1,923 yards before running for U.S. Senate in 2010, commissioner of public lands in 2012 and the U.S. House in 2014 and 2016. This year his campaigning paid off as he won the race for Franklin County Commissioner in Washington's District 3.
Anthony Gonzalez - Republican, Ohio, 16th Congressional District
Gonzalez, a former Indianapolis Colts wide receiver for five seasons, was helped by the NFL community by receiving donations from Peyton Manning and Browns owner Jimmy Haslam. He had 15 touchdowns between playing for the Colts and Ohio State Buckeyes. On Tuesday he bested his opponent Susan Moran Palmer and won a seat in the House.
Adam Greenberg - Republican, Connecticut, 12 District State Senator
Greenberg's MLB career was cut short when he suffered a compound skull fracture during his first at-bat for the Chicago Cubs in 2005. He later played one major league game in 2012 with the Marlins. Greenberg, nicknamed the "hardball politician," lost to Democrat Christine Cohen.
Napoleon Harris - Democrat, Illinois, 15th District State Senator
Skilled in both basketball and football at Northwestern, Harris went down the NFL path after college to play seven seasons with the Raiders, Vikings and Chiefs. Running unopposed for the second time, Harris maintained his seat in the Senate.
Jim Jordan - Republican, Ohio, 4th Congressional District
Jordan, the former assistant wrestling coach at Ohio State, built his athletic resume at Wisconsin. He's a two-time NCAA Division I champion at his college and three-time All-American. Jordan held on to his Senate seat he's had since 2007.
Aaron Rouse - Unaffiliated, Virginia, Virginia Beach City Council
The ex-Green Bay Packer safety played three seasons in the league after his time at Virginia Tech. Over 10 years after being drafted, Rouse won one of the two open seats for City Council.
Frank White, Jr. - Democrat, Illinois, Secretary of State
From 1973 to 1990, White spent 18 seasons with the Kansas City Royals as a second baseman. He had five All-Star appearances and snagged a World Series ring in 1985. The winning didn't stop when he stepped off the field. White won a legislature seat in 2014, named county executive in 2016 and was re-elected in 2018.
Jesse White - Democrat, Mississippi, Jackson County Executive
White was the first African-American to be Illinois' Secretary of State when he won in 1999, and Tuesday's poll showed the 84-year-old will be continuing his long reign into the next term. White was a third baseman for the Chicago Cubs' minor-league system from 1959 to 1966.
There were also new initiatives in sport laws that were also passed. From thousands of greyhounds now needing new homes to hunting and fishing becoming a constitutional right, there were a few changes voters made for sports on Tuesday.
Florida's Amendment 13
Greyhound racing has been a sport in Florida for years until citizens said enough, ending the sport in the state. Needing 60 percent to become a law, Amendment 13 received more than 5.3 million votes (or 69 percent) on Tuesday. The approval means by the end of 2020, between 5,000 and 7,000 greyhounds will need new homes.
Idaho's Proposition 1
The proposition called for authorizing bets on historical horse races, also known as instant racing. Gamblers would watch live horse races that were conducted in the past and rebroadcasted. They would participate in wagering pools. The initiative was defeated.
Missouri's Proposition D
The Gas Tax Increase, Olympic Prize Tax Exemptions, and Traffic Reduction Fund Measure was a proposed statute on the ballot which ultimately failed. A yes vote would have allowed prizes earned for the Special Olympics, Paralympics and Olympics to be exempt from state taxes.
North Carolina Right to Hunt and Fish Amendment
The amendment stated it was a state constitutional right to hunt, fish and harvest wildlife for North Carolina residents. The 57 percent approval means the amendment was passed.
Nikole Tower is a senior journalism student at Arizona State University
Tags:
Aaron Rouse
,
Adam Greenberg
,
Anthony Gonzalez
,
ballot
,
Chicago Cubs
,
Clint Didier
,
Colin Allred
,
fishing
,
Florida
,
Frank White Jr.
,
greyhound racing
,
horse racing
,
House
,
hunting
,
Idaho
,
Jesse White
,
Jim Jordan
,
Midterm elections
,
Mississippi
,
Missouri
,
MLB
,
MMA
,
Napoleon Harris
,
North Carolina
,
Ohio State
,
Senate
,
Sharice Davids
,
Virginia
,
vote