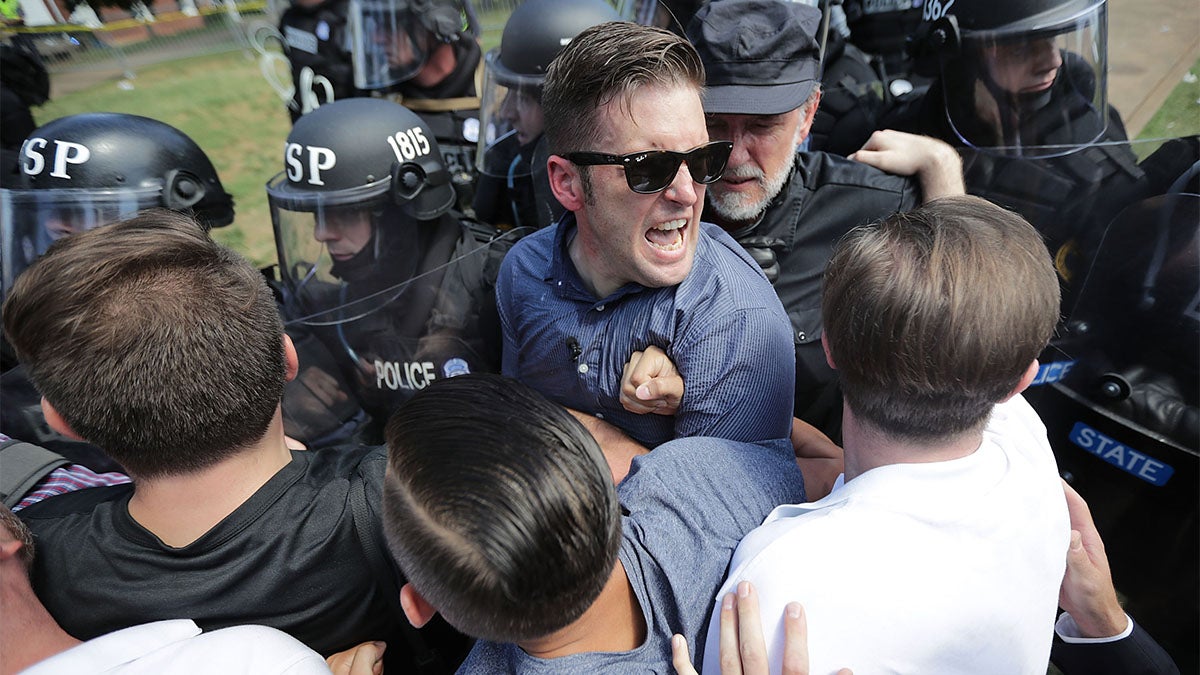 In a secret location in Southern California, the Rise Above Movement, an alt-right group, has created a fight club, where the members participate in mixed martial arts training.

The group has risen as one of the prominent white nationalist groups in the country. The group boasts more than 50 members in its MMA group, who use the training for street fights and protests. Four of the club's members were arrested for their role in the Charlottesville riots. An affidavit that, in part, led to the arrests attested they were "among the most violent individuals in Charlottesville."
Charlottesville is not the only violent protest the fight club's members have taken part in. They disrupted a racial justice meeting in Santa Monica, Calif. They held an "anti-sharia law" protest in San Bernandino, with signs that read "Rapefugees stay away, not welcome." They have also been involved in violent protests in Berkeley and Huntington Beach, Calif.
In October 2018 three members of the RAM were arrested by the FBI for the violence displayed in these rallies.
According to the Anti-Defamation League's website, the RAM's beliefs are in fighting against the "modern world" corrupted by Jews, Muslims, liberals and non-white immigrants. One of their common chants is "You will not replace us."
The individuals use MMA because of the violent nature of the sport; they believe they can thrive in it.
The group's leaders are Robert Rundo and Benjamin Daley, and the members of the group conceal their identities by wearing skull masks and goggles. They also heavily wrap their hands with tape in preparation for physical altercations.
The sport of MMA and the alt right have a connection at the highest level. Joe Brammer and Benjamin Brins have both competed in the UFC and are tied to white nationalist groups.
The Guardian, a British daily newspaper, asked: "So why are white supremacist groups forming fight clubs and MMA promotions? The answer lies in the violent nature of the sport and their ability to thrive within it. Over the years, fighters with links to the far-right have been involved in some of the world's most recognizable promotions, including the Ultimate Fighting Championship (UFC) and Strikeforce."
According to The Guardian, other white nationalist groups such as Vanguard America, Identity Europa, League of the South and The Daily Stormer have also taken an interest in MMA.
"RAM's violent ideology coupled with its penchant for MMA and underground fight clubs distinguishes it from various other white supremacist groups in the United States," The Guardian wrote. "It has also helped RAM expand beyond the borders of the U.S., recruit new members and network with a host of other neo-Nazi groups dabbling in MMA around the world."
From The Guardian:
"On April 23 2018, approximately 1,000 neo-Nazis and white supremacists descended on Ostritz, a small German town near the Polish border, to attend the Shield and Sword far-right festival. Held in honor of Adolf Hitler's birthday, the two-day event featured far-right merchandise, heavy metal concerts, political speeches and an MMA tournament with competitors from some of of the most notorious white supremacist groups involved in the fight scene. Among those present were members of the Rise Above Movement.
The MMA promotion responsible for the tournament goes by the name Kampf der Nibelungen. "To live is to fight," Kampf der Nibelungen stated on its official website. "At all times, it was fighters who defended their clan, their tribe, their homeland."
Over the past few years, Kampf der Nibelungen has held its events in secret, attracting small groups of neo-Nazis and soccer hooligans to their shows. However, the number of attendees is reportedly swelling. While their inaugural show in 2013 brought in 150 guests, that figure had quadrupled by 2017. The Shield and Sword festival in April was the promotion's first public appearance. Reports suggest that Rundo, one of the pivotal figures of RAM's leadership, actually competed in the show.
Members of the far-right hope to use MMA to pull in young people. "It's a question of fashion," Sword and Shield organizer Thorsten Heise told Vice News. "We're seeing lots of young people in Europe not interested in drugs, they're interested in fighting – in the ring, with rules. Especially in the nationalist scene, it's the style – to be fit, to have a nice body. We love that, and the MMA fighters all love this also."
Rundo and Daley also met with the founder of a Russian neo-Nazi MMA group, White Rex, The Guardian reported. White Rex "sells clothing emblazoned with neo-Nazi symbols and racist slogans, including "Zero Tolerance," "Angry Europeans," and "White Rex Against Tolerance."
The Guardian reported: "Nikitin is able to target disenfranchised youth and promote an alternative lifestyle through nationalist fervor. White Rex uses models with blonde hair and blue eyes to promote their clothes – another strategy to help sell the brand to the young men inclined to join their cause."
"Mixed martial arts provides a unique platform for white supremacists to promote their ideology and recruit new members. It allows far-right extremists to draw parallels between their training regimens and the appropriation of faux-medieval culture and history to suit their racist aims. Many such groups, including White Rex and RAM, view their MMA gyms as training grounds for upcoming race wars. They use Roman and Germanic mythology to romanticize their nationalist fervour, while brainwashing youth into defending their homeland against a common threat.
"As far as I can tell, it is basically this idea that they need to come together – essentially like an army – to protect their race, which they see as being attacked," Schatz explained.
RAM is not the only group in the United States engaging in MMA and street fighting. A group of young, pro-Trump white men recently formed the Fraternal Order of Alt Knights (FOAK) and announced the group would serve as the "tactical defensive arm" of the Proud Boys, a far-right men's organization started by Vice co-founder Gavin McInnes. Kyle Chapman, the founder of FOAK, revealed his group plans to "protect and defend our right-wing brethren when the police and government fail to do so."
Other similar groups have since sprouted in Italy, the Czech Republic and Poland."
Max Bechtoldt is a senior journalism student at Arizona State University