Culture
Archive
ICYMI: Winter is coming, Enes Kanter isn't going anywhere and South Koreans demand longer jail time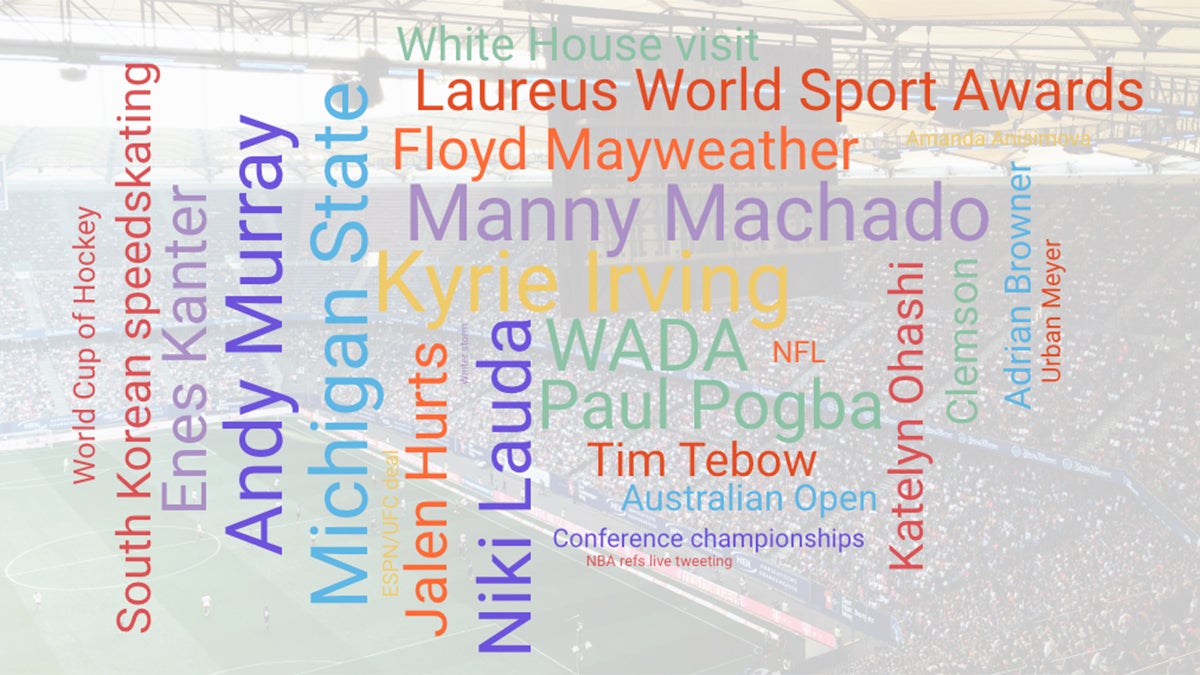 We all experience that feeling that the week can sometimes get away from you. News happens so quickly that it might feel like you don't have a chance to know what is going on in the world. Each week, GlobalSport Matters will compile some of the best of the other stories in the sporting news.  These stories will include new breakthroughs in sport science, information about changing technology and just good reads about the global sporting community. Have a story you'd like us to know about and share? Let us know.
Arctic blast could create 'brutally' cold temps for AFC title game
The AFC Championship game is set to be a fun one as the New England Patriots visit the Kansas City Chiefs. The winner goes to the Super Bowl. However weather experts are predicting what they are calling an "arctic blast." By an arctic blast, they mean a high of 10 degrees to well below 0 Fahrenheit. If this is true, come Sunday it will be the coldest game in Arrowhead Stadium history.
For Caroline Wozniacki, battling arthritis is the new normal
Caroline Wozniacki, an Australian tennis player, 28, was diagnosed with rheumatoid arthritis. She says that she has learned to adapt to the auto immune disorder and it has taught her to listen to her body. With both good days and bad days, Wozniacki keeps her competitive edge and active lifestyle. Through small tweaks in her daily life, she has continued her tennis career in large settings, such as the Australian Open.
World Anti-Doping Agency delaying decision on Russia's compliance
WADA put itself in a tough situation in September 2017 when it voted to reinstall Russia's own anti-doping laboratories and its own commission despite the country not meeting requirements set by WADA to earn back self-oversight. Now, WADA's team in Russia inspecting the country's labs is delaying a report to determine the extent of potential sanctions on Russia in a prolonged battle between the antidoping agency and the country whose fraught history with doping puts it front and center for all world athletic competitions. The three-person WADA team was finally allowed into the labs last week and many believe Russia's hesitance and failure to meet various requirements is reason enough for WADA to slap them with sanctions once again.
International arrest warrant issued for New York Knicks' Enes Kanter
New York Knicks center Enes Kanter was targeted by Turkish prosecutors seeking an international arrest warrant accusing Kanter of involvement in a terror organization. An Interpol Red Notice, a request to locate and provisionally arrest an individual pending extradition, is what prosecutors are currently seeking. But for the 6-11 center to be extradited the U.S. must first be convinced Kanter committed a crime; the third overall pick in the 2011 draft has voiced his concern by refusing to leave the country for fear of possible assassination which kept him from going to England last month for the Knicks game against the Wizards.
South Korea's powerhouse speed skating program rocked by sex scandal
South Korea's Olympic speed skating coach abused athletes during training, receiving a minimal sentence. Now, more than 246,000 people are petitioning to extend the coach's jail time as more details come out. Former national short track speed skating coach Cho Jae-beom was convicted of assaulting two-time Olympic champion Shim Suk-hee, 21, and jailed for 10 months in September.
Former Michigan governor and acting Michigan State University president John Engler resigned on Wednesday following controversial comments regarding the victims of Larry Nassar. He said they were enjoying their time in the "spotlight." Engler was appointed to run MSU after former president Lou Anna K. Simon resigned amid the mishandling of the sexual abuse scandal.
Former World Series MVP John Wetteland arrested on child sex abuse charge
Former major league pitcher John Wetteland was charged in Texas with continuous sex abuse of a child under the age of 14. The county jail shows that Wetteland was arrested Monday and freed on $25,000 bond. Authorities have not released any details of the investigation.
Compiled by the student journalists in the Sports Knowledge Lab at Arizona State University
Tags:
AFC
,
anti-doping
,
arctic
,
arrest warrant
,
arthritis
,
Australian Open
,
Caroline Wozniacki
,
child sex abuse
,
Cho Jae-beom
,
doping
,
Enes Kanter
,
John Engler
,
John Wetteland
,
Larry Nassar
,
Michigan State
,
New York Knicks
,
NFC
,
Olympic
,
Russia
,
Shim Suk-hee
,
snow
,
South Korea
,
speedskating
,
WADA
,
Winter Storm
,
World Series MVP