Culture
Archive
Iran censors soccer broadcast due to female referee's attire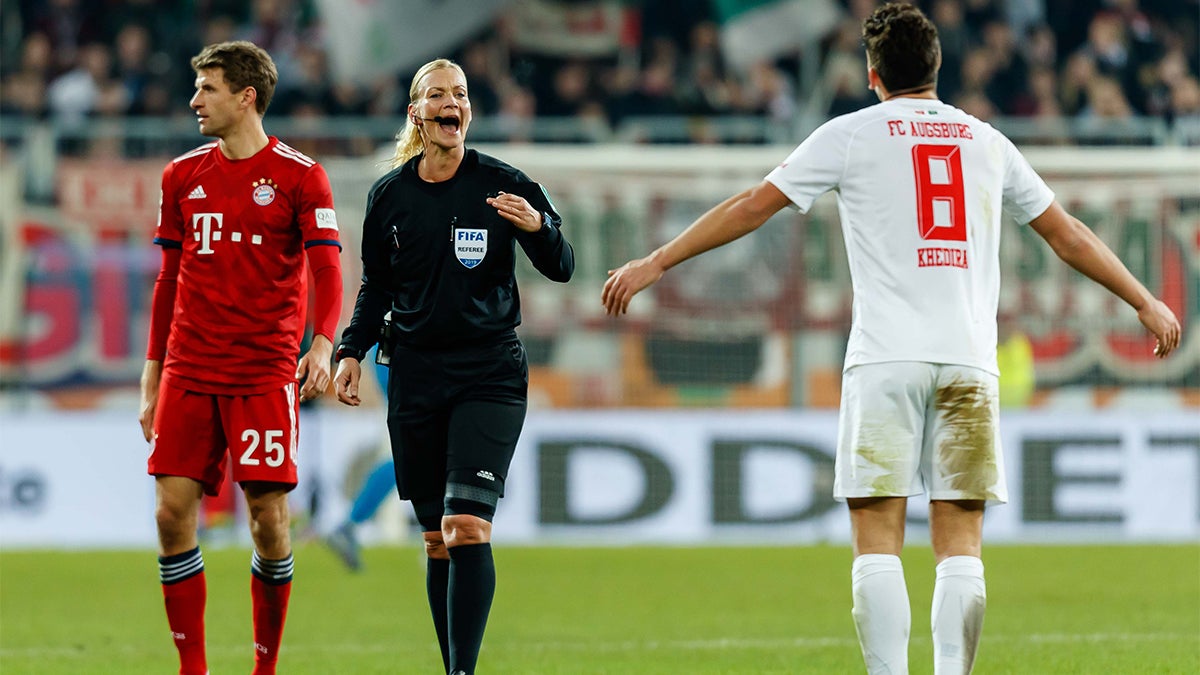 Iranian state television IRIB canceled the broadcast of a top-level German soccer match on Feb. 15, with German media reporting the match's female referee as the reason.

Islamic law does not allow showing women wearing clothes that are deemed too revealing. Bibiana Steinhaus, the first female official to referee men's soccer matches at a professional level, was wearing the standard officials' shorts associated with the sport, breaking these codes.  
The match in Germany's top league, the Bundesliga, was between Augsburg and Bayern Munich, consistently one of the best teams in the world. The match ended in a 3-2 win for Bayern Munich.
Soccer is popular in Iran, but it has been a point of cultural controversy for the Iranian Republic. In Iran, movies and shows are censored to remove scenes with women wearing revealing clothing.
During the Iranian national women's team matches, the players are required to wear a hijab, long-sleeved shirts and long pants. Because referees are featured heavily in broadcast matches, reports stated it was not possible for the match to be seen without viewing her.
Iran correspondent for German public broadcaster ARD Natalie Amiri tweeted out, "who is to blame," before answering her own question by explaining Steinhaus is a woman who wears shorts and that "should not be seen."
Kurzfristig gecancelt! Keine Übertragung des Spiels @FCBayern @FCA_World Augsburg im #Iran Staatsfernsehen. Und wer hat Schuld daran: natürlich wieder Bibi. Bibiana Steinhaus ist eine Frau und trägt kurze Hosen. So etwas soll man nicht im iranischen Staatsfernsehen sehen. pic.twitter.com/lGBrN6SpME

— Natalie Amiri (@NatalieAmiri) February 16, 2019
In the past, women have been detained by police when trying to enter the stadium. Saudi Arabia lifted its ban on women attending sporting matches in January 2018, leaving Iran as the only state enforcing it.  Recently, Iran has been taking small steps toward equality for female fans.
In June 2018, female fans were allowed to view a match in the Iranian city of Azadi's stadium for the first time in 37 years. The World Cup match was streamed to screens in the stadium, and women were able to purchase tickets.
Last night after some confirmations, fans could buy tickets to watch tonight's match #IRNESP on screen in #AzadiStadium.
Female Fans are pretty excited to pass the Azadi's gates for first time.
But some are saying we can't believe it until we enter in stadium.

— OpenStadiums (@openStadiums) June 20, 2018
On Oct. 16, women were allowed to attend a friendly between Iran and Bolivia, although it was only a select group of women. The family members of players, female athletes and journalists were restricted to a specific section of the stadium.
Since then, women in Iran have been allowed entry to certain matches. They are still restricted to a section and are not allowed to sit with male spectators.
Ellie Simpson is a senior sports journalism student at Arizona State University. 
Tags:
Azadi
,
Bibiana Steinhause
,
broadcast
,
Bundesliga
,
cancel
,
female
,
German
,
hijab
,
Iran
,
match
,
Natalie Amiri
,
Open Stadiums
,
referee
,
regulations
,
restricted
,
seating
,
shorts
,
soccer
,
tickets
,
uniform
,
World Cup