Culture
Archive
ICYMI: Ole Miss player kneels during basketball, India-Pakistan cricket match on edge and make sure you cook your chicken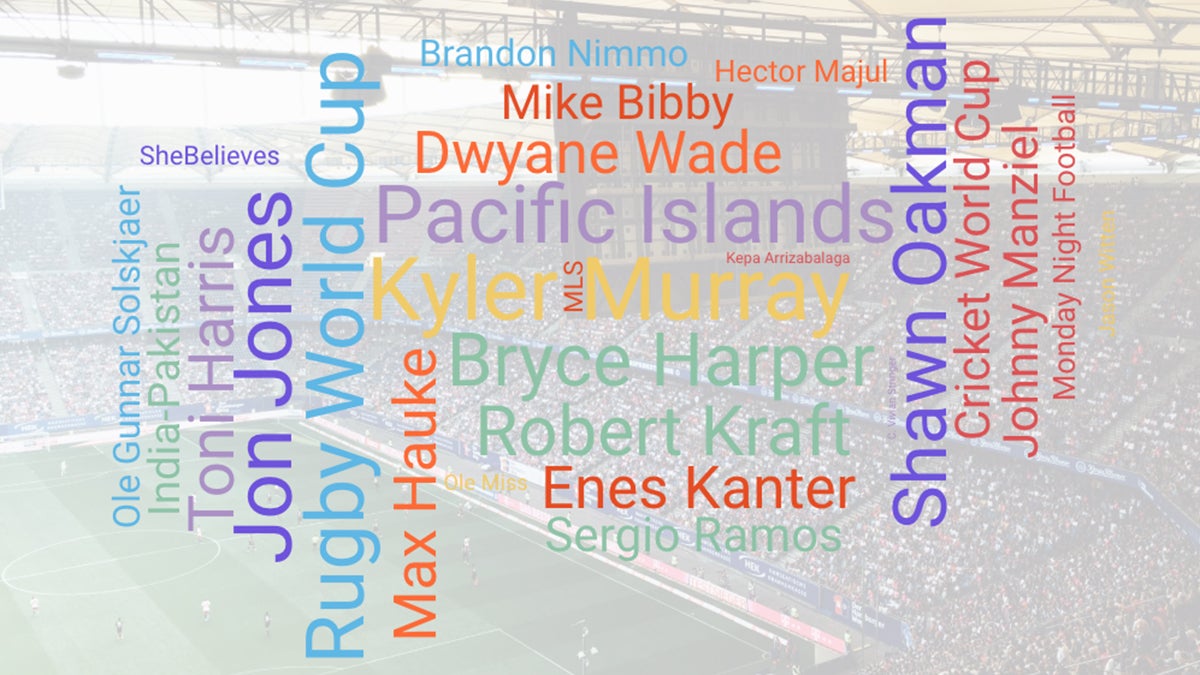 We all experience that feeling that the week can sometimes get away from you. News happens so quickly that it might feel like you don't have a chance to know what is going on in the world. Each week, GlobalSport Matters will compile some of the best of the other stories in the sporting news.  These stories will include new breakthroughs in sport science, information about changing technology and just good reads about the global sporting community. Have a story you'd like us to know about and share? Let us know.
Kneeling during the national anthem at Ole Miss
"Momma, I'm going to do it." That's what University of Mississippi sophomore guard Devontae Shuler told his mother shortly before his team's matchup against the University of Georgia on Feb. 23. He was talking about kneeling, a gesture he felt was necessary after word surfaced around campus that Confederate and white supremacist groups would be marching the same night as the basketball team's home game. Thinking back on what happened at the University of Virginia in 2017, Shuler and seven of his teammates protested the supremacist groups' appearance by kneeling during the national anthem prior to the game. Shuler called it a "one time thing" but in the broader context of sport it is yet another demonstration by way of kneeling and another example of athletes taking using their agency to speak out symbolically against the wrongs around them.
Will violence prevent India-Pakistan World Cup showdown?
The Cricket World Cup is set to begin May 30. India has already said it is considering boycotting the match against Pakistan because they claim Pakistan-based militant group were behind the suicide car bomb attacking in India on February 14th. That lead to the killing of 37 Indian paramilitary soldiers. The problem involving the upcoming tournament is, will Indian fans retaliate at the tournament? Will this game bring more bad than good?
Mets outfielder undercooks chicken, misses games
New York Mets outfielder Brandon Nimmo missed Wednesday's spring training game with what was reported to be a stomach bug. Manager Mickey Callaway later confirmed that Nimmo ate undercooked chicken the night before and got food poisoning. He was held out on Thursday as well due to dehydration concerns. Nimmo was apparently proud of his chef skills and reportedly sent a picture to his wife.
Harris becomes first female non-kicker signed to letter of intent
Toni Harris made history Feb. 26 as she became the first female football player at a skill position to sign a letter of intent. Playing as a safety at Los Angeles College the past two seasons has her poised to be at Central Methodist in Missouri for the Eagles. The Detroit-born player first caught the attention of media when she was offered a scholarship in January of 2018 from Bethany College, an NAIA school in Kansas. Becca Longo and Shelby Osborne both play at the collegiate level as well Longo, a kicker, was the first women to sign a national letter of intent from a division II school (Adams State University) or higher and Osborne signed with Campbellsville in 2014 but wasn't intially on academic scholarship although later on she had receiver partial-scholarship.
US kicks off SheBelieves tournament with World Cup teams
The US women's national soccer team kicked off its fourth annual SheBelieves tournament Feb. 27  against Japan in Chester, Pa. The tournament will last through March 5. The SheBelieves tournament includes Brazil and Japan, two teams who have been part of the Tournaments of Nations the past two years. The joined the U.S. and England to compete. All four teams will be heading to the 2019 Women's World Cup.
Mexican hockey player looks for a place to play
Hector Majul, a former collegiate hockey player in the United States, had his amateur players visa revoked and was sent back to Mexico after nearly 10 years. Majul is now playing hockey on one of Lithuania's four professional hockey teams. Although there is no sign of this happening soon, Majul wants to be the first Mexico-born hockey player in the NHL.
Mike Bibby fired as coach of high school team amid sex abuse allegations
Former NBA player Mike Bibby was fired as the head coach of Shadow Mountain basketball in response to sexual abuse allegations. The victim claims he grabbed her waist and threw her into a vehicle and groped her. Bibby had coached four consecutive state championships, including this season.
Johnny Manziel offered workout with AAF
After being barred by the CFL for violating his contract agreement, Manziel has been given an opportunity by the AAF. This is not surprising given that the AAF is looking for players with recognizable names in order to increase its audience. Signing a player like Manziel will surely boost ratings and attract fans to the stadium. The AAF can use some extra revenue after it was revealed that they got bailed out by Carolina Hurricanes' majority owner with a 250 million dollar investment.
Manziel's wife denies she cheated in half marathon
Manziel's wife, Bre Tiesi-Manziel, is a fitness and Instagram model. She recently participated in the Run Like A Diva half marathon in Temecula, Calif. And finished the race with a time of 1:58:22 with zero training, according to her. Via the Houston Chronicle, the average time for a woman running a half marathon is around 2:19 and a pace of just over 10 minutes per mile. Tiesi-Manziel's average of 9:09 per mile would be impressive but not unheard of — the problem for her came after a look at her mile-by-mile splits.
Father in disbelief after 13-year-old cheerleader's mysterious death
A 13-year-old cheerleader became mysteriously ill before her competition. She then was taken to the hospital where she died. They still do not know what the cause was.
Compiled by the student journalists in the Sports Knowledge Lab at Arizona State University
Tags:
AAF
,
Adams State University
,
American Alliance of Football
,
Becca Long
,
Bethany College
,
Brandon Nimmo
,
Brazil
,
Bre Tiesi-Manziel
,
Central Methodist
,
CFL
,
chicken
,
Cricket World Cup
,
England
,
Hector Majul
,
India
,
Japan
,
Johnny Manziel
,
letter of intent
,
Lithuania
,
Los Angeles College
,
Mexican hockey
,
Mike Bibby
,
NAIA
,
national anthem
,
NBA
,
New York Mets
,
NHL
,
Ole Miss
,
Pakistan
,
Run Like A Diva
,
Shadow Mountain High School
,
SheBelieves
,
Shelby Osborne
,
soccer
,
Toni Harris
,
USMNT