Why this matters
Women are a growing force in gaming, but are often overlooked in the professional ranks because of the platform they use most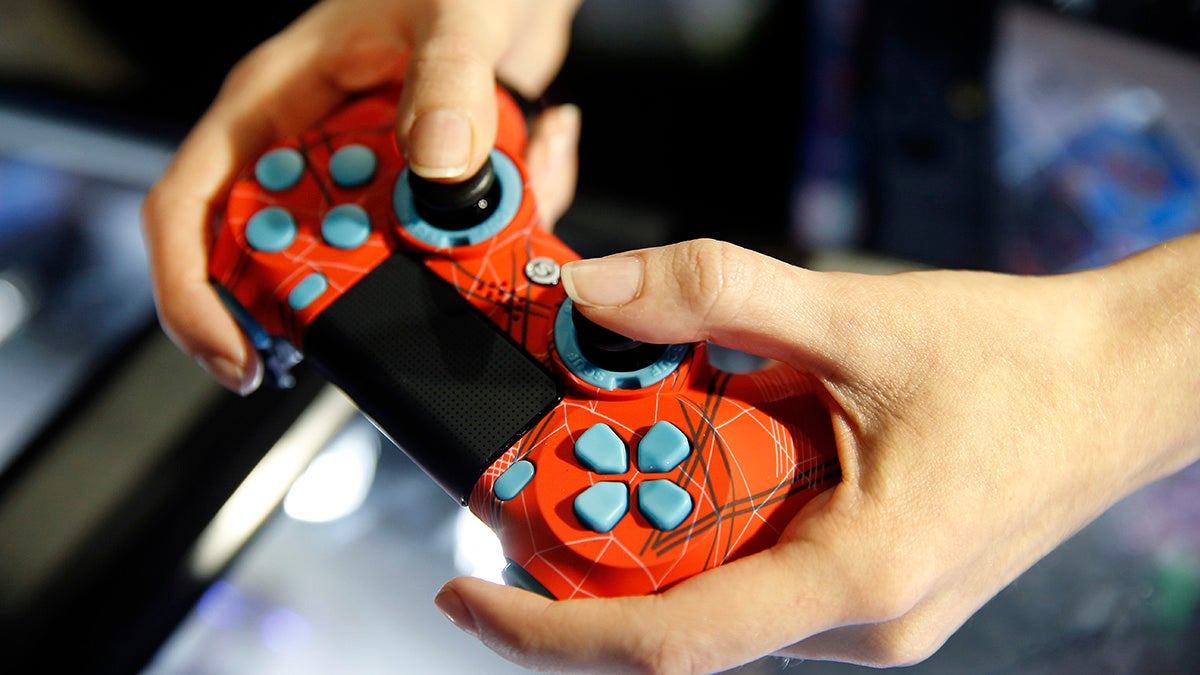 Video game influencers occupy four of the top six Youtube earners spots and are making upward of $10 million annually.
Esports is booming and the Leisure Economy is the driving force behind the monetary success of esports.
While money is to be made, barriers remain to be dealt with. Perhaps, the biggest is female professional esports representation.
According to Playgroundz Leisure Economy Research study:
30 percent of female gamers are on YouTube

22 percent of female gamers are on an esports team

19.5 percent of female gamers are on Twitch
Benefiting females in esports are countries other than the U.S.that help to boost the overall fandom, as Nielsen reports show: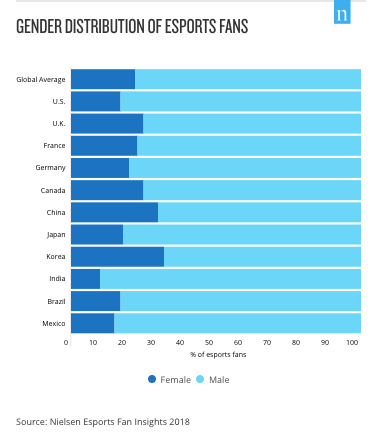 Where women are making the biggest splash is the mobile gaming community. Mobile analytics and sales reports show:
more than 75 percent of female gamers are playing on mobile phones

60 percent are playing on tablets

68 percent of the mobile game revenue is coming from females.
"We see a direct correlation between how mainstream esports has become in a country's culture and how likely females are to participate in the esports ecosystem. Newer fans are more likely to be females, who often start with casual viewing and then become more engaged over time," said Nicole Pike, the managing director for Nielsen Esports.
But in the esports marketplace females are closer to taking over than expected as the graph below displays females ascend into the majority lead of the esports marketplace: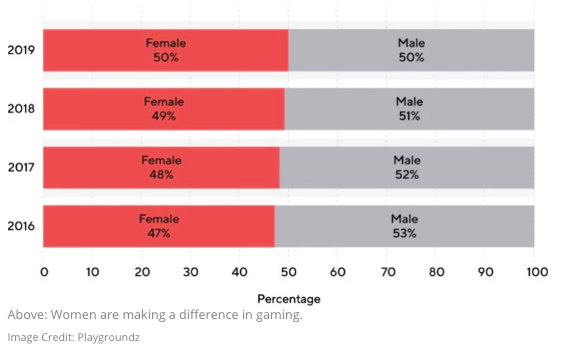 Image via Playgroundz
By 2020, female players are expected to pass males in the gaming marketplace for the first time, largely due to the rapid rise in female participation in mobile gaming.
But when it comes to making money, the wage gap is a part of the game, as esports and livestream video content make up the two fastest growing forms of gaming video content in terms of viewership.
A study conducted by PayPal looked at the gender pay gap of content creators both globally and in the U.S.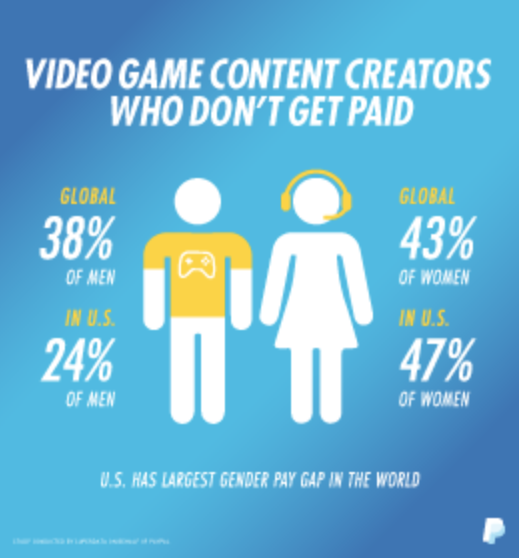 Image via PayPal
Highlighting an inconsistency between the U.S. and the rest of the world, the nearly doubled pay gap points to discrepancies in the manner in which different genders benefit from streaming and video sites like Twitch and YouTube. Although it may not account for all, the toxicity barriers present challenges to female content creators.
Testing the theory of these barriers was Overwatch phenom Ellie, the 17-year-old female player, who landed a spot on Second Wind's team. Her arrival, in a particular game that's dominated by males, was met with immediate question of validity  along with conspiracies about the real identity of the player herself.
Of which the more hostile came from a professional player called "Haunt":
**Disclaimer Tweet contains contains obscene language, viewer discretion advised
this guy is a fucking psychopath pic.twitter.com/xWf3Jy4aLS

— ellie (@ellie_ow) December 23, 2018
To the credit of skeptics, Ellie was later found out to be a social experiment by a male gamer, Punisher, who had created the persona in order to test how thick the barriers of toxicity are.
It's absolutely unacceptable for members of this community to bully, harass or doxx players for their gender. It shows why there's so few women in this sport. We have to do better, not just for the women and girls playing this game now, but for those growing up watching us.

— Justice Kate Mitchell (@KateMitchellOW) January 3, 2019
While female gamers continue their battle against toxicity, they are still driving the views of esports upward.  From 2016-2018, the women's share of esports viewers rose from 23.9 percent to 30.4 percent.
Trej Bell is a junior sports journalism student at Arizona State University
Related Articles
Is it worth it to the NCAA to include esports under its umbrella?
Growth of esports offering smaller colleges chance to compete with the big boys
New report shows esports audience becoming more diverse
'E' stands for everywhere when it comes to esports
Not your father's injuries for esports gamers
Opinion: esports has a chance to make things right, but ignores women gamers
Who is watching, competing and building stadiums for esports?
Tags:
Ellie
,
esports
,
females in esports
,
Nielsen
,
overwatch
,
PayPal
,
Playgroundz
,
Second Wind
,
toxicity barriers
,
Twitch
,
YouTube