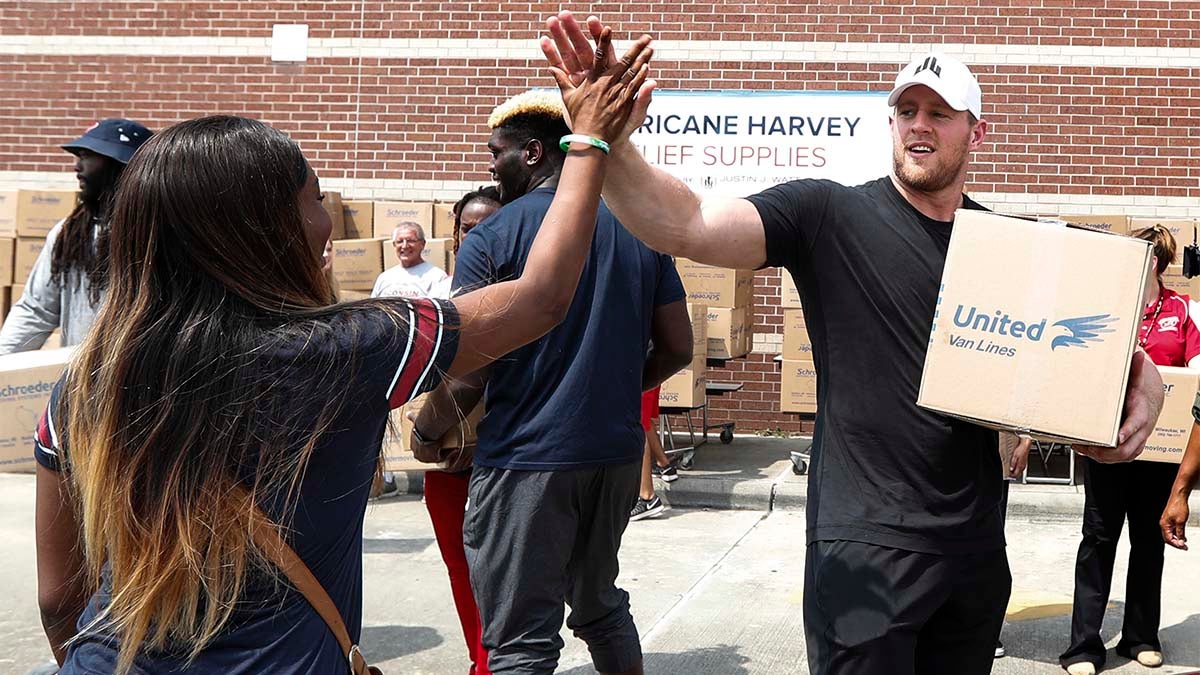 In the realm of sport, athletes compete either individually or with their team with one goal: to win. Outside of sport though, these athletes bring attention to problems in local communities as well as all over the world.

Whether it by bringing attention to the problem through social media or providing financial assistance in these endeavors, these athletes are steadfast in making positive changes. These athletes are just a small handful of those that have made these strides.
Watt tackles Hurricane Harvey
When Hurricane Harvey made its way through the Houston, Texas area in late August, it left portions of the city in shambles. Though he was three hours away at a preseason game, Houston Texans defensive end JJ Watt immediately stepped up for the Houston community he calls home.
As the heart of the storm ripped its way through Houston, Watt went to social media to see who would be willing to donate.
"Houston is a great city; we are going to come out of this stronger than ever," Watt said in a video. "We are going to need a lot of money to help this city rebuild."
According to his foundation's website, Watt's original goal was $200,000, but he received more than double that in just 24 hours.
Watt raised more than $37 million in the first month after his post. More impressively, Watt brought more than 10 semi trucks filled with just physical donations to the area according to ESPN.
"We haven't even spent a single cent yet and we're already going out and making a big impact," Watt said in early September that year.
As the money continued to come in, Watt combined efforts with four charities, so they could make an impact through their relief work. According to the Houston Chronicle, Watt's foundation partnered with SBP: Disaster Resilience & Recovery for rebuilding homes; Save the Children to help rebuild child centers; Feeding America to help with food distribution; and Americares for medical services.
A year into their work, they have made a widespread impact on the state of Texas. Through their agreement with the other organizations, Watt's foundation calculated they were able to serve more than 26 million meals, rebuild more than 600 houses and provide medical assistance to more than 6,500 individuals.
Watt has raised more than 41.6 million a year after Harvey, becoming the largest crowd-sourced fundraiser in history, according to ESPN.
"Moving forward, there will be more of the same, as we continue to work with our incredible nonprofit partners to provide as much help and support as possibly can for those affected by Harvey," Watt said.
Curry partners to fight malaria
The malaria epidemic in Africa inspired Golden State Warriors point guard Steph Curry to help. Starting in 2012, Curry created the Three for Three challenge, a program in which he donated three life-saving nets for every 3-pointer he made. After a few seasons of running this challenge, Curry chose to continue his work through the Nothing but Nets campaign.
"The Nothing but Nets campaign is an outstanding organization working to help a cause near and dear to my heart," Curry said.
Nothing but Nets was co-founded by ESPN writer Rick Reilly in 2006. It has donated more than $70 million, leading to the donation of 13 million bed nets to families in need.
Curry expanded the program in 2018. For each purchase of a Curry 4 Low shoe, Curry provided one life-saving nets. According to the San Jose Mercury News, Curry donated more than 15,000 nets through his shoe sales.
"He chooses to utilize his platform and position to stand up for what's right with a lot of composure and a lot of integrity," executive director of the "Nothing but Nets" campaign Margaret Reilly McDonnell said.
A speed skater's mission for the Right to Play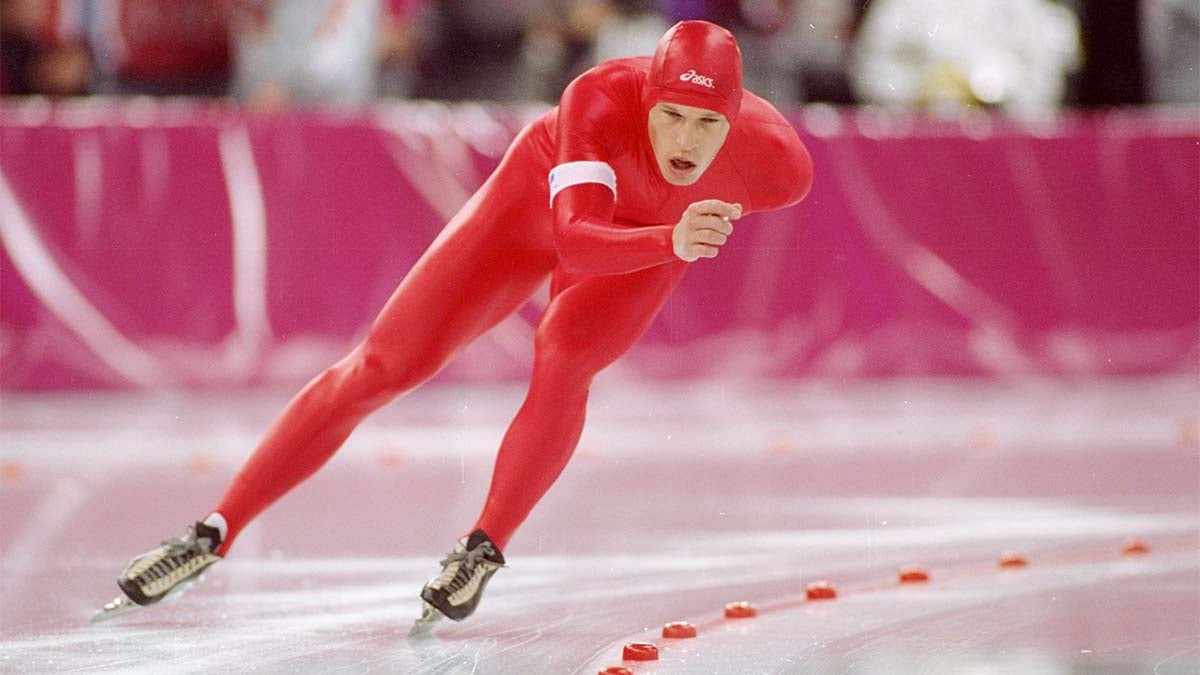 Norwegian gold medal speed skater Johann Olav Koss hung up the skates after a successful career and founded the Right to Play Organization in 2000. The idea for Right to Play came from a humanitarian trip to the newly formed country of Eritrea. Koss said he felt there was a bigger calling to help children in developing countries to rise and learn to have hope.
"I've worked so that every child could have the opportunity and benefit from play," Koss said during a TEDxGeneva presentation in 2014. "I believe in the power of play to change lives."
Since its inception, Right to Play has made an impact around the world. In Pakistan, 16-year-old Khansa was facing the pressures of a childhood marriage from her parents. When her parents threatened to pull her out of school, she found her voice through the Right To Play's Football for Development program.
"For the first time, I was seeing that I could have a real say in my life," Khansa said.  
Due to this boost in confidence, Khansa rejected her parents' idea of a childhood marriage, and she continues to get her education.
"I'm happy I can play and complete my schooling. It offers a ray of hope that I might acquire a higher education one day." Khansa said.
McIlroy works toward growth in Ireland
In Belfast, Northern Ireland, a charity called Sport Changes Life Foundation is giving children opportunities to live out dreams. Through sport, the program helps them change their lives. A partnership with Belfast native Rory McIlroy in 2016 has brought more light to their cause.
Sports Changes Life was co-founded in 2007 by Gareth Maguire. Born and raised in Belfast, Maguire was thankful for the role sport played during his childhood, motivating him in school. He credits the influence of college athletes such as Marcellus "Boo" Williams, who came through Belfast and worked with children like Maguire.
"That experience of that one meeting with those guys created an avenue for me, which triggered me and brought me into a different direction," Maguire said.
The Victory Scholar Program gives athletes from America an opportunity to continue playing their sport and continue their education. In return, they volunteer to work with the youth in Belfast through Sports Changes Life. The hope is this builds ambassadors for Ireland throughout America after teaching Irish communities about living a healthier lifestyle.
Originally, Maguire was a part of the Victory Scholars Program based at Ulster University. Alongside his wife, Maguire then formed his non-profit, which includes American scholars, according to the Belfast Telegraph.
"It's what they did for me, the opportunities in life that I got in basketball that inspired the foundation I set up with my wife, Deirdre, because I don't know where I would have been without basketball," Maguire said.
Maguire is grateful because the program provides many sport ambassadors throughout Belfast inspiring youth.
"Those scholars have been like a Trojan horse for us to help develop relationships with the people," Maguire said.
Pro golfer Rory McIlroy, who was inspired by the program's mission, donated £120,000 to help with the selection process used to bring athletes from America to Ireland.
"I'm delighted my foundation is able to support children and young adults through the Sport Changes Life Program," McIlroy said. "It's great that the program's Victory Scholars come to Ireland to develop their skills while assisting local community outreach initiatives."
Sport Changes Life credits McIlroy for opening more doors throughout Belfast.
"Having Rory McIlroy on board has helped us reach out to places we couldn't have as a small organization," co-founder Mark Marais said.
MLB pitcher fights child sex slavery
While preparing for the 2018 baseball season, the lives of Detroit Tigers starting pitcher Matthew Boyd and his wife, Ashley, were changed after speaking to a nonprofit against child sex slavery. That inspired them to form Kingdom Home.
They were touched by the story of a 29-year-old Ugandan woman named Dorothy who saved more than 25 children who were being brought into a city for sex work, according to their interview with the Detroit Free Press.
"She chooses joy for children," Ashley Boyd said. "She knows she must be a mother to them all and show them the love every child deserves."
Kingdom Home launched with one mission: Allow children the freedom to be children. Kingdom Home provides these children a place to live and meets their needs so they can thrive.
"I want them to grow up and be spiritually mature, get an education, and be responsible and godly so they have a heart to help others in the community and give back," Dorothy said.
"It was amazing being there, seeing the girls be so happy, just like any other kid should," Matthew Boyd said.
The Kingdom Home houses 36 girls ranging in age from 6 to 14. As the home has slowly filled, the Boyds are looking to build four additional homes. They continue to raise money through the sponsorship of the girls or via charity events such as the Swing for Impact fundraiser that they held in Tampa on March 16, 2019.
As the organization continues to grow, the Boyds continue to provide aid to these girls, including an opportunity for them to receive vocational training or attend a university. The Boyds want them to have opportunities that were almost taken away from them.
"If we give them a skill and a value beyond selling their bodies, they will be successful and we will reach our goal," Ashley Boyd said.
Matthew Boyd said he believes if they put more effort into their foundation, they can really make a difference.
"The bad guys aren't smarter than us. We can end this. We can outsmart them. We can beat them to the kids. We can protect them," Matthew Boyd said.  
Subban's charitable impact all over North America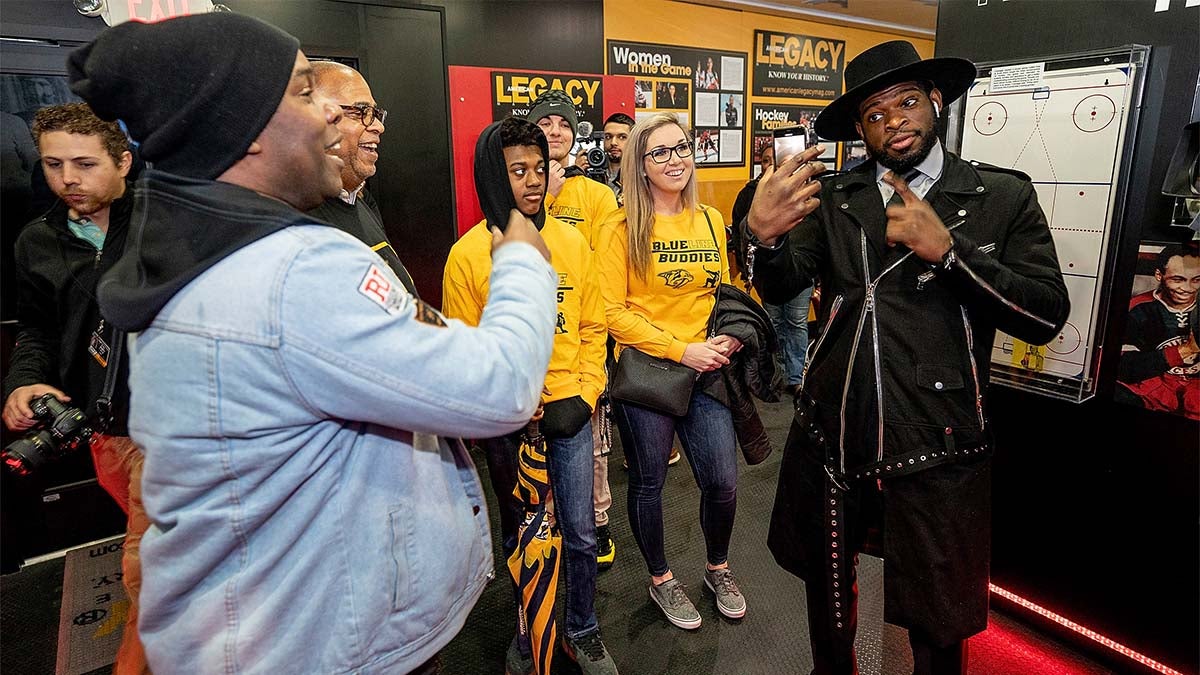 When not checking opponents into the boards, Nashville Predators defenseman P.K. Subban has made it his life's work to assist communities. Through the work of his multiple foundations, he has been assisting many projects in the U.S. and Canada.
While he was with the Canadiens in 2015, Subban made headlines by pledging $10 million to be donated by the year 2022 to the Montreal Children's Hospital.
According to a BBC article, the health care facility described it as, "the biggest philanthropic commitment by a sports figure in Canadian history." During the announcement, Subban credited the kids he had visited at this hospital for inspiring him to want to do more.
"What do I want people to remember me for other than being a hockey player," Subban said. "Well, every time you walk into this hospital, you know what I stand for."
Since the announcement, Subban has hosted events and sells merchandise with all proceeds going toward the hospital. Even though he now plays in Nashville, Subban hasn't stopped his philanthropic work in Montreal. According to his website, they are about 30 percent toward the goal, having secured more than $3 million in donations.
As tensions rose between police and citizens across the U.S., Subban wanted to play a part in helping mend that bridge, so he created P.K.'s Blueline Buddie Program.
According to NHL.com, Subban invites a member of law enforcement with a guest and a leader of a local organization with underprivileged youth to a Predators game. All expenses are covered by Subban, who meet them prior to the game for photos and autographs. Subban sees this as an opportunity to forget about what may be going on outside for a couple of hours.
"We can either choose to celebrate the bad ones all the time, or we can celebrate the good ones," Subban said. "I think it's important to build people up and make them feel good."
Alongside the Nashville Predators Foundation, the Blueline Buddies Program has made an impact on the community the past couple of years. Those who have taken part see the difference Subban is trying to make.
"That's especially important in the sports world where you are trying to connect with the people of the community," Metro Nashville Police officer Clint Gilleland said. "It speaks very highly, not just of his character, but of the franchise itself."
Subban is excited about how this little project has grown so quickly. In an article from NHL.com, the MNPD wanted to recognize him for his efforts, rewarding him with the Community Service Award through his work with Blueline Buddies program.
"It's just great that he values the community and wants to give back," Nashville Predators Senior Director of Community Relations Rebecca King said.
A few other charitable athletes
Serena Williams work as a Goodwill Ambassador working with

UNICEF

.
Corey Kirk is a masters sports journalism student at Arizona State University
Editor's note: The Global Sport Institute tracks the social justice activities of NFL teams. Check out our season-ending report.