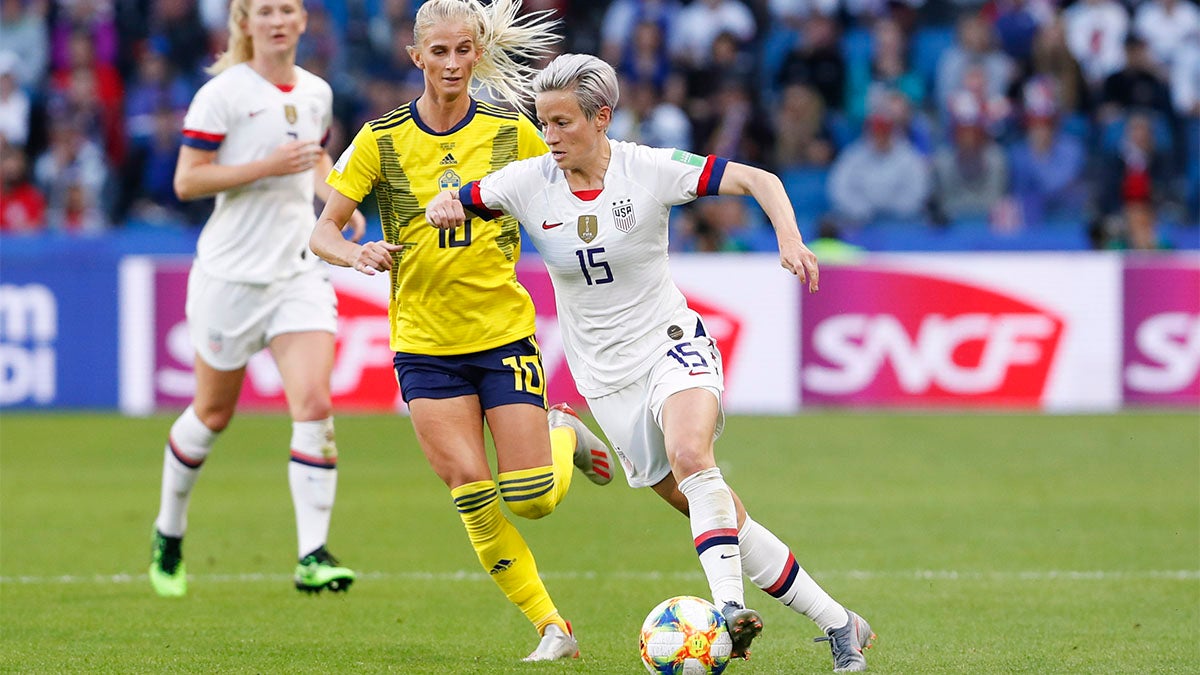 Slightly less than 23 million viewers tuned in to watch the United States women's national team defeat Japan 5-2 in the 2015 Women's World Cup final. That was a record for a U.S. soccer match — men's or women's.

Expanded television coverage has been crucial to the strong numbers that have continued through the opening matches of this season's World Cup. The team's results alone generate attention — and are heightened by the U.S. men's struggle for consistency and victories — but dedicated coverage by sports behemoth Fox, Fox Sports 1 and Fox Sports 2 has presented unique exposure opportunities. Streaming service Hulu secured a year-long partnership to broadcast the Women's World Cup, a boon to the 30 million-plus Americans who have cut their cable cords.
The initial tournament, held in China in 1991, did not have FIFA's World Cup branding. Attendance sunk dramatically in the 1995 Women's World Cup, held at small stadiums in Sweden and won by Norway, but that set the stage for a remarkable rally four years later.
The 1999 Women's World Cup final proved a breakthrough moment for the U.S. team. Brandi Chastain's winning penalty kick at the Rose Bowl in Pasadena, Calif., has been immortalized in American sports lore. Soccer frenzy swept the host country as attendance grew nine-fold. The final itself drew 90,185 spectators.
In addition, the field of teams increased from 12 to 16 ahead of the 1999 edition, and 24 nations have taken part in the 2015 and 2019 World Cups.
Increased investment helped raise the standard of play and the stature of the women's game. Advertisers lined up to throw their hat in the ring prior to the start of this year's World Cup — brands such as Nike, PlayStation and Volkswagen signed up to advertise with Turner Sports subsidiary Bleacher Report before France and South Korea kicked off on June 7. Bleacher Report in itself is a lucrative enterprise and has become well-known for its innovative multimedia content.
Four years ago, Fox Sports earned $40 million in ad revenue from the USWNT's third World Cup win. Volkswagen has agreed to work with Fox Sports in addition to Bleacher Report, and the network signed beverage giant Coca-Cola as a sponsor.
Coca-Cola is highly desirable as a sponsor due to its global appeal. The corporation is an official marketing partner of FIFA, along with other recognizable international brands such as adidas and Qatar Airways. Among host nation France's sponsors are electricity-generation giant EDF and banking group Credit Agricole — the fifth-largest company in France and the 82nd-largest in the world.
Japan — finalists in 2011 and 2015 — are sponsored by three Fortune Global 500 companies: MS&AD Insurance, automotive corporation Aisin Seiki and Mizuho Financial Group. Two-time World Cup winners Germany have an agreement with Volkswagen — the biggest company in the country and seventh-largest in the world. Die Nationalelf's success means they can further count on sponsorships from Coca-Cola and Samsung.
The United States is the most successful side in the competition's history, and, accordingly, have an impressive cadre of sponsors. This includes telecommunications titan AT&T, Anheuser-Busch, and Coca-Cola — with its subsidiary Powerade. These sponsorships have driven up awareness and revenue.
The expansion in revenue for the U.S. women's team in particular was outlined in a June 2019 Wall Street Journal story. The United States Soccer Federation's financial reports revealed the USWNT began to rake in more revenue than their male counterparts following the 2015 World Cup in Canada. Gate receipts showed between 2016 and 2018, the star-laden women's team brought in nearly $1 million more than a men's team that failed to qualify for the 2018 World Cup in Russia.
This revelation adds more fuel to the women's team's lawsuit against U.S. Soccer. The suit, filed on March 8, 2019, alleges the federation engaged in discriminatory practices.
The 28-player USWNT collectively filed suit in Los Angeles months before the opening match in France. Central to the case is the USWNT's assertion that, in a comparison between the men's and women's teams, a member of the latter would earn 38 percent of a male player over the course of 20 non-tournament matches per year. Dissatisfaction with a collective bargaining agreement brokered by the USWNT and U.S. Soccer in 2017 has been augmented by claims it did not go far enough in the fight for equal pay and recognition. The team and U.S. Soccer agreed to mediation that will begin after the World Cup ends.
This edition of the Women's World Cup arguably contains the most talented player pool in the tournament's history, and it is on pace to break records. It remains to be seen whether the USWNT will win its suit against the federation and net payment on par with the men's team, but their case could be bolstered by prominent investment that has contributed to immense growth.

Jeremy Beren is a senior sports journalism major at Arizona State University
Related Articles
Iran censors soccer broadcast due to female referee's attire
Social media - and winning - raise profile of USWNT
USWNT, U.S. Soccer agree to mediation over World Cup pay
U.S. women's soccer team sues governing body over gender discrimination
Rapinoe's silent protest to speak volumes at Women's World Cup
U.S. Soccer's deal with Volkswagen aimed toward educating coaches
Donation aims to eliminate U.S. soccer pay differences
European club-level growth indication women's game growing
Tags:
2015 Women's World Cup
,
2018 World Cup
,
Adidas
,
Aisin Seiki
,
Americans
,
Anheuser-Busch
,
AT&T
,
automotive
,
banking
,
Bleacher Report
,
California
,
Canada
,
China
,
Coca-Cola
,
collective bargaining
,
company
,
corporation
,
Credit Agricole
,
EDF
,
FIFA
,
football
,
Forbes
,
Forbes 500
,
Fox Sports
,
Fox Sports 1
,
Fox Sports 2
,
France
,
Germany
,
Hulu
,
insurance
,
Japan
,
Jurgen Klinsmann
,
Los Angeles
,
Mizuho Financial Group
,
MS&AD
,
multimedia
,
nations
,
NIKE
,
Norway
,
Pasadena
,
PlayStation
,
Powerade
,
Qatar Airways
,
Rose Bowl
,
Russia
,
Samsung
,
soccer
,
sport
,
turner sports
,
U.S. Soccer
,
United States
,
United States Soccer Federation
,
United States Women's National Team
,
USMNT
,
USWNT
,
Volkswagen
,
Wall Street Journal
,
women
,
World Cup