Culture
Archive
Afro-Napoli United bridging gap between refugees, Italians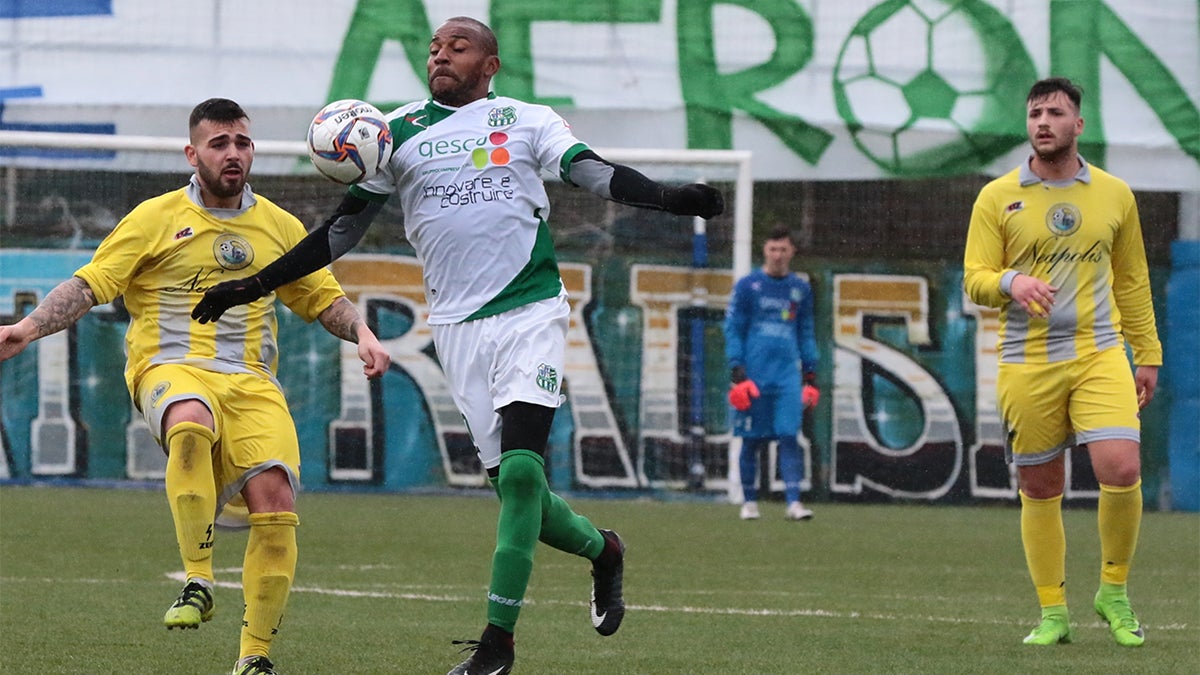 In 1938, Italian Prime Minister Benito Mussolini published his 10-point "Manifesto on Race." Central to the manifesto was the idea that Italians of Aryan blood were inherently superior to all other ethnicities, and racism was to be part of the national ideology.

"The issue of racism in Italy must be dealt with from a purely biological point of view, without any philosophical or religious implications," Mussolini wrote. "The concept of racism in Italy must be essentially Italian and its orientation must be Aryan‐Nordic.
"The purely European character of the Italians is altered by any crossbreeding with an extra‐European race, the carrier of a civilization that is different from the millenary civilization of the Aryans," he continued.
Portions of the 80-year-old dissertation remain prevalent in Italian society, and most obviously in Italian football.
Racism is an enduring issue within the sport and has damaged Italy's reputation since the national team's 2006 World Cup win. Incidents during the 2018-19 Serie A season illustrate the position in which the country finds itself with regard to black players who ply their trade for the biggest teams.
Napoli center back Kalidou Koulibaly, who is regarded as one of the best defenders in European soccer, heard racist taunts in a match against Inter Milan in December 2018. Manager Carlo Ancelotti pleaded with the referee to suspend the match due to the vociferous chanting from the stands of Inter's San Siro stadium, and Koulibaly eventually was shown a red card and ejected. Following the game, the Senegal international had choice words to say about the treatment of black players in Serie A.
On April 2, Juventus forward Moise Kean scored a late goal in a win at Cagliari. Kean, who is 19 years old and of Ivorian heritage, celebrated his strike in front of the Cagliari fans. The home support allegedly made monkey sounds as Kean stood, arms held aloft, as Juve closed a 2-0 win.
Kean's teammate Leonardo Bonucci went on to suggest the blame should be split "50-50" between the Cagliari fans and Kean — ostensibly because of the implication that the teenager provoked them. Bonucci was roundly criticized and later walked back his comments, but the defender's attitude is emblematic of how many figures within the Italian game feel.
On April 24, AC Milan midfielder Tiemoue Bakayoko was subjected to racial abuse during his side's Italian Cup game against Lazio. The Roman side's "ultras" have long been associated with racist taunts and extreme imagery. In this instance — and amid an investigation into the display of a pro-Mussolini banner — the right-wing supporters presented inflatable bananas and chanted in opposition to Bakayoko, who also is of Ivorian descent. 
Episodes like this help to explain why Afro-Napoli United exist. 
"Afro-Napoli is about, 'You call me, I help you,'" club founder and captain Giuseppe De Rossa said. "Friendship without conditions, not only money; helping translate, helping out in the kitchen, help with life — like a small family — friends, cousins and brothers."
Afro-Napoli United were founded in 2009 and play in a tiny regional league called the Campania Eccellenza Girone A. The team's roster is made up of native Neapolitans and refugees from various countries — primarily those in Africa, such as Senegal, Tunisia and the Ivory Coast.
An integrated side such as Afro-Napoli United, according to their vice president Francesco Fasano, is critical because a team solely made up of immigrants invites "discrimination, not the possibility of integration."
Abdoulie Camara, an Afro-Napoli player from the Gambia, waited months to board a boat that took him across the Mediterranean into Italy. He is an example of the risks members of the team take to play and to stand for a cause bigger than any one individual.
"The difference between Afro-Napoli and other refugee teams is when you talk about Afro, it means African while Napoli means Neapolitan. So they divide equally – a team that is fighting against racism where there are no blacks and whites – just players," Camara said.
Refugees continue to arrive from north and west Africa despite Italy's port closures, aimed officially at reducing "the mafia of human trafficking" by non-governmental organizations and rescue ships. In addition, interior minister Matteo Salvini recently oversaw the shutdown of one of the country's largest migration centers in another move designed to curb immigration.
As a team with a heavy concentration of migrants, Afro-Napoli is attempting to foster coexistence between natives and refugees — something that at the highest levels of the game tenuously exists, at best. It wants to establish a sense of unconditional friendship and respect. In this respect, it can be considered more of a "social project" than a football club — though the team can score a tasty goal and count on passionate support.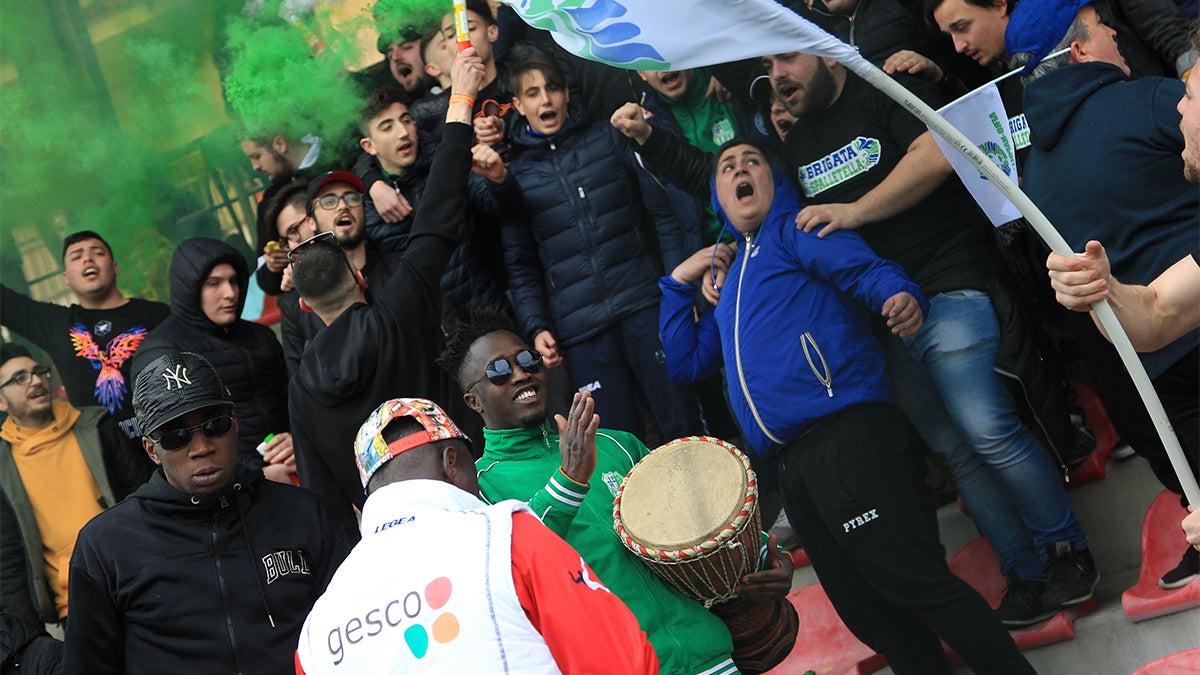 "For me, the project, the integration between immigrants and Neapolitans is the most important — but it is also true that in soccer when you win, it is better," supporter Luigi Mballtao said. "When you win other people look at you, when you win journalists speak about you, write about you. If you don't win anything then nobody cares about you."
"We are political," said club president Antonio Gargiulo, "because everything is political…[migrants] are not a drain on society, but a source of strength."
However, one club's ideals cannot cure Italian soccer's ills. A 2015 study explored the deep roots racism has in the Italian game and explored systemic obstacles the game must overcome to bridge the racial divide.
The study, conducted by the University of Brighton's Mark Doidge, viewed racism in Italy through the prism of prominent forward Mario Balotelli. Balotelli is of Ghanaian descent and has been a controversial figure in European soccer, clashing with coaches and even setting his own house on fire.
"Despite these well-publicised problems, Balotelli has not been the subject of widespread abuse in England. Even after scoring in the Manchester derby, the fans did not target him," Doidge wrote. "This contrasts with the start of Balotelli's career in Italy. Rival supporters have chanted various anti-Balotelli songs, including the one from the title of this article: 'If you jump up and down, Balotelli dies.'"
Across soccer exists the idea of the symbolic player — the figure who fans rally around almost unquestionably. One example of a symbolic player embraced by an Italian fan base is Lazio's Paolo Di Canio, an almost-unabashed fascist who the club's supporters embraced over two stints.
But some symbolic players engender a response at the other end of the spectrum. Balotelli is an example of a figure so polarizing that even rival supporters came to view him as a symbol. He was born in Sicily, educated in Italy and has made 36 appearances for the Italian national team. Yet, during his career in Italy, he heard chants focused solely on his race, "such as 'black s***,' 'monkey' and 'there are no black Italians.' " 
The latter "explicitly link[s] skin colour and nationality," which was a feature of Mussolini-era ideology. The player himself has insisted the racism he experienced in his native country exceeded what he heard in England or France.
Though Balotelli most recently played in France, racist vitriol directed his way has defined his career, in a sense. Now, he is 28 years old and without a club. Despite his productivity for several teams, the forward's various controversies and the hatred he inspires have left many clubs hesitant.
Of course, the racism problem hangs over the entirety of Italian football. Supporters of Italy's biggest clubs have been slow to change, and the clubs themselves have yet to spark significant movement. Smaller clubs with ideals such as Afro-Napoli United can help to lead the charge toward a more inclusive feature.
Jeremy Beren is a senior sports journalism major at Arizona State University
Related Articles
Racism continues to taint European football
British-Asian footballers treated differently than predecessors, researcher says
Opinion: Ending racial incidents in global football is everyone's goal
Incidents of hooliganism, racism following soccer's rise in U.S.
Aluko's stand against racism put her on sidelines for World Cup
Tags:
Abdoulie Camara
,
Afro-Napoli United
,
Antonio Gargiulo
,
Aryan
,
Benito Mussolini
,
Brighton
,
Cagliari
,
Campania Eccellenza Girone A
,
Carlo Ancelotti
,
Chelsea
,
Coppa Italia
,
England
,
fascism
,
FIFA World Cup
,
football
,
France
,
Francesco Fasano
,
Ghana
,
Giuseppe De Rossa
,
Italian
,
Italy
,
Italy national team
,
Ivory Coast
,
Juventus
,
Kalidou Koulibaly
,
Lazio
,
Leonardo Bonucci
,
Luigi Mballtao
,
Manchester City
,
Manifesto on Race
,
Mario Balotelli
,
Mark Doidge
,
Matteo Salvini
,
migrant
,
Milan
,
Moise Kean
,
Naples
,
Napoli
,
Paolo Di Canio
,
racism
,
Research
,
Rome
,
Senegal
,
Serie A
,
Sicily
,
soccer
,
Study
,
the Gambia
,
Tiemoue Bakayoko
,
Tunisia
,
University of Brighton