Culture
Maya Moore puts career on hold to focus on social justice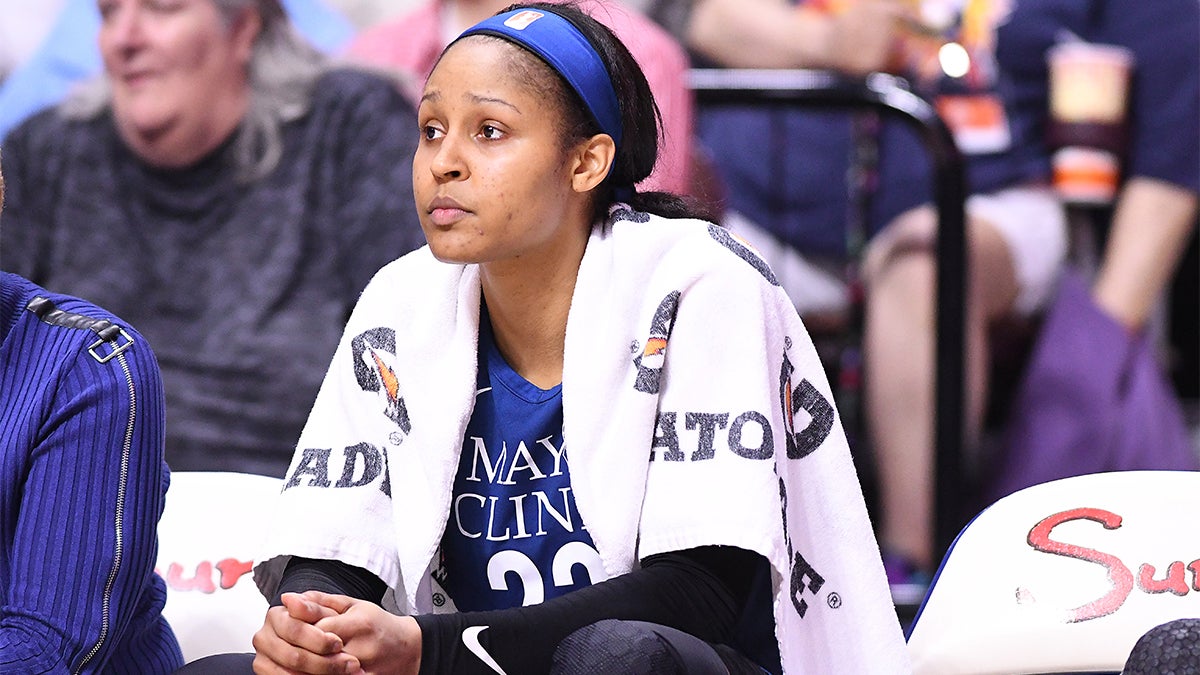 For years, some athletes have made concerted efforts to speak out about social issues, using their fame as a platform to affect change. Maya Moore is part of that long list of athletes who have spoken out against social injustice. 

The Minnesota Lynx forward is not playing the 2019 WNBA season because of burnout and other reasons. She said her current sabbatical from basketball is a "call from God." Instead of playing, Moore has been working to free Jonathan Irons from the Jefferson City Correctional Center in Missouri.
Irons has served 21 years of a 50-year sentence after he was found guilty of burglary and assault with a deadly weapon. Irons was 16 at the time of the alleged crime, but was tried as an adult two years later in 1998. During that time, the government encouraged harsh penalties for young offenders. 
A prosecutor urged the judge not to go easy on Irons, stating he "is as dangerous as somebody five times that age," the New York Times reported.
While in high school, Moore learned about Irons through her cousins, who met him at a prison ministry, and was curious as to why they were interested in him. She met Irons shortly before she left to attend the University of Connecticut.
Their relationship grew during her time at UConn. They sometimes spoke before her big games, and she sent him some of her favorite spiritual books. 
"I get pretty worked up when I see injustice." Moore told The Players Tribune. "And so I couldn't pretend like I didn't see this happening. And, you know, Jonathan essentially becoming a part of our family over all these years, it just really motivated me to want to help."
Irons has appealed his conviction several times, but each attempt was rejected despite the fact no notes were taken when Irons was interrogated after his arrest and there are no recordings of the interrogation. Irons was questioned by only Lieutenant Michael Hanlon without the presence of a lawyer or guardian. There was not another police officer present.
These flaws in the case have prompted Moore to try to get it reopened, relying largely on a fresh look at fingerprint evidence and new expert testimony. She has been contributing funds that go toward the cost of one of Missouri's top-tier defense attorneys, who is now working the case.
The case is currently under appeal. Cole County Circuit Court Judge Daniel Green will determine at a hearing on Aug. 9 whether the case should be reopened.
Irons' case also led Moore to create an organization, "Win with Justice," that advocates for social action and for reform in the criminal justice reform.
Moore is just the latest athlete who has spoken out about social issues. Before the 2016 ESPYS started, NBA stars LeBron James, Dwyane Wade, Chris Paul and Carmelo Anthony went on stage to talk about violence and racism while encouraging athletes to speak on those topics, too.
Paul talked about the death of Trayvon Martin, Michael Brown, Tamir Rice, Eric Garner, Laquan McDonald, Alton Sterling and Philando Castile during his speech. All were African-American males. All, except Martin, who was shot by a neighborhood watch captain, died at the hands of police.
Former NFL quarterback Colin Kaepernick protested the same issue by kneeling during the national anthem before the start of football games. No NFL team has been willing to sign Kaepernick to a contract for the past two seasons, but he has continued to speak out about social injustice and the mistreatment of minorities.
Moore's effort to help Irons is part of a bigger push athletes have made in recent years to use their platform to affect societal change.
The Global Sport Institute released a study earlier this year focusing on how NFL players and the league are working on social justice issues.  The organization identified 417 social justice projects undertaken by the NFL or its players since 2017.
The report noted the league took an interest in "education and economic advancement, police and community relations, and criminal justice reform" by creating Inspire Change on Jan. 11, 2019. At the time of the GSI report, 417 social justice activities were undertaken between the 2017 season and January 2019.
Among some of the other findings of the report:
Kaepernick set a $1 million pledge to fund community programs in September 2016 and started his "Know Your Rights" campaign.
Kaepernick raised/co-raised $1.28 million by early 2018 for community programs across the country, and partnered with Nike and music artists, athletes and media personalities, including: Serena Williams, Kobe Bryant, Kevin Durant and Steph Curry, Sean "Diddy" Combs, Nas, DJ Khaled, Alicia Keys, Angela Rye, Nick Cannon, Zendaya, J. Cole and Quavo.
Kaepernick's support impacted programs covering, but not limited to: Native American rights, immigrant rights, police reform, anti-violence against women, homelessness, victims of gun violence, youth justice and youth mentoring.
Women's organizations affiliated with clubs are actively engaged as well.
Partnerships for social impact are growing across sports such as the Chicago Sports Alliance, which announced in 2019 it will lend the collective reach and resources of the Bears, Blackhawks, Bulls, Cubs and White Sox in support of finding innovative solutions to decrease violence in the city.
NFL clubs do community relations work often and actively engage their players by taking them to schools or hospitals.
Lamar Smith is a graduate student in the sports journalism program at Arizona State University
Related Articles
Freedom run: Sport programs in prison aim to end recidivism
Protesting NFL players may have a case under First Amendment
Rapinoe's silent protest to speak volumes at Women's World Cup
To shut up and dribble or not? Bryant, Davis discuss black athlete activism
How do you measure the impact of athlete activism?
Athlete activism is on the rise, but so is the backlash
Athlete activism has global, historical aspects
John Carlos calls athlete activism more than sports
Athletes' opportunity to be courageous still resonates in Mexico City