Culture
Health
Andrew Luck's retirement focused attention on mental health and injury recovery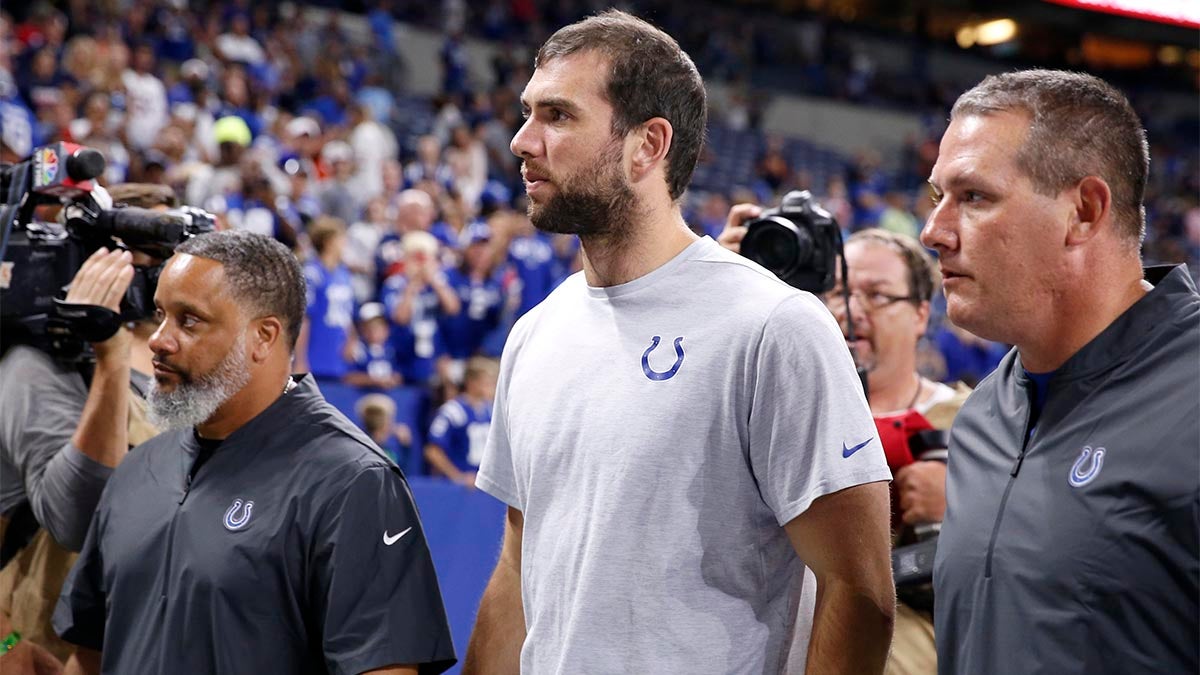 For the coming 2019-2020 academic year, the Global Sport Institute's research theme will be "Sport and the body." The Institute will conduct and fund research and host events that will explore a myriad of topics related to the body. 
Quarterback Andrew Luck's stunning August 24 announcement that he is retiring from the Indianapolis Colts reverberated through the NFL community, spawning an array of opinions on Luck's decision that ranged from compassion to downright nasty.

 On one side of the debate are those who lament what they perceive as selfishness by Luck for leaving a team two weeks before the Colts' season opener. Others pointed to Luck's continued battle with a host of injuries and the right any athlete has to place his or her physical and mental health above a sport.
While much of the discourse has predictably been split along generational lines, one group has supported the 29-year-old Luck in unison: his fellow NFL players. 
Rich Ohrnberger, who played for five seasons in the NFL, posted a passionate defense of Luck on social media that began with a detailed description of his own battle with injuries. Ohrnberger, who last played for the Chargers, provided brutally honest insight into the day-to-day toll a seemingly routine injury can take. 
<THREAD>
Watching Andrew Luck's retirement press conference brought back a lot of memories. My "last day" was Tuesday, October 13th, 2015... my decision was made at a hotel lobby bar in Detroit after a group tryout with the Lions. Here's my story...

— Rich Ohrnberger (@ohrnberger) August 26, 2019
But Ohrnberger, was far from the only former player to voice support for Luck. Current NFL stars like J.J. Watt, Drew Brees, and Luck's Colts teammate T.Y. Hilton all expressed encouragement. Meanwhile, Pro Football Hall of Fame quarterback Troy Aikman forcefully rebutted one Luck critic, Fox Sports analyst Doug Gottlieb, who tweeted that Luck's decision to retire because rehab is "too hard" is "the most millennial thing ever." 
That's total bullshit Doug. What qualifies you to decide how someone should live their life? So you're now the authority on what motivates Andrew Luck? And if his decisions don't fit into what you think is best for him then you rip him? Guess that keeps you employed on FS1. Nice https://t.co/p59DsmPoER

— Troy Aikman (@TroyAikman) August 26, 2019
 Even Dallas Cowboys owner Jerry Jones voiced his opinion, commending Luck's decision and proposing that the Stanford graduate should one day run for president.
Every time i think about it, Tears start to flow ???. No one understands you like i do. Our bond is one of a kind. I've decided to dedicate my season to my BEST FRIEND. I Love You 12. #Luck2Hilton pic.twitter.com/9a3JzxNum2

— TY Hilton (@TYHilton13) August 26, 2019
As the conversation grew, a universal theme emerged as players delved into the inherent contradiction of staying committed to your chosen profession while still prioritizing your own physical and mental health.
Jerry Jones last night talking Andrew Luck's retirement: "Wish him nothing but the very best and I hope he becomes the president of the United States." pic.twitter.com/g7TxqsVaaS

— Casey Viera (@Casey_Viera) August 25, 2019

The dehumanization of athletes is far from a novel concept, but the increasing awareness of injuries and their effects on post-career life has brought a greater understanding of the decisions athletes face. 
As difficult as these decisions appear to the uninformed onlooker, they are choices every NFL player must grapple with upon their inclusion in the league. While each player's decisions are ultimately their own, the shared nature of their experiences help foster a better understanding regardless of how each athlete decides to make their exit.
An incredible competitor and a truly great person. I'll miss competing against a guy who always played the game extremely hard, with an immense amount of respect. Wishing Andrew nothing but the absolute best moving forward. I know this had to be unbelievably difficult decision. pic.twitter.com/jgMHwJvPxo

— JJ Watt (@JJWatt) August 25, 2019
Arizona Cardinals veteran Larry Fitzgerald, who contemplated retirement before announcing in January that he would return for his 16th NFL season, said he was "indifferent" about the Luck announcement.
"Everybody's life is their own," Fitzgerald said at his 11th annual Fitz's Supper Club fundraiser that supports the less fortunate. "You make decisions based on what you need and what's best for you. I support him playing, I support him retiring; he's my friend regardless." 
Wesley Walker, who spent his entire 13-year NFL career with the New York Jets, counts himself among a growing contingent of former NFL players who are just now grasping the ramifications of playing professional football.  
The former wide receiver retired from the NFL in 1989 after playing over 150 games.  
Everyone has an opinion on Andrew Luck's retirement.@kurt13warner, @michaelirvin88 and Steve Smith Sr. share theirs at the #NFL100 kickoff event. pic.twitter.com/UzSpx4etKX

— ThePostGame (@ThePostGame) August 28, 2019

"Most players would tell you they'll do it over again," Walker told the New York Post. "I'm not one of them."
Walker and other long-time pro players, understand the toll that the game takes on an athlete's body and mind in a way that fans and analysts like Gottlieb cannot.  
"I was crying, myself, because I know what that feels like when you can't play at your level that you once were, and not enjoying yourself," Walker told the Post about Luck's announcement. "Heaven forbid if he kept going and he's going to feel a lot worse down the road. Maybe he's circumventing that right now."
"Knowing what I know, the way I feel, I don't want to feel like this," Walker added. "But it's too late."
Not every reaction to Luck's decision was quite as sympathetic as Walker's. A number of notable personalities across a wide-range of platforms issued their disapproval of Luck's retirement, including Gottlieb, later claimed he was joking when he connected Luck's decision to the perceived weakness of the millennial generation. 
Retiring cause rehabbing is "too hard" is the most millennial thing ever #AndrewLuck

— Doug Gottlieb (@GottliebShow) August 25, 2019
Word of Luck's decision leaked and was reported during a Colts preseason game, and some fans at Lucas Oil Stadium booed the injured Luck as he walked off the field in street clothes. Luck later acknowledged that he heard the booing and that he was hurt by it.
Colts fans rain down boos as Andrew Luck leaves the field after Saturday night's preseason game

(via SMH_35/reddit) pic.twitter.com/ENNxaSJABu

— Sports Illustrated (@SInow) August 25, 2019
That reaction struck a nerve with NFL players. Arizona Cardinals wide receiver Christian Kirk was among those who voiced outrage about the booing. He took to Twitter to offer support for Luck.
This hurts my heart man, no one who dedicates their whole entire life to something deserves this because they're thinking about their future. Praying for Andrew Luck and an amazing life after football https://t.co/HMHA9HA43i

— Christian Kirk (@ckirk) August 25, 2019
Kirk expanded on his reaction to the fans while attending Fitzgerald's fundraiser. 
"Unfortunately, the first thing that I saw on Twitter was him being booed by the fans, which I actually ended up tweeting about, which is sickening," Kirk said. "I don't feel like anybody deserves to go through that.
"I said it on there, people don't really understand how much we put into this sport and what we put on the line for it. To be booed for a decision about your future is disrespectful, and it's inconsiderate. My wishes and my prayers go out to him, and I definitely wish him a bright future."
Jacob Rosenfarb is a senior sports journalism major at Arizona State University
Related Articles