Culture
Archive
#Bluegirl's death launches global protests against Iran's stadium ban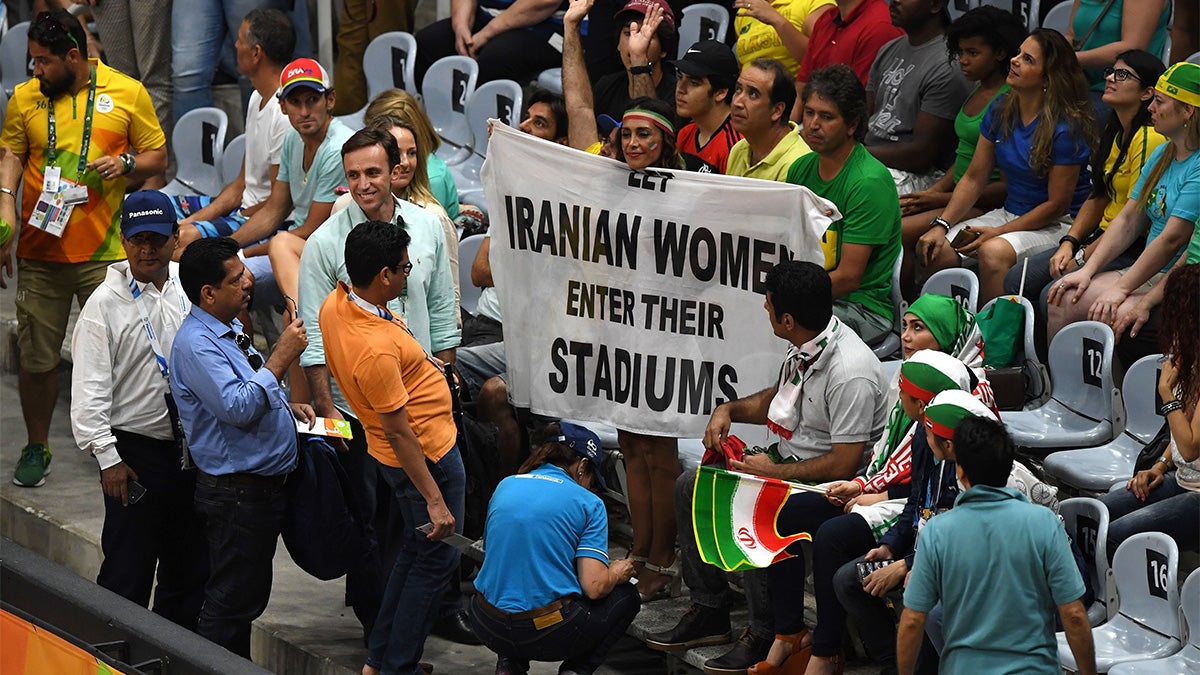 An Iranian woman known as "#BlueGirl" set herself on fire and died in protest after being told that she could face up to six months in prison for impersonating a man when she attempted to illegally sneak into a soccer match. 

Iran is the only country in the world that bans women from entering soccer stadiums and punishes them for violating the ban. While the ban is not written into law, it is "ruthlessly enforced by the country's authorities," said Mindy Worden, director of global initiatives at Humans Rights Watch.
This was the second time 29-year-old Sahar Khodayari had been arrested this year for trying to attend the matches. She disguised herself with a blue wig when she tried to enter the stadiums, thus the nickname "Blue Girl." She was charged with "insulting the public by defying the dress code for women," according to official court documents. After spending three nights in jail, Khodayari returned to Tehran's Ershad Courthouse on Sept. 2 to receive her belongings and was informed about the possibility of facing jail time. She then set herself on fire outside the courthouse. 
#ASRoma is yellow & red but today our heart bleeds blue for Sahar Khodayari. The beautiful game is meant to unite us, not divide us – that's why we set up @ASRoma_Persian last year. Now it's time for everyone in Iran to be allowed to enjoy football matches together. RIP #BlueGirl pic.twitter.com/twB6KDvkJS

— AS Roma English (@ASRomaEN) September 10, 2019
Khodayari died on Sept. 9 at Tehran Hospital after suffering burns on 90% of her body. 
The Associated Press reported that FIFA is working with Iranian authorities to put an end to the ban of women entering stadiums, preferably before Oct. 10 when Iran will host a World Cup qualifying game against Cambodia at Azadi Stadium in Tehran. The ban has been in place since the 1979 Islamic Revolution. Last October women were allowed to attend a national team friendly in an area of the stadium that was separate from where men were seated. 
Masoud Shojai, @TeamMelliIran captain wrote on his Instagram account: "Today was the saddest and most bitter win for our national team. We scored two goals and won the game in the field but we didn't win. We lost because Sahar is not with us any more." #SaharKhodayari #bluegirl pic.twitter.com/zoVXIrjkUQ

— Tara Sepehri Far (@sepehrifar) September 10, 2019

Also, the Iranian government canceled a broadcast of a top-level German soccer match on Feb. 15 with reports in German media citing the match's female referee as the reason for the cancellation.
 In the past, women have been detained by police when trying to enter a stadium in other countries. Saudi Arabia lifted its ban on women attending sporting matches in January 2018, leaving Iran as the only government enforcing it.  Recently, Iran has been taking small steps toward equality for female fans.
Sahar Khodayari, the Iranian woman who set herself on fire after being arrested for trying to enter a sports stadium, has died.

She was known as #BlueGirl, because that is the color of her favorite Iranian soccer team. https://t.co/SNj5pzbVJ6

— Yashar Ali ? (@yashar) September 10, 2019

In June 2018, female fans were allowed to view a match in Azadi Stadium for the first time in 37 years. The World Cup match was streamed to screens in the stadium, and women were able to purchase tickets to view the match.
Khodayari's death led to an uproar on social media and the hashtag #BlueGirl is trending worldwide as people ask FIFA to take action to end Iran's stadium ban. FIFA issued a statement saying, "We are aware of that tragedy and deeply regret it. FIFA convey our condolences to the family and friends of Sahar and reiterate our calls on the Iranian authorities to ensure the freedom and safety of any women engaged in this legitimate fight to end the stadium ban for women in Iran."
The death of #BlueGirl must not be in vain. #Iran is the only country in the world that stops and punishes women for entering football stadiums. This ban must end immediately. https://t.co/z63u2DH3kq

— Amnesty UK (@AmnestyUK) September 10, 2019

According to ABC News, there was no report on Khodayari's death from Iranian state media or its prominent semi-official news agencies. 
In Iran, #SaharKhodayari has set herself to fire after being punished for going to a stadium. Governments are forcing women to live under irrational orders. As women who share the same oppression culturally, we are rising!#bluegirl #دخترآبی #mavikız #yalnızyürümeyeceksin pic.twitter.com/PrYsM3Wppc

— Yalnız Yürümeyeceksin (@yalniz_yurume) September 10, 2019

"What happened to Sahar Khodayari is heart-breaking and exposes the impact of the Iranian authorities' appalling contempt for women's rights in the country," said Philip Luther, Amnesty International's Middle East and North Africa research and advocacy director. "Her only 'crime' was being a woman in a country where women face discrimination that is entrenched in law and plays out in the most horrific ways imaginable in every area of their lives, even sports."
She wanted to watch a soccer match in Iran. She paid with her life.
My story on #bluegirl https://t.co/IVrxBut3dB

— Farnaz Fassihi (@farnazfassihi) September 10, 2019
Iranians and the world are reeling with the news that Sahar K, also known as the "#BlueGirl," has died after setting herself on fire outside a Tehran courthouse last week, a protest against not being able to do what she loved: watch #football. pic.twitter.com/o22VAPoMGf

— IranWire (@IranWireEnglish) September 10, 2019
Katie Thomas is a senior sports journalism major at Arizona State University
Related Articles
Iran censors soccer broadcast due to female referee's attire
Inequality, corruption continue to hamper women's football globally
Tags:
#bluegirl
,
banned
,
FIFA
,
football
,
Human Rights Watch
,
immolation
,
Iran
,
Sahar Khodayari
,
soccer
,
Stadiums
,
Tehran