Culture
Historic Maiden's voyage honored in film, anniversary tour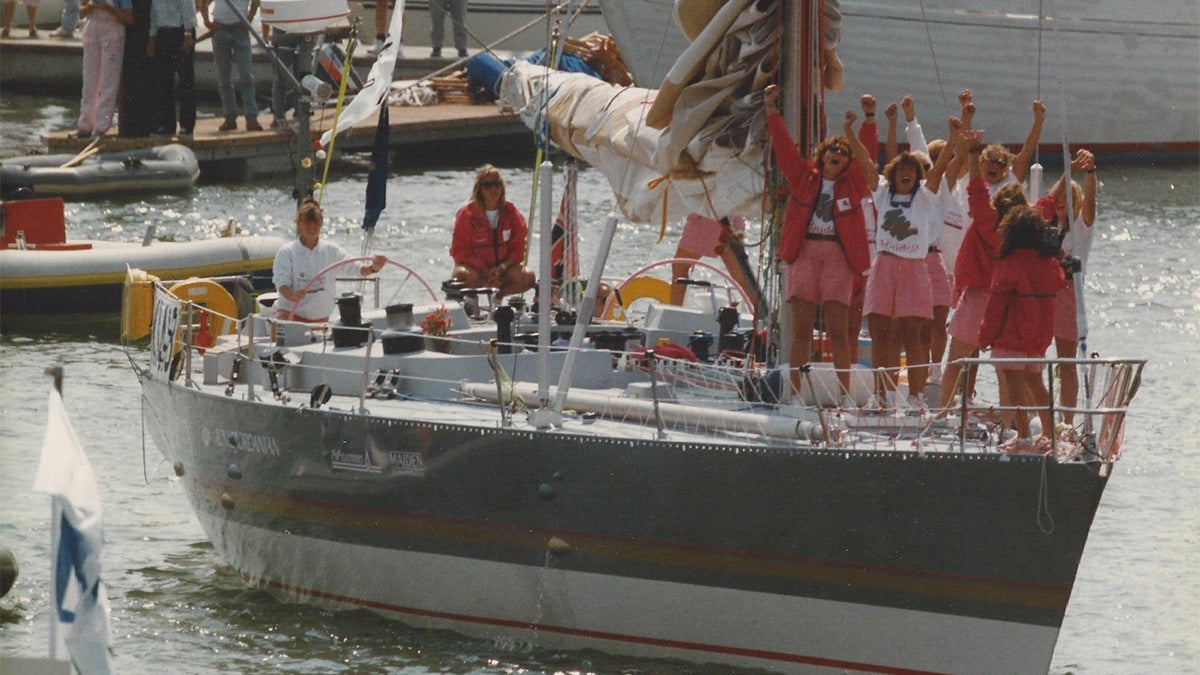 For the average British sports fan in 1989, the word maiden likely evoked the heavy metal band Iron Maiden. However, a pioneering moment in yacht racing that year added a new definition.
This month marks the 30th anniversary of the first all-female crew's debut in the 1989-90 Whitbread Round the World Race.

Stemming from that event, British skipper Tracy Edwards, at age 27, became the first woman to earn the Yachtsman of the Year trophy. Her racing yacht Maiden won two Whitbread legs during a 167-day voyage and finished second overall. It was the best British result since 1977 in the event, now renamed The Ocean Race, and no subsequent U.K. entry has fared better. Covering 32,000 nautical miles, the race started in Southampton, England, on Sept. 2, 1989 and ended there on May 28, 1990. Stops included Punta del Este, Uruguay; Fremantle, Australia; Auckland, New Zealand; and Fort Lauderdale.
For Edwards, getting to the start line was a saga. She mortgaged her house in 1987 to buy Maiden – originally built as Disque D'Or 3 eight years earlier – and painstakingly restored her. Edwards' achievement in the face of massive sexism and skepticism ultimately changed perceptions about women in yacht racing.
Maiden is back in the news for reasons beyond the 30th anniversary.
An acclaimed documentary titled "Maiden" by filmmaker Alex Holmes was recently released in theaters. An Edwards quote sets the tone: "The ocean's always trying to kill you. It doesn't take a break." That metaphor goes beyond scenes of navigating the turbulent Southern Ocean near Antarctica.
In the film, Edwards reveals how she battled not just negativity from yachtsmen who felt she was only fit for cooking and cleaning, but also her own insecurities. Sponsorship to make racing possible finally emerged from a surprising source: King Hussein I of Jordan, via Royal Jordanian Airlines.
The 97-minute film highlights incidents both tragic and comic, ranging from how Edwards' crew absorbed the news of a fellow competitor's drowning to how they donned bathing suits to distract the press at the end of an underwhelming leg. An amazing quantity of original video footage from that pre-iPhone era and a soundtrack laden with 1980s synthesizers bring the odyssey to life.
Maiden's inspirational vibe recalls elements of 1992's "A League Of Their Own," about a World War II-era women's baseball league, and 2012's "Kon-Tiki," about Thor Heyerdahl's 1947 expedition from South America to Polynesia on a balsa wood raft.
While the documentary ends somewhat abruptly, this story is not over. Today, Maiden has been restored after she was discovered rotting in the Seychelles in 2014. She's sailing worldwide on a charity-driven mission for the Maiden Factor Foundation. The trip will run two-and-a-half years and 60,000 nautical miles with 36 stops in 20 countries.
Veteran skipper Wendy Tuck one-upped Edwards when she became the first woman to win a global race – the Clipper Round the World Race – in 2018. The 54-year-old Australian, who did not begin sailing until she was 24, sees serving as a guest skipper on Maiden's latest voyage as a way to give back to her sport.
In addition to her permanent female crew, which includes Finnish, Spanish, and American members, Tuck brings young women on board as mile builders for certain legs, helping them beef up their sailing resumes. She feels yacht racing is reaching a tipping point with gender equality.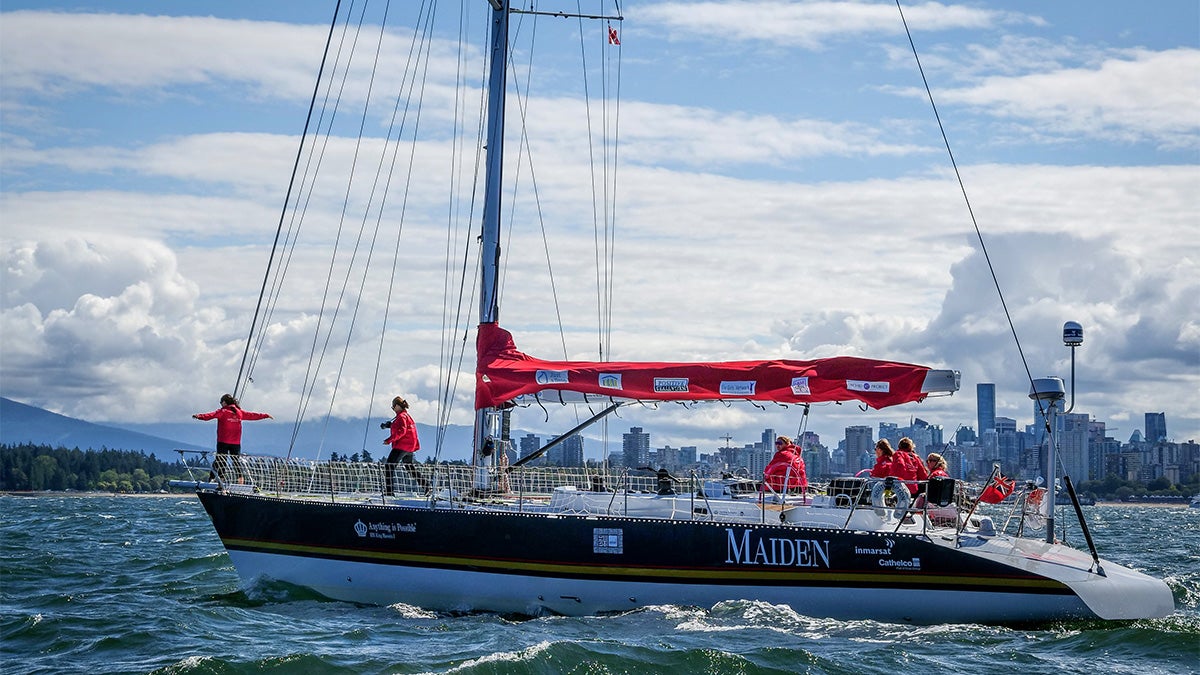 "Thirty years ago, Tracy was starting the conversation about equal rights for women, particularly in sailing, saying women can do this," Tuck said. "Now men are having that conversation as well. They're standing alongside us, saying: 'Girls can sail. They can do this.' I think things have changed. You still butt your head against a brick wall every now and then, but that's just life."
Tuck said she has learned from the experiences of both female and male sailing icons, including Kay Cottee, Ellen MacArthur, Bernard Moitessier, and Robin Knox-Johnston.
Beyond the thrills of sailing, each Maiden crew member is championing a specific charity the Maiden Factor Foundation embraces. Some include I AM GIRL (girls health and education in sub-Saharan Africa), Just a Drop (safe water and sanitation in developing countries) and Orchid Project (elimination of female genital mutilation).
Tuck chose the latter cause. Fifteen years ago, she read a book about female genital mutilation, which more than 200 million women alive worldwide today have undergone. It lingered in her mind.
"I can't believe it's still happening," Tuck said. "In London, we met representatives from all the charities. I spoke to someone from Orchid Project who said, 'What you are doing is bringing awareness to our cause, so what you are doing is important.' That's when it really hit home. This isn't just a fluffy thing. We actually are doing stuff."
One recent development complicates the 2019 voyage's feminist underpinnings.
Princess Haya bint al-Hussein, King Hussein's daughter, sponsored Maiden's latest refurbishment. This summer, Princess Haya, who is the sixth wife of Sheikh Mohammed, ruler of the Emirate of Dubai in the United Arab Emirates, sought asylum in the U.K. from her billionaire husband and filed for sole custody of her two children.
According to The Guardian, the 45-year-old former Olympic show jumper also sought "a forced marriage protection order relating to their children and a non-molestation order after the breakdown of the marriage." A hearing in British court is set for November.
Regardless, Maiden sails on, no stranger to stormy seas. Her trip is scheduled to end in the Mediterranean in 2021.
Lucas Aykroyd writes for the New York Times, espnW, and the Women's Sports Foundation. Based in Vancouver, he has covered women's hockey at five Winter Olympics and four IIHF Women's World Championships.