Culture
Archive
Celtics' Kanter writes of desire for peace, change in Turkey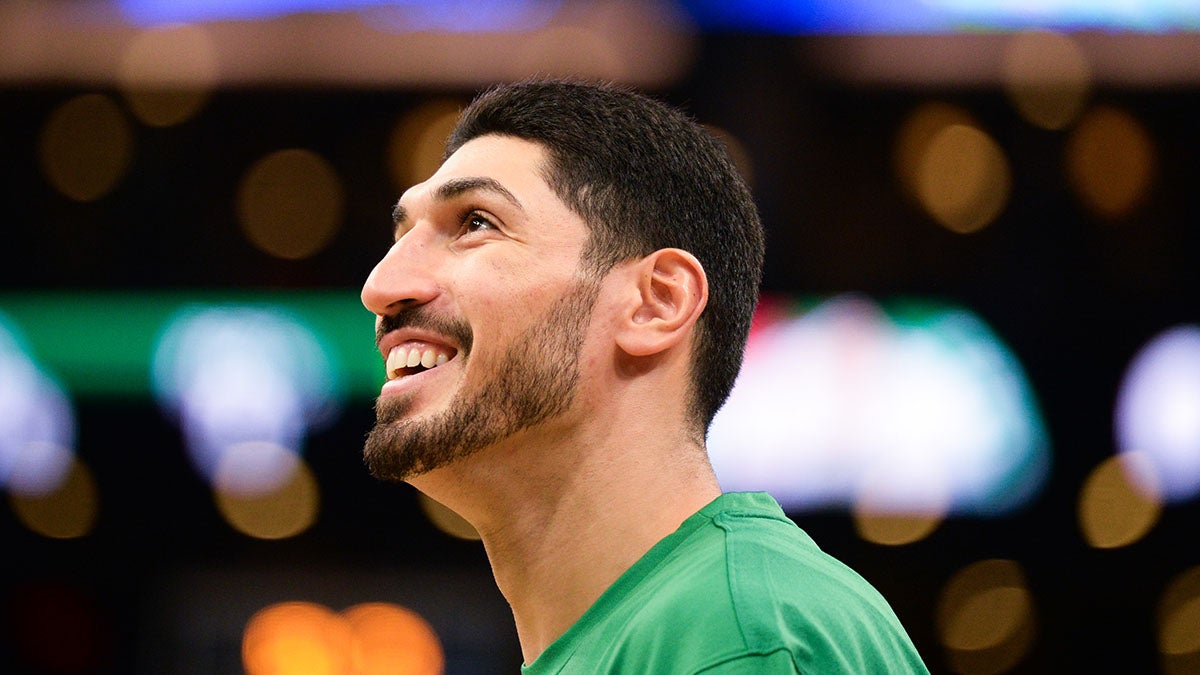 Newly-signed Boston Celtics center Enes Kanter relishes the spotlight cast upon him as a professional athlete. He has utilized the platform being an NBA player provides to discuss the state of the league, current events and the political landscape of his home, Turkey.

As a result of his outspoken nature, Kanter has been called a traitor by some, including former Turkish NBA player Hedo Turkoglu, and has been forced to stay within the U.S. under lingering harassment and threats of assassination.
However, Kanter refuses to stand down in the face of a political regime that has threatened his well being. In an opinion piece entitled "Enes Kanter: I will not be silenced over Turkey" published in The Boston Globe on Oct. 10, the 27-year-old detailed his struggle against Turkish President Recep Tayyip Erdogan.
"Constant pressure by Turkish consulates across the United States, as well as pervasive and continual harassment by the government in Turkey, has so far failed to stifle my dissent," Kanter wrote. "As they increase the pressure, I raise my voice. I won't be deterred. They're wasting their time."
As Kanter, who was born in Switzerland before his family returned to Turkey where he grew up, continues to criticize Erdogan and the Turkish government, Turkey has deployed troops to combat Kurdish forces across the Syrian border.
According to BBC News, the Turks hope to establish a 20-mile long "safe zone" along the border to push back Kurdish forces while creating space to relocate up to 2 million Syrian refugees currently residing in Turkey.
Kanter's issues with the Turkish government began long before the current incursion. It has been a recurring theme throughout his time in the NBA, and he found a larger audience when  he joined the New York Knicks in 2017. After a short stint in Portland, Kanter signed agreed to a two-year, $10-million contract with the Celtics. 
From a basketball standpoint, Kanter's fit with the Celtics makes perfect sense. He'll fill the interior gap left by the departure of fan favorite Al Horford, who signed a four-year deal with Philadelphia during the offseason. 
Nevertheless, Kanter is still finding his way in a new city. In his piece for the Globe, he began with an anecdote about a recent visit he made with Celtics rookie Tacko Fall to a Boston mosque.
Advocates of Erdogan who had learned that Kanter prays at that mosque, badgered Kanter and Fall. Kanter said that other worshippers defended him. Even though he remains comparatively safe in the United States, he's still subjected to criticism and harassment.
During the midst of the offseason, Kanter was forced to cancel a free basketball clinic in Long Island after the Turkish consulate in New York pressured the Islamic Center of Long Island to disassociate with the camp due to Kanter's political views.
Such a disgrace that @TRConsulNY attacked @ICLINY through their bully tactics and caused my camp's cancellation; they punished over 300+ New Yorker kids who were supposed to have a free Basketball camp. This is how the #TurkishDictator operates. pic.twitter.com/CmHmnqWSgH

— Enes Kanter (@EnesKanter) July 25, 2019
In May 2017, Kanter was detained in a Romanian airport after the Turkish government invalidated his passport. He responded by referring to Erdogan as "the Hitler of our century."
The conflict escalated in January 2019 when the Turkish government sought out an Interpol Red Warrant against Kanter, citing his alleged membership in a terrorist organization as its reasoning.
This came just days after Kanter announced that he would miss a Knicks game against the Washington Wizards in London due to fears stemming from the target placed on his back by the Turkish government. He was waived by the Knicks in February and signed for the remainder of last season by the Trail Blazers.
I'm being held at Romanian airport by Police!! pic.twitter.com/uYZMBqKx54

— Enes Kanter (@EnesKanter) May 20, 2017
"Democracy today is on life support, if not dead, and anyone who speaks up faces prison time," Kanter wrote of the conditions in Turkey in his Globe piece.
Dylan Hunter Carter is a senior sports journalism major at Arizona State University
Related Articles
Study: Athlete activism increased African American activism
How do you measure the impact of athlete activism?
More than T-shirts and hashtags: Measuring social justice impacts in the NFL
Rapinoe's silent protest to speak volumes at Women's World Cup
To shut up and dribble or not:? Bryant, Davis discuss black athlete activism
Athlete activism is on the rise, but so is the backlash
Athlete activism has global, historical aspects
John Carlos calls athlete activism more than sports
Athletes' opportunity to be courageous still resonates in Mexico City
Tags:
activism
,
BBC News
,
Boston Celtics
,
Boston Globe
,
detained
,
Enes Kanter
,
Hedo Turkoglu
,
Interpol
,
Islamic Center of Long Island
,
Kurds
,
mosque
,
NBA
,
New York Knicks
,
Portland Trailblazers
,
Recep Tayyip Erdogan
,
Romanian airport
,
safezone
,
Syria
,
Tacko Fall
,
Trail Blazers
,
Turkey
,
Washington Wizards