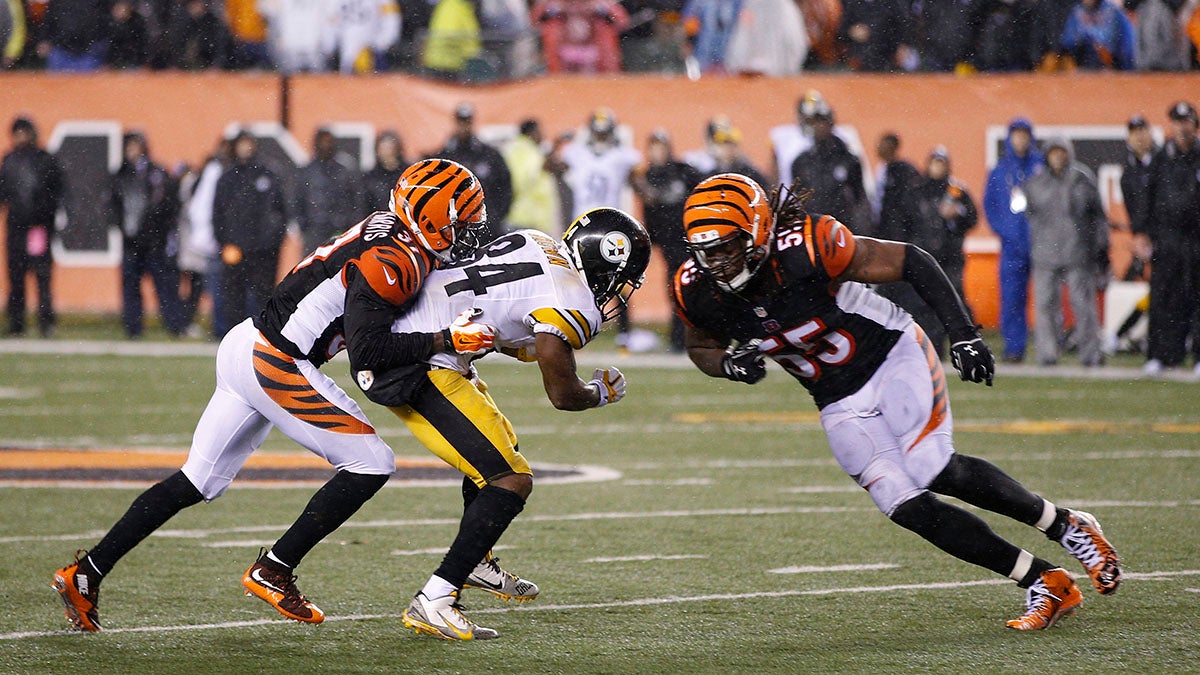 In the National Football League, Oakland Raiders linebacker Vontaze Burfict's play can be described with one word — ruthless.
Racking up over $400,000 in fines, Burfict was suspended for the remainder of the season after a helmet-to-helmet tackle on Indianapolis Colts tight end Jack Doyle September 29. The NFL responded the next day with the season-long suspension, and prohibited him from joining the Raiders in the playoffs if they qualify. 

Jon Runyan, the NFL's vice president of football operations, told Burfict in a letter informing him of the suspension that his history played into the decision.
"Your extensive history of rules violation is factored into this decision regarding accountability measures," Runyan wrote in the letter, which was shared via Twitter by NFL.com's Ian Rapoport. 
Here is a more condemning 3 frame look. Notice Olsen initially down without #Burfict grabbing ankle. pic.twitter.com/AubEQdX81c

— Jeremy Igo (@CarolinaHuddle) October 13, 2014
After drawing three unnecessary roughness calls in his second season in 2013, Burfict caught the eye of the league near the beginning of the 2014 season when he twisted the previously injured ankles of Carolina Panthers tight end Greg Olsen and Panthers quarterback Cam Newton after a play was whistled dead. 
"Punishment needs to go beyond a fine. At some point, if the NFL wants to really say they care about guys' safety, they've got to start putting guys out for weeks," Olsen told Bleacher Report at the time.
Burfict vs. the Steelers
His history with the Pittsburgh Steelers is especially rocky. When the Bengals and Steelers met in a 2015 AFC wild-card game Burfict caused two injuries. At the end of the third quarter, Burfict injured Steelers quarterback Ben Roethlisberger, knocking him out of the game, according to SBNation.com. 
But a blind-side hit on receiver Antonio Brown got the most attention. As Brown went up for a catch, Burfict hit him head-to-head, knocking him unconscious. 
"He's an idiot," Brown told Dan Patrick on his radio show the following month. 
For the first time in his career, Burfict was issued a suspension, originally five-games but reduced to three games after he won an appeal.  Former Bengals coach Marvin Lewis saw a change in Burfict after those injuries and even complimented his style of play at the time. 
"He's learned, he's changed, but in my opinion he's a 250-pounder that hits like dynamite. That's just the way he plays," Lewis told Bleacher Report in 2016. 
 Though Burfict was reprimanded, his style of play never changed. 
What is "head hunting?"
"Head hunting," the style of Burfict's play, is when an NFL player intentionally aims to strike their  opponent in or around the head without regard for their safety.  
"He's been fined a hundred times for head hunting. You watch the film, that's just what he is," Olsen told Bleacher Report.
Burfict's style of play was commonplace in the NFL for decades. Players like Hall of Fame linebackers Dick Butkus of the Chicago Bears  and Jack Lambert of the Pittsburgh Steelers made their name with similar physically intimidating play. 
As recently as 2011 the New Orleans Saints faced numerous consequences from the NFL after defensive coordinator Gregg Williams placed bounties on opposing offensive players, paying Saints defenders for injuring targeted players. Williams was suspended indefinitely in 2012 but reinstated a year later.
The controversy sparked a conversation about "head hunting" in the league.
"I'll never understand it. (The) game is already dangerous enough, and we got Pro Bowl players out there 'head hunting' and saying 'They didn't mean to harm me,' " Green Bay Packers receiver Davante Adams told Washington Times. 
Minnesota Vikings coach Kyle Zimmer agreed.
"It's important we try to take hits to the head out of the game," Zimmer told Washington Times. "You don't want to see people get hurt or injured." 
The NFL responded by establishing a rule before last season that penalizes tacklers who lower their head to initiate a hit. 
Sports Illustrated reported that the new rule reads, "Lowering the head to initiate contact with the helmet is a foul. It is intended to remove the unnecessary use of the helmet. The hits don't have to come to the head or neck but anywhere on the body. Players cannot use their helmets to 'butt, spear or ram an opponent.' "
Players like San Francisco 49ers cornerback Richard Sherman questioned whether it is possible to regulate hits in such a way. 
To all those ppl including those who made the rule. I want a video of YOU running full speed and being lead by anything but your head while also attempting to bring down a moving target. You will soon realize it's impossible. https://t.co/QFyENU6LKf

— Richard Sherman (@RSherman_25) August 19, 2018
Former players like Troy Vincent, now NFL executive vice president of football operations, believe that rule will benefit the league going into the future. 
"The lowering of the helmet to initiate contact is a technique we want to remove from the game as a protective measure for all who play," Vincent said. "This is a rule that should have a long-term benefit to the culture of the game and will result in protecting players from unnecessary risk."
As a 14-year veteran of the league, Vincent understands that playing the game with ill intent is part of football, but he believes that jargon like "head hunting" or saying a player has been "de-cleated" needs to be avoided. 
"These are examples of language that promote certain techniques and attitudes that pose unnecessary risk to players," Vincent said. 
The consequences of the style 
That unnecessary risk applies to the player doing the "head hunting" as well as the player who takes the hit. 
According to SportsInjuryPredictor.com, Burfict has suffered seven reported concussions.
Dr. Elizabeth M. Pieroth, neuropsychologist and concussion specialist for the Chicago Bears, suggests that players, especially in youth sports, step away from their sport if they suffer from concussion symptoms three times within a year. 
"I do strongly recommend an athlete 'take a time out,'" Pieroth wrote in a column for NFL.com. "Athletes and their families make extraordinary sacrifices to participate in a sport and these sports have a great value for them. We need to encourage kids to be healthy, active  and engaged in the sport they love, while always making safety the first priority. 
There is a protocol that players must go through before returning from a concussion, Lewis encourages players to take all of the necessary steps before returning on the field. 
"Sometimes, guys don't want to hear that (they can't re-enter the game). They say they are fine, but they still have to go through the protocol. They settle down and then they go do it," Lewis said during a press conference after the Bengals played the Browns last December.
In the past, the NFL highlighted, and marketed, the types of vicious collisions that fans craved. For Joanne Gerstner, the author of "Back in the Game: Why concussions don't have to end your athletic career," a change needs to occur in the stands as well as on the field. 
"People watch it for entertainment, it wasn't so long ago (that the hits were highlighted)," Gerstner said. "So it's a re-education of the fans, I think more than the players." 
"Heads-Up" Tackling
The Seattle Seahawks began to push their players to tackle with their heads up, something that their former assistant coach Rocky Seto pushed for. This style  takes the head out of the equation with rugby-style tackling. 
"You didn't want to put your nose right into someone's chest or knee,"  Seto told ESPN.
"You're going to get hurt. So that's just what rugby guys do, as well. They try to get contact with the shoulders. So that's the biggest principle."
Members of the Seahawks defense had to become accustomed to the new style of play. 
"We didn't really teach tackling growing up," linebacker Bobby Wagner told ESPN. "You just hit the guy." 
Through this change of tackling style, concussions were a rare occurrence for the Seahawks' defense, as only four Seattle players between the 2013-2016 seasons suffered a reported concussion. The average among NFL organizations was above seven reported concussions, according to the PBS "Frontline" Concussion Watch. 
Vincent credits his style of play to coaches who have taught him during his football career. He said change needs to occur in those teaching the game to the next generation of football players. 
"If you have been coached a certain way, that is the way that you will play," Vincent said. "If you are taught ill intent, you are likely to play with ill intent until you learn a better way."
Teaching youth proper technique
As players are being educated on safer tackling methods in the NFL, more work is needed at  lower levels of the game. Seto sees college, high school and Pop Warner programs as instrumental in teaching players safer techniques. 
"They're critical ones to change the culture of the game," Seto told ESPN. "We don't want our young players to get hurt. There's a proper way to tackle."
Now with three sons playing college and high school football, Vincent is encouraged. He sees the game evolving as safety becomes a priority. 
"It's a comfort to know that the technique, technology and culture of the game is changing toward protecting them from unnecessary risk as they play the game they love," Vincent said. 
Gerstner believes that reengineering the game begins with basic programming. Through teaching safer techniques, players intentionally inflicting physical punishment with their heads will no longer be seen as acceptable.
"If it starts at the youth level, hopefully (a player) won't be in high school and think that's acceptable play," Gerstner said. "And if you're not doing that in high school, you won't do that in college." 
Corey Kirk is a masters sports journalism student at Arizona State University
Related Articles
Subconcussive hits still cause damage to football players
ASU researchers create messages to improve concussion reporting
New study says classic concussion treatment may not be effective
Football takes a back seat to cycling when it comes to head injuries
Playing impact sports in high school can cause 'significant' changes in brain
Conflicting research on CTE shows need for more study
New research, technology aimed at minimizing concussions
Study shows brain changes in football players could be from learned hand-eye coordination skills
Baseline concussion testing keeps athletes game ready
NFL sees concussion rates drop, fewest since 2014
Tags:
Antonio Brown
,
Bleacher Report
,
Bobby Wagner
,
Cam Newton
,
Chicago Bears
,
Cincinnati Bengals
,
Cleveland Browns
,
Davante Adams
,
Dr. Elizabeth M. Pieroth
,
ESPN
,
Green Bay Packers
,
Greg Olsen
,
helmet-to-helmet
,
Ian Rappaport
,
Jon Runyan
,
Marvin Lewis
,
Minnesota Vikings
,
NFL
,
NFL.com
,
Oakland Raiders
,
PBS "Frontline" Concussion Watch
,
Pittsburgh Steelers
,
Richard Sherman
,
Rocky Seto
,
San Francisco 49ers
,
Seattle Seahawks
,
Sports Illustrated
,
Troy Vincent
,
Vontaze Burfict
,
Washington Times