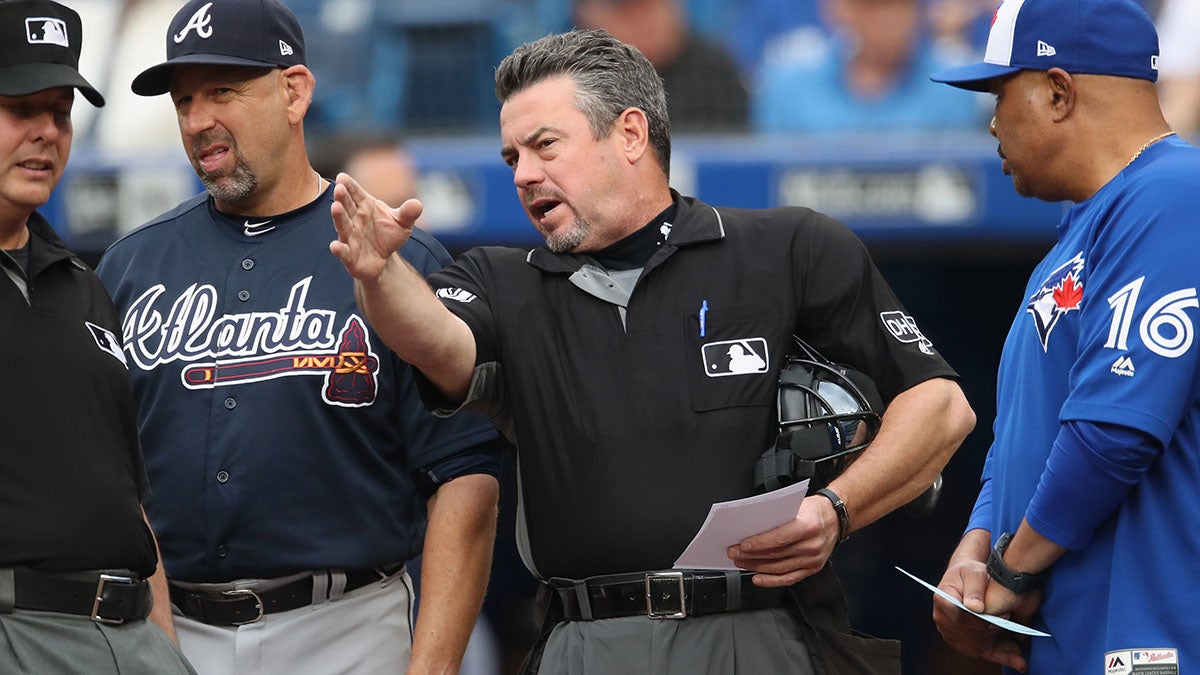 Updated Oct. 25
On the same day the Houston Astros fired assistant general manager Brandon Taubman for taunting female reporters during the team's celebration of their American League Championship Series victory over the New York Yankees, MLB is under fire again, this time for a controversial tweet made by veteran umpire Rob Drake. 

Drake, who deleted both tweet and locked Twitter account before unlocking it again on Oct. 25, tweeted "I will be buying an AR-15 tomorrow, because if you impeach MY PRESIDENT this way, YOU WILL HAVE ANOTHER CIVAL WAR!!! #MAGA2020," according to ESPN's Jeff Passan.
An AR-15 is an assault weapon, and that tweet was a follow-up Drake's earlier tweet that read: "You can't do an impeachment inquiry from the basement of Capital Hill without even a vote! What is going on in this country?" 
Drake, who misspelled civil in the first tweet and capitol in the second, was apparently outraged over the impeachment inquiry launched in the House over the conduct of President Donald Trump.
MLB is aware of the situation and is investigating, according to commissioner Rob Manfred. 
Late on Oct. 24, Drake tweeted a series of apologies: "I want to personally apologize to everyone that my words made feel less safe. I especially want to apologize to every person who has been affected by gun violence in our country. I also acknowledge and apologize for the controversy this has brought to Major League Baseball.
"Also, my fellow umpires, and my family. I never intended to diminish the threat of violence from assault weapons, or violence of any kind.
"I'm going to learn from this. Once I read what I had tweeted I realized the violence in those words and have since deleted it. I know that I cannot unsay the words, but please accept my apologies. Sincerely, Rob Drake"
The Major League Baseball Umpires Association released a statement about the incident on Facebook: 
MLBUA said Drake's comments are not representative of the view of the MLBUA nor do they reflect those of umpires the union represents. 
Drake, who has umpired in the majors since 1999 and worked the 2013 All-Star Game, has not commented to the media since the incident.
While Manfred and MLB continue their investigation, the public blasted Drake over the tweets on social media for his remarks. 
@MLB Rob Drake should be suspended and required to get psychiatric help.

— Mme "Not Getting Over It" Curie (@MmeScience) October 24, 2019
They're looking into it? I hope the @FBI is as well

— EJ (@ejtwister) October 23, 2019
Chase Williams is a senior sports journalism major at Arizona State University
Related Articles