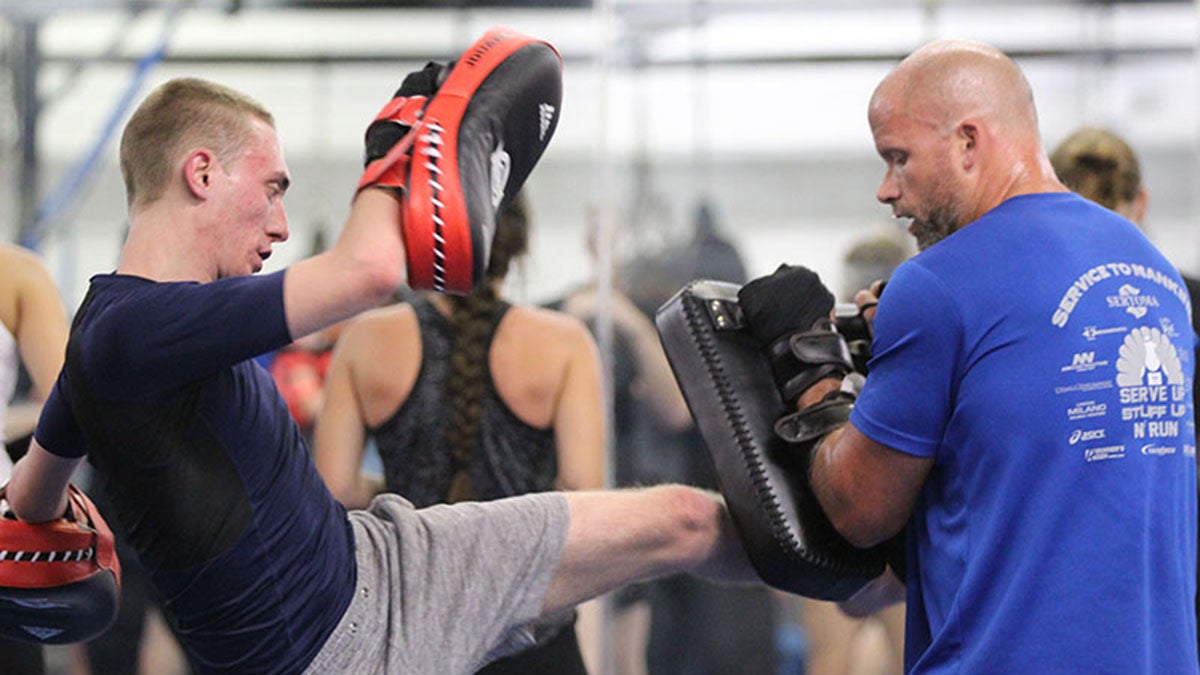 The Ultimate Fighting Championship first came into the public consciousness late in 1993. Few rules existed. Fighters were matched up against each other regardless of weight. A 400-pound man could, and did, fight a 220-pound competitor. Weight didn't matter as much as knowing what your opponent didn't know. A relatively unassuming 180-pound man named Royce Gracie won the first UFC tournament through skill, tenacity and a martial art unknown by any of the other fighters. A martial art called Brazilian jiu jitsu.
Fast-forward to 2018 and specialization doesn't exist anymore. Weight cutting, however, does.
Especially in mixed martial arts.
"The weight cut sucks 100 percent of the time," said Kyle Stewart, a 29-year-old MMA fighter out of Tempe, Az. "It's just part of the process."
A study by Australia's Edith Cowan University published in February found MMA athletes lose an average of 11.5 percent of their body weight in the lead-up to a fight, often rapidly, compared to an average of about six percent in other combat sports.  A recent study in the British Journal of Sports Medicine found that weight-cutting MMA fighters who relied on extreme dehydration measures had significant impaired strength and cognitive function which did not fully return prior to competition.
Although losing fat is a good thing, losing too much muscle can be very dangerous, said Dr. Rita Hadley, Bariatric Surgeon at Banner Desert Medical Center in Mesa, Az.
"Any organ that is predominantly muscular, including the heart, can be affected by this drastic weight loss," Hadley said.
Unlike the early days of UFC, smaller fighters don't have the potential advantage of knowing a discipline their opponent might not know. Now, fighters know everything, or at least have the capacity to learn any style of fighting. One of the major changes in regulated MMA was the introduction of weight classes at UFC 12, an event held in 1997. Weight cutting followed. A fighter who weighs slightly over the limit for one weight class can realistically drop a couple pounds to fight against an opponent who is smaller.
[beauty_quote quote=' "Any organ that is predominantly muscular, including the heart, can be affected by this drastic weight loss."
- Dr. Rita Hadley 
']
Sports is all about finding advantages. Watching film and reading scouting reports can help a fighter find his opponent's weakness and assist his camp in establishing a game plan to exploit that weakness. But what about weight cutting? If a fighter weighs 170 pounds, can cut down to 155 on weigh-in day and gain back all that weight in the 24 hours leading to the fight, wouldn't that put him at an advantage over the smaller fighter who naturally weighs 155?
It would no doubt be an advantage, but when everyone is doing it, many wonder: What's the point?
The fighter
Stewart, who trains at Arizona Combat Sports, one of the larger gyms for MMA in Arizona, fights at welterweight. Almost all athletic commissions throughout the United States classify welterweights at 170 pounds. Stewart walks around quite a bit heavier than the weight class in which he competes.
"I walk around at about 195 pounds," Stewart said. "I get down to about 187 pounds before I really start cutting weight."
That's right, this welterweight fighter has to drop nearly 13 percent of his entire body weight in order to fight at welterweight.
Fight cards typically take place on Friday or Saturday, and fighters use the entirety of the week preceding their fight to cut weight. It's one week of less food and liquid and more time spent with a sweat suit on in the sauna.
"It's like a baptism when you hit that scale," he said. "Make that weight, drink that water and you've gone through training camp and gone through the suffering."
[beauty_quote quote=' "I think I had a mini-seizure and a slight heart attack. It was the most traumatic experience I've had." - UFC fighter Uriah Hall ']
Is it a process that needs to happen, though? Fighters aren't putting themselves through the torturous weight cut to gain any sort of advantage, Stewart said. They're doing it to protect themselves from any disadvantages.
Stewart said he would be at a disadvantage if he decided to cut less weight, and fight at middleweight, one weight class higher than his current welterweight.
"If I were to fight at 185 pounds, I'd get into the cage at 195 pounds and the guy on the other side would be 205, 210 or sometimes even 215 pounds," Stewart said. "I'm not about to give somebody that type of advantage, so I have to suffer to cut the weight."
"I don't have an advantage (right now). The other guy is going to be the same weight when we get in the cage. We're both going to cut 20 to 25 pounds, and we'll both be back in the cage at 190 to 200. I'd rather fight someone at that weight than fight someone between 210 and 215."
Although Stewart said he's never experienced any negative effects in competition from cutting weight, he still expressed an interest in doing away with the practice, while noting what he thought were positive side effects.
"I hate weight cutting," he said. "I think they need to do away with it. But at the same time, it hardens your mind for battle, and that's the benefit. Other than that, I look forward to the day where I don't have to do it anymore."
The commission
The Arizona Boxing and MMA Commission handles all licensing for fighters, promoters, judges and referees. The commission also sets the rules and regulations for all fights that happen within Arizona's borders.
All fighters who want to fight professionally in Arizona must submit several forms that indicate they've undergone tests and exams. These tests are meant to show a fighter is in good health. On the physical exam form, fighters are supposed to tell a doctor if they've had any fainting spells, chest pain or shortness or breath, among other things. They're also supposed to list how many times they've been knocked out, when they were last knocked out and the longest time they've been unconscious.
There is a section on the physical examination form where fighters list their height and weight. Although they list their weight, there aren't any regulations set by the Arizona Boxing and MMA Commission setting a limit on how much weight a fighter can cut.
Although the commission doesn't have a rule in place, Scott Peters, Arizona Boxing and MMA Commission chairman, said he's open to any and all rules in the future.
"We're not going to take anything off the table, as far as safety goes," Peters said. "We consult with fighters. We consult with promotions, and we consult with medical people."
Peters said Arizona's commission speaks with other state athletic commissions, specifically neighboring California and Nevada. The California State Athletic Commission (CSAC) passed a 10-point weight cutting plan in May 2017. Although the plan isn't a series of rules that are set in stone, it is a new series of guidelines that the CSAC can choose to enforce. The 10-point plan suggested that fighters inform CSAC of the lowest weight class they intend to compete in, and do not gain more than 10 percent of their body weight the day after a weigh-in.
CSAC also recommended the addition of 165, 175, 195 and 225-pound weight classes, which would give fighters more options, and less reason to cut a significant amount of weight. Those weight classes haven't been implemented by the UFC, but the organization hasn't bristled at the possibility of adding them in the future, and have said they'll see how regional promotions add them before they consider doing the same.
The doctor
The practice of cutting a lot of weight doesn't inherently sound like a terrible thing. If someone is overweight, dropping extra pounds would most likely do wonders for their health, Hadley said.
MMA fighters aren't typically obese, though. Sure, heavyweight has a lot of large men, but they aren't typically the people cutting weight. Smaller men with less body fat are the ones dropping weight to compete in lower weight classes. What happens to their bodies?
[beauty_quote quote=' "I hate weight cutting. I think they need to do away with it. But at the same time, it hardens your mind for battle, and that's the benefit. Other than that, I look forward to the day where I don't have to do it anymore." - MMA fighter Kyle Stewart ']
Hadley said that when fighters cut weight, fat is typically the first thing to go. After that, the body targets other places to lose weight.
"These people are already in shape, so they don't have a lot of fat to lose," Hadley said. "They'll burn muscle and break down that muscle for energy in this situation."
It's not unusual to see emaciated fighters slowly make their way to the scale on the day before a fight, when they have to make weight. Fights in the UFC have been cancelled due to a fighter passing out or going to the hospital from a bad weight cut, and fighters have shared personal anecdotes about the rigors of cutting weight.
UFC welterweight Rafael Dos Anjos used to fight at lightweight. He used to be the lightweight champ. Dos Anjos passed out in a hot tub while cutting weight for a championship fight – a fight he later lost by first-round knockout.
Another former champion, Renan Barao, was cutting weight in a bathtub for his fight with T.J. Dillashaw. When he stood up he lost consciousness and hit his head while falling down. Barao was sent to the hospital and the fight was canceled.
"(Cutting weight) can result in fatigue and lightheadedness," Hadley said. "It can also affect overall brain functioning. That may include memory or ability to focus and concentrate."
Paige VanZant used to fight in the women's strawweight division of 115 pounds. VanZant weighs 135 pounds. She's said in the past that she's passed out on her bathroom floor while trying to make weight. VanZant now fights at a heavier division, at 125 pounds, and said she decided to move up because she saw what weight cutting did to fellow UFC fighter Uriah Hall.
Hall dropped out of a fight with Vitor Belfort earlier this year when he was unable to get to the scale and make weight and was hospitalized. Hall clarified the situation on an Instagram live stream after he got out of the hospital.
"I think I had a mini-seizure and a slight heart attack," Hall said while live streaming. "It was the most traumatic experience I've had."
Weight cutting becomes even more dangerous when it affects the internal organs.
"It could result in heart attacks, arrhythmia or heart failure," Hadley said. "It's a shock to the system and could take its toll if you do it over and over."
There is no documentation of a UFC fighter dying from cutting weight, but Hall said he came close.
"The doctor said even if I had made weight, I probably would've died the next day," Hall said.
Hadley said there isn't much danger in gaining weight back after the initial cut, as long as the fighters maintain a proper diet.
"Do they regain it as protein and muscle mass or as fat?" Hadley said. "If they gain it as fat, they'll become obese."
Gaining the weight back doesn't seem to be as much of an issue.
"These guys know how to diet and they know about nutrition," Hadley said.
The coach
The MMA Lab is one of the larger mixed martial arts gyms in the state of Arizona. They have several locations, including one in Scottsdale and another in Glendale. "The Lab" is home to current and former UFC fighters.
"I'm the first person fighters will usually come to," said Dan Bozzano, a coach at The Lab who is tasked with overseeing the human performance center at the gym. "Quite often it's to determine what the best weight is for them to fight at, and whether it makes sense to go down to that weight."
Bozzano noted that although weight cuts are individualized and vary from person-to-person, there are some general rules that he likes to follow.
"The research is pretty clear," Bozzano said. "(Cutting) somewhere between six-and-a-half to seven-and-a-half percent body mass is usually the sweet spot for which a fighter can get down to for weigh-in time."
[beauty_quote quote=' "It's like a baptism when you hit that scale. Make that weight, drink that water and you've gone through training camp and gone through the suffering."
- MMA fighter Kyle Stewart
']
Fighters typically cut a set amount of weight before the last week before weigh-ins. From there, they fast and cut water weight.
"For dehydration, the sweet spot is between five and seven percent, in which a fighter can get the water out of their systems in the last week, make weight and then get rehydrated," Bozzano said.
Bozzano said that fighters work in conjunction with coaches to determine how much weight the fighter should cut and the ideal weight class.
"We have some fighters who will take 40 off every camp, and they don't even have much fat to begin with," Bozzano said. "But we cut the line when we think it's unsafe. If someone misses their first weight and has to rely on dehydration to cut more than seven percent body weight, we're starting to hit that danger zone. Ten to 11 percent and you start to (see) damage kidneys."
Despite the potential dangers involved, Bozzano said they don't typically consult with doctors or physicians regarding weight cuts.
"They're professional athletes and they're in such good shape, they're physically capable of handling it," he said.
The reality
Weight cutting continues to be a major part of the sport of MMA. Despite the potential pitfalls to the body, fighters will look to gain any sort of advantage or avoid any disadvantage that could present itself.
Stewart doesn't cut weight because he's going to have an advantage over other welterweights. He cuts weight so he won't have to fight behemoths at middleweight.
Although weight cutting may seems unnecessary, that everyone does it makes it mandatory for those who otherwise wouldn't.
Bozzano said he doesn't see weight cutting disappearing from the sport anytime soon.
"You can actually be a better competitor, and more likely a championship competitor at something that might not be optimal for you," Bozzano said.
As long as fighters benefit in the cage from cutting a lot of weight, the practice doesn't seem to be going anywhere, any time soon.
Tags:
Arizona Boxing and MMA Commission
,
Arizona Combat Sports
,
British Journal of Sports Medicine
,
Dan Bozzano
,
Edith Cowan University
,
jiu jitsu
,
Kyle Stewart
,
mixed martial arts
,
MMA
,
MMA Lab
,
Paige VanZant
,
Rafael Dos Anjos
,
Renan Barao
,
Royce Gracie
,
T.J. Dillashaw
,
UFC
,
Ultimate Fighting Championship
,
weight cutting