Health
Alabama's Stran-Hardin Arena brings adaptive sport vision to life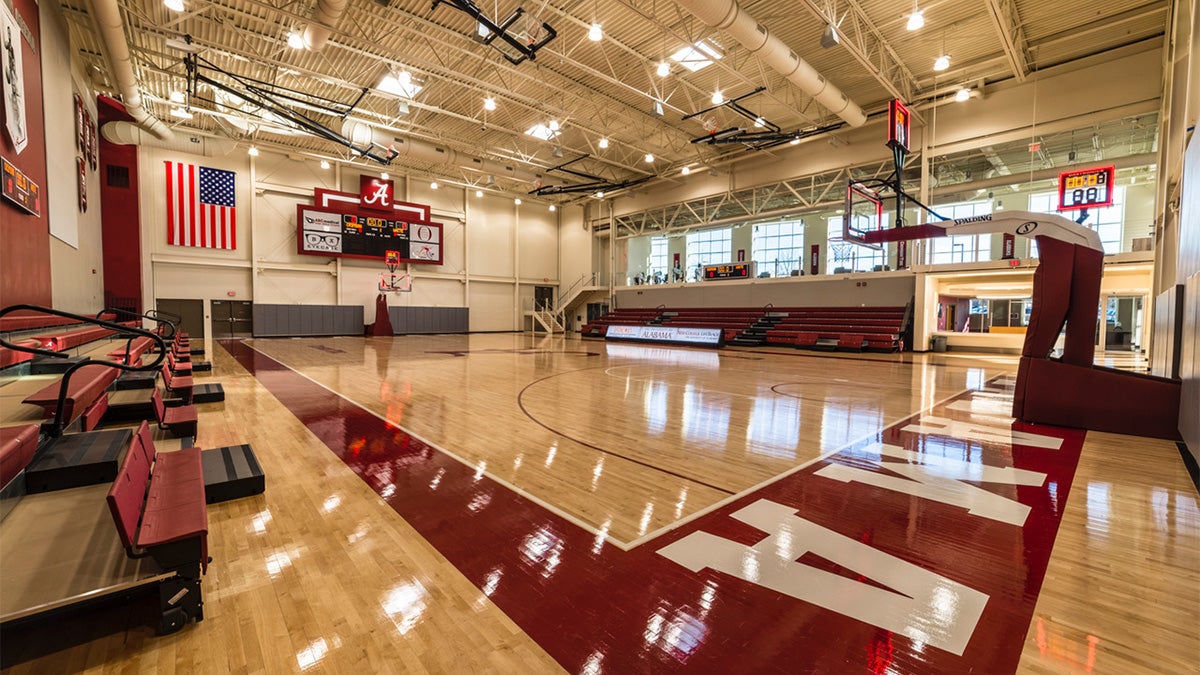 When Brent Hardin accepted a teaching position at the University of Alabama, he did so with a vision that went far beyond the walls of a classroom.
That vision's landmark moment took place earlier this year when Hardin, along with his wife and fellow visionary, Margaret Stran, celebrated the opening of the first and only dedicated collegiate arena for adaptive athletics.
The fact the Stran-Hardin Arena exists underscores the tremendous effort and energy the couple exuded in building the university's adaptive sports program from the ground up.
"We didn't have anything when we started but a great idea," Hardin said. "We had to recruit players, purchase (wheel)chairs, find a place to practice and all that."
Hardin, who was teaching at the University of Florida, and Stran arrived in Tuscaloosa after the former accepted the position of assistant professor of adapted sport in the kinesiology department. Stran, a two-time Paralympics medalist (1992 Barcelona and 1996 Atlanta) in wheelchair basketball, was a graduate student. Together they wanted to launch an adaptive athletics program, and they met with then-university president Dr. Robert Witt shortly after arriving on campus in 2003 to "express their dreams" as Hardin put it.
Witt had previously served as the president of the University of Texas-Arlington, which had a strong wheelchair basketball program. With Witt's support and that of the administration, Hardin and Stran began raising capital through grants and fundraising by hitting up alumni and other potential donors. The first team, women's wheelchair basketball, began competing in the 2003-04 season. Stran was a member of that team and played two more seasons before spending four years as an assistant coach.
"(Witt) really understood what we wanted to do, and I feel that he saw that adaptive athletics was something that could be a bright light for the university," Hardin said. "We had his support from Day 1. He opened up a lot of doors for us and let other people on campus know that adaptive sports was important. We have built from there. "
Have they. The men's program debuted in 2006 and a combined men's/women's tennis team started play in 2011. Alabama also has what it calls emerging sports that do not have as many participants — maybe one or two in some cases — and currently do not offer scholarships. Sports such as powerlifting and handcycling compete against other universities while sports such as swimming compete against local clubs and community programs.
As the program grew, full-time coaches were hired. As its director, Hardin spends "99 percent of my time administering and running the adaptive athletics program." Hardin, who still teaches one class per semester, and Stran remain side by side with the latter serving as the associate director while also overseeing the emerging sports.
The Georgia natives have overseen a program that boasts a combined 11 national championships among the three sports. Much like any other athletics department, student-athletes are recruited and most have at least a partial scholarship. However, they do not fall under the jurisdiction of a governing body such as the NCAA or NAIA. When it comes to game competition, the rules and guidelines are similar to what somebody might see at an NCAA event.
"The guidelines and rules for our wheelchair basketball and wheelchair tennis are patterned after the NCAA and for the most part mirror their respective sports rules and guidelines," said Hardin, who noted athletes have five years of eligibility.
Opponents come from a group of what Hardin said are 13 other universities that have high-performance adaptive athletics programs. Among them are the University of Central Florida, San Diego State University, Edinboro University and the University of Wisconsin-Whitewater.
Then there is the arena that bears Stran's and Hardin's names, a structure that serves as a beacon to their accomplishments and the support they have received and continue to receive at Alabama.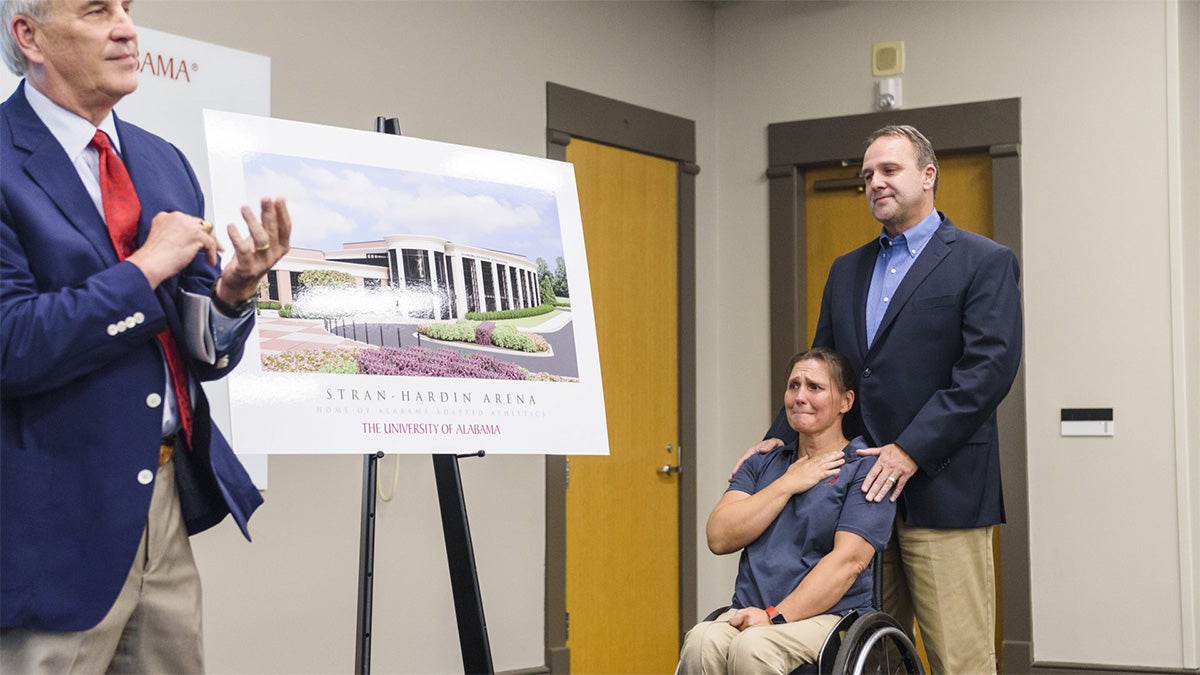 "It's probably the most humbling thing that has ever happened to me," said Stran, who as a teenager in 1990 broke her back skiing and went on to play wheelchair basketball at the University of Illinois, of seeing her name on the arena. "It is really remarkable, and it reminds me every day that we can do more than what we think."
It reminds DeQuel Robinson of how far the program has come during his six years on campus. Wheelchair basketball games were previously played at a rec center and Foster Auditorium, a facility that was woefully outdated before its renovation in 2011. Now, the wheelchair athletes have a basketball court to themselves within a facility that houses everything else they need.
"It is definitely a blessing to have a facility to call your own and be able to train and get everything you need to get done at a facility like the one that we have," said Robinson, the men's basketball captain, who is pursuing a master's in sport management. "We are honored to have that facility. Having your own space to store your (wheel)chairs and to hang out with friends and teammates makes things a whole lot easier."
While the tennis team plays outside on adjacent courts, the arena houses everything each team needs: lockers, a training room, a strength and conditioning room and meeting rooms.
"It's unbelievable to see that there is a facility that is dedicated to adaptive athletics at a university," said Shelby Baron, a graduate student (speech pathology) and a member of the Crimson Tide's wheelchair tennis team. Barron played singles and doubles at the 2016 Paralympics Games in Rio. "It is better than I could have imagined. Since it was designed for wheelchair athletes, I appreciate all the details. It was really overwhelming when I first saw it."
The arena cost $10 million to renovate. Half the funds came from the university and half through donations. As for the current budget, combining funds from the university, grants, foundations, alumni and other sources, the total stands at about $750,000. That covers all sports, including the emerging sports.
"It feels good to be at a university that really values students with disabilities and views student-athletes with disabilities as an important part of the university," Hardin said. "The administration deserves a lot of credit and they are the reason why we have the support that we do."
The rise of the adaptive athletics program at Alabama coincides with the rise of participation among adaptive athletes.
"More and more people are participating in adaptive sports, and I would say the last 12 years it has really increased," said Gus LaZear, who teaches an inclusive and adaptive sports recreation course at Arizona State University and is the vice-president and general manager of the Virginia G. Piper Sports & Fitness Center for Persons with Disabilities (SpoFit) in Phoenix.
From soccer and lacrosse to basketball and golf, the facility offers numerous sports programs. It also provides many programs such as independent living skills in which self-advocacy is emphasized.

LaZear, who used to run an outdoor adventure program, derives much satisfaction when it comes to adaptive athletes who move away from their comfort zone.
"One of the best things about that job is that I would call somebody and say, 'Hey, you've gone on the whitewater rafting trip the last three years and I was wondering if you want to go this year,'' he said. "They would say. 'You know, you taught me what I need to do and I actually already went with my family this year.' That is what we are trying to train, an independent living philosophy."
Much like what Alabama has experienced, funding for adaptive sports centers and programs comes from multiple resources. SpoFit was made possible in no small part by the city of Phoenix, which came through with a $5 million bond to put toward the $12 million to build the now 7-year-old venue.
"That was kind of our seed money to make it all work," said LaZear of the city's contribution. "Then we had some private donations to help pay for the remainder and from there it became a domino effect."
Facilities such as SpoFit and the Stran-Hardin Arena also serve to ramp up awareness when it comes to adaptive athletics.
"It's really about the recognition and inclusion," Baron said. "I think those are the most important parts. What people need to recognize is that we train the same amount as (non-adaptive athletes). We go to the Paralympics, and we compete at a very high level representing our country and everything. A lot of times people don't see that. We really want to be seen as athletes on campus and not special people getting their exercise. We want to be seen as competitors, as athletes that train hard for our goals and that we have elite level goals. It is nice to have such a facility so that we can show everybody that this is what we do."
Making those who can benefit most from adaptive athletics facilities aware that they exist is also a challenge. Motivated by the inability to find adequate resources for his son, Toronto resident Jonathan Wood has more than done his part in connecting people with resources. In 2014, he founded the Toronto Accessible Sports Council (TASC), which he currently chairs.
"I spearheaded its formation out of need, but also frustration that an organization like it didn't already exist," he said. "As a parent of a child who is both visually impaired and has a brain injury, it was difficult to find support, resources and opportunities for children with disabilities to participate in sports and recreation."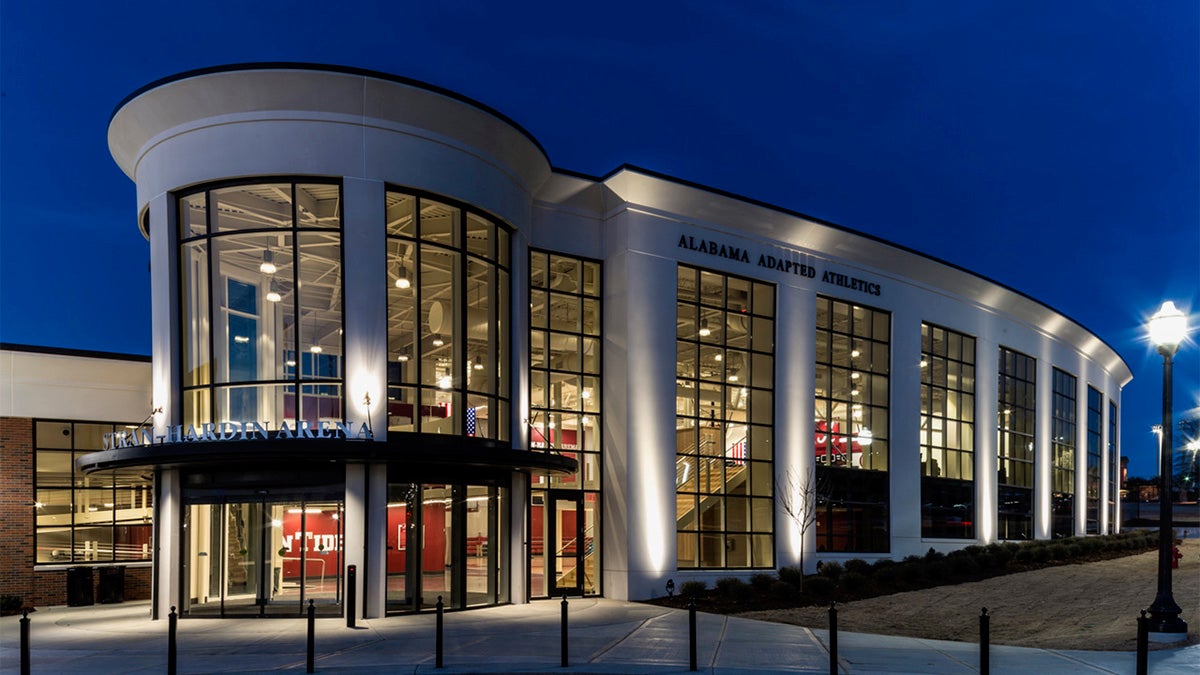 TASC, which has grown to the point that it achieved charitable status in 2018, serves children, adults and seniors. Its mission is to promote inclusivity throughout Toronto and connect people with organizations that provide adaptive athletics opportunities.
"Our primary goal is to get people with disabilities active," Wood said. "This can take the form of sport or merely being able to use a manual wheelchair in a park with accessible trails. Being a relatively new organization, we are constantly working on building up our credibility and authority in this space so that we become the 'go-to' resource that people are so desperately seeking."
Wood indicated TASC, which attempts to boost its profile by partnering with organizations such as the Toronto Blind Jays, a National Beep Baseball Association team, is comprised of a small staff of volunteers. Like the community-level adaptive sports organizations they attempt to connect people with, TASC raises capital via fundraising, grants and donations.
"Our hope is that with increased funding we would be able to establish a small, but much needed paid staff in order to grow and achieve its short- and long-term goals," he said.
Thanks to the level of awareness he and his fellow volunteers have created through TASC those goals may not be too far off. Still, across the board there is much ground to cover when it comes to adaptive athletics awareness.
"Not too many people actually know about adaptive sports and adaptive sports programs," Robinson said. "Definitely getting noticed and getting recognized are things that need to be done for the adaptive sports community."
Thanks to the efforts of people such as Hardin, Stran, LaZear and Wood, many people not only know about adaptive athletics, but they are also benefiting when they otherwise might not.
Tom Layberger has spent more than 25 years as a writer, editor and web producer for various media outlets. Tom, who resides in Tampa, is a graduate of the University of South Florida. Follow him on Twitter @TomLay810
Related Articles
After a shooting left him paralyzed, DeQuel Robinson finding new life in wheelchair basketball
Video: Love of sport, helping others brought Rola Allahaweh back from near death
U.S. veteran Steve Kirk uses breath-triggered gun at Wheelchair Games
Tags:
adaptive sport
,
Alabama
,
Atlanta
,
Barcelona
,
Brent Hardin
,
Central Florida
,
Dr. Robert Witt
,
Edinboro University
,
Gus LaZear
,
handcycling
,
Margaret Stran
,
National Beep Baseball Association
,
NCAA
,
Paralympics
,
powerlifting
,
San Diego State
,
SpoFit
,
Stran-Hardin Arena
,
swimming
,
Toronto Accessible Sports Council
,
Toronto Blind Jays
,
Virginia G. Piper Sports & Fitness Center for Persons with Disabilities
,
wheelchair basketball
,
Wisconsin-Whitewater