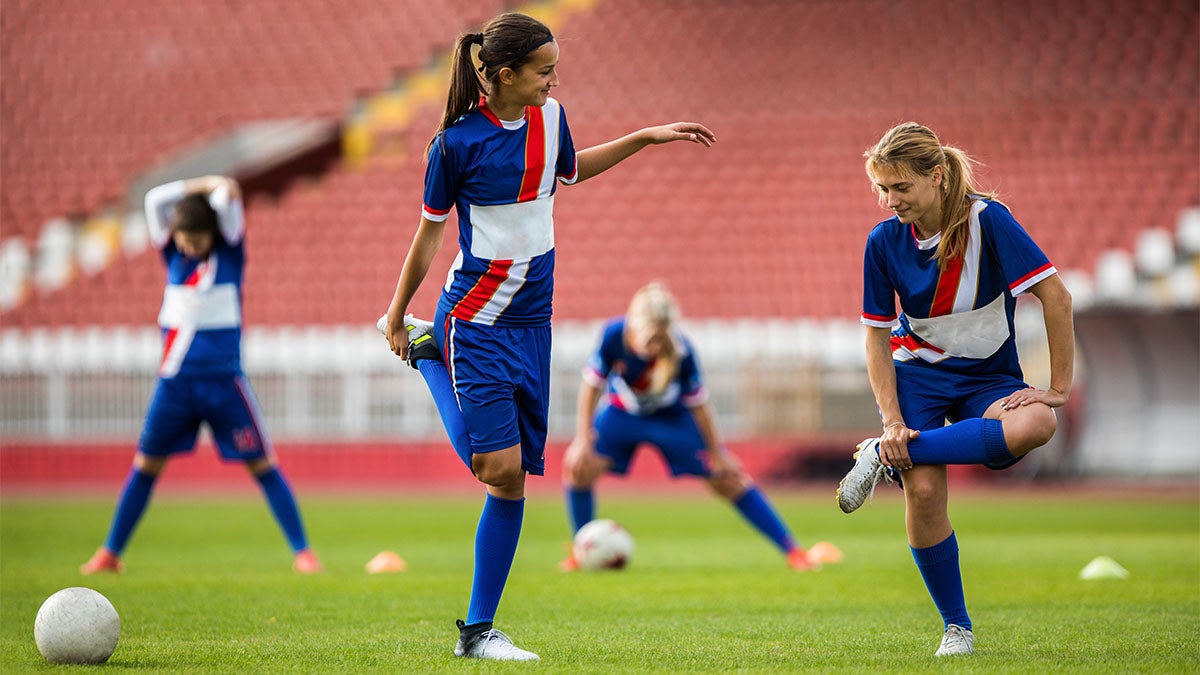 Warming up can be the most crucial part of preparation for an athlete. Pre-game warmups differ depending on the sport, however, the basic physical functions of jumping, sprinting and other quick movements are universal. These warm-ups periods can directly influence how an athlete performs.  

A study published in the Oct. 2018 edition of Sports Medicine, analyzed four databases (Web of Science, Scopus, PubMed and ScienceDirect) and concluded the best way to improve explosiveness for jumping, sprinting and performances that require quick bursts of speed is to have three sets of warm-up activities along with short periods of rest.
Five scientists examined how certain types of warm-up activities can improve explosive performances. Drawn from multiple articles, the research was condensed into 30 articles that included only studies for team sports and looked at warmup methods prior to and after a performance.
"The vast majority of studies on warmups obtained better results with a shorter and intensive warmup," according to the article. The initial warm-up should be between 10 and 15 minutes. After one starts to feel loosened up and ready after the warm-up, body temperature from the warm-up can be depleted if the body rests for too long.
Specifically looking at team sports such as football (soccer), volleyball, rugby and basketball, the study included both male and female participants from their respective sport. It categorized three warmups: Warm-up, post-warmup (before the match), and re-warm-up (at the halfway point in the match). In a standard warmup of no more than 20 minutes, the study showed that "performing eight sets of 60-meter sprints in the warm-up improves sprint performance," and "seven minutes of seven dynamic exercises after five minutes of jogging was associated with a general improvement in explosive task such as sprinting, jumping, and agility performance."
Athletes were given between two and 10 minutes of post-warmup to reduce the amount of fatigue after warmups before the main performance. To minimize the risk of fatigue, warm-ups that go longer than 20 minutes could potentially result in a worse performance. A professional warm-up that lasted 23 minutes "resulted in a 4-6 percent poorer performance in explosive tasks compared with other shorter strategies." The study reported some athletes felt more psychologically prepared after a 25-minute warm-up. However, it resulted in a decrease in physical performance and increased fatigue.
Post-warmups after the initial training and before the match can also affect one's performance. According to the study, "team sports games take approximately 12 minutes of transition time between the warmup and the start of the game could negate the positive effects of the warmup." It is identified that there is a decrease in jumping, sprinting, and agility performance after 20 minutes or longer of rest. It was found that the use of heated garments after warm-ups "can significantly maintain the benefits gained by the warmup or at least reduce their decline" in the post-warm-up stage.
According to Rob Weinheimer, the senior director of game operations for Major League Baseball's Arizona Diamondbacks, baseball teams conduct about about two hours of batting practice and on-field exercises prior to regular-season games. However, there are usually pre-game activities, including the national anthem, that require around 35 minutes before players take the field before the first pitch.
In the baseball playoffs wild-card game, the home team gets around 70 minutes to warm up/bat while the visiting team only receives 50 minutes before video presentations, introductions, the national anthem and the ceremonial pitch. While players can stretch and loosen up in their locker rooms, that hour without being on the field can have a negative impact.
During halftime of football (soccer) games, in addition to rehydrating and re-evaluating the game, studies have shown there is a decline in "physical and cognitive performance associated with traditional rest time." During the re-warm-up, the most effective way is to "use some sort of external heat-retaining garments or perform active routine five-eight minutes" before returning from halftime, according to the study. During halftime, an athlete should acknowledge the amount of rest they get, as it may decrease performance in the second half.
This study explains that opposing variables like temperature and environment can factor in how one trains and performance results. However, the general theory that minimally timed exercises such as sprints, stretches, and sport-related drills along with limited rest will better optimize team sport performance.
Tyler Dare is a senior journalism student at Arizona State University