Health
Archive
Santa Anita announces revisions after 22nd horse dies in less than 3 months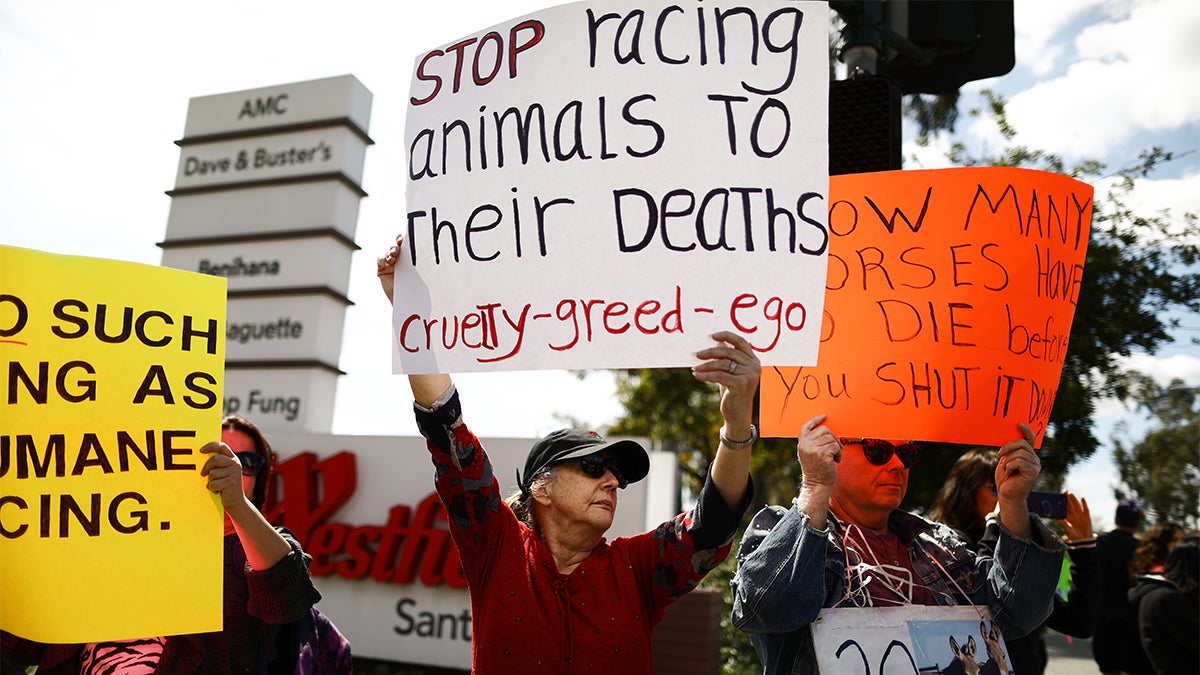 Another horse died at Santa Anita Park on Thursday, increasing the total to 22 horses that have incurred fatal injuries since Dec. 22 at the Arcadia, Calif., track.
Santa Anita suspended racing last week in response to the previous deaths, and had resumed training March 13, the day before Princess Lili B was euthanized.

After the death of Princess Lili B, the park announced major reforms, such as banning the use of drugs on race days and sharply limiting jockeys' use of whips.
"We've never had a problem with her," David Bernstein told KTLA about the 3-year-old filly. "We don't have to train her on any medication."
Princess Lili B broke both of her front legs after finishing a half-mile workout and had to be put down. Despite the fatality, training has continued on the track.
A press release from Belinda Stronach, the chairman and president of The Stronach Group — which owns Santa Anita and other racetracks around the country — announced the organization has banned the distribution of medication to horses on days they are scheduled to race at Santa Anita Park and Golden Gate Fields, a sister track in Berkley, Calif.
Stronach announced the two tracks will be the first in North America to follow the International Federation of Horseracing Authorities, or IFHA, standards and refuses to wait longer for the horseracing industry to make changes.
"What has happened at Santa Anita over the last few weeks is beyond heartbreaking," Stronach said. "It is unacceptable to the public and, as people who deeply love horses, to everyone at The Stronach Group and Santa Anita."
In addition, Stronach stated the use of the jockey's riding crops, or whips, would have limitations, as an effort to reinforce corrected safety measures at the track.
"While we firmly believe our jockeys have not purposely been mistreating their mounts, it is time to make this change," Stronach said in a statement.
According to NBCNews, Santa Anita officials don't know why so many horses have been breaking down at the park. Insiders, animal rights activists and veterinarians have questioned the condition of the track, the treatment of the animals and the pressure of the sport itself.
"We are taking a step forward and saying, quite emphatically, that the current system is broken," Stronach said. "While the cause of the injuries on the racetrack might be varied, they have one thing in common: The industry has yet to do everything that can be done to prevent them. That changes today."
Logan Huff is a senior journalism student at Arizona State University.
Tags:
death
,
fatal
,
Horse
,
horse racing
,
injury
,
jockeys
,
medication
,
race day
,
racetrack
,
Santa Anita
,
suspended
,
track
,
training
,
whips