Health
Business
For Better Health, Safety of Athletes Which Playing Surface Is Best?
When it comes to choosing a playing surface, teams take a deep look at the many available varieties of natural grass or artificial turf. New designs for and upgrades of artificial playing surfaces have teams debating moving away from the traditional choice of natural grass.
What are the differences in maintenance, costs and health factors when it comes to choosing the right surface for play?
The first artificial turf-style field was introduced in the mid-1960s when ChemGrass was installed at the Houston Astrodome to replace the dying grass in the first domed stadium. The grass was later rebranded AstroTurf, and thus began the debate of natural grass versus turf playing surfaces.
One of the biggest arguments in favor of the use of synthetic turf is the cost compared to grass fields. Turf is typically paid for at construction and requires little to no maintenance compared to grass fields throughout its lifespan.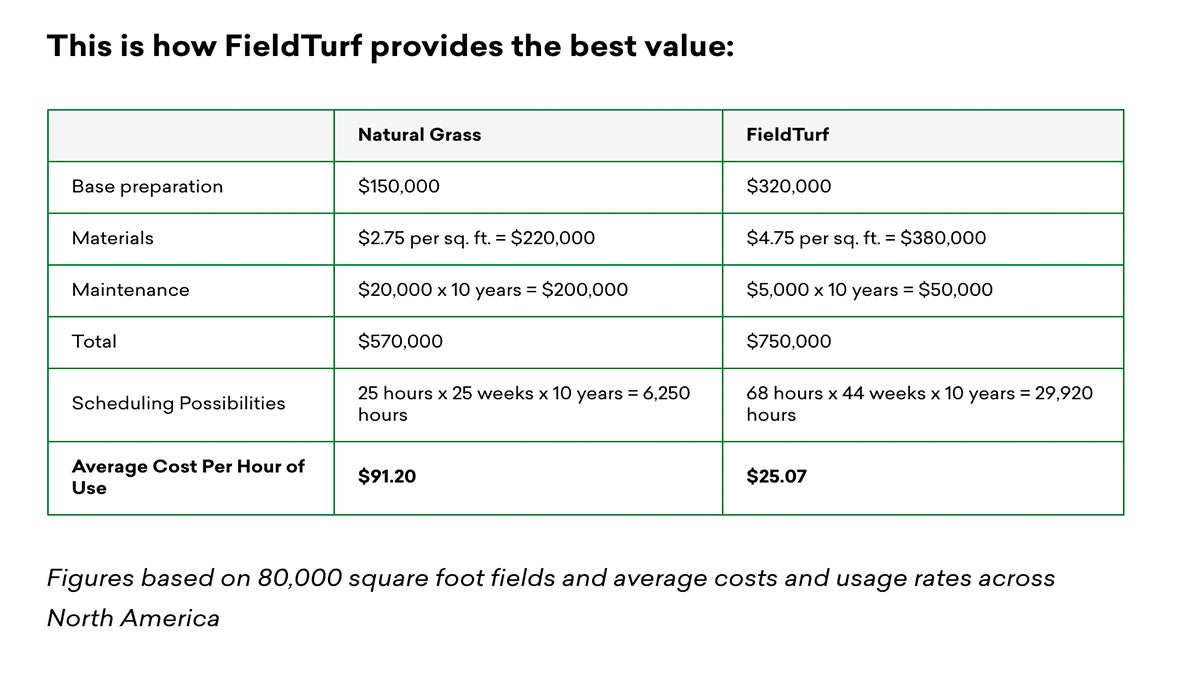 Health
When using natural grass, schools and facilities have to use pesticides and other chemicals to maintain the look and health of the field throughout the year. Artificial turf does not require those chemicals. However, one argument against turf is it is a chemical itself. Many brands of turf use small crumbs of rubber to support the fake grass, provide a more natural feel underfoot and provide a cushion. The rubber pellets are most commonly made out of recycled automotive tires and could pose a health hazard. These rubber crumbs can cling to a player's hair, skin and clothing, which could lead to inhaling, ingesting or other direct contact with the rubber chemicals.
According to an ongoing study by the National Toxicology Program on crumb rubber, public health concerns about playing on synthetic turf fields have increased recently due to media reports that young adult soccer players, particularly goalies, are being diagnosed with blood cancers. Despite rising concerns, more than 11,000 synthetic turf fields exist in the United States, and approximately 1,200 are added annually.
Artificial turf is often treated with biocides; it has been associated with increased risk of infections from Methicillin-resistant staphylococcus aureus. MRSA is a dangerous infection because it is resistant to many antibiotics. It can lead to pneumonia, sepsis and bloodstream infections that can prove fatal. A MRSA infection can happen after skin is scraped or cut, which can occur from sliding on artificial turf.
When it comes to professional play, no conclusive studies exist on how best to manage or minimize the health risks that can be associated with natural grass and artificial turf. Studies have shown various conclusions when comparing injuries like concussions, lower body and upper body injuries.
One study showed playing on synthetic turf in the NFL resulted in a 16% increase in lower body injuries compared to the same injuries on natural grass. These results were from the 2012-2016 seasons, during which all injuries in the lower extremities (foot, knee and ankle). The study concluded synthetic turf does have an impact on injuries to lower body parts in NFL players.
Some of the findings from the 2019 study — as interpreted by Turfgrass Producers International:
1,280 NFL games (213,935 distinct plays) were played during the 2012-16 seasons.

4,801 lower body injuries occurred during the study sample, affecting 2,032 NFL players.

Synthetic turf resulted in a 27% increase in non-contact lower body injuries.

Athletes had a 56% higher rate (knee/ankle/foot) of sustaining an injury on synthetic turf that resulted in time lost, and a 67% higher injury rate resulting in more than 8 days time lost from injury.

Athletes had a 68% higher rate of sustaining an ankle injury rate on synthetic turf that resulted in any time lost from injury and a 103% increase in injury rates on synthetic turf resulting in more than 8 days time lost from injury.
Applying the incidence rate ratios of injuries in this study, if every NFL game were played on natural grass during these five seasons, there would have been 319 fewer lower body injuries.
This is widely recognized among professional athletes and is documented in NFL player surveys:
82.4% of NFL players think that artificial turf contributes more to injury

89.1% of NFL players think that artificial turf causes more soreness and fatigue

89.7% of NFL players think that artificial turf is more likely to shorten their career
Injury rates with 95 percent confidence intervals by turf type for all teams (top) and visiting teams (bottom), 2012-2015 regular seasons.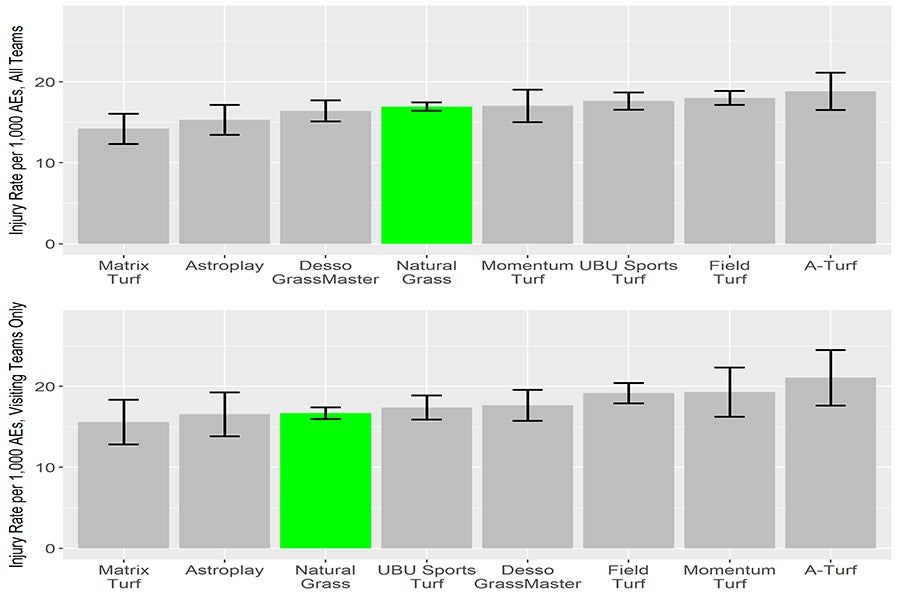 This chart shows injury rates in the NFL of athlete-exposure(AE) to the different field surfaces used in the league. The same study was done specifically for lower body injuries found in NFL players.
Lower Leg Injury Rates by Turf Type Injury rates with 95 percent confidence intervals by turf type for knee (top), ankle (middle), and foot (bottom) injuries, 2012-2015 regular seasons.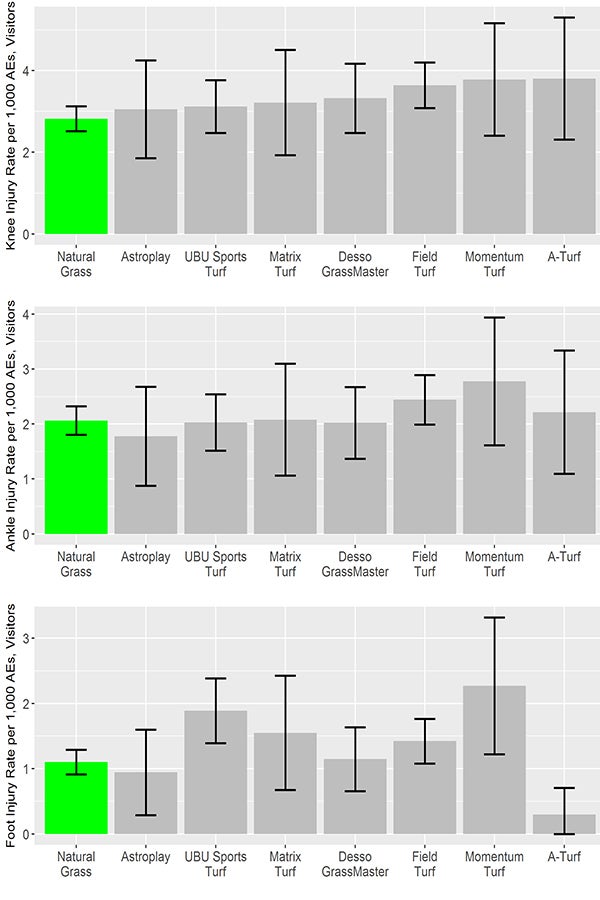 Based on this study, there is no real conclusive evidence of difference in injury until you look at knee, ankle and foot injuries experienced.
Another issue is the heat factor of grass versus artificial surfaces. In 2011, Penn State University did a study to compare surface temperatures during hot days. The study found that the surface temperature of synthetic fields reached anywhere from 140 degrees to 170 degrees on summer days. In the same study it was found that natural grass rarely reached above 85 degrees on the same type of days. Significantly safer for athletes to use.
National Football League
Of the 31 current National Football League stadiums there are currently 12 with turf with one more being built for play in 2020. There are 17 stadiums that have grass surfaces and there are two stadiums that currently have a grass-turf hybrid.
A study done in 2010 showed that 82 percent of players thought that turf would contribute to injury and almost 90 percent believed playing on these surfaces were more likely to shorten their careers.
Since these studies were done, there have been advances and new styles of turf have been introduced that are now closer to the actual play of natural grass.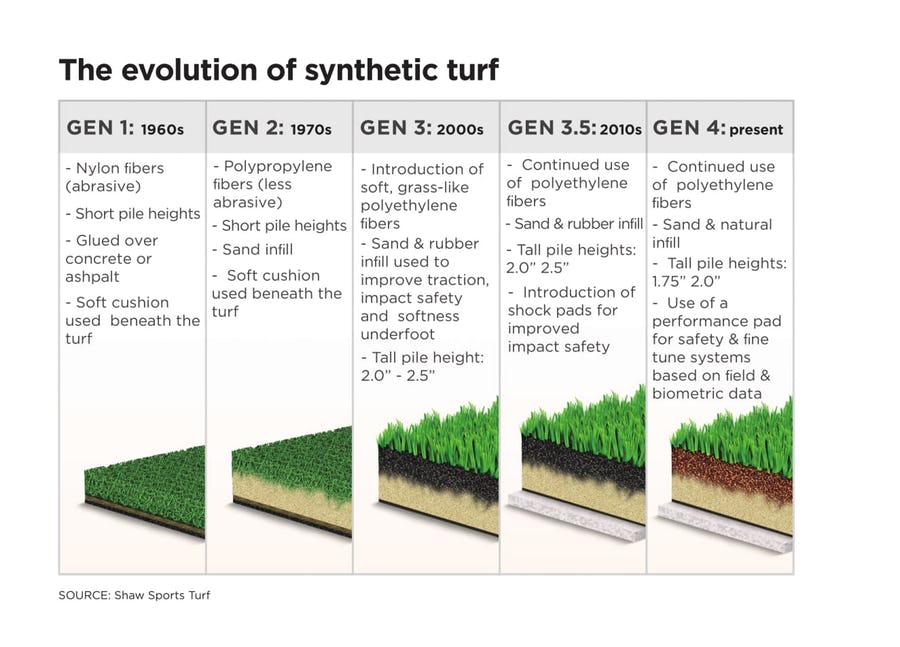 MLB
The Arizona Diamondbacks have struggled to keep healthy grass growing at Chase Field, especially in the summertime, the middle of Major League Baseball's season. For the 2019 season, the franchise made the transition to a turf field. The Diamondbacks are the third team in MLB to install synthetic turfing.
This is something to consider if you are contemplating synthetic turf vs natural grass to help save games from rain etc. Other than cost of the field to install what about the surface temperatures recorded? pic.twitter.com/sPQcZ5Q55x

— Glenn Lucas (@Aualum9496) April 8, 2019

"Our Baseball Operations staff has completed extensive research, including site visits and player testing and we are all in agreement that this is the best decision for our franchise," said D-backs President  & CEO Derrick Hall. "Research has shown the performance and health benefits associated with playing on this surface that did not previously exist, which factored heavily into our decision. Additionally, our ability to keep the roof closed during the summer months will allow Chase Field to remain at a perfect temperature for our fans, which has become increasingly difficult over the last several years. The challenges with growing natural grass in our climate and stadium have been well documented and we have considered alternate solutions for many years. We decided to make this change because the technology developed by Shaw is the best in existence and will provide a consistent playing surface and benefits to our players on the field while enhancing our fan experience throughout the ballpark."
The Rogers Centre in Toronto, Canada and the Tampa Bay Rays home Tropicana Field are the only other two current Major League Baseball facilities that use a turf playing surface.
The Texas Rangers announced in January that their new home, Globe Life Field, which is scheduled to open in 2020 will be built with a new synthetic turf field, B1K, the same field that was recently installed at Chase Field.  
After years of research by the team, the Rangers feel the B1K (batting 1.000) surface created by Shaw Sports Turf in Georgia will create a safe and reliable surface in their new stadium.
"I got involved in this study to make sure this was the best possible synthetic playing surface for our players to play on," said Rangers senior medical director Jamie Reed, who oversaw the research. "I'm very confident this is going to be the best artificial playing surface in the game. It will be the safest for our players and for the fans. I'm really confident this is going to be a great product."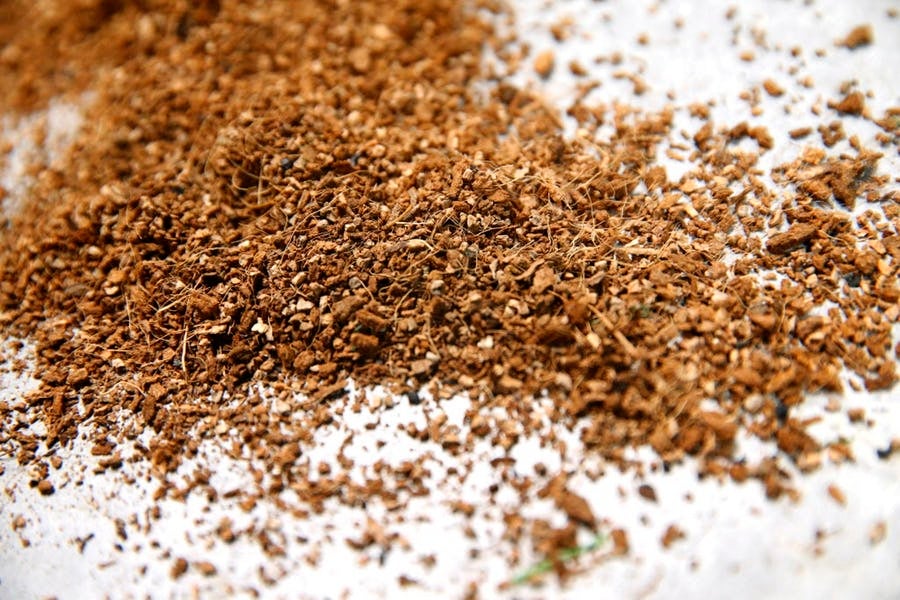 (Moving on from the rubber pellets, the new B1K surface infill features ground coconut, a natural material)
For the fill of their new B1K surface, Shaw Sports Turf got rid of the controversial rubber pellets from the last generation and instead include a large percentage of coconut husks and sand, natural materials. According to the company, the mixture is designed to enhance playability for baseball and the safety for the players.
Shaw Sports Turf performed various studies and innovations with its new B1K baseball field.
The company detailed the performance peaks they hoped for with the creation of the B1K field surface.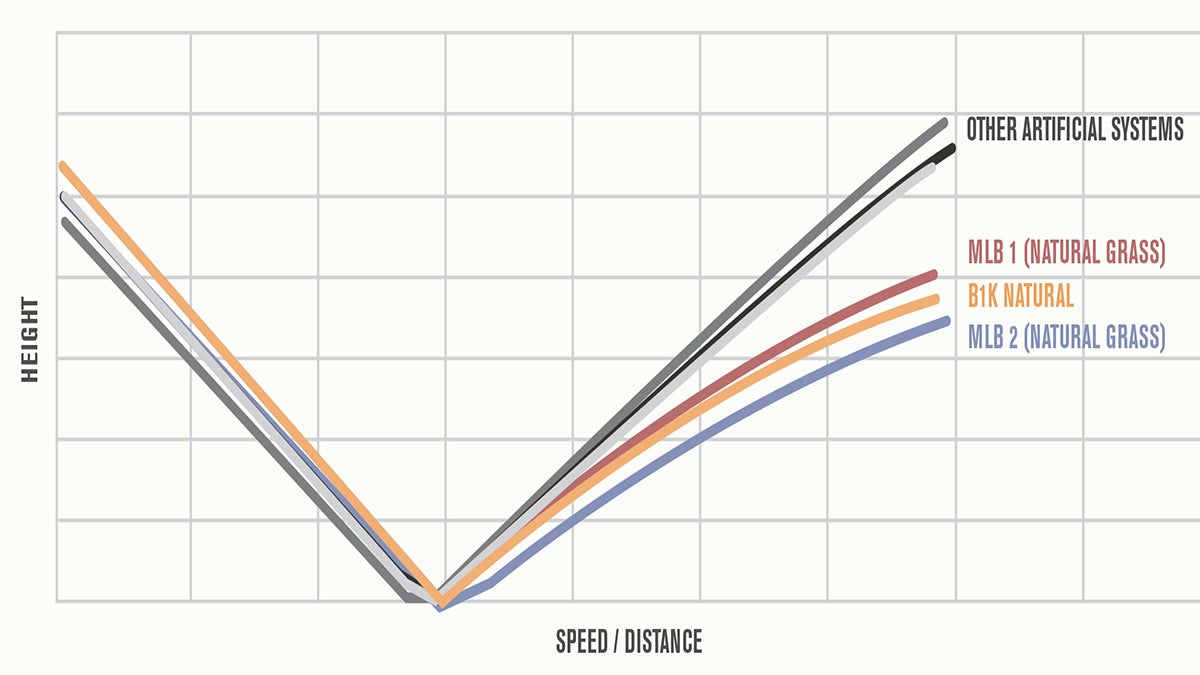 Athlete Performance: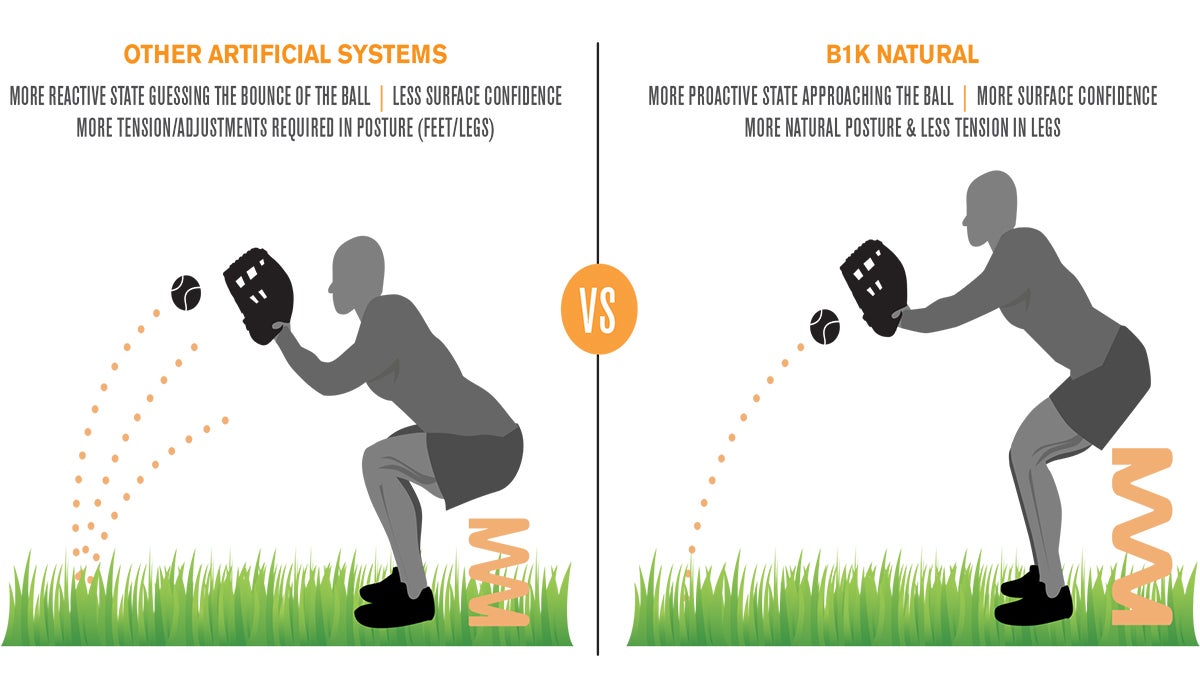 Playability Assessment:
Shaw Sports Turf's Playability Tool is a visual representation of data collected through a battery of standard tests that score a field based on how it measures on each. Research shows that what's important to one sport's performance, may not be as important to another. In the graph seen here, the better the field tests in the orange highlighted criteria, the better it is for baseball.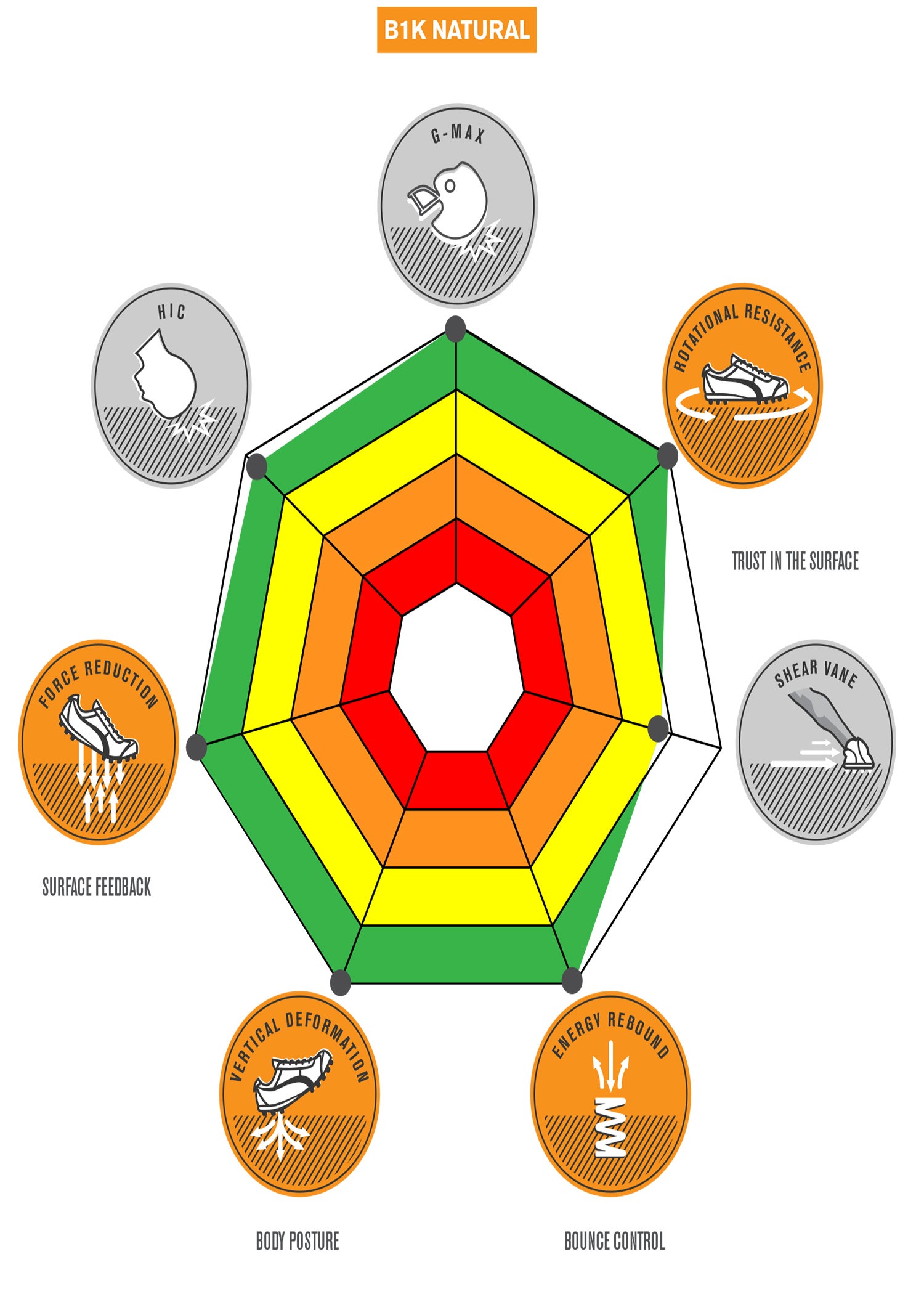 Soccer
Recently, FIFA announced that only natural grass playing fields will be allowed during the 2023 Women's World Cup. This announcement comes after  controversy and later a filing of a gender discrimination case — later withdrawn — from the artificial turf usage at the 2015 tournament in Canada.
"The pitch shall feature a natural grass playing surface," FIFA stated. "Hybrid-grass systems are considered natural grass according to FIFA's requirements and hybrid reinforcement should be considered for stadium pitches."
Players from the MLS and other soccer leagues have even spoken out and refused to play on artificial playing surfaces. Thierry Henry, Didier Drogba and David Beckham were outspoken as anti-turf players.
ESPN did a study with 104 MLS players in 2018 and asked their opinions on artificial playing surfaces. Sixty-three percent of the players said an artificial surface would impact their decision to sign with teams.
Some of the things the players said included, "No. As long as they train mostly on grass."
"Hard yes. I don't like turf, plain and simple. The times I played on it, it takes a day or two extra to recover."
The International Football Association Board (IFAB) covers a rule about soccer pitches used in their league. In fact, it is the first law covered in their rules and reads, the field of play must be a wholly natural or, if competition rules permit, a wholly artificial playing surface except where competition rules permit an integrated combination of artificial and natural materials.
In conclusion
With newer innovations in the turf industry, teams are having a tougher time deciding the route to go in when laying down new playing surfaces. Both turf and natural grass come with their own pros and cons when it comes to health, costs and playability. Inconsistency in natural grass causes organizations to lean toward building with turf while health concerns and original costs cause others to shy away from artificial turf. With venues today hosting more than just games, teams and organizations must take full considerations when deciding which route to go and companies like Shaw Sports are making things more difficult to decide.  
"I believe there is a potential for artificial turf to be just as good, if not better than natural grass," Philipe Aldahir, Shaw's director of turf innovation said. "The goal on both sides, natural and artificial is to create the best surface."
Dustin Paré is a sports journalism major at Arizona State University.