Health
Former USWNT players lead push to study CTE and headers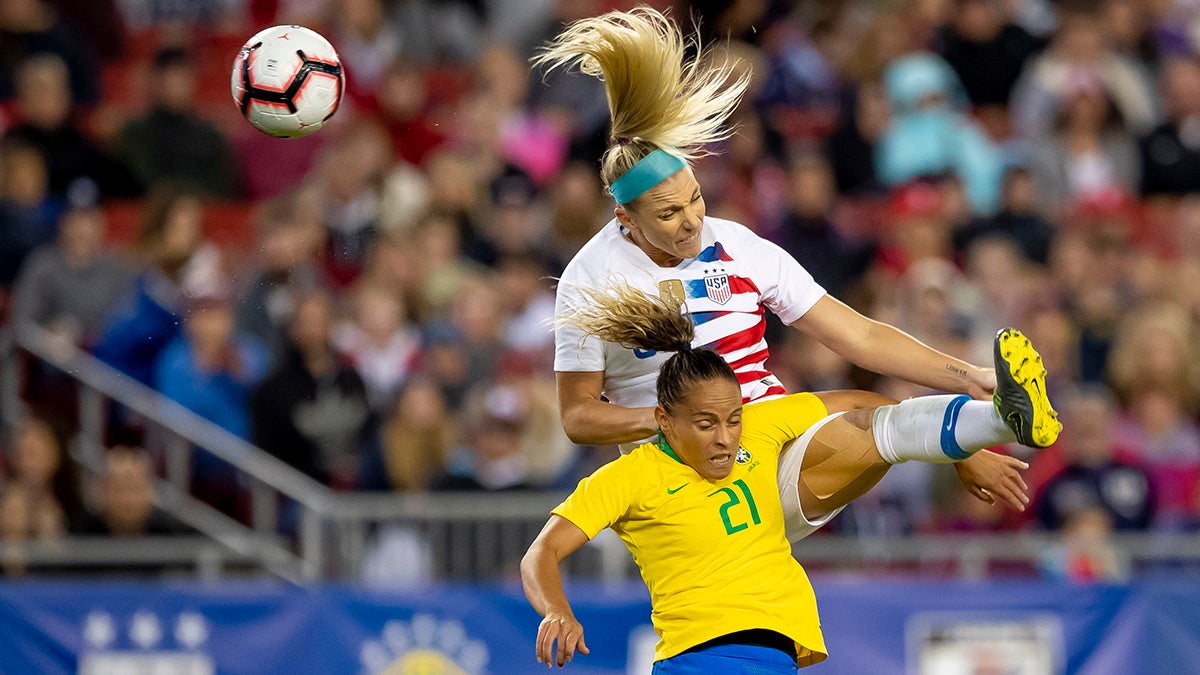 Hits to the head are unavoidable in some sports. A few years ago, violent hits to the head in football were met with cheers from fans and players alike.

That began to change in 2002 when Dr. Bennet Omalu identified Chronic Traumatic Encephalopathy (CTE) in the brain of Pittsburgh Steelers Hall of Fame center Mike Webster during an autopsy.
Now, parents, athletes and former athletes must consider CTE in contact sports. 
With the FIFA Women's World Cup this year, women's soccer captured many headlines. Two former U.S. Women's National Team players, Brandi Chastain and Michelle Akers, made headlines for their actions off the pitch though. They are leading the push to examine the long-term effects of headers on brain health.
They announced they have joined a Boston University study that is following 20 former high-level female soccer players over the age of 40. Each player will undergo MRI exams of the brain as well as evaluations of cognitive function to establish baseline measurements.
CTE outside of football
The prevalence of CTE in deceased former NFL players is well documented. In 2017, researchers examined the brains of 111 former NFL players. The results published in the Journal of the American Medical Association found 110 of those players showed pathological evidence of CTE. 
Football isn't the only sport in which CTE has been found. CTE was identified in the brains of former soccer, hockey, wrestling, boxing, cycling, baseball and rugby athletes. 
In 2018, Rod Taylor became the second former British footballer in which CTE was found. Dozens of former NHL players, including one of hockey's most aggressive fighters Todd Ewen, also suffered from CTE. Former baseball player Ryan Freel was diagnosed with CTE after he died at age 36. He sustained a number of concussions in his career while crashing into walls, seats and other players trying to make catches.
National Rugby League
In June, researchers from the Royal Prince Alfred Hospital, NSW Health Pathology and the University of Sydney confirmed the first two cases of CTE in Australian rugby players. 
"It's the wake-up call we needed," lead author clinical associate professor Michael Buckland told the Sydney Morning Herald. "We're not immune, and Australia is no different to anywhere else. I think we needed something like this to focus everybody's mind on the issue."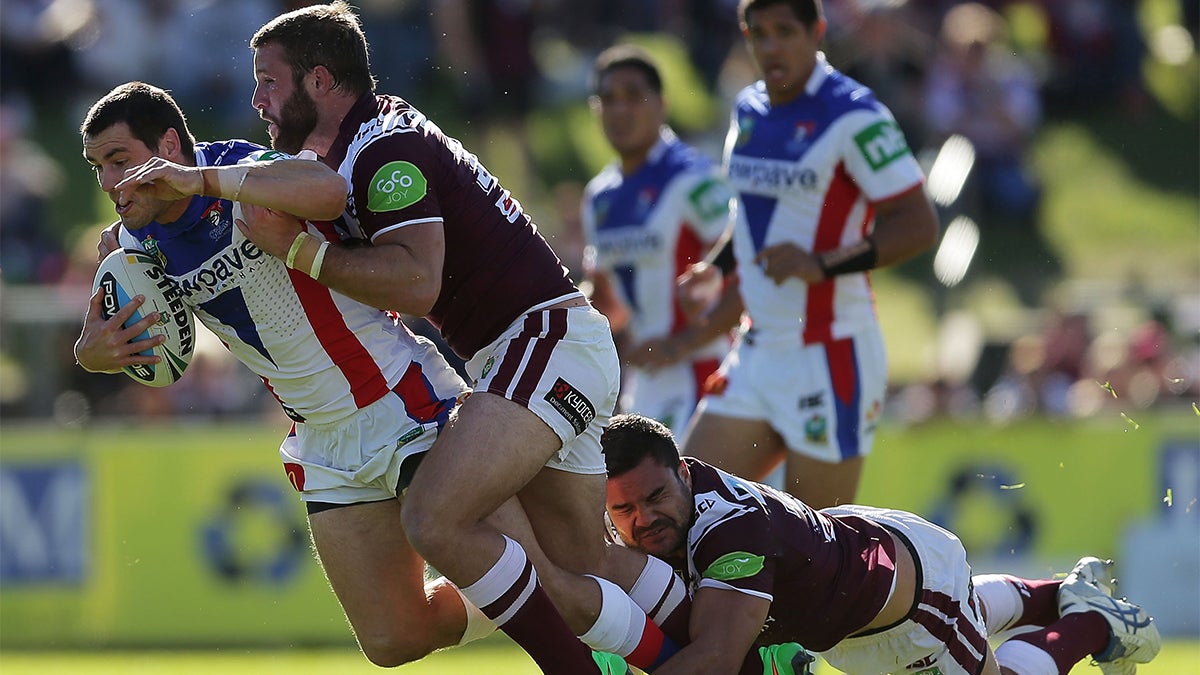 The discovery had two immediate results in Australia. First, two former high-level players filed a class action lawsuit against their old teams to improve concussion protocol. Class action lawsuits also have been filed in the past in the NFL and NHL. The NFL has paid out nearly $500 million to retired players as part of the settlement, but is still involved in a legal battle with players who oppose the rule that they must undergo testing within 150 miles of their homes. In 2018, the NHL also agreed to a settlement with about 320 former players.
Second, many players announced their intent to donate their brains to science after they die.
Aussie Rules Football players also suffer head trauma during games. A 2016 report in the Geelong Advertiser found 90 percent of AFL players sustained at least one concussion in their career, and many go unreported or untreated.
Chairman of the working group, CEO of the Rugby League Players' Association and former AFL player Ian Prendergast told the Geelong Advertiser: "There are further efforts needed in terms of education and empowerment to continue shifting the culture regarding concussion to ensure athletes and support staff respect the measures in place to mitigate the impact of concussion."
So what is CTE?
According to the Boston University CTE Center, CTE "is a progressive degenerative disease of the brain found in people with a history of repetitive brain trauma (often athletes) ..."
It has been identified in the brains of former professional athletes, military veterans and even athletes that did not play beyond high school or college.
Boston University researchers determined "repeated brain trauma triggers progressive degeneration of the brain tissue, including the buildup of an abnormal protein called tau." In one study, they found subconcussive hits can lead to CTE.
"We've had an inkling that subconcussive hits -- the ones that don't (show) neurological signs and symptoms -- may be associated with CTE," Dr. Lee Goldstein, an associate professor of psychiatry at the Boston University School of Medicine and lead investigator on the study, told NPR. "We now have solid scientific evidence to say that it so."
This is Chronic Traumatic Encephalopathy (CTE), a neurodegenarative brain disease typically found in people that have suffered repeated blows to the head. The impact + shaking of the brain leads to the build up of Tau proteins/plaque in neuropathways & can lead to Dementia (1/5) pic.twitter.com/MyczwnN7GO

— ᴅᴀɴɪ ʙᴇᴄᴋ ❼ (@_DaniBeck) February 4, 2019
Symptoms of CTE include memory loss, confusion, impaired judgment, impulse control problems, aggression, depression, suicidal thoughts, Parkinson's disease and eventually progressive dementia.
Currently, the only method of identification is postmortem neuropathological analysis. There is no reliable method to detect CTE in someone who is living, but researchers are closing in on a process.
Other methods of diagnosis
In April, researchers at the Boston University CTE Center published their results using a positron-emission tomography (PET) scan to analyze living brains and detect the protein tau. While further studies are needed to confirm the method is reliable, the scans were able to detect abnormal brain tissue among a number of former NFL players. 
This is where Akers and Chastain come in. They are part of a study with 20 former elite female soccer players looking into the long-term effects of head impacts in women's soccer.
CTE in women's soccer
Soccer has not gotten as much attention as football in discussions about CTE. Akers and Chastain hope to change that. They're worried about the long-term effects of the headers they've hit in their careers. 
In their interview with CBS This Morning, the players talked about the 50-plus headers they hit every game. 
"Oh, I did a lot of heading the ball," Chastain said. "And very proudly so and very determined and very aggressive."
The main concern for the players: the subconcussive blows that come from heading the ball: The kind of head trauma that has been linked to CTE already.
Chastain also told CBS This Morning she is "determined to protect young players from unnecessary headers," that have long been part of the game.
For female players, there is more reason for concern. A 2018 study conducted by the Radiological Society of North America found female soccer players are more likely to sustain brain injuries from headers than male counterparts. The results suggest women may be more sensitive than men with regards to heading, and there are distinctly different biological responses to brain injury between men and women.
There's no knowing if this study will lead to significant changes in the way soccer is played, but it highlights the concern that people have for violent head contact in sports.
Sarah Farrell is a graduate student studying sports journalism at Arizona State University
Editor's note: For the coming 2019-2020 academic year, the Global Sport Institute's research theme will be "Sport and the body." The Institute will conduct and fund research and host events that will explore a myriad of topics related to the body.
Related Articles
Female Soccer Players Suffer Concussions More Often Than Men, And Researchers Are Paying Attention
Former U.S. Women's National Team Soccer Stars Raise CTE Concerns
Finding CTE in Living People? BU Just Got Closer to Doing It
Repeated Head Hits, Not Just Concussions, May Lead To A Type Of Chronic Brain Damage
Headers in soccer cause more brain damage in women than men, new study says
Tags:
aggression
,
Australian rugby
,
Boston University
,
Boston University CTE Center
,
Brandi Chastain
,
confusion
,
CTE
,
depression
,
Dr. Bennet Omalu
,
FIFA Women's World Cup
,
football
,
headers
,
hockey
,
impaired judgment
,
impulse control problems
,
Lee Goldstein
,
memory loss
,
Michael Buckland
,
Michelle Akers
,
Mike Webster
,
NFL
,
NHL
,
NSW Health Pathology
,
parkinsons and eventually progrssive dementia
,
PET scan
,
Pittsburgh Steelers
,
professional athletes
,
Rod Taylor
,
Royal Prince Alfred Hospital
,
rugby
,
Rugby League
,
soccer
,
subconcussive
,
suicidal thoughts
,
tau
,
tau protein
,
Todd Ewen
,
University of Sydney
,
US Women's National Team
,
USWNT