Health
Ex-NFL players seek worker's compensation for head injuries with mixed results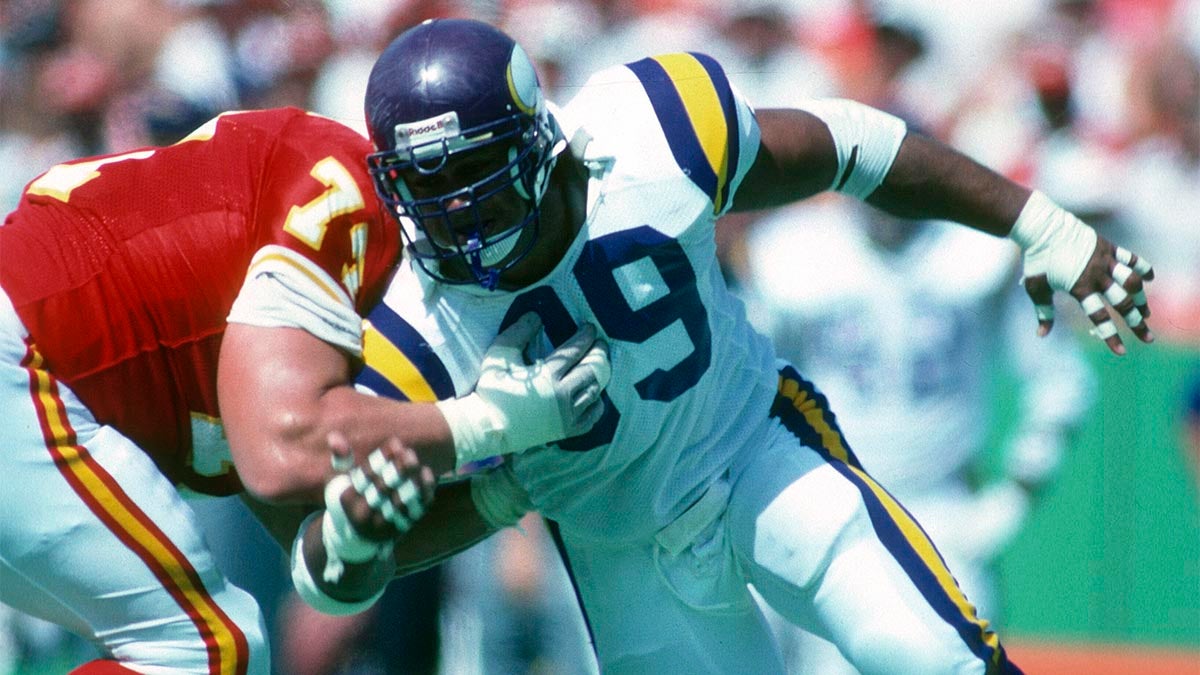 Alapati "Al" Noga spent seven seasons in the NFL. The Samoan defensive end was a hard-nosed player with a head-first style of play.

In 2015, he submitted a workers' compensation claim in the state of Minnesota — he spent the first five years of his career with the Minnesota Vikings — to help cover the medical expenses for the dementia he developed after years of sustaining head injuries while playing.
His claim was overruled by the Minnesota Supreme Court. In reaching the decision, the court declared the Vikings' treatment of Noga's headaches with over-the-counter medicines was sufficient and that his claim, filed in 2015, came too late.
"Noga played for the Vikings from 1988 to 1992, but medical awareness of the connection between and among head injuries, possible concussions, and the potential long-term neurological effects of those events had not yet developed," Justice Natalie Hudson wrote in the court's opinion.
"Noga played for the Vikings from 1988 to 1992, but medical awareness of the connection between and among head injuries, possible concussions, and the potential long-term neurological effects of those events had not yet developed." – Justice Natalie Hudson Minnesota Supreme Court
In 2004, Noga settled a claim with the Vikings and received an award for orthopedic issues he faced. According to an article from TwinCities.com, "Because Noga knew about his neurological symptoms in 2004 and because the Vikings became aware of them as part of a 2004 Stipulation for Settlement, the six-year timeframe to file a claim started." When Noga was finally diagnosed with dementia, and filed a workers' compensation claim in 2015, the statute of limitations had already passed.
A compensation judge had ruled in Noga's favor in 2016, granting Noga permanent and total disability benefits. The Vikings appealed the decision multiple times, and the case reached the Minnesota Supreme Court, which issued the final decision.
Noga isn't the first retired player to file a workers' compensation claim against his team after a career filled with injuries. No two cases are the same, though. The type of injury and the state where the claim was filed play major roles in the outcome.
State regulations differ
In 2013, California passed a law that prevented professional athletes from filing claims in the state if they have no work history in California. Previously professional athletes were able to file claims if they were injured in a game played in California even if they had never played for a team based in California.
In Massachusetts and Florida, professional athletes are not considered employees. Therefore, they cannot file a workers' compensation claim.
Illinois passed a bill a few years ago that cuts off benefits for professional athletes at age 35. 
In Minnesota, cumulative trauma injuries are filed as Gillette injuries. This is what Noga filed for in his claim against the Vikings. In the 1960 case Gillette v. Harold, Inc., the court recognized, "In the course of one's ordinary duties, injuries may occur daily which may cause minimal damage, the cumulative effect of which in the course of time may be as injurious as a single traumatic occurrence which is completely disabling." In Minnesota, the statute of limitations is generally six years from the time of injury. 
Workers' compensation claims do not go through the NFL or NFLPA, but through each individual state. And they are based on the laws of each state.
Diagnosis required
One of the key aspects of any claim is there must be an official medical diagnosis. Two different doctors confirmed Noga's dementia, but neither could declare head injuries were the main cause. They said concussions were a contributing factor, but not the only factor, in the onset of his dementia.
Since 2000, the Chicago Bears have paid out millions in workers' compensation claims to former players. According to Forbes, there have been 458 compensation cases filed against the Bears, most of which involved players. Brian Urlacher, Devin Hester and Charles Tillman are among the players that have settled claims for serious injuries to their necks, backs, knees, wrists, legs, shoulders and more.
One difference between those cases and Noga's is the type of injury. With acute injuries, such as an ankle sprain or a shoulder dislocation, team doctors can usually pinpoint the moment in a game when the injury occurred. Many NFL players have been awarded settlements for such injuries. Noga was looking for money for a head injury.
According to the Alzheimer's Association, "Many dementias are progressive, meaning symptoms start slowly and gradually get worse." There is no single test to determine if someone has dementia. Although, researchers at the University of California San Francisco have found the likelihood of developing dementia more than doubles after a concussion.
Purpose of workers' compensation
Workers' compensation is available to "pay the expenses of employees who are harmed while performing job-related duties. Employees can recover lost wages, medical expenses, disability payments and costs associated with rehabilitation and retraining." Any employee throughout the country is covered under their state's workers' compensation laws.
In the world of professional athletics, this mostly applies to retired players. The law allows them to continue receiving financial support for injuries that may have ended their career or prevent them from working after retirement -- when the team stops paying for their care.
When a person files a workers' compensation claim, it prevents them from filing a regular lawsuit. A personal injury lawsuit in civil court can often yield more money than workers' compensation benefits. Personal injury claims cover lost wages and compensation for medical bills like worker's compensation claims, but they can also include pain and suffering damages. However, workers' compensation allows a person to begin receiving benefits immediately and avoid a drawn out legal process.
The main difference between the two types of legal action is in personal injury cases fault must be proven. The defendant must be able to prove the injury was more than just an accident. They must show negligence on the part of the employer.
How does CTE fit in?
In 2016, the NFL settled a lawsuit with former players. The league has since paid out more than $500 million to retired players. The payouts have gone to former players diagnosed with numerous afflictions, including amyotrophic lateral sclerosis (ALS), Parkinson's, Alzheimer's and dementia.
Chronic Traumatic Encephalopathy (CTE) is only included in the settlement for former players who have passed away. CTE is not included in workers' compensation claims because it can only be diagnosed posthumously. Researchers at Boston University and others internationally are developing methods to diagnose CTE in living patients.
A group of 38 players that were part of the original lawsuit dropped out and are pursuing their own suit. They believed the settlement did too little for those living with CTE. Their goal was to make more resources available for those suffering from that disease. 
According to the group's complaint, the former players hoped to force the NFL to amend its collective bargaining agreement (CBA) and provide workers' compensation benefits for CTE "as a distinct and compensable occupational disease."
The secondary suit was withdrawn, with players choosing to individually pursue workers' compensation claims in their home states instead.
The NFL CBA is set to expire in 2021. Players and owners have already begun meeting to discuss the terms for the next CBA. One of the negotiations' talking points is increased healthcare for former players that would include CTE.
Sarah Farrell is a graduate student studying sports journalism at Arizona State University
Related Articles
Former USWNT players lead push to study CTE and headers
New PET test may detect CTE in brains of living NFL players
Video: How can the NFL better monitor potential CTE?
Minnesota Supreme Court: Vikings not on the hook for lineman's concussion-related dementia
No workers' comp for former Vikings lineman Al Noga's brain injuries, Minnesota Supreme Court rules
Life After the Chicago Bears: Ex-Players Have Collected $13M in Workers' Comp Since 2000
NFL workers' comp victory comes at a price
What we know about the early CBA talks between the NFL and NFLPA
Tags:
Al Noga
,
Alapati Noga
,
ALS
,
alzheimers
,
Amyotrophic Lateral Sclerosis
,
Boston University
,
Brian Urlacher
,
California
,
Charles Tillman
,
Chicago Bears
,
Chronic Traumatic Encephalopathy
,
CTE
,
dementia
,
Devin Hester
,
Gillete
,
head injuries
,
Illinois
,
knee injury
,
Massachusetts
,
Minnesota
,
Minnesota Supreme Court
,
Minnesota Vikings
,
negligence
,
NFL
,
NFL CTE settlement
,
NFL settlement
,
NFLPA
,
Parkinson's
,
personal injury lawsuit
,
SB 12
,
State Bill 12
,
workers' comp
,
workers' compensation