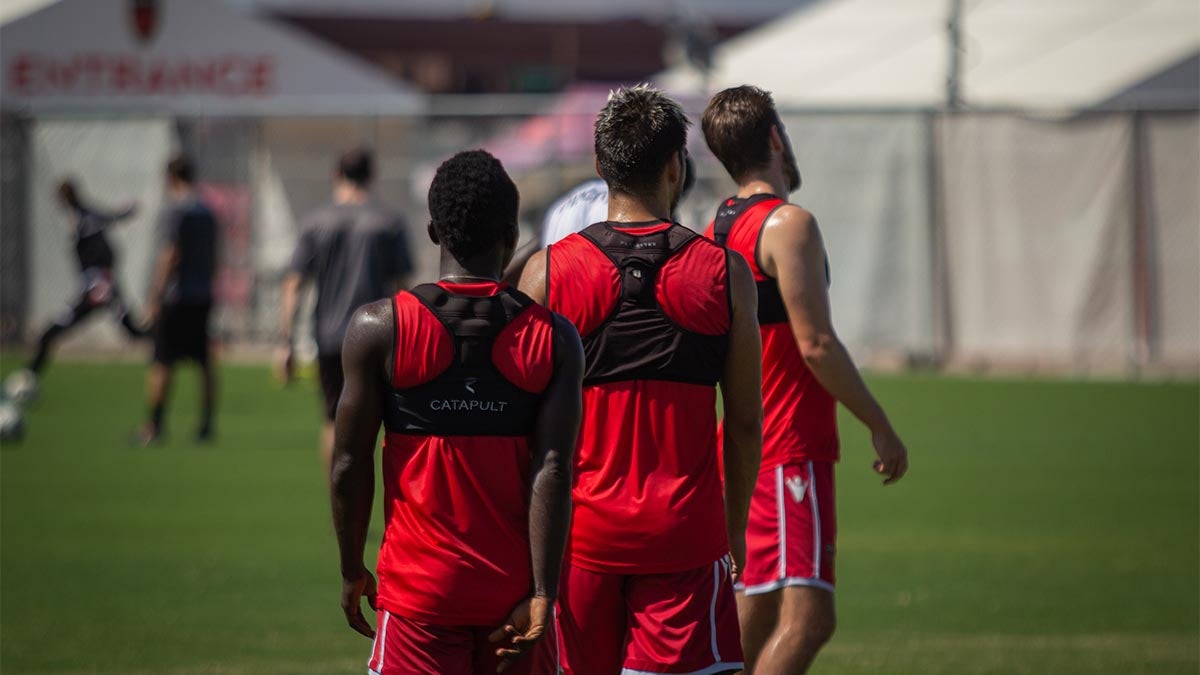 At the top levels of professional and collegiate soccer, technology has begun to change how player performance is analyzed.

Almost all modern soccer clubs utilize some form of player GPS monitors. These monitors are placed inside the back of a bra-like garment that goes underneath a training top or jersey. Coaches, medical staff and conditioning coaches are able to access reams of personal data that until recently had not been at their disposal. This includes each player's total distance run, number of high speed accelerations, decelerations, top speed and sprint distance. This personal player data can allow training sessions to be specifically monitored with player wellness and recovery in mind as well as provide the opportunity for specific feedback to each individual player. 
Look no further than Phoenix Rising FC, a professional soccer club in the United Soccer League. According to PRFC director of sports performance Steve Fell, "The main objective of utilizing GPS data is to establish player profiles to understand how to progressively overload, maintain or underload the training process." These player profiles can significantly guide a player's overall health by ensuring each player is properly recovering and their weekly training load is not exceeding what their body can handle.
By analyzing these figures on a daily basis, Fell can communicate to the coaching staff and make recommendations about the next day's training load, specifically with player health in mind. For example, if a player's sprint distance, which is distance covered at high speeds, is much higher on a given day or throughout a training week, the likelihood of soft tissue injuries increases significantly. 
In fact, according to the Journal of Strength and Conditioning Research, injured players had significantly higher meters per minute statistics in the week leading to soft tissue muscle injuries. This emphasizes the importance data can carry. By constantly analyzing metrics, a coaching staff can have clear and precise proof how taxing a training session or game is. This allows for easier communication between coaches, athletic trainers and other staff all while keeping the athletes health and body at the forefront of their decision making. 
Rising players can also access this data to allow them to understand why their body is feeling how it is. Generally, the GPS data correlates to how fatigued a player is feeling. Even though the undergarments may be a bit uncomfortable at first, the benefits exceed the minor inconvenience. 
"At first it may feel a little strange wearing these monitors under a jersey, but once you start moving it's very easy to forget you're wearing them," Phoenix Rising midfielder Jon Bakero said. In addition, Bakero explained that, throughout a season that stretches from early March to mid-November, numerous examples exist of players needing to be rested for a match due to an increase in distance covered or high speed accelerations. This need for player rest is exponentially higher when a team plays three games in seven days or during a road trip that spans several states and time zones.
This technology is used by teams in leagues all over the world. However, the unique aspect of this data is it is possessed by each club. Therefore, if a player were to be traded or bought by a bigger club, that player's data would not necessarily be transferred unless agreed on by the clubs beforehand. This allows clubs to carry some power by containing all the data on each of their players, without the necessity of sharing the statistics with other teams or their respective league.  
Joey Calistri is a professional soccer player on the pitch for Phoenix Rising FC and content off the pitch for Global Sport Matters. He has also contributed to various news outlets in Chicago, St. Louis and Phoenix. 
Related Articles
As science, technology gather more biometric data, who owns the information?
Big data becoming as important as scouting and just as closely guarded
Jayson Werth rails against 'super nerds' that are 'killing the game'
Root, root, root for the home team while they mine your data
Getting a CLEAR picture of biometric data in sports business
Wearable technology now knows if you are a candidate for diabetes
Wearable technology moving from the track to the bedroom
Sports betting and biometrics will push the publicity rights envelope
Game-changing NFL ball tracking data will be shared league-wide