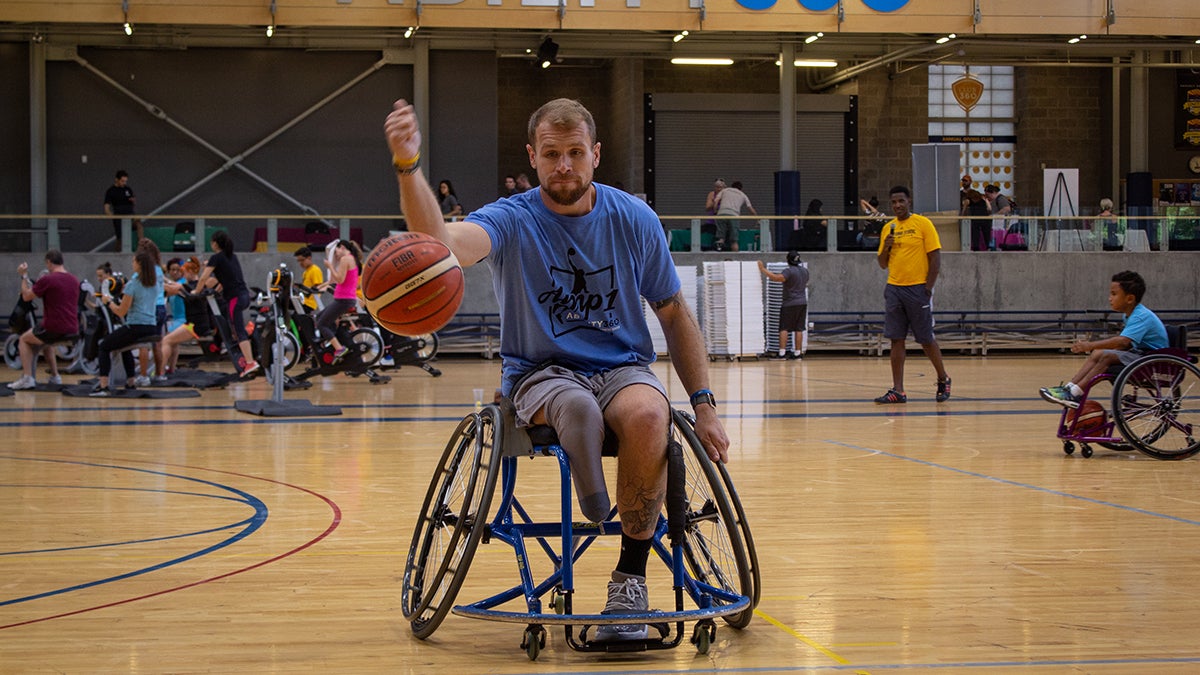 There are only two athletic facilities in America specifically designed for people with disabilities — one in Tuscaloosa, Ala., and one in Phoenix.
For athletes like Nick Pryor and Nick Springer, access to a facility that is designed for them makes all the difference in their athletic careers.
Both Pryor and Springer competed for and worked at Ability360, and continue to defy the common perception of what a typical "athlete" looks like.
The Centers for Disease Control and Prevention (CDC) estimates that nearly 61 million Americans are impacted by a disability. That number is more than 1 billion people worldwide.
While those numbers seem staggering, disability doesn't define a person's ability to succeed in any area of life, especially in sport.
Ability360 is one of five Centers for Independent Living (CIL) in the state of Arizona, and is the largest facility of its kind in the state.
The $13 million facility, complete with pools, basketball courts, a rock wall, a track and a weight room — all built to be made accessible to members with disabilities — is open to the public regardless of ability, and serves as space for inclusion for physical activity.
CILs serve an important role not only to people with disabilities, but to the overall health of a community as well.
Pryor said his favorite thing about turning people on to adaptive sports is "letting them know that something exists for them." Pryor is a sports and fitness specialist at Ability360, and he's been with the facility since 2015. 

After a shotgun accident at a young age, which led to a below-the-knee amputation, Pryor played sports throughout middle and high school, and played club baseball alongside his able-bodied teammates during his undergraduate education.
Pryor got into adaptive sports after graduating from Indiana University. He said he wanted to continue with sport, which is how he learned about the paralympic movement.
His initial interest lay in track and field, but Pryor's participation quickly developed to span nearly the entire spectrum of adaptive sports, ranging from basketball to triathlon.
He now plays for Ability360's travel team, AMP1, one of the only "standup" amputee basketball teams in the country, as well as coaching wheelchair basketball, which has two adult divisions and a youth division.
But Pryor's dedication to sport extends beyond just participation. He attended Arizona State University, where he earned a master's degree in Parks, Recreation and Leisure Facilities Management. 
His thesis, titled "Understanding Motivations for Participation in Adaptive Sports," examines the importance of adaptive sport, ranging in topic from lack of participation, to the sense of community sport often provides.
Pryor's thesis showed that according to the CDC, nearly 12% of adults between the ages of 18 and 64 have a disability, and almost half are considered to be inactive. Compare this to just over 25% of adults with no physical disability who are considered to be inactive, and there is a clearly defined disparity in physical activity between adults who are physically disabled and adults who are not.
While there could be a number of reasons why this disparity exists, Pryor theorized during a panel discussion hosted by Ability360 on Sept. 28 that a lack of disability awareness and accommodation in most public gyms deters people with physical disabilities.

For example, LA Fitness has been operating for over three decades. In 2017, the chain of gyms opened its 675th location between the United States and Canada. In August 2018, Paralympian Shawn Cheshire filed a class action complaint against the fitness chain alleging that people with disabilities have suffered "civil rights violations" as a result of LA Fitness' "continuing failure to comply with the ADA" regulations, which were signed into law in 1990.
The Americans with Disabilities Act (ADA) serves the purpose of providing a "clear and national mandate for the elimination of discrimination against individuals with disabilities."
This discrimination is defined in the ADA as anything in which someone with a disability may be "excluded, denied services, segregated, or otherwise treated differently than other individuals."
According to the case filing, movement between machines at LA Fitness locations is essentially impossible for people with physical disabilities without risk of walking into or tripping over machines. 
Just as important as maintaining physical health, a sense of community, which can be developed through participation in physical activity, goes well beyond simply feeling included.
Pryor noted a theory of "psychological sense of community" developed in 1986, which broke down a sense of community into four parts: membership, influence, fulfillment of needs, and shared emotional connection.
These facets together contribute to an overall feeling of belonging and ultimately can be credited with a higher quality of life.
Sport can be, and often is, the segue that bridges differing communities together, creating one cohesive society in which there are no differences in ability or chances of success.
For Springer, a two-time Paralympic medalist, sport served as his way to get back to life after his arms and legs were amputated after a hiking accident at the age of 14. 
"When you go through rehab, and when you're a teenager, your thought is 'How do I get back to life?'," Springer said.
For him, it was adaptive sports. Springer started by playing sled hockey, an adaptive form of ice hockey for people with physical disabilities, which led to the development of him playing for the New York Islanders sled hockey team.
Through sled hockey, one of Springer's teammates recommended that he give wheelchair rugby a try.

Springer said he then had to make "the hardest decision of his life," in choosing between continuing his lifelong love for ice hockey, and focusing full-time on his new love interest in wheelchair rugby.
Springer ultimately hung up the skates and gave wheelchair rugby a try. He went on to win two World Cup gold medals for the United States, as well as bringing home a Paralympic gold medal from Beijing in 2008, and a bronze from London in 2012.
After serving Team USA for nine years, Springer moved to Phoenix to help form a wheelchair rugby team at Ability360 called the Phoenix Heat. The team went on to win three national titles before Springer retired from the sport two years ago.
Springer now pursues his true passion: preventative medicine. He serves as a vaccination advocate.
Ability360 brought both Pryor and Springer opportunities to be active members of their respective athletic communities, even after competition comes to an end. It's their way of reminding the community that sport is for every body.
McKenzie Pavacich is a masters sports journalism student at Arizona State University
Video produced by Arizona State University senior sports journalism major Stephanie Bates
Related Articles
Alabama's Stran-Hardin Arena brings adaptive sport vision to life
After a shooting left him paralyzed, DeQuel Robinson finding new life in wheelchair basketball
Video: Love of sport, helping others brought Rola Allahaweh back from near death
U.S. veteran Steve Kirk uses breath-triggered gun at Wheelchair Games
Adaptive sports improves quality of life for those with disabilities
Tags:
Ability 360
,
Ability360
,
ADA
,
adaptive sport
,
Americans with Disabilities Act
,
AMP1
,
amputation
,
bronze medal
,
CDC
,
centers for independent living
,
Indiana University
,
LA Fitness
,
New York Islanders wheelchair rugby
,
Nick Pryor
,
Nick Springer
,
Paralympic
,
Phoenix
,
Phoenix Heat
,
Shawn Cheshire
,
sled hockey
,
Stran-Hardin Arena
,
Team USA
,
The Centers for Disease Control and Preventions National Diabetes Statistics
,
vaccination advocate
,
World Cup