Research
Longform
'We Don't Cover Our Plate': Black Basketball Coaches' Social Connections in a Time of Social Distancing
Why this matters
The COVID-19 pandemic and the social uprisings in the wake of George Floyd's murder created unrest and upheaval among all people, but in the unique world of college basketball, coaches found that the best way to adapt was to come together. Can community help us rebuild what has been broken?
Monthly Issue
College Sports 2.0
It's August 30, 2020, and the 41st session of our 12 Inches Over Zoom when Dan Leibovitz sends me a direct message. On screen, I can see that he's talking on his phone and he's excited. His message says something like "Coach is calling me right now! I want to put him on the call. He would love it, and Dawn would, too." I tell him he has to do it, and I break in on our Zoom session: "We've got a special guest who'd like to say somethin'. Dan, we're ready." It was Hall of Fame men's basketball coach John Chaney. Dan had told Chaney that Dawn Staley and one of her players were on our Zoom, and Chaney spoke directly to Staley while we listened. He told her that he was proud of her, that he missed her, and that she had to keep doing what she was doing because it was working. He ended his pep talk with "I love all of you." We were stunned and giddy, having just heard from our hero. We had been allowed to ear hustle on his talk with Staley, his longtime Temple coaching counterpart.
The very next day, Coach John Thompson, or "Big John" as he's lovingly known, the legendary coach from Georgetown, died from cancer. Big John coached Georgetown University's men's basketball team in Washington, D.C., and Chaney led Temple's men's basketball team in Philadelphia. Both Washington, D.C., and Philadelphia are considered Black cities and hotbeds for basketball talent. Chaney and Thompson created national powerhouses with a lot of regional talent. The D.C. area (affectionately known as "the DMV" – D.C., Maryland, and Virginia) talent pool comes from several communities, including D.C., Baltimore, and Prince George's County (PG County). Philly's talent pool includes the city, as well as Chester and Camden, New Jersey. The two giants of men's Division I college basketball in the 1980s and '90s were partners in battling anti-Black racism in their sport. They won games, mentored players and coaches, and critiqued the NCAA for policies that would adversely impact Black males. The two Johns – Big John and Coach – are the inspirational foundation of 12 Inches Over.
'We Don't Cover Our Plate'
Geoff Arnold, a long-time assistant coach in Division I men's basketball who is now at Rider University in New Jersey, is my brother from a father who adopted us both. Geoff met Claude Gross as a high school freshman. I met Claude as a 28-year-old doctoral student. Geoff was a young suburban Philadelphia player who was coached by Claude on his way to becoming a very good high school player – and eventually a solid college player at St. Joseph's University in Philadelphia.
I was a Californian who moved to Philly to earn a doctorate in sociology. I began a study of Philadelphia basketball and was steered to Claude, one of Philadelphia's greatest basketball legends as both a player and a coach. Over the years, Geoff and I have been together in person only about a dozen times, and we never connected intentionally one-on-one. Until December 2019. Geoff, with his new team, was playing Arizona State and texted to let me know he'd be in Tempe. Frankly, I was surprised and excited. I probably shouldn't have been surprised: Our "daddy," Claude, had passed just two years earlier, and Geoff and I were connected for life through Claude. We had a short visit. I went to his hotel, and we sat and talked for about an hour.
A few months later, the pandemic hit, and I decided to study coaching during COVID-19 to learn how coaches were keeping their teams socially engaged and to glean additional information on the outlook for college basketball. I interviewed Geoff, since he was a college coach, and asked about how their season ended, how their players seem to be handling social distancing, and what might be the impact on programs if the pandemic were to shut down college football and the next basketball season. It struck both of us that the pandemic was unchartered territory.
Geoff reached out to me a couple of weeks later with an invitation. It was mid-April, when college basketball season normally would have just ended. He'd planned to start having regular Zoom calls with a bunch of coaches to do what they'd normally be doing this time of year: hanging out on the recruiting trail. Geoff wanted me to serve as co-host because I had interviewed him via Zoom, and he didn't feel comfortable running a videoconference. Plus, he figured that it would give me an opportunity to meet coaches to interview for my research. He sent out an invitation to attend what he called "Coaching in the Age of COVID," the name of my study. The invited coaches were primarily men's DI college basketball assistant coaches, Black men, and East Coast denizens. It was his network, "his guys," many of whom he had known for a decade or more. Although most were assistant coaches, some once held head coaching gigs. I remember going through the Zoom gallery to take note of all of the guys: Bruiser Flint, Curtis Martin, Pooh Allen, Rod Baker. I had seen these men on television.
Geoff began that first call with his reason for getting together. It went something like:
"I realized that I was gonna miss hanging with my guys, since we can't be out recruiting, and so we can have this call twice a week to talk about basketball, our teams, and bullshit. We got young guys on here so that they can learn something and don't have to have a stick up they ass. So that they can see we don't cover our plate. We help each other."
And we were off – two nights a week for two hours each time. Geoff worried early on that we'd never use up all of the time. During the Zoom, he'd text me, "I don't think we're gonna last the whole time. Think of a question." I'd write him back: "Got you" or "We're good." After two weeks, Geoff stopped worrying about filling the time because we always lasted the two hours and soon it would go longer, much longer.
Pandemic to Professional Development: Finding Purpose
Session 3 of our Coaching in the Age of COVID call was titled "Climbing the Coaching Ladder." The session featured our first guest speaker: a Black male athletic director at a DI program. Geoff's plans for the session included asking the guest AD an important question: "What does a head coach look like?" Then for the second hour of that program, he would interview two of our regulars who had been head coaches. This session was special because, with the AD, coaches had the chance to hear from an actual decision-maker. We learned how a Black AD got to the top spot. We heard him say that he kept a list of prospective coaches, just in case.
We also heard some things that we knew to be false. After the interview ended and the AD left the call, Geoff started our discussion by calling out the BS statements he'd made. When asked what assistant coaches could do to improve their visibility or to get on his radar, the AD said, meet with the search firms. Geoff kept the interview going but later talked about how this was a BS response. He said search firms don't talk to Black guys and asked, "Who's talked to the search firms?" With no one confirming, Geoff described why this was another example of how the criteria are always changing – and in ways that create additional roadblocks to becoming a head coach. We had to cut off the conversation to hear our scheduled second guest. The deep knee-jerk reaction to blaming the victim – Black coaches need to do more/something else – made it clear that battling racism was core to our getting together. Black assistant coaches needed each other to cope with the racial discrimination in head coach hiring. They needed company, others to confirm that the college coaching ceiling was of no fault of their own, that the system worked against them. They needed to back one another and remember that they're pitted against each other.
The openness and the honesty of those in our Zoom group are why participation was, and remains, limited. This group isn't for everyone; it's vetted and is for coaches who can be trusted. Stephanie Tryce, a sports marketing professor at St. Joseph's University and Geoff's spouse, listened in on Session 3 and was intrigued. When she asked Geoff about his future plans for our group sessions and what it was called, Professor Tryce told Geoff the name Coaching in the Age of COVID "sucks." When pressed to better identify its scope and purpose, Geoff thought about the energy of the third session, about the bullshit of being told that you need to be more visible or win more or meet with search firms to advance your coaching career. He realized the call should be devoted to assistant coaches learning what it takes to move "12 inches over," which, in basketball coaching talk, means sliding over one chair, from the assistant's chair to the head coach's chair.
"That's the name," she told him, "It's 12 inches Over, and that's professional development."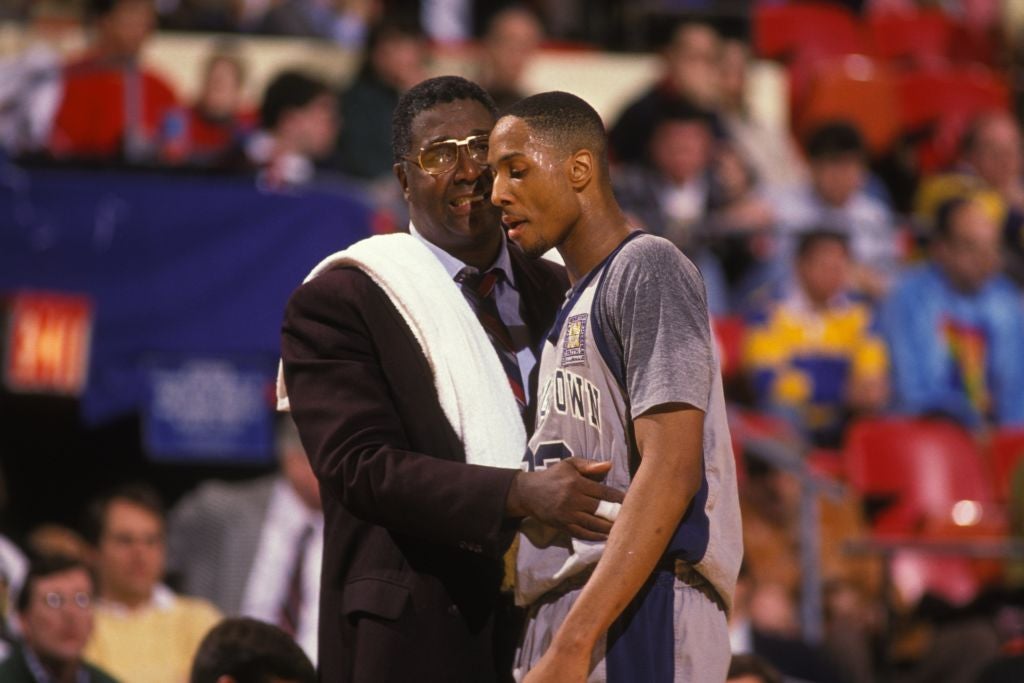 Idols, Injustice, and Identity
As 12 Inches Over, we came together as a community with a shared lineage of resilience and belief. Our community had inherited the legacy of Black head coaches who inspired us and gifted us with their examples. We had direct inspirational lineage from Coach Chaney. Geoff had a long and enduring relationship with Chaney, dating to when Geoff was a middle school camper at Chaney's summer basketball camp, then as a camp counselor, and then as a competitor, playing and coaching against Chaney's Temple Owls. Geoff's connection to Chaney was special because his high school coach, Alonzo Lewis, played for Chaney at Cheney State. Geoff brags that his record against Coach was .500 but also adds that for him and others, John Chaney was THE Philadelphia college coach, and so they envied his players.
Our 12 Inches Over community felt a deep connection to the legacy of Thompson, as well. At 6 feet, 8 inches, and more than 300 pounds, Big John was indeed a large man, but he was even bigger in person and impact. Rod Baker, one of our Philadelphia-area members, recalls Big John holding his baby son and how incredibly tiny his child looked in Big John's arms. But it was his largesse as an advocate for Black coaches that he most remembers. Coach Thompson publicly campaigned for Black assistant coaches to be considered for head coaching jobs, even when he had never met them. Rod knew because he was one of the beneficiaries of Big John's advocacy. He thanked Coach whenever he saw him, giving him a big hug and telling him he loved him.
Big John's passing hit our members from the DMV most. In Washington, D.C., and the surrounding areas, Big John brought national hoops acclaim to Georgetown, a private Jesuit University with a stellar academic reputation. Our group talked about how Big John epitomized Black excellence in leadership during the 1980s and 1990s. Several of his Georgetown teams and players are of historical note, especially Allen Iverson, Patrick Ewing, Alonzo Mourning, and Dikembe Motumbo; and he got to a national championship game (1982), only to lose to North Carolina and an outstanding sophomore – Michael Jordan – in the final seconds before finally winning a national championship in 1984. Another member of our group, Kevin Broadus, was an assistant coach for Big John before getting his first head coaching position. For Kevin, Big John's passing was shocking even though he knew Coach was ill. An anonymous note was sent to 12 Inches Over members the day of Big John's passing:
All,
On this terribly sad day for college basketball and all of us - I wanted to share a story that you may not see on TV, Twitter, etc. Coach Thompson never went to a Big East Conference meeting in Ponte Vedra, FL with the rest of the league. He told the Commissioner "when we stay at a resort where a black person doesn't change my sheets or clean my room, I will be there." The Commissioner at the time (Dave Gavitt, I believe) accepted that, and no coach ever complained.
It's crazy that Coach Chaney called last night, and this news hit today.
My best to you all. Thought that was worth sharing. Thinking of the DMV [Washington, D.C., Maryland, and Virginia] members especially today.
Big John was not just a man, he was the conscience of college basketball and a champion for all Black coaches.
There is an ongoing need for conscience and champions. Of the 1,073 head coaches in all NCAA sports at Power Five schools, only 7 percent are Black. Of the Power Five schools, 15 do not employ a single Black head coach in any NCAA sport, and all but six schools have two or fewer Black head coaches. By comparison, women's and men's basketball get high marks for hiring Black head coaches.
But the numbers are poor in collegiate basketball, especially considering the percentage of Black athletes. In women's Division I basketball, Black women made up 48 percent of the players. In men's Division I basketball, Black men made up 51 percent of the players. Nearly 63 percent of this past year's women's college basketball All-America team members were Black women, according to the U.S. Basketball Writers' Association. And 80 percent of this past year's men's college basketball All-America team were Black men, per USA Today.
Like Chaney and Big John, most Black head coaches were once Black athletes, All-Americans, and conference and national champions. They transition from athletes to assistant coaches. In Division I women's basketball programs, according to the NCAA, Black women make up 39 percent of assistant coaches. In Division I men's basketball programs, Black men make up 55 percent of assistant coaches. Black coaches are bottlenecked in assistant coaching jobs, where they have and continue to be called "recruiters" and where they are praised for being "good with players" but said to lack knowledge of the game's Xs and Os. Yet they have coached All-Americans and conference and national champions.
It is nearly 50 years since the passing of Title IX, and yet Black women hold just 12 percent of head coaching positions in Division I women's basketball, while White women and men hold 82 percent of the head coaching positions. Black men hold just 15 percent of head coaching positions in Division I men's basketball, while White men hold 81 percent of the head coaching positions. Black coaches were good enough to play but are not good enough to lead.
The highest levels of sports and university administration have largely been closed to Black women and men as well. At Division I schools, 16 percent of ADs are Black, a number that falls to 10 percent for predominantly White institutions. There hasn't been a single Black woman in the role of chancellor or president in the past nine years, according to the NCAA. And there are only two Black university presidents in the Power Five conferences, Ohio State's Michael V. Drake (now president of the University of California) and the University of Maryland's Darryll Pines.
The Current Leading Black Voice
It was hard to believe that Dawn Staley would be interested in joining our Zoom call. Our growing 12 Inches Over community had some big names on the men's side, but very few current head coaches, and none of her global stature. Yet, when Staley heard about our group through East Coast coaching networks, she texted Geoff to ask why she wasn't included in a Philly coaches' group. Geoff told her, "I thought you was too big for us." Dawn didn't want to hear any excuses. She was still Dawn from North (pronounced "Norf") Philly, and she wanted "in" if there was a group of Philly basketball coaches. She'd grown up and played with some of our coaches, and she knew several more through the tight-knit basketball network.
Dawn grew up in a low-income housing project. Sports have been a constant in her life. She was a standout in multiple sports and attended the University of Virginia to play basketball. During a stellar college career, she was named Naismith National Collegiate Player of the Year two times before playing for Team USA, with which she won 10 gold medals, and then professionally in the American Basketball League and Women's National Basketball Association. As a coach, Dawn led her South Carolina Gamecocks to a national championship in 2017, and South Carolina was sitting as the No. 1-ranked team and riding a 20-plus-game winning streak before the COVID-19 pandemic shut down college basketball in 2020. That year, Dawn was named Naismith National Collegiate Coach of the Year – becoming the only person to earn the Naismith awards as both a player and a coach.
We could not wait for Dawn to speak with us, and she didn't disappoint. She talked about her latest irritation: a lack of respect for Black head coaches in women's collegiate basketball. In recent years, Dawn had used athlete-focused media to raise awareness of the unequal hiring of Black coaches. She was featured in two Players' Tribune video-stories, "Where Are All the Black Coaches," posted on November 28, 2018, and quick follow-up the next day, "Black Female Coaches," posted on November 29, 2018. Dawn had started to count her team's wins as "4 the Culture," meaning that her team represented the masses and not the popular and historic schools – the UConns, Tennessees, Notre Dames, or Stanfords. Her University of South Carolina team was the people's champions.
In September 2020, more than six months into the pandemic and less than a month after the NBA players' boycott during playoff games in Orlando, Florida, Dawn joined us. She talked about being a North Philly girl living and working in the South and about her Twitter battles with anti-Black Lives Matter folks. Five days after the death of George Floyd in Minneapolis, the Players' Tribune published "Black People Are Tired," Dawn's deeply personal essay about her own family's roots in the South and living and coaching young Black women in a time when Black Americans shouldn't have to fight for what is right. When she finished talking, it was unanimous: Staley is the most powerful Black voice in college basketball.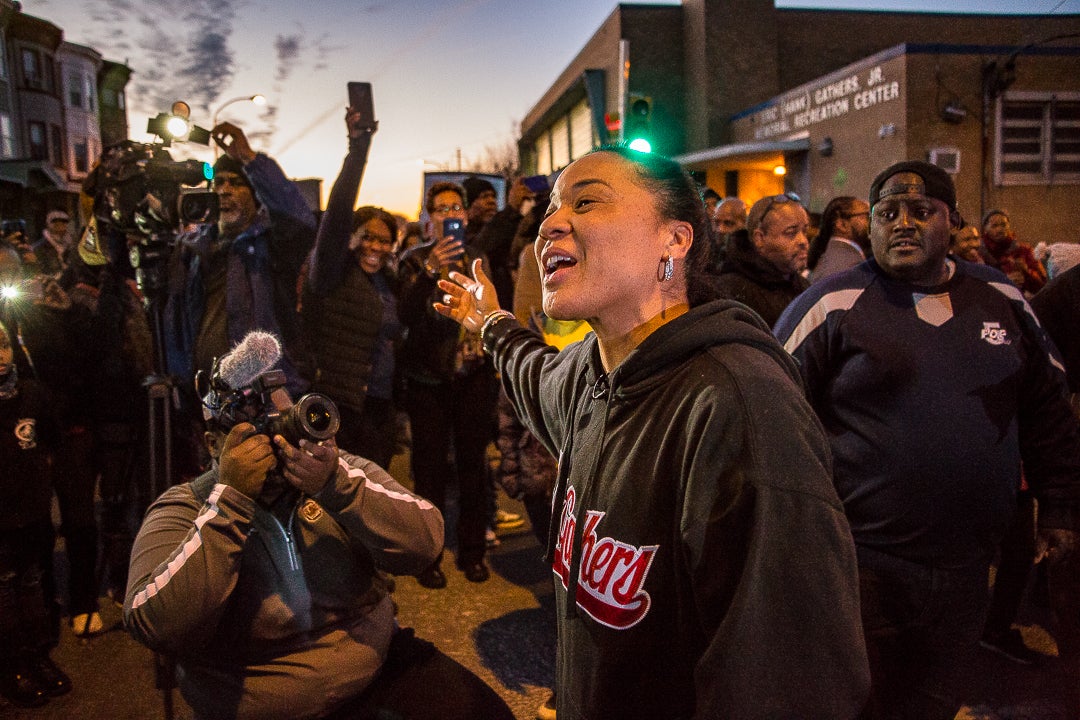 Becoming A Church
Like Staley, we knew that there would be protests all over the country after the release of the video of Floyd's killing in South Minneapolis. On May 25, 2020, Floyd was killed by a police officer in front of a crowd while other officers watched. The slow, callous, public killing was the light that lit the fire. The reaction was global, generating human rights protests in cities in every corner of the world. In a year when we had previously seen the videotaped vigilante killing of Ahmaud Arbery in Glynn County, Georgia, and would soon see the Aug. 23 police shooting of Jacob Blake in Kenosha, Wisconsin, we already had seen too much reality. TOO MUCH!
On May 26, 16 of us stayed on our Sunday night call after our guests had left the call. Usually, we all left after two hours. But that night, we were buzzing because of one of our guests: an individual in higher education and a charismatic speaker who gave to many of us what we needed while trying to cope with repressed Black rage. He is a Black nationalist, and he gave us a good "brotherman" talk that left us feeling all kinds of Black pride and rage at White supremacy. But we weren't all in agreement about our guest. Two of our members questioned his credibility because he hadn't hired a Black person in any roles that reported to him. We debated for a long while. Then we talked about our rage as Blacks in America. Some even wanted to be out protesting, even though COVID-19 was ravaging the world and Blacks in particular. Most of us had some vulnerability: high blood pressure, asthma, diabetes. We are cancer survivors and heart surgery survivors, and we live as Black men and women and the stress that comes with it.
Our focus had gone from coaching during a viral pandemic to supporting the aspirations of Black assistant coaches to our reactions to viral evidence of the malignant racism that we lived with.
The call that night continued, and Jerome "Pooh" Allen told us that he wanted to read us something. We were already an hour into overtime, what we called the "after party." Pooh read from his memoir that was in preparation, and we were captivated by his storytelling and stunned by his vulnerability. After he finished reading, we asked questions, and he answered. We were stunned by the conversation and, more importantly, by what our group had become. We were now some THING. Not just a loose collection of coaches, we were a real, definitive group who shared a variety of concerns and cared deeply for each other. Someone verbalized how crazy this was: Most of us were strangers before COVID hit and had never met in person. We talked and talked. When it was all said and done, we spent 6 hours and 28 minutes on that one Zoom call.
A few days later, Pooh asked Geoff and me to read the whole manuscript and give honest feedback. He also offered it to anyone in our membership. We were all proud of him and touched that he would let us in, let us read his soul. We had established a community with boundaries that were in flux. While Pooh had let us in, we maintained exclusive access to the space that allowed such openness. Several members asked why we didn't open the call. They saw broad, relatable value in our candid discussions and believed that so many could benefit from our forum. But Geoff was adamant that our exclusivity was what made the call special. Guests revealed what they had never revealed in public, and members could be frank because we had established a code: What was said on the call stayed on the call.
Members who wanted to expand our reach also talked about our potential role as activists and advocates. They discussed whether we might open the call, require paid subscriptions, and use the funds to develop and support programs. Together, we found a way to share the group's energy without compromising privacy. In mid-September 2020, we introduced our "12 Inches Over" podcast, which uses storytelling as the cornerstone of a unique brand of professional development for basketball coaches. The podcast borrowed Geoff's signature Zoom call question: Did your career choose you, or did you choose your career?
In October, member Tommy Gilbert asked Geoff if he could say something. He told us that his son, a college athlete, was undergoing heart surgery in a few days, and he wanted our prayers because we had become a community of support – a "church." Geoff told Tommy to send us the details and how to send his son a message. Geoff sent out this message the day of the surgery:
Dear 12 Inches Over Family:
As many of you know, Tyson Gilbert, son of our 12 Inches Over brother Tommy Gilbert, is about to undergo heart surgery today in Denver. Tommy asked if each of us would send a few words of encouragement to Tyson to receive after he gets out of surgery. Consider identifying yourself as a 12 Inches Over member so he understands the connection to his father.
Tommy, we are sending prayers and healing energy!
-12 Inches Over
The next day, Geoff sent an update: a picture of Tyson giving a thumbs up from his hospital bed. In a meaningful show of our support, he'd received more than 70 texts, emails, and phone messages from 12 Inches Over members. We knew when to drop our boundaries further and show our love.
The news was heavy on January 29, 2021, the day that Chaney passed away. I knew that several members were broken, particularly Dawn, Geoff, and Danny. Yet, Danny wanted and needed to get on the call. Dan Leibovitz may seem out of place as one of the few White guys in 12 Inches Over, but he surely isn't. Dan played in the Sonny Hill League, was Pooh's high school teammate, and coached with Chaney. Dan went on to be a head coach before settling in as an athletic administrator; he is now an associate commissioner at the Southeastern Conference. It was his turn to share.
In the last months of his life, Chaney had talked with Dan about COVID and whether or not collegiate sports should be played during a pandemic. Chaney worried about the student-athletes. He felt that money was determining the decision to return to sport. Coach also had plenty to say about our country's leadership during this time. Dan recalled how Coach Chaney was deeply moved by Barack Obama being elected, how he "never thought that (he'd) be alive to see a Black man get elected." It mattered to us, but for Big John and Coach's generation, it mattered more. It says something that they got to witness two American spectacles in their lifetimes: a Black man becoming President and a second Civil War.
Monthly Issue
Last summer, NCAA president Mark Emmert openly acknowledged it was "the right time" to answer the question "if we were going to build college sports again, and in 2020 instead of 1920, what would that look like?"
From education to athlete safety, labor laws to race and gender equity and beyond, this issue offers guidance for what that next iteration of American college sport ought to look like.