Science
Villanova's CAVE gives baseball team chance to hit one off Justin Verlander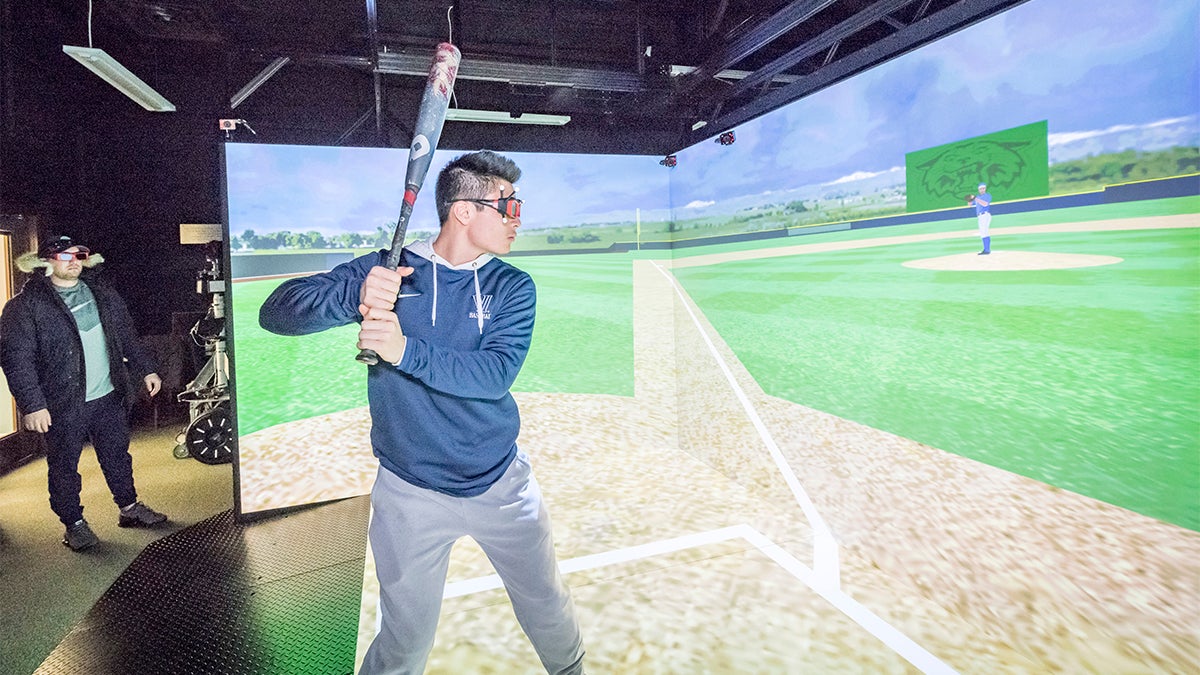 One of the stated missions of the Falvey Memorial Library on the campus of Villanova University is to "provide exceptional spaces for study, reflection, learning, knowledge creation, and academic collaboration."
Perhaps the library's administration might want to add it will also provide the ability to recognize pitches thrown by baseball's best pitchers.
Indeed, the library has become a place where more than hitting the books happens.
Thanks to a virtual reality program that was the brainchild of Mark Jupina, an assistant professor at the university's college of engineering, the Villanova baseball program can experience batting practice without the use of a pitcher while facing an assortment of fastballs and breaking pitches.
As part of a class project in 2015, Jupina started tracking the profile of a thrown baseball. He continued to tinker with data pertaining to the physics of pitches, but it was nothing more than combining the love of his field of study with his love of baseball. However, one thing led to another and eventually something much larger.
"There have been a number of things that have come together in that last couple of years, and last September one of my associates (Ed Dougherty) at Villanova convinced me that I should to do something about it," the former high school and American Legion player said. "So I talked to (Villanova coach) Kevin Mulvey, and the rest is, I guess, history."
While Jupina had the data and a purpose, he still needed a way to put it to use. The Falvey Memorial Library had the answer: the CAVE.
The CAVE, which stands for CAVE Automatic Virtual Environment, was opened for interactive classroom and research use in October 2014. The room, which is 18 feet wide, 10 feet deep and 7.5 feet in tall, was funded with a $1.67 million grant from the National Science Foundation. CAVE technology produces an immersive experience in three dimensions.

As a result of Jupina's work, Villanova baseball players started using CAVE prior to the 2018 season to increase their ability to recognize pitches.
While in the CAVE, a player stands in a batter's box wearing 3D glasses known as active shutter glasses. Three walls display three-dimensional projections of a ballpark environment. CAVE is capable of projection to either the floor or the ceiling in addition to the three walls.
The batter faces an avatar that will deliver an exact replica of a pitch from major league pitchers such as Justin Verlander, Clayton Kershaw or Aroldis Chapman. Such realism is possible because Jupina acquired detailed pitch information from Major League Baseball's PITCHf/x database, a pitch tracking system that records variables such as velocity and spin rate for every major league pitcher. Jupina, who can generate pitch data from any pitcher since 2015, then inputs the information into the CAVE computers.
"What we are trying to do is use this program in order to improve our pitch recognition as hitters," said Mulvey, a former Villanova pitcher who served as the Wildcats' pitching coach before taking over as the coach following the 2016 season. "The sooner a hitter can see that and make his decision, the better the hitter he will be."
Jupina indicated that when the avatar releases the ball the player sees it for 0.15 seconds — about one-sixth of a second. The batter yells out the type of pitch and whether it is a ball or a strike. He then removes his glasses to check pitch information projected on one of the walls – similar to the information viewers see after every pitch when watching a televised game – that is displayed a few seconds after the ball crosses the plate. The batter can see if he was correct in identifying the pitch and whether it was in the strike zone.
As with many new developments using this type of technology, tweaks are made often. Mulvey and his players assist Jupina by giving feedback, including suggestions for potential refinements. One refinement has been to create a more realistic avatar, so it looks as close to a major league pitcher as possible.
"This summer I have spent much time refining where we have a much better avatar where the arm speed, arm slot and everything can be varied until it is much more realistic," said Jupina, who knows of no other team, college or pro, using anything resembling the CAVE. "If it is throwing a fastball, it is a fastball grip. If he is throwing a curveball, it is a curveball grip."
Unlike a pitcher, the avatar does not grow tired and is not on a pitch count. As a season progresses and pitching staffs are taxed, having virtual reality batting practice as an outlet becomes an advantage.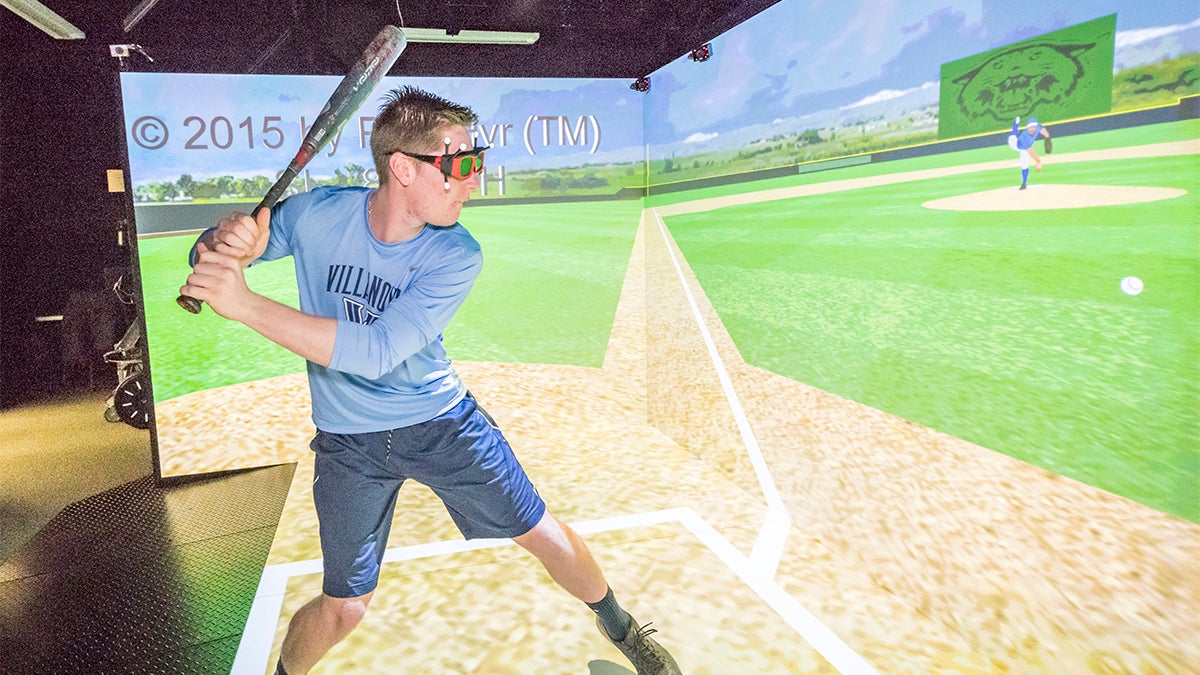 "Right from the start, Kevin saw a lot of utility coming into the CAVE and having the players see more pitches," Jupina said. "He said: 'We are limited. We only have so many pitchers available.' He saw a lot of utility in them just coming in and seeing more pitches."
The ability to see pitches on days when Mother Nature will not allow Villanova players to take the field, which is a frequent issue in the Philadelphia area during February and March, is an invaluable byproduct. It also provides a respite from the day-to-day grind.
"Baseball is a monotonous game where you are doing the same things over and over," Mulvey said. "Any time you can mix that up and provide something fresh and something new that also provides a benefit, then you have something the players like a lot."
While Jupina declined to reveal specific names, he noted Major League Baseball teams have expressed interest in his project. That only makes sense. After all, a hitter can only benefit from seeing 50 or so of Verlander's pitches in a CAVE-like setting before actually facing the Houston Astros' right-hander.
For now, refinements will continue to be made in assisting Villanova's baseball program.
"It is a matter of working with these players, getting some feedback and kind of putting things into the system that is going to help them to train better," Jupina said.
Tom Layberger has spent more than 25 years as a writer, editor and web producer for various media outlets. Tom, who resides in Tampa, is a graduate of the University of South Florida. Follow him on Twitter @TomLay810
Related Articles
Sports might be an exception to virtual reality's sluggish growth