Science
Artificial intelligence changes how athletes and fans experience sports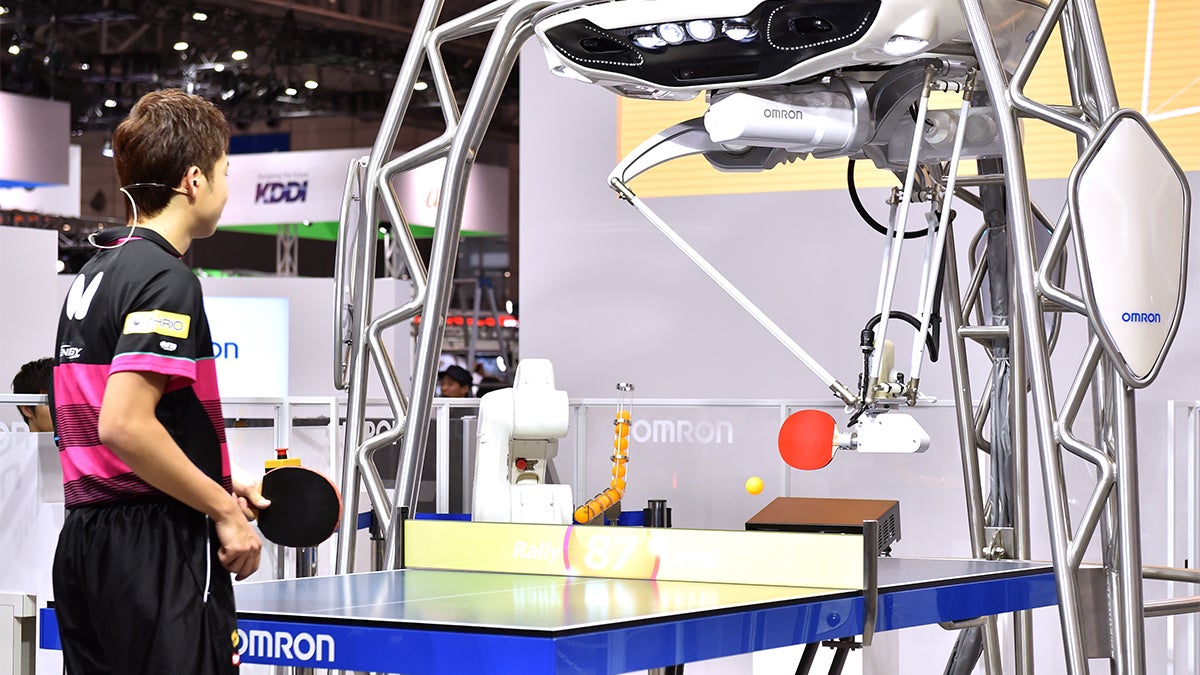 Artificial intelligence is making a breakthrough in the world of sports.
Performance tracking is a common way to give every player, whether popular or not, the chance to have their stats published and available. A handful of stadiums have introduced chat boxes fans can interact with and learn more about the game, players and building.
Whatever the sport, the advanced technology is finding ways to improve player performance and fan experience.
What is A.I.?
Artificial intelligence is a technology that is capable of operating independently via machine learning. Raw data is fed into the technology, and its output is a solution that achieves its goals.
Stuart Russell and Peter Norvig, authors of "Artificial Intelligence: A Modern Approach," define AI as intelligent agents that receive data from their environment and take actions to pinpoint the most efficient way toward achieving their goal. Global Sport Institute inaugural seed grant recipient Dr. Yezhou Yang said that is the definition most researchers refer to today.
For instance, Yang, who works with smart cameras to track athlete performance, seeks to help baseball players avoid injuries. The smart cameras are the intelligent agent that gathers raw data from its environment, in this case the player, to provide the advice on how a player can avoid an injury by improving posture.
"The smart cameras are connected to machines that are able to process the raw data, which is essentially streaming the video data of players' performance," Yang said. "It uses visual features to identify key points or key joints of the player to focus on in such a way that we would like to be able to conquer the essential problem of tracking the joint spatially and temporally in 3D space."
Improving the players
AI technology begins by making life easier for players and coaches. TrackMan Golf, for example, uses AI to track a golfer's swing and provide different types of data that can be used to improve their game. Baseball and golf were the first sports to see the benefit of this technology because the players (golfers, batters and pitchers) stay in one spot, meaning only one static camera is needed.
Yang explained their technology isn't limited to one position, but making a camera mobile and still function correctly can lead to difficulties. He and his team are working with drones with the goal of enabling cameras to capture data from multiple angles. Such technology would be beneficial in basketball and football.
"In my view, it's a combination of computer vision technology with advancements of robotics technologies," Yang said. "We're hoping to develop solutions to be able to track human motions in real time using cameras only and be able to adjust the view angle based on the player location."
Second Spectrum is a company that also uses its artificial intelligence technology to track player performance. The company, which has a contract with the NBA to provide services to all 30 teams, touts their AI is able to draw conclusions that humans may miss. Essentially, their technology can help coaches by identifying the plays both their teams and their opponents are using and the best way to improve them or react to them. Second Spectrum is also able to show a percentage prediction of a specific player making a shot from a specific place. The company does this by tracking players with smart cameras and taking data from all previous games to make accurate predictions.
Improving the fan experience
Without fans, sports would find it difficult to exist. It's understandable companies are also targeting fans with artificial intelligence to keep them engaged whether in the stadium or at home.
Video games such as NBA 2K are using AI technology to improve the gaming experience. DeepDribble, developed by researchers from DeepMotion and Carnegie Mellon University, found a way to teach virtual basketball players how to dribble and shoot realistically by showing AI technology actual footage of players performing those acts. The idea is to build the fan base and keep loyal gamers interested by offering better experiences.
Within the stadium or arena, companies are working with teams to create chat boxes that help keep the fans close to the game and updated on what's happening. For example, the Sacramento Kings have partnered with Sapien to introduce their friendly AI bot, KAI (Kings Artificial Intelligence). KAI interacts with fans through Facebook Messenger by answering questions about the franchise history, team stats, roster and the arena. Missed the last play? Couldn't hear what the announcer just said about the player that has to sit out? Fans can ask the bot and stay in the loop.
The dark side of A.I.
There is a downside to advanced technology being introduced to sports. Sports betting is a competitive sport itself among fans, but AI can substantially tilt that playing field. Unanimous AI predicted the New England Patriots' unlikely win against the Atlanta Falcons in the 2017 Super Bowl. It also predicted the final score.
How? Unanimous AI uses the concept of swarm intelligence. Unanimous AI used swarms made up of football fans and AI algorithms to make its prediction. Individually, fans have a poor track record predicting the outcome of a game, especially a game as big as the Super Bowl. However, when fans are grouped and their predictions are analyzed by algorithms, those predictions become eerily accurate. For example, the AI technology correctly picked 9 of the 10 winners in the 2017 NFL playoffs — against the spread — leading up to the Patriots victory.
Will this change the future of sport betting? Maybe Unanimous AI could predict the answer to that question, too.
The future for sports
There is no doubt that once fully integrated, artificial intelligence will change the way sports are played and watched. By catching mistakes humans may miss and giving coaches and players more tools and data on which to improve their performances, the technology will become increasingly pervasive. Fans will have the ability to be more connected than ever to players and each other. The questions are how will these advances fundamentally change the nature of the sports themselves and their place in our society.
Nikole Tower is a senior journalism student at Arizona State University.
Related Articles
AI earbuds with gait analysis offer real-time coaching for runners
Villanova's CAVE gives baseball team chance to hit one off Justin Verlander