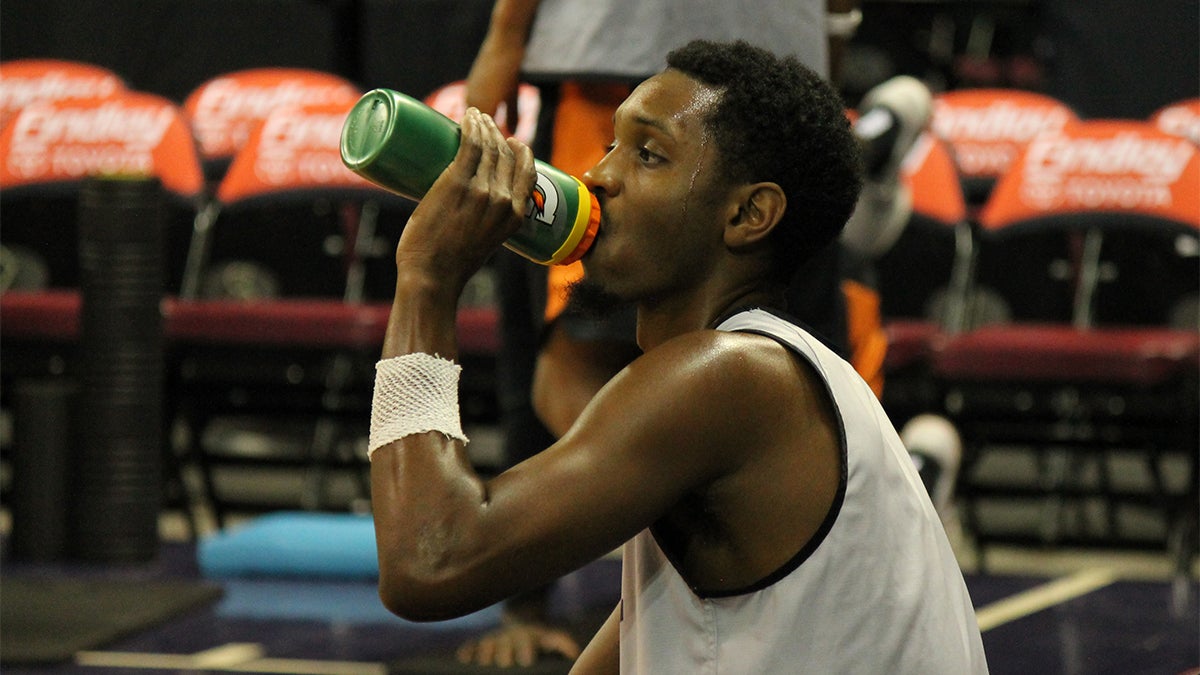 Gatorade is doing more than just lending its name to the NBA G League.
The sports drink giant also is helping the league's athletes improve their performance by partnering with teams including the Northern Arizona Suns to conduct "sweat tests" that measure sweat loss.

The tests can determine how dehydrated G League players are during practice or games so that they can avoid dehydration and the loss of electrolytes, which impair performance.
Studies have shown athletes need guidelines in this area. A 2016 study in the International Journal of Sports Nutrition and Exercise Metabolism reported that, when left to their own devices, 32 percent of collegiate athletes started exercise in a dehydrated state and more than 40 percent finished dehydrated.
Bridget Sopeña, Gatorade Sports Institute scientist, said Gatorade's mission is to demonstrate to athletes how dehydration can impact their performance.
"Basketball players tend to see their performance decrease when they hit greater than 2 percent dehydrated," she said. "So, we want to provide a test called 'sweat test' to all of the G League players in order to help prevent them from becoming dehydrated during their practice and games."
The "sweat test" involves applying an absorbent pad to both of the athlete's forearms before practice. The amount of sweat absorbed by the pads varies from athlete to athlete and can be used to help determine their sweat rate.
A portable sodium analyzer with the athlete's sweat sample produces immediate feedback.
NAZ Suns guard Peter Jok finds the experiment beneficial.
"I personally sweat a lot, so it's great to know how to stay hydrated," he said. "Getting this information from Gatorade will help me a lot as a player and for my team. … We did this test last year during the games. My focus is to get my body healthy and reach the next level."
The G League gets its name from Gatorade, which bought the naming rights to what was previously known as the NBA Development League, or D League.
It serves as a kind of minor league for NBA teams, providing support and development for players, coaches and athletic trainers who either are under contract with an NBA team or trying to earn a spot there.
After players take the Gatorade sweat test, the team's training staff can provide guidance to help them learn how a proper diet and sufficient hydration will improve their performance on the court.
It isn't just about drinking enough water.
"Gatorade has sodium, which is the key electrolyte that is lost in sweat, and it also has carbohydrates that are used when athletes are exercising," Sopeña said. "(Carbohydrates are) the main source of energy, and help them perform during a full game."
The tests, when combined  with other information that is collected, provide guidelines for maintaining proper fluid and sodium levels to optimize performance.
"Fluid balance measurement, that consists of weighing the athlete before and after exercise, ideally in a high-intensity practice or game," Sopeña said, adding that everything the athlete consumes during a practice or game also is measured, resulting in a "personalized check" of the athlete's fluid and sodium levels.
It is valuable information in Arizona's heat and at Prescott Valley's elevation, where the Northern Arizona Suns practice and play at more than 5,000 feet above sea level. Heat and thin air increase fluid loss, leading to dehydration.
"Coming to the higher altitudes here in Arizona has affected my dehydration, and I want to maintain my strength and not feel so tired," said NAZ guard Daxter Miles Jr. "From West Virginia to Arizona, there is a huge difference. Now I've started to intake more water to improve my performance."
Forward Derek Cooke Jr. agreed.
"Gatorade has given me the resources to better my endurance by giving us these types of tests, to help build us to the next level of performance," he said.
Coach Bret Burchard is onboard with the Gatorade testing because hydration, recuperation and nutrition are a huge part of the lives of athletes trying to succeed in professional basketball.
And it takes a lot of sweat to get there.