Science
Business
Your stadium roof may have been launched out of this world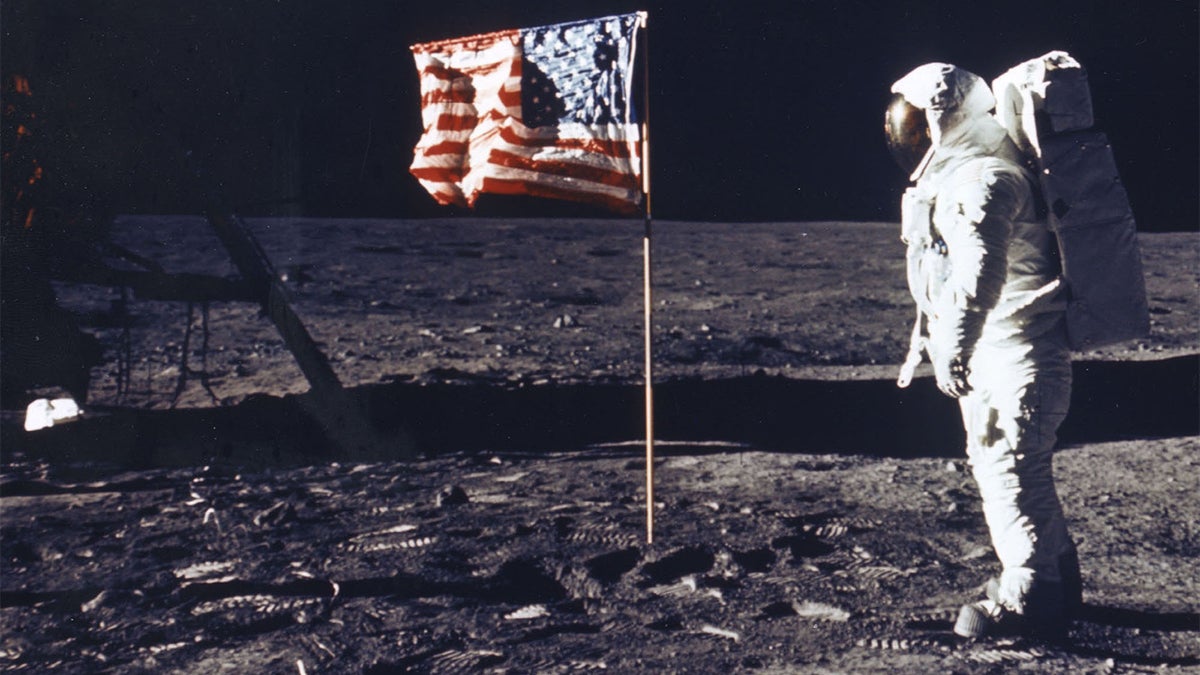 Editor's Note: As the 50th anniversary of the moon landing approaches on July 20, our staff wondered what effects, if any, that event had on the sporting world today. What we found is that technology developed in 1969 for the moon landing is present in many areas of modern life, even in many sports stadiums around the world.

Imagine an event that demands the attention of a nation. One that has every family in America sitting in front of the television, glued to the action unfolding on the screen. The moon landing on July 20, 1969 was such an event. The Super Bowl has a similar effect every January. But is there something else these two events share besides the large audience?
Modern roofs and canopies at stadiums around the world are constructed with PTFE (polytetrafluoroethylene), commonly known as Teflon. PTFE is pliable and sturdy, cost-effective and can withstand extreme heat and cold, making it an ideal roofing material. It was first developed as a component in the A7-L spacesuit.
How the technology was developed for spacesuits
On Feb. 21, 1967, a flash fire in the Apollo 1 command module during a launch rehearsal killed three astronauts. NASA realized it needed to improve the safety features of not only the modules, but also the spacesuits. The organization needed to reduce the amount of flammable material in the cockpit.
Two private sector companies, Owens-Corning and DuPont Corporation, proposed a fabric called Beta cloth. Beta cloth is made by twisting ultra fine glass filaments into threads and then weaving them into fabric. The layer of Beta cloth was covered in high-performance PTFE in spacesuits.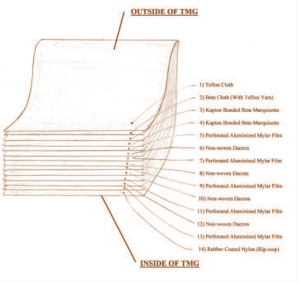 With a melting point of more than 650 degrees Fahrenheit, Beta cloth was the perfect material to incorporate into the outer protective layers of spacesuits. Not only did it provide thermal and UV protection for astronauts, but it also shielded them from abrasive moon dust.
Transition to the commercial sector
Around the same time, former aeronautical engineer Walter Bird was working on a practical application for the material outside of the space program. He founded Birdair Structures Inc. in 1956, and developed a modified, stronger version of the material used in spacesuits to be used as an architectural tensile fabric for roof construction.
"When there are so many architectural materials out there, fabric is not something architects usually think of offhand," William Barden, Birdair's director of architectural development, said in a 2012 NASA press release. "Walter Bird's pioneering role in the tensile structure industry was to take a technology that was perceived by people as 'pie in the sky' and create a market for it."
Although Birdair did not construct the U.S. Pavilion at the 1970 World's Fair in Osaka, Japan, Bird consulted on the project. The temporary structure became the world's first air-supported roof. The dome's steel rope structural system supported a thick fabric roof.
Three years later, Birdair constructed the first permanent tensioned membrane structure. The company worked with LaVerne College, now known as the University of LaVerne, in LaVerne, Calif., to construct a PTFE roofing system, known around campus as the "Super Tents," to cover the school's Sports Science and Athletics Pavilion. 
When Reliant Stadium, now known as NRG Stadium, opened in 2002 in Houston, Texas, it was the first NFL stadium with a retractable roof. The stadium's PTFE fabric roof is supported by a network of cables and pylons. Not only is the roofing material lightweight and durable, making it ideal for a roof that moves, but it is also translucent. Natural light enters the stadium when the roof is closed, giving the Texans the option to have a grass field instead of turf.
Why is PTFE such a good roofing material?
PTFE, or Teflon, is pound for pound stronger than steel. It lets in natural light, weighs less than five ounces per square foot and keeps out extreme heat and cold. 
Overall, it's a durable, low-maintenance and cost-effective alternative for roofing material.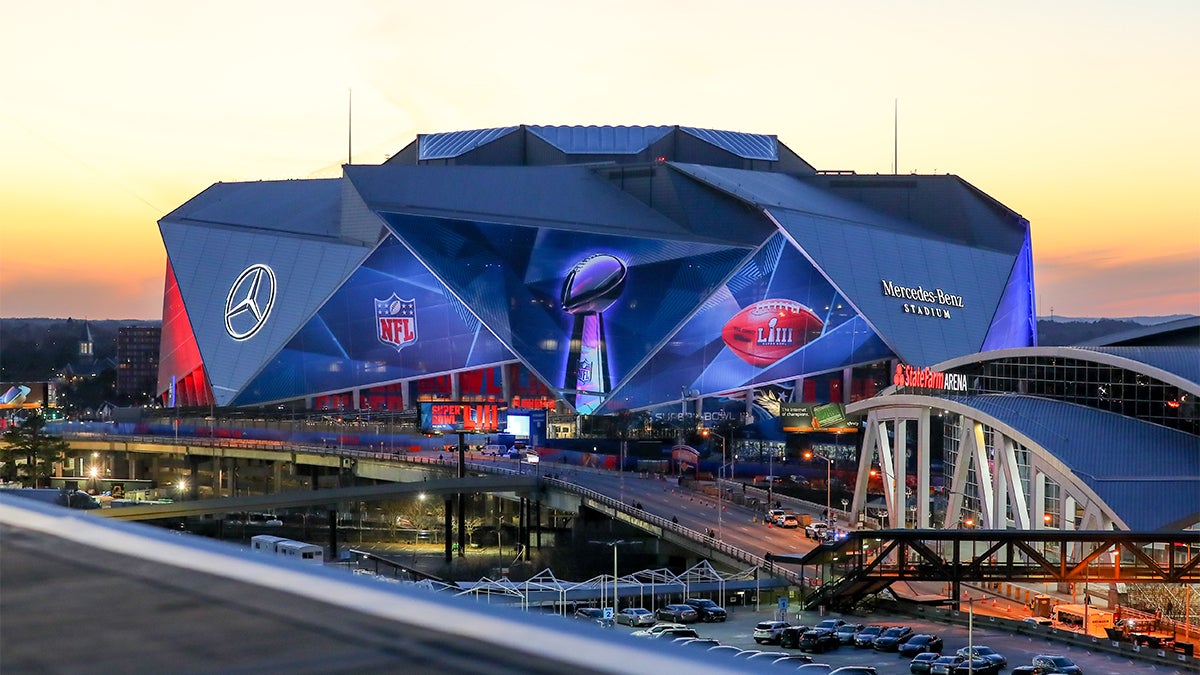 PTFE is not the only polymer material used in architecture today. PVC-coated polyester and ETFE (ethylene tetrafluoroethylene) film are also common materials used in roofing. ETFE film layers are a popular alternative to glass because of weight and durability. ETFE film is layered with cushions of air to help provide stability. 
Two of the most recognized structures constructed with ETFE film are the Beijing National Aquatics Center (Water Cube) used for swimming and diving in the 2008 Summer Olympics and the Mercedes-Benz Stadium in Atlanta, Georgia.
According to an article in Material District, ETFE is used more in architecture because it is easier to produce and is tough enough for most situations. PTFE is used more often in highly technical situations, such as cabling and industrial applications.
Modern uses of PTFE
Today, many stadiums around the world use PTFE as a roofing material. It has been part of FIFA World Cups in South Africa and Brazil. It covers multiple stadium courts at the U.S. Open in Flushing, New York. It is the roof for The O2 in London. PTFE is also part of some of the most cutting-edge football stadiums in the NFL, such as Cowboys Stadium in Arlington, Texas.
Outside of the sports world, PTFE is used in structures such as train station platforms, malls and airports to create roofs and canopies. Saudi Arabia's Haj terminal at Jeddah Airport is one of the biggest tensile membrane structures in the world.
Those are just projects Birdair has worked on. Dozens of companies around the world use PTFE as a roofing material.
Beta cloth is no longer used in spacesuits, but it can still be found in space. It serves as the outer layer of multilayer insulation blankets, and is also used on interior and exterior surfaces of the international space station.
So the next time you go to a stadium with a retractable roof or a fabric canopy, you're likely experiencing technology that came directly out of the moon landing.
[masterslider id="8"]
Sarah Farrell is a graduate student studying sports journalism at Arizona State University
Tags:
1969
,
1970
,
Air and Space
,
Apollo
,
Apollo 1
,
Apollo 11
,
Arthur Ashe Stadium
,
Atlanta
,
Beta cloth
,
Birdair
,
Brazil
,
Buzz Aldrin
,
canopy
,
Cowboys Stadium
,
Dallas Cowboys
,
DuPont Corporation
,
ETFE
,
FIFA
,
Georgia
,
Haj
,
Haj Terminal
,
Houston Texans
,
International Space Station
,
Japan
,
Jeddah Airport
,
LaVerne College
,
Mercedes Benz Stadium
,
Moon
,
moon landing
,
NASA
,
Neil Armstrong
,
New York
,
NFL
,
NRG Stadium
,
Osaka
,
Owens-Corning Fiberglas
,
PTFE
,
PVC
,
Retractable roof
,
roof
,
Saudi Arabia
,
Smithsonian Air and Space Museum
,
South Africa
,
spacesuit
,
stadium
,
Teflon
,
Tensile structure
,
Texas
,
US Open
,
Walter Bird
,
World Cup
,
World's Fair