Why this matters
Technology and analytics can help players train smarter and be better prepared when they compete. Tennis is finally embracing some of the technology that has been around the sports world for decades.
Technology is ubiquitous in the world of sport. Goal-line cameras and sensors in hockey and soccer give referees more precision in determining goals. Football players use in-helmet headsets to communicate with coaches on the sideline during a game. Golf and tennis players have benefited from composite materials like titanium in clubs and rackets.
In recent years, technology has become an integral part of athletic training. Tennis players have finally caught up to athletes in other sports, and have begun to integrate technology and analytics into their training.
Wearable Technology
One piece of equipment that has found its way into the training sessions of many athletes is GPS technology. It's a wearable technology that usually comes in the form of a vest that players can wear while they train.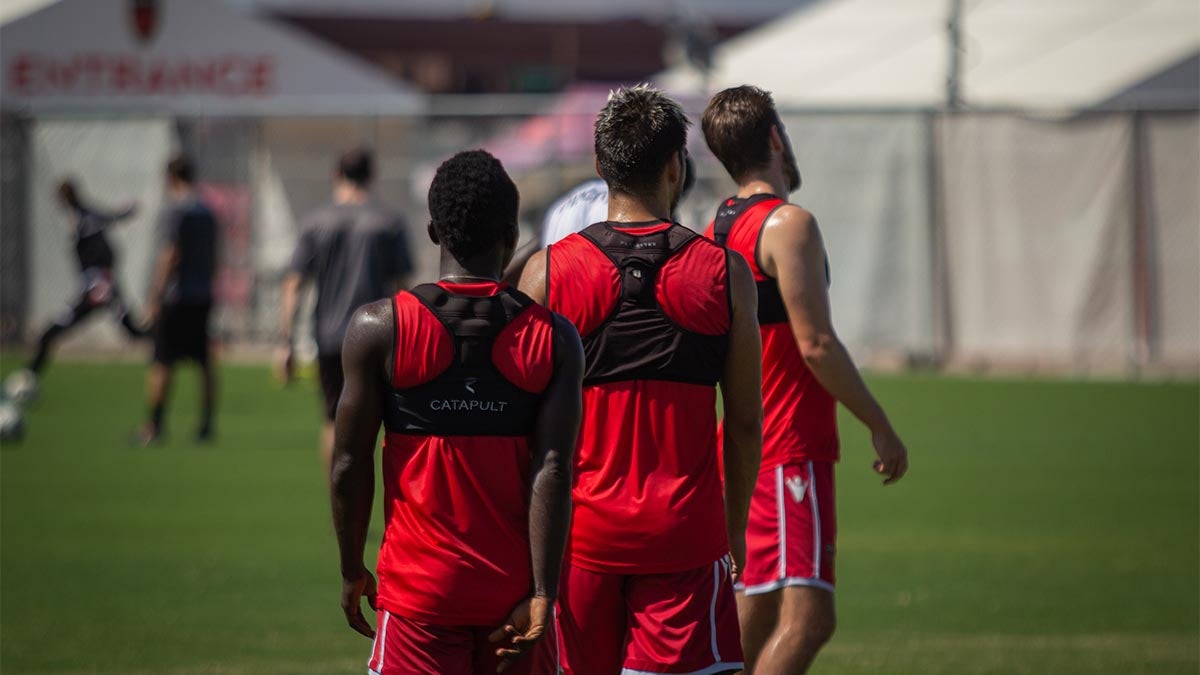 It collects data about things like total distance run, intensity of sprints and overall workload. In Australian Rules Football for example, researchers were able to track how a player's intensity and distance-covered changes over the course of a game. So how do athletic trainers and coaches use this information? These specific data points allow them to understand how the athletes are training, and build specific programs to help them maximize their efforts and remain healthy longer.
"The main objective of utilizing GPS data is to establish player profiles to understand how to progressively overload, maintain or underload the training process," Steve Fell, Phoenix Rising FC director of sports performance, told GlobalSport Matters.
If players have a particularly hard training session one day, the coaches know to ease the workload the next day or target different muscle groups to avoid injury.
Tennis is still in the infant stages of integrating this kind of technology into training. It's different from other sports in a lot of ways. Players compete on different surfaces — from grass to clay to hard courts — all within the course of a season. The ball bounces differently on each surface, which puts different amounts of stress on the tendons and joints with each match. 
Additionally, tennis is full of something called 'micro-movements.' Players change direction constantly during the course of a match. Together with data gathered from IBM, players and coaches have established a new metric called "redirect steps" (red steps for short). "It's almost a new stat — what are your redirect steps?" IBM's Elizabeth Warren told SportsTechie. "So it's like, 'We've found the on-base percentage of tennis!'" This statistic specifically illustrates the lateral movement of players. There's a difference between players staying low and pushing off or using an extra step to reverse momentum during a point, and that extra step can signal to coaches that a player is fatigued during a match.
In some sports, these trackers can even be worn in games. Researchers used GPS trackers in the Australian Football League (AFL) to determine how players at different positions move during a game. While the WTA and ATP have not approved the use of GPS devices during matches yet, Karl Hogan, Catapult's commercial director, does note that some players are "doing the equivalent of one set in (their) warm up session." So the data collected during tennis practice can fairly accurately inform coaches and players how they would perform during a match.
Analytics in Sports
For the past few decades, baseball has been in the forefront of collecting data and using analytics in the game. Sabermetrics was first introduced in 1982 by Bill James. It popularized the practice of analyzing statistics to help improve training, drafting and game play in baseball.
One example of how analytics have influenced baseball today is the more frequent use of defensive shifts. Teams use scouting information and data collected about a player's hitting tendencies to determine how to set their defense in the field.
Analytics have become an integral part of training and strategizing for teams all over the sports world. NFL teams use player-tracking data to help determine personnel and playbooks. In the NBA, the league has installed a video system to track player movement on the court. 
So how have analytics made their way into tennis? Boutique firms like Golden Set Analytics, Tennis Stat and Tennis Analytics use analytics to help players with scouting and detailed match reports. Major technology companies SAP and Infosys have partnered with the WTA and ATP, respectively, to help track match statistics.
IBM has worked with tennis tournaments and organizations for decades. The information technology company uses its AI capabilities with Watson — an IBM supercomputer — to analyze play in real-time. IBM Slamtracker, used at all of the Grand Slam tournaments, collects over 20 million data points to help analyze matchups. While Slamtracker is a more consumer-facing tool, the data helps players as well.
Player Development and Coaching
Analytics are not only being used to prepare for matches, but have also become a part of player development at the United States Tennis Association (USTA). The USTA and IBM have partnered to incorporate statistics into training regimens and match strategy. The data will also allow the USTA to analyze youth players and identify budding talent.
"It's going to be a really powerful tool," Martin Blackman, the USTA's general manager of player development, told SportsTechie. "Not just for the coaches to see what's happening during a tournament, but more importantly, for the entire team to make changes in the player's strength and conditioning program to optimize their performance and mitigate anything that they're seeing that's causing poor performance in tournaments."
The USTA has also partnered with Playsight at its National Campus in Orlando, Florida, to install SmartCourts. These courts have cameras and sensors all around that can seamlessly capture data like ball speed, spin and player movement. The data is captured on the cloud, and allows players to access it at any time.
IBM also gives players the capability to clip match highlights in real-time. That means that players and coaches have access to that data as soon as they step off the court.
Tennis Statistics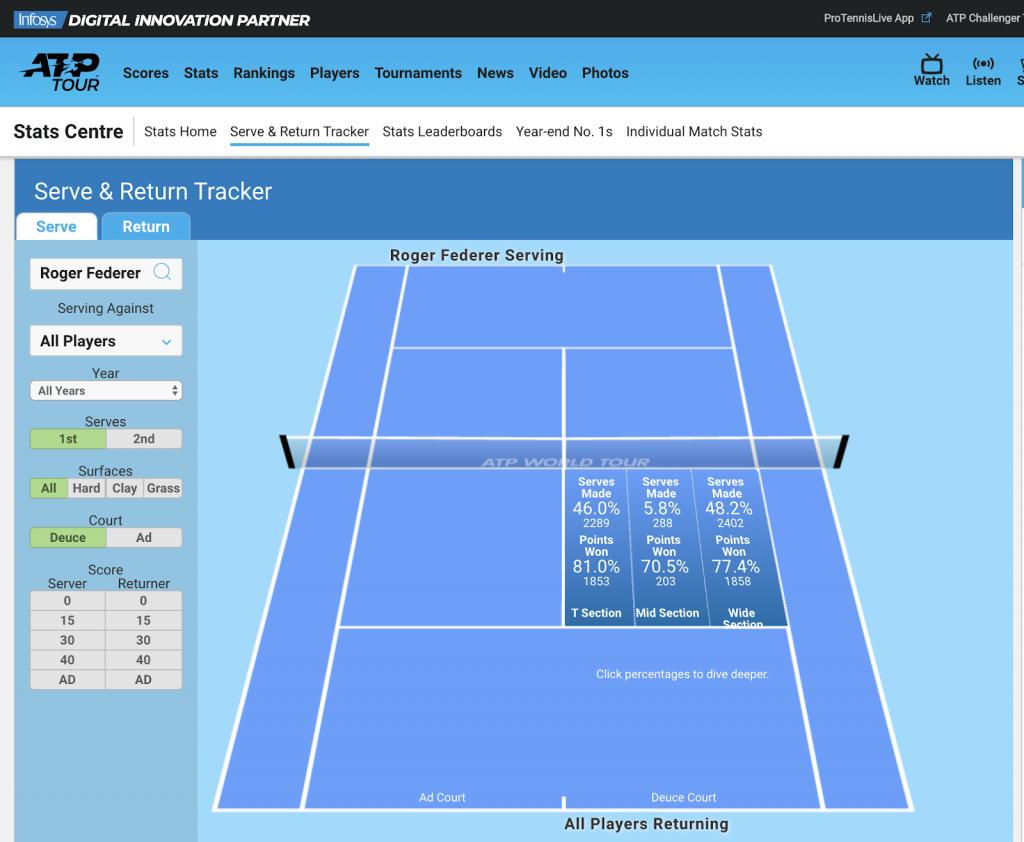 A couple of decades ago, the tennis world only tracked basic stats like serve percentage and winner count. Information technology companies have changed that landscape completely. ATP partnered with Infosys in 2015, which allows them to break down almost every movement on the tennis court. Infosys uses its AI capability to do a deep dive into statistics related to player performance on the men's tour.
The level of detail in the statistics gathered in tennis has changed drastically. Players can now access data on everything from Roger Federer's serve percentage out wide on the deuce side on clay to Rafael Nadal's return placement against first serves when he has a breakpoint at 30-40.
The WTA has a similar partnership with SAP, which allows them to do a deep dive with player and match statistics.
Other Technology in Tennis
Hawk-Eye has been an important part of tennis since 2002. It allows officials to track the trajectory of the ball and make accurate calls about whether a ball is in or out. It is also being used to track player movement, and add to the wide variety of data that players and coaches now have at their disposal.
Similar to Playsight, Hawk-Eye gives players and coaches the ability to see shots from every angle as they train.
Sarah Farrell is a graduate student studying sports journalism at Arizona State University