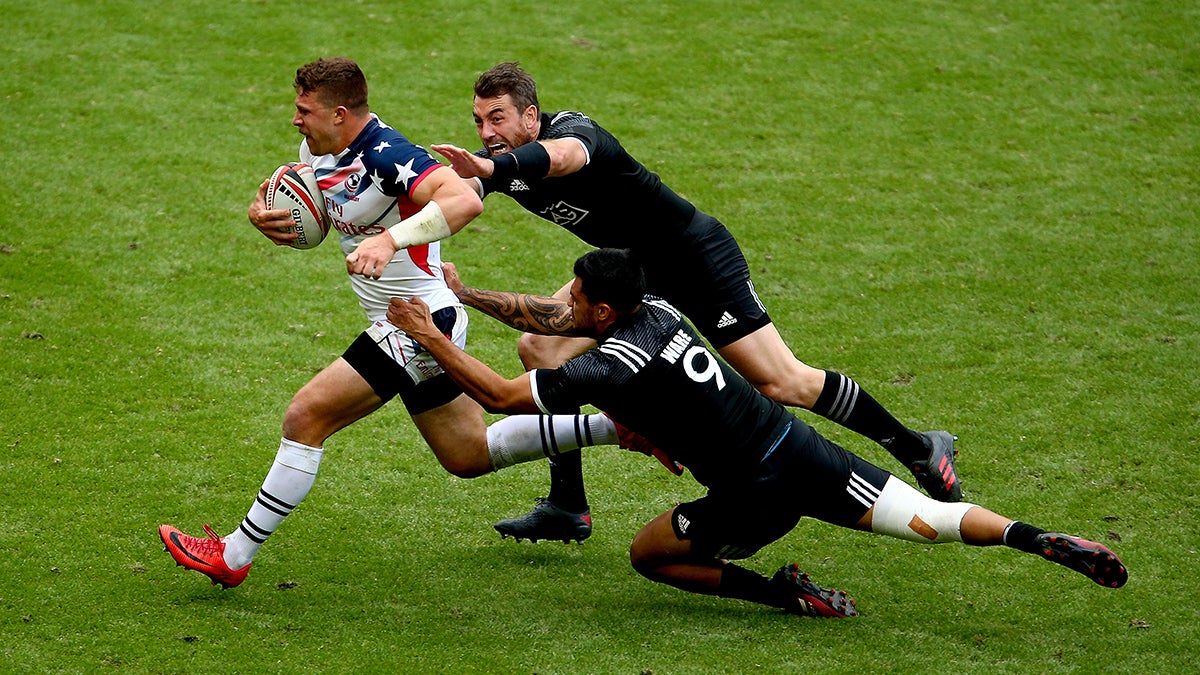 Sir Winston Churchill, one of the 20th century's most iconic and oft-quoted humans, is often credited with saying this about a sport developed in the 19th century: "Rugby is a hooligans game played by gentlemen."
Less elegant phrases have developed into bumper sticker advertising: "Rugby. No pads. No helmets. Just balls." … "Be kind to animals and kiss a rugby player." … "It takes leather balls to play rugby."
American fans might cringe at the thought, but rough-and-tumble rugby is what football was before evolving into its status as the United States' most popular sport. Speaking of most popular … "old man" rugby is enjoying a boost, not only in its original format but also in a trimmed-down version that is making the sport more accessible.
Rugby claims to be the fastest-growing sport in the U.S. Recent Nielsen research indicates the United States has more than 33 million people either very interested or interested in the sport.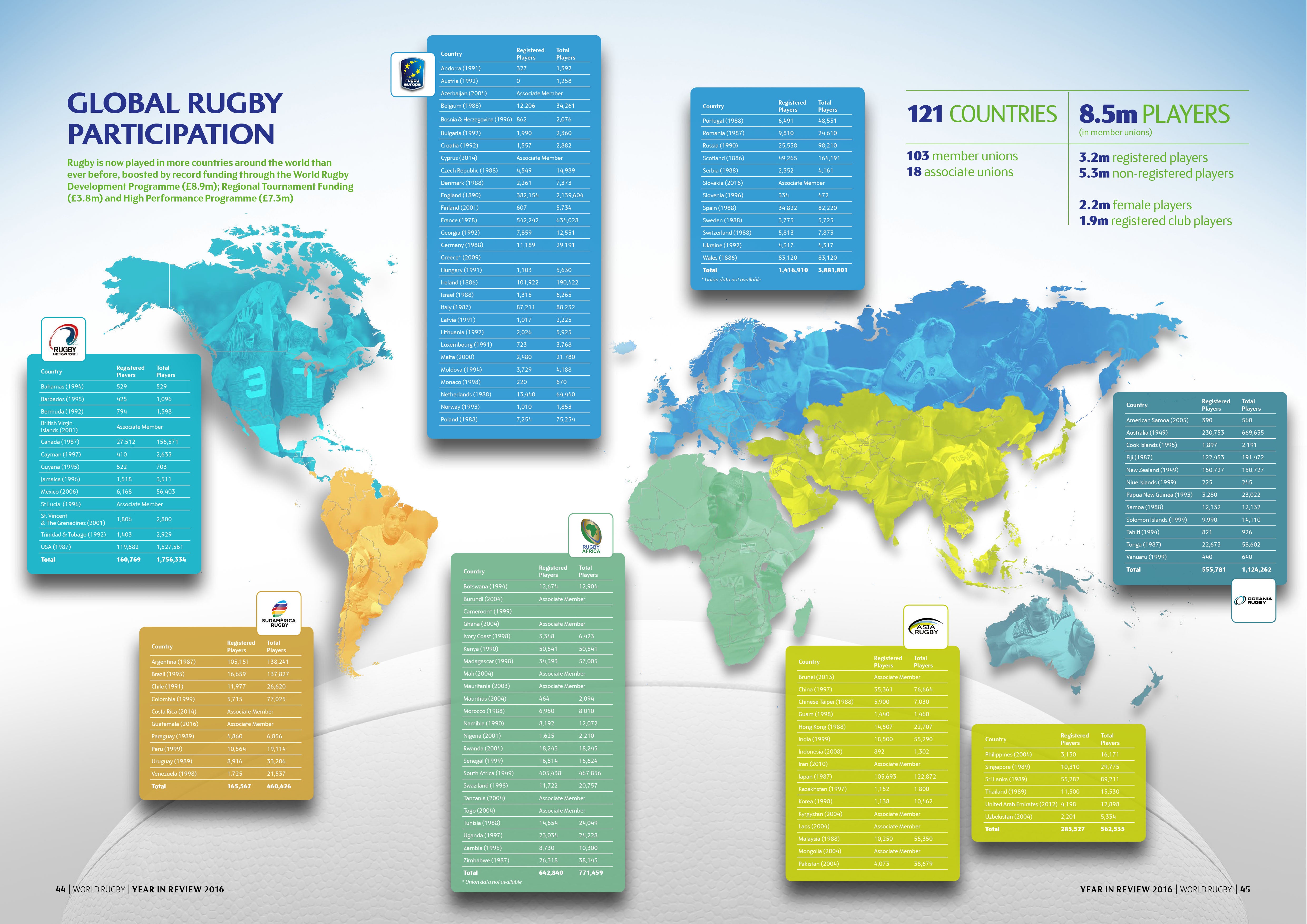 In a 10-year measurement ending in 2016, the number of rugby participants increased by more than a million. USA Rugby has 125,000 members playing in 2,673 clubs as of 2016. There are more than 900 college teams (governed by USA Rugby, not the NCAA).
Rugby aficionados hope to build on those growing numbers this summer. The Rugby World Cup Sevens are scheduled to take place July 20-22 at AT&T Park in San Francisco. A total of 84 matches will feature the world's top 24 men's and 16 women's teams.
Time to pause for some explanation.
Rugby, in its pure form, is played by 15-member teams and traces its origins to the early 1800s. It enjoyed a rebirth in the 1970s.
Sevens is the stripped-down version of the sport that traces its origins to 1883. Sevens is played by seven-person teams. The rules are the same as 15-person rugby. While the standard version of the sport uses an 80-minute contest, sevens matches consist of two 7 ½ minute halves. World Cup halves are 10 minutes. For a complete explanation of the rules, check this.
Sevens took a big step forward on the international stage in the 1990s. The first World Cup, which is held every four years, was held in 1993. And the World Cup Sevens series was launched in 1999. A decade later, sevens was announced as a new Olympic sport and made its debut in the 2016 Rio Games. It will return in 2020.
"Having rugby in the Olympics gives a legitimacy and an overall awareness that we haven't been able to get," then USA Rugby chief executive Dan Payne told CNN in 2017. Payne was hired in early 2018 as the chief executive officer of Rugby Americas, giving him oversight of the game in North and South America, and begins his duties officially in July 2018.
 Rugby has long enjoyed success outside of the U.S. Cracking the code for success in America could be a long process, but the hope is the World Cup being held in the United States for the first time will provide a boost. Coincidentally, when 15-man rugby was last played in the Olympics (1924 Paris Games), the United States won the gold medal.
"I think sevens is the key to unlocking the game in America," USA Sevens coach Mike Friday told The Independent in early June. "The American public is starting to understand there is an alternative team sport and one that they can fall in love with. Sevens ticks all the boxes for them – power, pace, hand-eye, physical collisions, evasive skills, fast-moving, and the games are played thick and fast and that's the adrenaline rush that the American sporting public love."
Las Vegas has staged a three-day international tournament in March each of the last nine years. Attendance and participation has increased each year. What is particularly encouraging for USA Rugby is that interest and participation covers demographics from teenagers to seniors. Hooking youngsters is a key.
"We need to invest today to be able to get the rewards 10, 15 years from now," Payne said. "In the U.S., it's still a start-up sport relative to some of the more mature sports. That gives us a lot of opportunity because our numbers are growing, whereas a lot of the other sports that would be considered mature sports in the United States are actually having membership decrease, so that's exciting.
"Every time we have a large event (like the World Cup Sevens), it allows us to increase the standard within that major market, and then we incrementally build on that year over year, so it's going to be a phenomenal experience."
All is not positive. Gaining a slice of the American sports scene has its challenges.
In early June, a test match was staged in Washington D.C. pitting the South African Springboks against Wales. However, attendance was disappointing (just over 20,000) and both teams fielded backups. The event turned out to be a money loser for cash-strapped USA Rugby, and World Rugby had to come through with an emergency loan.
For rugby in the U.S. to become more than just "recreation for ruffians" – and to field competitive teams on the world stage – developing a viable professional league will be the next huge step … or leap.
The American sports graveyard is crowded with professional leagues that failed. U.S. sports fans are familiar with and support pro football, baseball and basketball with college football and basketball, hockey, golf and tennis filling the gaps. Add the unfamiliarity of a foreign sport such as rugby and the challenges are numerous.
The five-team PRO Rugby league lasted one season (debuting in April 2016 and folding in January 2017).
Major League Rugby, consisting of teams in Austin, Texas; Glendale, Ariz.; Seattle; New Orleans; Houston; San Diego; and Utah, made its debut this spring. MLR uses the 15-man version of the sport.
MLR gained an exposure boost with a national television contract with CBS Sports Network plus a streaming deal with ESPN3. The 10-week season ends with a championship match July 7. Each team has a $350,000 salary cap for its roster. And the league uses a single-entity ownership model, meaning teams pay wages and travel costs up front. They also pay a fee that is in exchange for equal shares of league ownership.
"It's a proven model," MLR commissioner Dean Howes said. "It makes all the investors partners. Everybody has a slice of the pie, and we have control over parity. You've got to have a strong foundation, or you won't have staying power. Next year we'll add New York and Dallas and we might do a Canadian team."
Super 7s Rugby, a league that will use the trimmed-down seven-player version, is in the development stages and could debut later this year.
We think we can build a fan base," said Jon Prusmack, CEO of United World Sports which owns Super 7s. "If there's a professional opportunity you can get more people playing rugby. And there is a decline in kids playing football because of the head injury issue. Rugby requires you to be fit and fast. You have to be able to tackle and catch. Sevens is high scoring, exciting and our Super 7s fits a one-hour format."
Super 7s games will consist of four 12-minute quarters. Each franchise will field men's and women's teams that will travel together and will be paid equally. The competition will be men's and women's doubleheaders.
"The game is at its tipping point right now, it's that layer of professionalism that's missing, and that's where we'll come in," Super 7s Rugby president David Niu said.
Whether it's 15s or 7s, club teams or pro teams, rugby is trying to continue its growth in the U.S., so that it's not just identified by mentions in Bartlett's Quotations or on bumper stickers. The World Cup Sevens provides another opportunity to showcase Churchill's "hooligan's game."
Wendell Barnhouse started his career as a sportswriter at 18 and spent the next four decades in newspapers writing and editing. From 2008-2015 he was the website correspondent for the Big 12 Conference producing written and video content. He has spent the last three years freelancing, most recently covering college basketball for The Athletic.
Related Articles
HR McMaster on rugby: 'The warrior ethos is what a good team has'