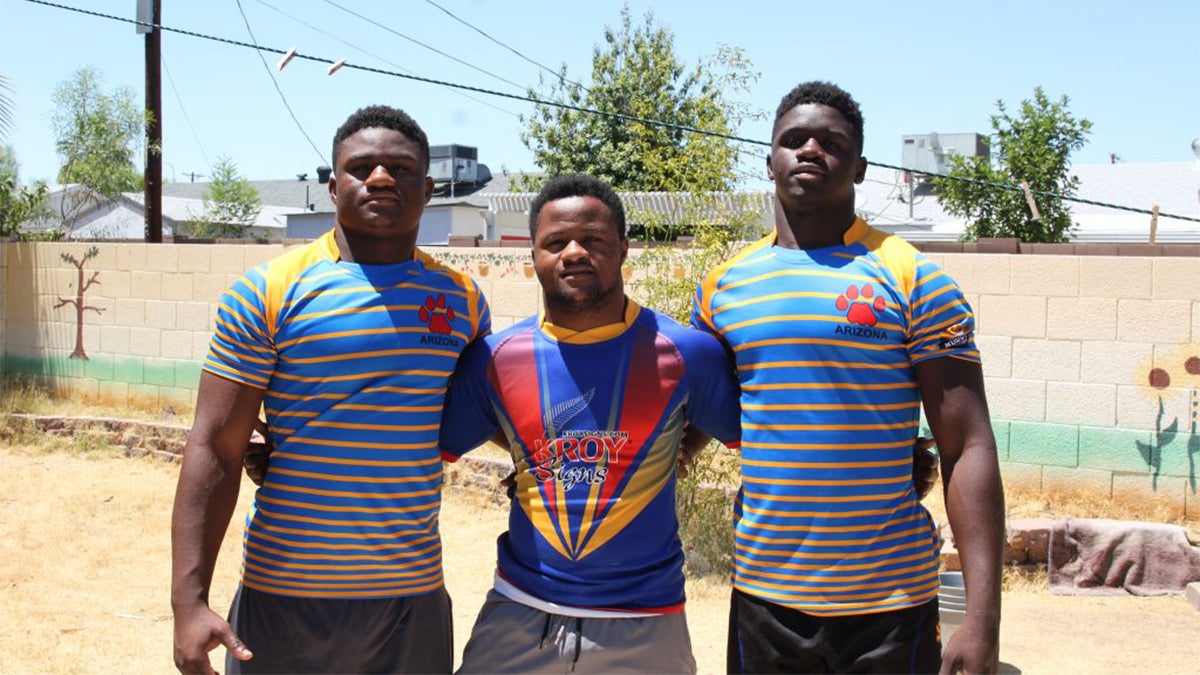 PHOENIX — Cosmas and Eloi Kwete, twin brothers and football standouts at Phoenix Central High School, were too young to remember the harsh living conditions their family of nine endured in the Democratic Republic of Congo before fleeing to a refugee camp in Zimbabwe.
It is probably just as well that the memories are few.
Their older brother Oliver was 5 at the time, old enough to remember the fear that came with soldiers involved in "The Second Congo War" rushing through the family's darkened home at all hours.
And Oliver can remember that when strangers entered, there was no way to know whether the intruder was just another soldier or if this time it was a looter or thief with bad intentions. The experience, Oliver recalls, "was not good at all."
Now, the three brothers are thriving as athletes in Phoenix. The twins are sifting through offers from several colleges to play football. Oliver, who briefly experimented with playing American football at Central, now is focused on his first sport, rugby.
But their memories are strong. The war included seven countries with the DCR serving as the battlefield. It raged for five years and the International Rescue Committee estimates at least 3.8 million people were killed before it ended in 2003.
"The political issues that were going on, and the issues of soldiers entering the houses and leaving the houses, it was an insecure place to live," Oliver said.
When the family fled the harsh conditions, it began a journey that would include a 13-year stay in the Zimbabwe camp that eventually led to a life in America. Although there was less danger, the conditions at the camp were just as challenging. The twins have plenty of those memories.
Electrical service in the camp was sporadic. The Kwetes often had to depend on candles for light, and there was no running water, according to Eloi.
"Going to Zimbabwe, growing up in a refugee program, it wasn't the same as living as a 10-year-old in America," Eloi said. "Every single refugee program is not a really good lifestyle. We all come from different paths of the world. Those countries are torn away by war and (the refugees) meet at a certain place. If you want water you go fetch water. You have to use candles for your light, and stuff like that. And sometimes the electricity would come but not for a very long time."
Sports provided a different kind of escape.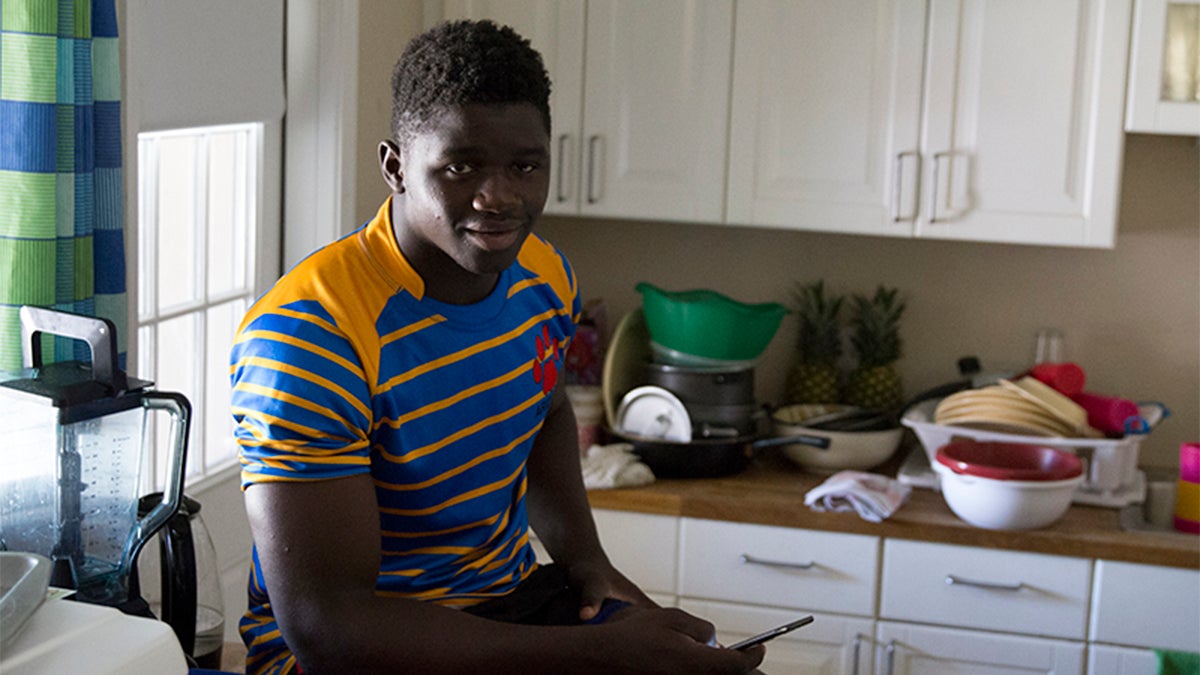 "In the refugee camp we just played, and did not think about what other kids (might) have had," Oliver said.
Rugby, soccer, volleyball and basketball served as distractions for the brothers, keeping their minds off of their surroundings. Oliver was the first to participate. Cosmas and Eloi soon followed. And sports, they soon realized, could provide opportunities.
"Rugby, in Zimbabwe, was an all-year-round sport," Cosmas said. "Everyday you go to camps and you practice. The schools provide everything for you. When you get to that level like . . . it's really high intensity."
Oliver was the best rugby player of the three. Upon arriving in Zimbabwe, he quickly emerged as one of the best players in the country. In his first school tournament in 2012, his team won a bronze medal. Six months after that, he joined an academy that fielded a dominant rugby team.
[beauty_quote quote='"Going to Zimbabwe, growing up in a refugee program, it wasn't the same as living as a 10-year-old in America."
- Eloi Kwete
']
The academy inspired him to train harder and after two months Oliver left to join one of the province rugby teams. Eventually, he was selected to Zimbabwe's national rugby team in April 2016.
A month later, the family's long-sought move to America was approved and they were assigned to Arizona.
"To some extent I said, 'Why would I be traveling to America when I just got what I wanted?' " Oliver said. "I got selected to a team. I worked hard to play."
But he soon recognized the move was an important opportunity.
"There's reasons why everything happens in life," he said. "If one chance you miss, you can get another one."
The move also opened a door the twins hadn't considered before — to football.
"America is all about the American Dream," Eloi said. "Once you're here, you find that it is just your will to get (your American Dream). I think the future holds something great for us. If we keep on working hard it shouldn't matter where we are, or the tools we have, but the will to get better."
All three brothers enrolled at Central for the 2016-17 school year. Cosmas and Eloi were sophomores and Oliver a junior. It was at registration that all three met Central football coach Jon Clanton.
The brothers had never played American football and were just hoping to find the nearest rugby club to join. Clanton convinced them to join Central's football team while they waited for the rugby season to start.
"Clanton asked us to come out and try (football)," Eloi said. "If we really liked it, we could stay. If we didn't like it, we had a choice to not play. Once we got pads, I was putting them on the wrong way and they kind of helped me out with it. I just fell in love with (football) from the first practice."
Cosmas stuck with his twin brother and played football right away. Oliver took a different route.
He never wanted to play football and planned to continue in rugby, helping grow the game in his new country. However, he saw the football team play its first four games and thought he could make a difference.
"The team wasn't doing what I was expecting," Oliver said. "Their performance was good, but not that excellent. I joined the team and started playing as running back. I saw it as a chance to explore my talent."
Playing in the final six games of the season, Oliver ran for 1,558 yards and scored 18 touchdowns and was named Central's offensive player of the year in 2016. Despite his success, Oliver had no interest in continuing with the sport.
He still saw himself as a rugby player.
[beauty_quote quote='"America is all about the American Dream. Once you're here, you find that it is just your will to get (your American Dream). I think the future holds something great for us. If we keep on working hard it shouldn't matter where we are, or the tools we have, but the will to get better."
- Eloi Kwete
']
"The helmets, the pads, they were just too heavy for me," Oliver said. "Even though I knew how to play, I played football without a football mentality. I have the passion, I have the talent, but I played as a rugby player. I was imagining myself playing rugby.
"Even when I scored my touchdowns, it was different from every other football player that ever scored. In rugby, I was use to the diving and that was what I was doing. When I go to score touchdowns I dive into the end zone. Even the coach was like, 'What the heck is going on?' "
Although Oliver dropped football to continue his career in rugby, Cosmas and Eloi stuck with it and flourished with Cosmas playing outside linebacker and Eloi at defensive tackle. Entering their senior season, each has offers from several Division I programs, including Pac-12 member Washington State for Cosmas.
"You could tell they had skill levels," Clanton said in a Sports360AZ article in September. "They ran to the ball. They chased the ball carrier. They tackled very well. So the skills that you can't coach were all there. Then we had to teach them the football aspects."
The Kwetes had to learn everything, beginning with getting into a proper stance, he said. They quickly picked up football techniques and got a grasp on their assignments in Central's defensive schemes.
Despite the lack of experience, Eloi earned All-Arizona honors in 2017 from The Arizona Republic/azcentral.com as a junior. And as a tandem, Eloi and Cosmas recorded 233 total tackles, including 65 for a loss. They have flourished in the classroom, too.
The two could decide to play for the same college football program. So far, Northern Arizona, Idaho, Massachusetts and Wofford have offered scholarships to both.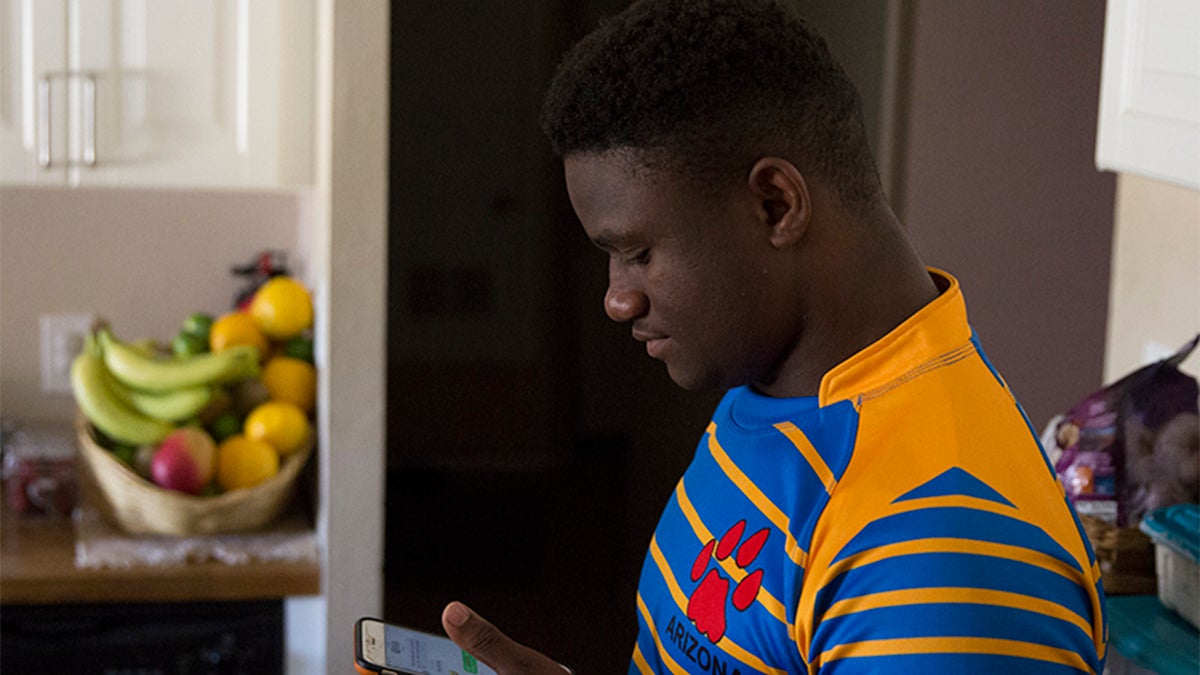 Cosmas plans to pursue a career as a pilot. Eloi wants to be a finance attorney.
Oliver did not get his diploma from Central, but he still hopes to play rugby at the college level. First he must earn his Government Equivalency Diploma (GED). He dropped out of Central when he moved up to a men's rugby league.
The Kwetes competed together with the Phoenix Rugby Club following football last season, and their team won the state championship in the high school division.
"They're big, physical boys," said Rob Speers, director of the Phoenix Rugby. "They're strong lads, good athletes. Having rugby in their background, playing it for a number of years, they instantly jumped into the team as one of the better players on our team."
Oliver said he didn't feel comfortable in high school classes.
"I decided to drop out because I had classes with people who were 13 and 15, and I was 18," he said. "The type of  connections and communications and games they were playing … they were too childish. The stuff they were teaching me, I was like, 'Oh my God, what am I doing here?' "
On the playing field, Oliver had just the opposite issue. He was the youngest player on his men's league team during his first season. But his team won its league championship and Oliver received another offensive player of the year award.
[beauty_quote quote='"It doesn't matter how you started, the main thing is how you finish."
- Eloi Kwete
']
Several college programs, including some ranked among the Top 20 by D1arugby.com such as ninth-ranked Arizona and 11th-rated Grand Canyon, have shown interest if he qualifies.
"I think (Oliver) will definitely do well at the college level," Speers said. "He's got good speed, he's got good ball skills, and he's got a good rugby IQ."
For the first time in their lives, life's path may lead Oliver and the twins apart. They agree it will be a sad time, but they know that the friends they left behind in Africa have it much worse.
Already, the three have come a long way from the horrors of the DCR and a war. The twins hope to play in the NFL one day, and Oliver has received an invitation to join a professional rugby club, although he said he turned that down for now.
The Glendale Raptors, a pro club located near Denver, invited Oliver to join their academy. The Raptors had just finished as runner-ups in Major League Rugby's inaugural season.
Oliver decided to pass up the pro team to seek a seek a college education and rugby program. He hopes to pursue a degree in sports management.
"I have a school that I am looking into," Oliver said. "I'm trying to see what offers they (make). I know they do not have a full-ride (scholarship to offer). I have to see what offer they have to give me and what offers other universities have to give me. They are all (Division I). I don't care where I go, as long as they have a better offer for me."
The three brothers know, better than most, that opportunities can't be taken for granted. As Cosmas and Eloi prepare for their final season at Central and Oliver makes plans for a college career, the brothers are looking ahead at a promising future.
But they haven't forgotten where they've been.
"It doesn't matter how you started, the main thing is how you finish," Eloi said. "Take every single opportunity and give it 100 percent. I know not everyone is in the position that I am today, and if I am given the opportunity I shouldn't let it go to waste."